Building Construction | Farm Buildings | Building Features | Pole Barn Builders
Top 3 Uses for Agricultural Pole Barns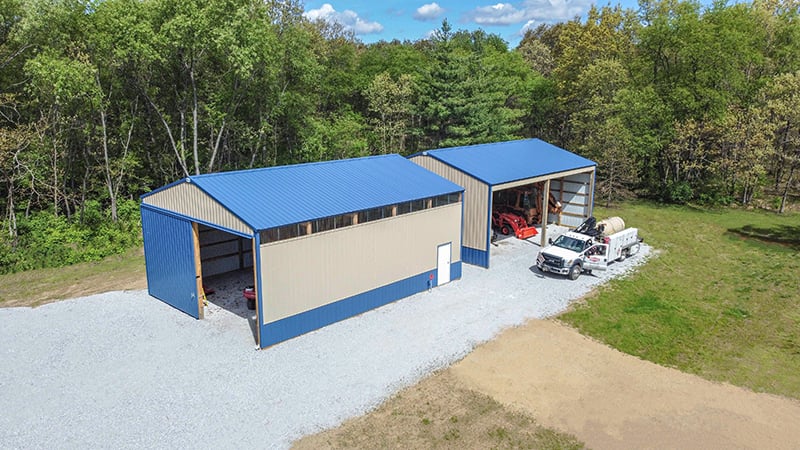 Subscribe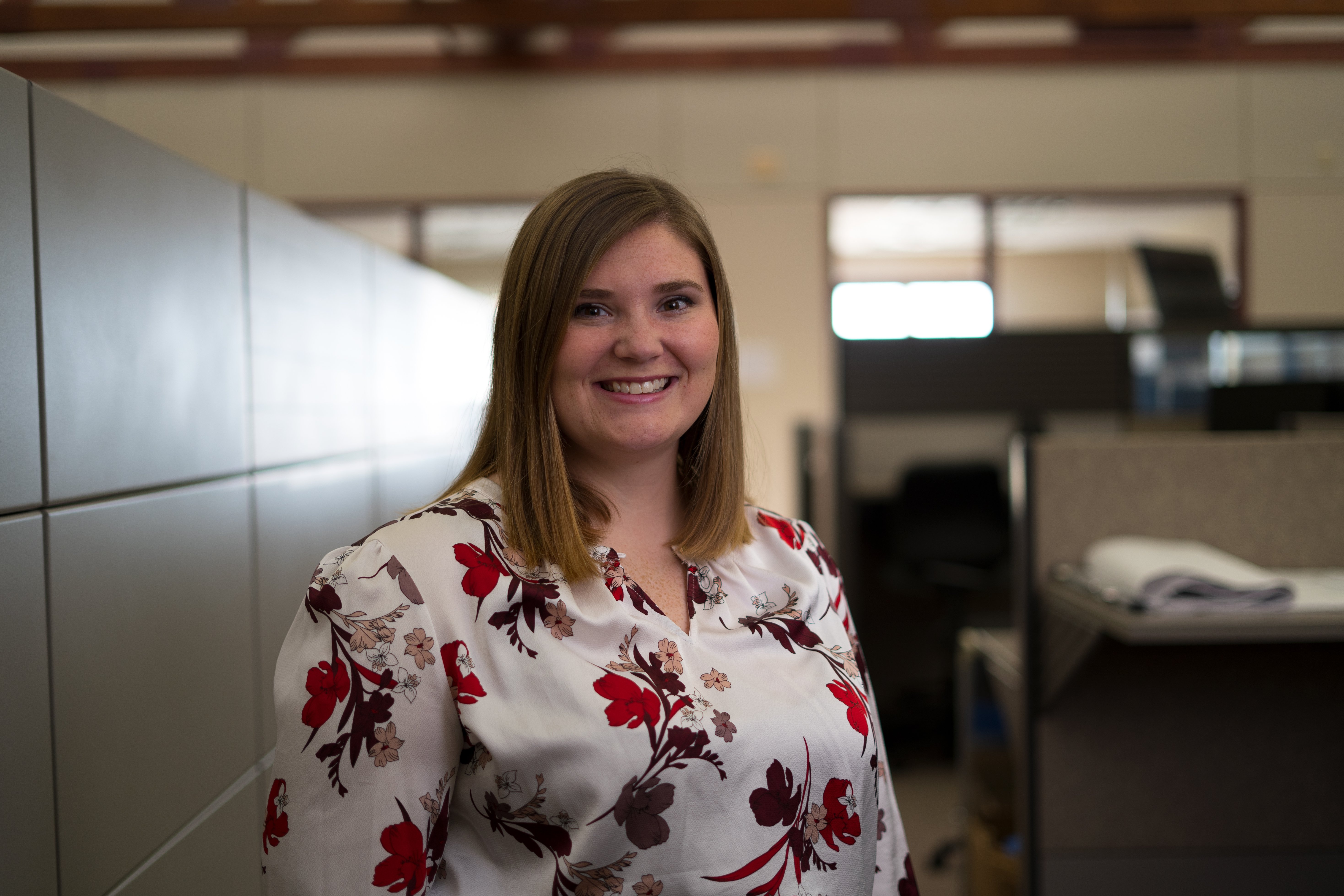 Nettie joined the FBi Marketing team in 2022 as the Marketing Content Creator. Nettie grew up just outside of Des Moines, IA. In 2016, she received her BS in Agriculture Communications from Iowa State University. Upon graduation, she has worked in agriculture sales and marketing. She moved to Indiana in 2020. Outside of work, Nettie enjoys quilting, crocheting, crafting, canning, gardening, fishing, and hunting. She is married and enjoys spending time with her husband and dog.
As you take a Sunday drive in the country, you may wonder why farms have so many pole barns on their property or if each barn serves a designated purpose. Maybe some pole barns house tractor implements, while others might be used for the maintenance of farm equipment.
You may also wonder what features post-frame buildings can have and the color combinations you can have when building an agricultural pole building.
In this article, we will explain the top three common agricultural pole barn building uses.
1. Farm Shop
You have a farm to run, and that means you need a durable farm shop nearby to help you keep it running. Even the best equipment occasionally needs upkeep; odds are you will spend a significant amount of time in the shop.
Whether it is getting the equipment ready for planting season or cleaning off your implements after harvest, an insulated pole barn farm shop is what you need to help keep the farm running.
Farm shops are a great option to add to your farmstead to allow you to work on your equipment during the winter. Our post-frame buildings come in over 20 color options.
The size of your pole barn building can range from Larry Johnson's 36' x 48' x 12' up to David King's 80' x 176' x 18'.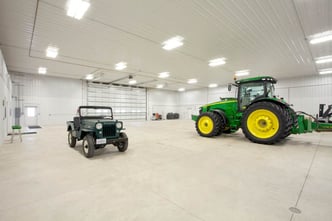 There are many high-quality building features to pick for your pole barn design:
2. Cold Storage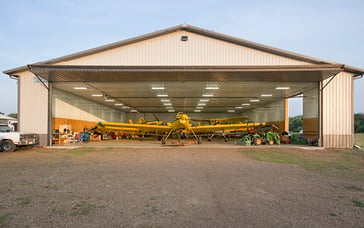 Cold storage may be a new term for you. It refers to a pole barn that is not insulated or temperature controlled.
It is a lower-cost option for people looking to shelter their equipment but does not plan to regulate the temperature like a farm shop would.
Our agriculture customers have built cold storage buildings for various agriculture equipment, such as:
In addition, cold storage facilities can be as simple as an open-sided building like Cere's Solutions.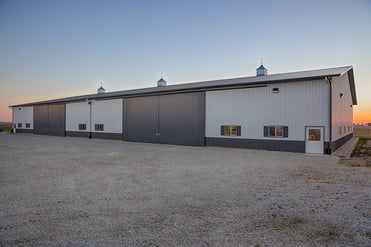 They can also be as elaborate as Beckley Farm's 100' x 200' x 18' pole barn that includes:
Three 48" x 48" Metalworks cupolas

Interior ceiling liner package

24" polycarbonate eavelite under the east gutter

24" overhangs with vented side overhangs

Plenty of room for storing equipment.
A tractor & implement storage building offers you the protection you need and the space to grow. Plus, you can customize your floor plan and building dimensions based on your farm's unique needs.
If overhead doors are not an option for your needs, choose a sliding door like EasyMotion. This will allow you to move even the largest equipment in and out easily without sacrificing efficiency or money.
3. Multi-Purpose Building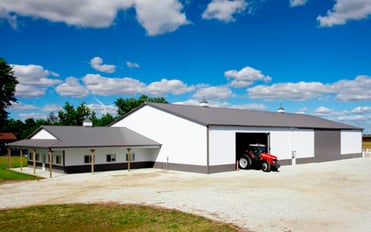 Multi-purpose pole barn buildings are like a mullet; business in the front, party in the back.
When I lived on our family farm in Iowa, we had a 60'x120' multi-purpose building with an overhead door, concrete floor, and a heated workshop in front.
The back 2/3 of the building was cold storage with a dirt floor and had plenty of storage for farm equipment.
You will get the best of both worlds with a multi-purpose building. For example, suppose you are a farm owner who would like multiple pole barns to maximize operational efficiency, but you also have a limited budget.
In that case, a multi-purpose building might be the solution you are searching for.
These buildings give you design flexibility so you can combine different types of farm buildings, such as cold storage with an insulated farm shop, and do so without breaking your budget.
Check out our full gallery to see more of our multi-purpose agriculture buildings.
Save on Your Ag Pole Barn!
With agriculture equipment getting larger, it is an excellent time to consider adding on to your existing pole barn or building a bigger agricultural pole barn. In addition, pole barn prices have come down due to steel and lumber costs dropping.
With interest rates projected to climb in 2023, we can save you up to seven percent with our new fall pricing.
If you have a farming operation, you can write off 100% of your ag building in 2022 and up to 80% in 2023.
Start designing your next building with our updated Design Online Tool. This new update will allow you to add building extensions, which is the perfect option if you want to build a multi-use pole barn.
As one of the largest pole barn builders, we are prepared to help you with your pole barn construction.
So take advantage of these lower costs and start your new pole barn before spring.
---
Have more questions about pole barn trusses not covered in this article? Please contact FBi Buildings at 1.800.552.2981 or click here to email us. If you are ready to get a price, click here to request a quote and a member of our sales team will call you.