Which Type of Door is Best for Your Pole Barn?

Subscribe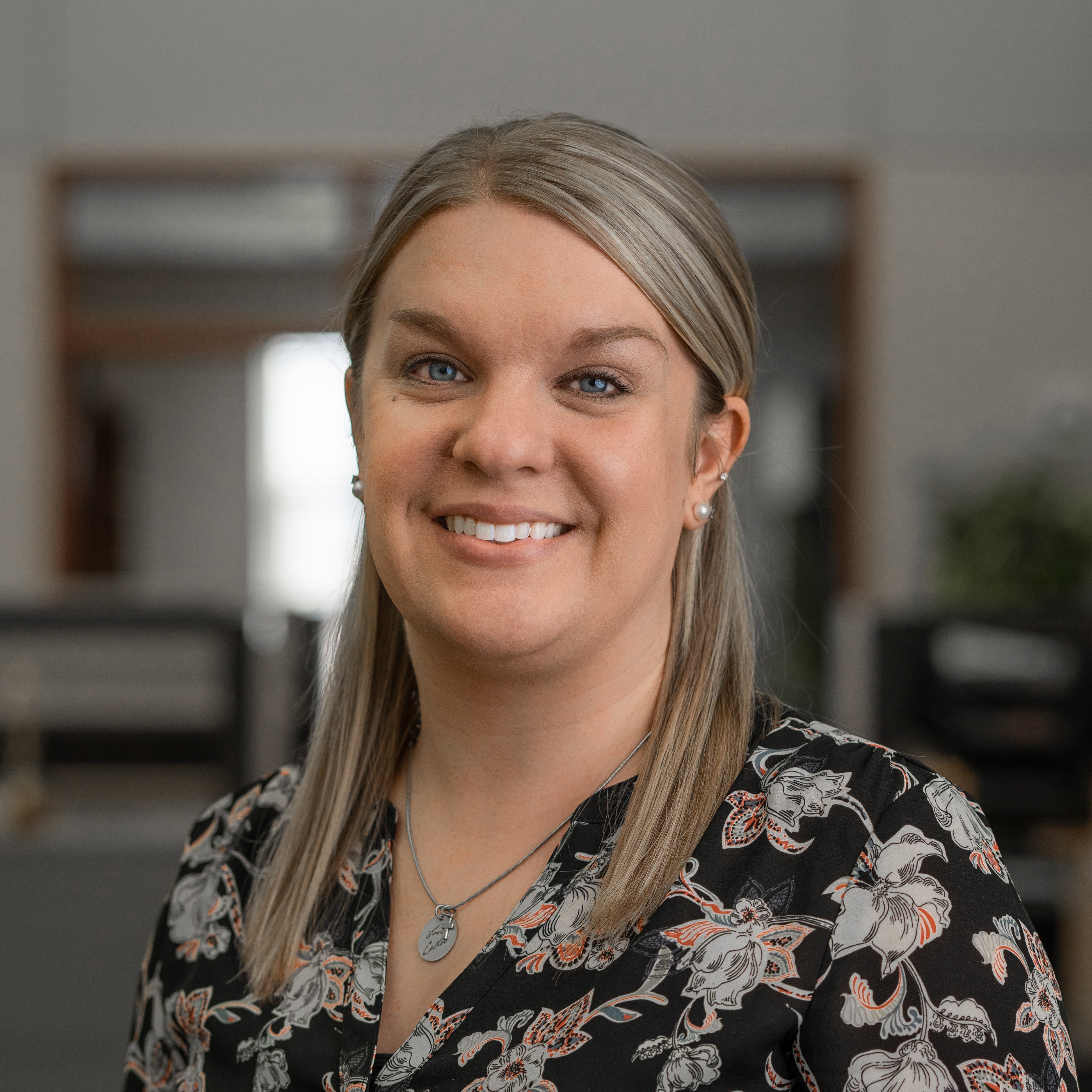 Angie graduated from Indiana State University with a Bachelor of Science in Interior Design. Prior to joining the FBi team, Angie was a kitchen and bath sales consultant in Lafayette, IN. In 2012, she started with FBi as the Inside Sales/Marketing Assistant. Today she holds the role of Sr. Marketing and Inside Sales Manager. Angie grew up in a farming community and has always enjoyed helping her family on the farm. A past 10-year 4-H Member, her passion for livestock pursued her to take a career in the agriculture field. She and her husband live in Northwest Indiana with their two daughters. In her free time, she enjoys outdoor leisure activities and spending time with friends and family.
Helping farmers and agri-business owners determine the pole building that best meets their current and future needs is how FBi got its start back in 1958. Fast forward 60 years later, and FBi has built thousands of agricultural buildings throughout the Midwest. Each pole barn is unique to the farmer or business owner's needs.
Do you know what type of building needs would make your pole barn or post frame building work best for you? That's where FBi can help you out. FBi's in-house design team makes sure each structure is customized for the building owner.
Once you've chosen the building site, it's time to focus on the building floor plan. You probably already know how many pole barn windows you want and where you want your walk doors placed.
The next step is to determine if you want sliding doors or overhead doors, or maybe you want a combination of both. Let's dig a little deeper to determine which type of door is best for your pole barn.
How to Determine What Type of Door to Put on Your Pole Barn
Before you get too far ahead with designing your post frame building, you need to think about how the building will be utilized. In simpler terms, what do your normal day-to-day activities look like?
Ask yourself the following questions:
What will you be using the building for?
How often will you be accessing what's inside the building?
Which way is your building facing?
Do you get a lot of snow in the winter?
Do you have to worry about windy conditions more frequently than others?
These are all important questions to ask before you decide on what type of doors will work best for you. Answering these questions will help set your project (and post frame builder) up for success.
Do You Need a Sliding Door or Overhead Door?
POLE BARN DOOR TYPES
SLIDING DOORS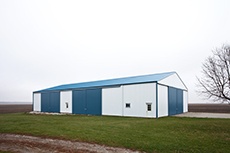 Did you know that there are different options for sliding doors? FBi has certainly expanded its options since 1958. Your pole barn sliding door options include:
If you're trying to stick to your budget, FBi recommends going with a sliding door.
Sliding doors work well if you don't plan on moving your equipment in and out of your building on a daily basis.
For some of FBi's farmers, they don't mind manually opening and closing their doors every day. But remember, you'll also be latching and unlatching your door each and every time you open and close it, which might not be convenient for some.
Honestly, it all comes down to personal preference and how you see yourself using your building. If you don't think you'll be opening and closing your doors in the frigid winter months, and you want to save some money while you're at it, this is the perfect option for you.
OVERHEAD DOORS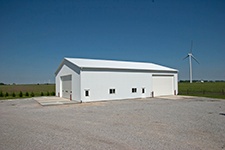 Overhead doors are a good option if you plan on accessing what's in your building every day. Sometimes, FBi sees farmers who have a multi-purpose building with sliding doors on their cold storage side of the building and overhead doors on their insulated farm shop side.
Why? Because they're accessing the farm shop more frequently than they would the cold storage side.
If you're someone who likes convenience, then an overhead door is the best option for you.
The downside? It is obviously more expensive than a sliding door, but if you know you're going to be using it regularly then it will become cost-effective.
One of the conveniences that come with overhead doors is the ability to open them with a garage door opener. Most of FBi's farmers enjoy this because they don't have to get out of their tractor to get inside the building.
For your larger ag equipment, you can purchase garage doors that go up to 24' wide (special quotations from the overhead door company are available after that).
Or, if you don't want a plain garage door, you can also have the option to add windows or fancy hardware. This is a popular option for owners who want their building to match their house.
If you know you're going to be storing frequently used tractor equipment, or even everyday hobby toys, then an overhead door is the best option for you...all because of its convenience.
POLE BARN DOOR SIZE
SLIDING DOORS & OVERHEAD DOORS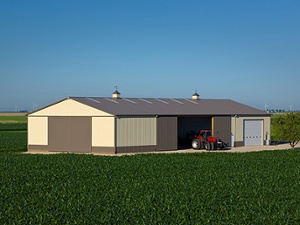 The same principles apply to door size for both sliding and overhead doors. Your only biggest difference would be door width.
Because of the limitations with overhead doors (standard widths up to 24' with special quotations from the manufacturer after that), you can get more width out of a sliding door (over 40' wide).
We also recommend at least a 16' interior clearance height for your building. Combines can be over 15' tall but plan on them getting even taller in the future. A taller building will leave room for your operation and equipment to grow.
Your builder's sales consultant should take the time to learn about your operation and intended building use. He can then make specific recommendations about building door sizing.
Here are some basic principles to get you started:
If you have a semi, make sure your building is big enough to dolly down the semi-trailer from the cab
If you include a shop, put the door on the side you can easily utilize the full width
Make sure the overall building is large enough. Keep in mind that a tractor with a field cultivator can be 50-60' long. Being able to park it in your building without unhitching is a time-saving convenience.
POLE BARN DOOR PLACEMENT
SLIDING DOORS & OVERHEAD DOORS
In general, the best sides for doors are, in order: south, east, west, and north.
North doors are cold in the winter since the sun doesn't shine there, and the south and west sides tend to get the most wind.
It is perhaps more important to place a door so that you take full advantage of the length of your building.
OVERALL THOUGHTS
Some of our customers prefer overhead doors instead of sliding doors, but others want to save some money and decide to do all sliding doors. There's no right or wrong answer. However, as your trusted builder, we want to make sure you know all of the facts before making your decision.
REMEMBER THE FOLLOWING:
Overhead doors edge out sliding doors when it comes to:
Weather resistance and seal
Performance under snowy, icy conditions
The capability of remote control access
Security
Sliding doors edge out overhead doors by:
Are You Ready to Design Your Pole Barn?
Considering your door type, size and placement first will greatly affect how well your building works for you. For some, it can be a tough decision to choose from overhead doors or sliding doors. But, it doesn't need to be. It all depends on what works best for YOU.
Make sure you get the building you expect by considering these options. It will set you up for a great building experience as opposed to regrets after the fact. Go to our 3D Planner Tool, to begin designing your next building project. From there, you can see for yourself what works best for you.
---
Have more questions about pole barn doors not covered in this article? Please contact
FBi Buildings
at
1.800.552.2981
or
click here to email us.
If you are ready to get a price,
click here to request a quote
and a member of our sales team will call you!