Building Construction | Comparisons | Cost | Site Preparation | Building Design
6 Driveway Options for Your Pole Barn
Subscribe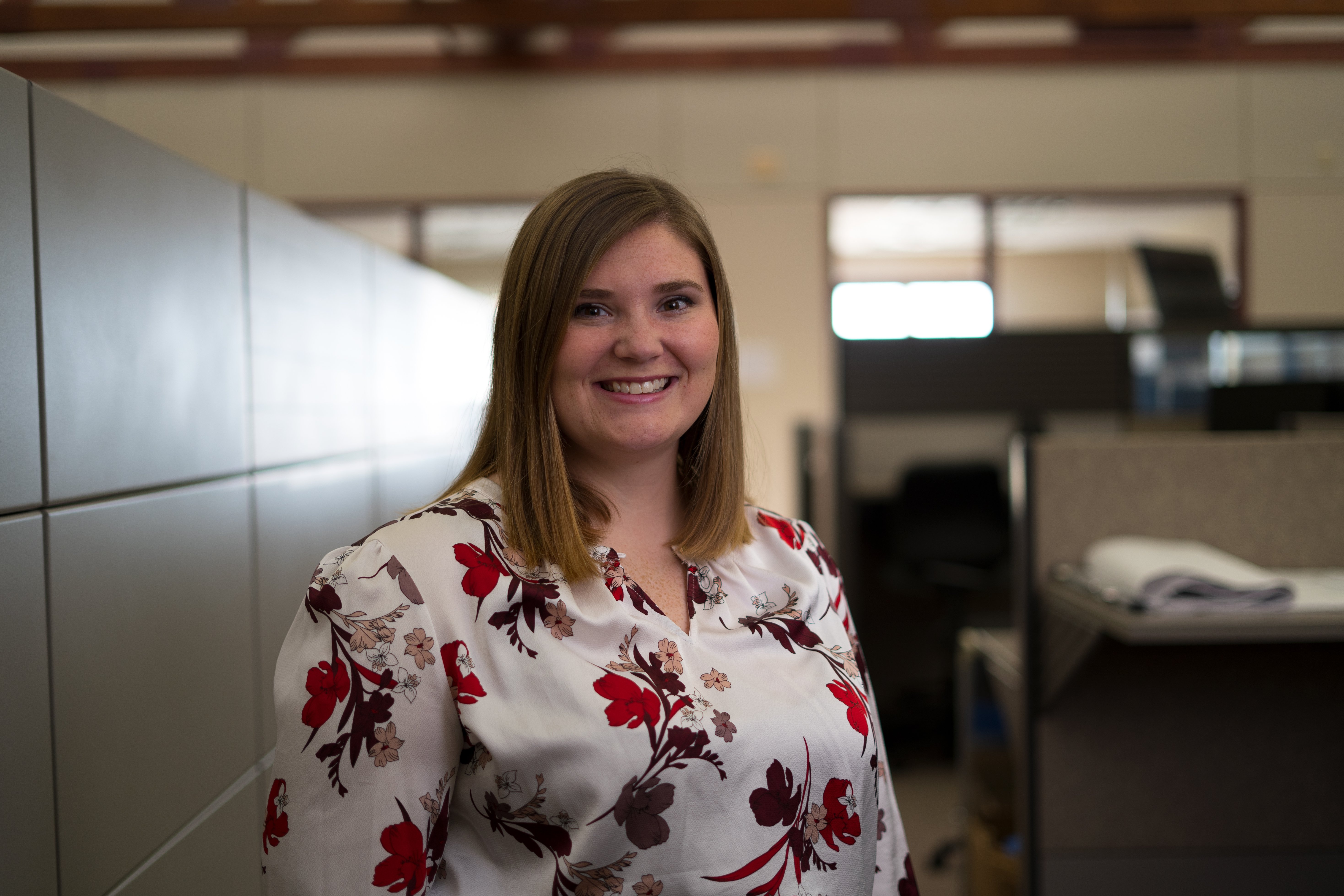 Nettie joined the FBi Marketing team in 2022 as the Marketing Content Creator. Nettie grew up just outside of Des Moines, IA. In 2016, she received her BS in Agriculture Communications from Iowa State University. Upon graduation, she has worked in agriculture sales and marketing. She moved to Indiana in 2020. Outside of work, Nettie enjoys quilting, crocheting, crafting, canning, gardening, fishing, and hunting. She is married and enjoys spending time with her husband and dog.
You will have to prepare your site at the start of your post-frame project. This includes preparing the building location and where to put the driveway to your pole building. During site preparation, you will also need to consider the materials and equipment that will be arriving and have enough room to access and maneuver the site once they arrive at your pole barn construction site.
There are many things to consider when determining your driveway. Just like when selecting your pole barn flooring, the same options are available for your drive. You can go as simple as dirt to as high-end as block paving. Regarding cost, some customers have stated they spent more on their driveway than on their pole barn.
Are you planning to leave the entrance as is? Or will you want to add a concrete, asphalt, or gravel driveway? Below you will learn about the six driveway surface options and the advantages and disadvantages of each.
Six Driveway Options for Your Pole Barn
Before we drive on into the driveway cost and details, please keep in mind that pricing will fluctuate from customer to customer. Some factors that impact cost are:
Driveway material

Size (both length and width of drive)

Thickness

Site conditions

Contour of site

Proximity to a gravel pit

Hot-mix batch plant or ready-mix plant

Availability/labor cost of a local driveway contractor to install
Another thing to consider is if you are adding on to an existing driveway, you may just need part of it added to or repaired. If you have an old entrance in lousy condition, you will also need to factor in the labor cost to remove the old drive and add a new one.
As you design your pole barn project, you can add a driveway to your project on our free 3D design tool. A NEW feature lets you see your project design on Google Earth. This can help you determine where to place your building if you are trying to line it up to an existing entrance.
If you have questions about concrete contractors near you or additional site preparation for your project, reach out to your FBi Project Sales Consultant.

1) Dirt Driveway
Cost: You can spend as little as $0. However, you may have to fill in the dirt, which could be an added cost.
Pro Tip: We would not recommend this option as it will be more difficult for our crews. In addition, you are making an investment in your property by adding a post-frame building. Having a nice drive will ensure a completed and nice-looking project. Adding one of the following options will add value and curb appeal that will last for years to come.
Pros
Cons

Keeping the ground dirt is the most simple and cheapest option

It would not add time to site prep

Leaving your entrance as dirt can turn to mud after a rain shower. While this may not seem like a big deal, it can cause equipment to get stuck, delaying your project

It also can play into worker productivity, slowing them down with muddy boots

It makes access more difficult and ruts in your driveway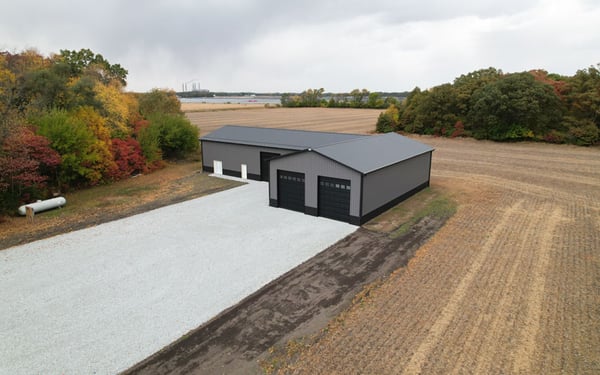 2) Gravel Driveway
Cost: Gravel driveways cost the least, which is why most people opt for them. You can spend roughly $1.50-$3 per square foot.
Pros
Cons

Creates a solid base

Affordable option

Easy to install

Drains well

Compacts well

Easy to maintain- add crushed stone to potholes

May need to have another layer of gravel added every couple of years

More difficult for snow removal

May need to clean loose rock out of the yard

May need to straighten out the edges of the driveway over time

Develops potholes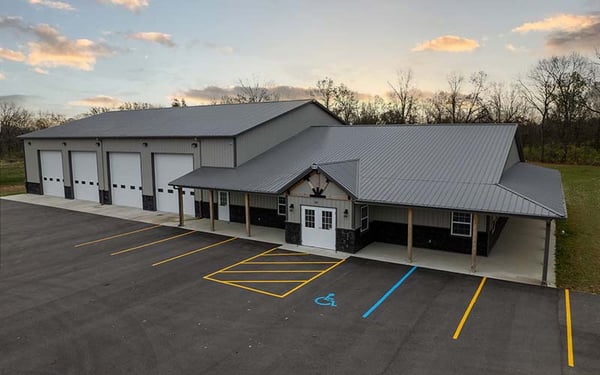 3) Asphalt Driveway
Cost: The asphalt driveway installation cost is approximately $4-7 per square foot.
Pros
Cons

Heat-absorbing blackness helps snow and ice to melt on it

Asphalt

dr

iveway installation does not require curing time or extensive site preparation, and traffic is permitted as soon as the rollers are finished

100% recyclable

It provides contrast to parking lines and makes a smooth and attractive driveway

Will need to be re-sealed every year

Over time, cracks will develop and need to be tarred

Frost heave will occasionally cause potholes that will need to be repaired with a patch mix
4) Concrete Driveway
Cost: $5-$9 per square foot is the initial concrete cost. To add curb appeal, consider adding natural stone to the surrounding landscape. This hobby barn added stone around the concrete drive, and a farm shop added rock and a brick building sign.
Pros
Cons

Minimal maintenance required

Durable

Can last 50+ years

With proper base, they can handle heavy equipment

Cracks will likely appear over time

Can stain from vehicle oils

Is not DIY friendly for large driveway projects
5) Stamped Concrete Driveway
Cost: Just as stamped concrete patios have risen in popularity, so have stamped concrete driveways. This is a higher-end option and is a great way to elevate your drive to appear like block, brick, or pavers. You can expect the initial installation to be $8-$18 per square foot.
Pros
Cons

Depending on the product type, this may need to be re-sealed periodically

Cracks will likely appear over time
6) Block Paving
Cost: $10-30 per square foot is the block paving cost. Multiple factors play into the cost, including the driveway size, paver type, paver patterns, soil conditions, and if excavation or grading is required.
Pros
Cons

Create a beautiful first impression of your home or business

Durable material

Easy to repair

Can DIY or hire a company like T&J Landscaping Services

Expensive

Requires periodic sealing

Laborious installation

Susceptible to frost heaving
Adding a Driveway Adds Curb Appeal
As you can see, there is a driveway option for every budget as well as every style. For an agriculture pole barn, you may opt for a more traditional gravel driveway. For a suburban project, you may go for a higher-end look like stamped concrete or pavers.
No matter the driveway material, it plays a key role in the start of your project's site prep and the final look at the completion of your project.
---
Have more questions about pole barn trusses not covered in this article? Please contact FBi Buildings at 1.800.552.2981 or click here to email us. If you are ready to get a price, click here to request a quote, and a sales team member will call you.