Building Features | Building Tips | Post Frame Homes | Posts | Residential Buildings
When you hear the word "pole barn," what do you see? Most people picture a red barn with a white roof, cupolas, and sliding doors for moving heavy machinery. It's the epitome of a farm building in the rural Midwest. However, the latest construction trend is a pole barn with living quarters. Yes, you read that correctly. You may wonder, "Why would someone want to live in a barn?" Nowadays, building usage goes beyond the realm of agriculture.
Comparisons | Posts | Residential Buildings
Do you have an existing storage shed or even two-car garage that is overflowing with bikes, Christmas decorations, fishing poles, an abundance of tools, or even extra boxes and totes that you don't know where to store? It's bound to happen at some point. Perhaps you're looking for more storage space for that recently purchased (and still shiny) ATV? Or maybe you recently purchased an antique car and need the extra space for a three-car garage. If so, it may be time for you to consider building a new garage.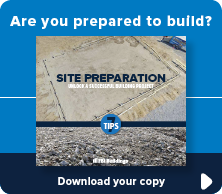 Enjoy a smoother construction experience.
The guidebook that offers essential steps and information which lays the foundation for an on time and on budget project.
It's safe to say that man caves and she sheds are in style. Unless you've been living underneath a rock... Television networks (e.g., DIY, FYI, and HGTV) are premiering series following the rise of this trend. Insurance companies are poking fun at the movement. Poor Cheryl! With all this hoopla, we don't blame you for wanting a man cave or she shed. In fact, we've had customers consciously save their money for this very reason.
Rejoice, it's officially summer! Warm weather is finally here. School is out. It's the best time to take the kids or grandkids on a camping trip in your RV.
Building Features | Commercial Buildings | Farm Buildings | Horse Barns | Posts | Residential Buildings
Congratulations, you've decided to build your dream pole barn! You've been saving your money for months, or even years. You're ready to start breaking ground with proper site preparation. So, what is the next step in the decision-making process? Don't worry; there's no right or wrong answer.
Do you have more "toys" than you do storage space? I'm not talking about children's toys either. I'm talking about your hobby toys. Like that bass boat that you fish on every summer, or the newest Polaris Ranger that you and your kids drive around every fall. Maybe it's in your plans to purchase a snowmobile, but there's just one problem. You're running out of adequate storage space. It's bound to happen...maybe you just didn't think it would happen as soon as it did.