5 Things to Consider When Adding onto Your Existing Pole Barn or Post Frame Building
When you need additional space in your building, you have a few options; one of which is adding onto the existing building. Where do you start when considering this option? How do you know it's the right thing for you to do?
In our free list, read some of the things to consider before deciding on an addition or connection. Usage, site layout, structural integrity, aesthetics and real customer experiences are all important factors when making a decision that can affect your whole operation.
Why Add Onto Your Building?
How Does Building Site Affect Where You Add On?
How Will Your Addition Affect Your Building?
How Will Your Finished Building Look?
What Do Your Customers Say About Their Additions?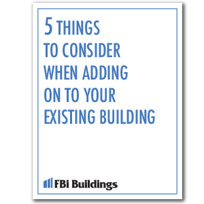 Take the first step toward getting the space your operation needs, and download the list today. Our goal: to get you the space you need for your operation to succeed.
Fill out the form to download your free list!