The fun part about construction is bringing your dreams to life through the design your building. The beauty of post frame is its flexible design to fit all of your needs. The four most common types of post frame construction are:
Agricultural Buildings
Protect your big machinery and equipment with a spacious storage building. Keep your farm running with a durable farm shop. Get the best of both worlds with a multi-purpose building. Want more space for a lower cost? Open-sided buildings are a work-friendly and cost-friendly option for you to consider. Take a look at our top five floor plans (designed by farmers) for inspiration.
Residential Buildings
Keep your tools in tip-top shape by storing them in a sturdy tool shed. During the harsh winter months, house your boat, RV, or ATV in an insulated garage or storage building. Showcase your antique car collection inside an attractive hobby shop. Further explore these options to determine which type of residential building best fits your needs.
Commercial Buildings
From retail and warehouses to municipals and dealerships, post frame construction is an ideal solution for many business owners and land developers. Why? Post frame buildings provide design flexibility, go up quickly, and are energy efficient. Also, you can add attractive exterior features and finishes to increase foot traffic.
Equine Buildings
As a horse owner, you have a good idea as to what you're looking for in an equine facility. First are the simple necessities such as stalls and tack room. Build out your design to include an indoor arena and living quarters. Need help spurring your imagination? No worries, we rounded up our top five equine facilities that are built to last with beauty, comfort, and strength in mind.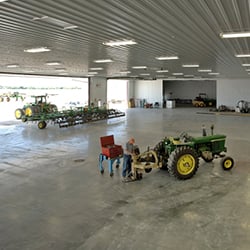 Once you've selected a building design, dig a little deeper and ask yourself the following questions:
What is your desired building size? Does the building size meet your needs?
If your budget is being stretched, do you plan to add on to your building in the future?
What type of external features do you want to include?
Do you know how you want to finish the interior of the building?
Does the flow of the building maximize your use and lower operating costs?
Overall, these design factors will impact your total pole barn cost.
If you want to construct a pole barn or post frame building, you'll need to hire a professional builder. Sure, you can Google "best pole barn builders near me." But how do you know which pole barn builder to choose?
The search results will most likely feature multiple post frame construction companies that each claim high-quality buildings with numerous years of experience. This may leave you feeling uncertain on how to make an important decision with so many options.
As you research the web search queries, ask yourself the following questions:
What is the company's building process?

Each pole barn builder has their own building process. We recommend reaching out to your preferred contractor and discussing their building timeline. Does it align with your envisioned time frame?
From processing and permitting to pre-mobilization and construction, you'll want to make sure all parties involved are on the same page. Trust us, you do not want any surprises (or headaches) this early in the game.
How long will it take to complete my building project?

The first determining factor is the builder's backlog. You'll want a builder with the crew power to get on site within a reasonable timeframe. Depending on the time of the year, this can range from one to three months.
However, you might find a builder with no backlog and can be at your location in a couple of weeks. Please exercise caution in this situation. Typically, a builder with a low backlog has one for a reason, which may cause future problems during construction.
Second, you'll want to consider your builder's crew power, which varies on the size of your building project. For smaller suburban buildings, crews with 3-4 men maximize time and efficiency. For larger agricultural or commercial buildings, crews with 4-10 men ensure effective building practices and help complete your project on time.
If you hire a builder that subcontracts their crew, beware of issues like job jumping or material delivery delays. This can cause problems with scheduling. Builders who invest in their field employees do so because direct accountability is the best way to ensure quality performance.
Does the Sales Consultant serve as the Project Manager?

While a knowledgable sales associate brings tremendous value to your building project, it is important to have a dedicated project manager to facilitate the construction process. This takes the pressure off you to hold the crew accountable and on schedule.
What does the company's warranty package include?

It is important to note that there's no standard warranty in the post frame industry. With that being said, you do not want to skim through builder warranties. Be sure to discuss these top five warranty essentials with your Project Sales Consultant for a better understanding.
How do they handle building damage after construction?

Any product that is left outside in the elements and being used every single day is at risk of being damaged. Make sure your builder has a repair and renovation crew ready to handle these situations. It can be difficult for a builder to send a new construction crew to perform repair work. This can leave you waiting for months on a simple repair project.
What do past customers have to say about the company?

Nowadays, consumers are quick to run to the internet and social media for product reviews and recommendations. Perform a quick web search (Google or Yelp) to see what previous customers are saying about your future builder. Is it mostly positive or negative feedback? Keep those comments in mind when selecting a post frame company.
Are they a quality builder?

Perhaps the most important question. If you're going to spend your hard-earned money on a new pole barn, then you'll want to make sure you're investing in a quality builder — one whose building materials and features will withstand the test of time.
The post frame industry has numerous companies, each with their own strengths and weaknesses. When it comes to picking the highest quality builder, the old adage is true — "you get what you pay for".
We recommend taking the time to compare the materials used by each construction company. Also, you'll want to understand why prices may fluctuate and what goes into those numbers. Don't take a sales representative's word for it. Instead, dig into the specifications to truly understand what you're getting.
Educate yourself using the free literature offered by companies that detail their products. If a builder doesn't provide you with product literature, then that should tell you something about their quality.
Will the construction company be around in 20 years?
As mentioned above, warranties and quality products are very important. But if there's no company left to stand behind the claims, then they're empty promises.
Be sure to choose a builder that's been in the construction industry for at least 20 to 30 years. This longevity shows that they can handle the swings of an ever-changing environment and economy. Having a builder that'll be there for repairs or future additions will bring a much-needed peace of mind to your building investment.
To make this phase easier, we compiled a list of our top recommendations for the best pole barn builders in the Midwest.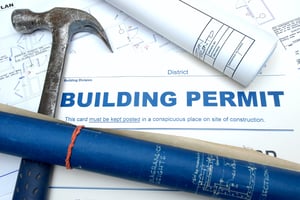 You'll need to sit down and determine what type of permits you'll need to move forward with your construction project. Permitting costs are based on the following factors:

Building Size (square footage)
Building Segment (Agricultural, Residential, Commercial, or Equine)
Jurisdiction (state or county)
*Please note that the information below are averages to help with your planning. Costs may vary.
Agricultural Buildings
Depending on your building design and size, permits for farm buildings range from $0 to $2,000. Some counties exempt agricultural building permits. However, you'll still need to get a permit (free of charge) before building. Contact your county's Planning & Development office to see if your pole barn is exempt.
Residential Buildings
While factoring in building design and size, permits for residential buildings can cost anywhere from $50 to $1,000. If you live in an urban area, you may have to obtain a permit from the town rather than the county. The best way to find out is to contact your city hall or county courthouse.
Commercial Buildings
It's important to mention that the commercial permitting process varies from state to state. Some states require commercial projects to obtain a permit through the state they're building in. Meanwhile, others request one from the local level.
Permits for commercial buildings range from $1,000 to $100,000. A large portion of these costs are due to commercial projects requiring Mechanical Electrical Plumbing plans (MEPs), architectural drawings, civil site drawings, and the state's stamp of approval.
If you choose a builder who has a licensed engineer on staff, your permitting costs will lean towards the lower end of the spectrum. On the other hand, if your preferred builder doesn't have a licensed engineer on staff, your permitting costs will be towards the higher end.
Equine Buildings
Depending on the scope of your project, permits for horse barns can cost anywhere from $50 to $3,000. This wide range is based on the fact that equine buildings can be viewed as agricultural, personal, or commercial-use buildings.
In conclusion, the cost of your permits will depend on your building size, building segment, and jurisdiction. We recommend working with an experienced builder who can help guide you in the right direction. In some cases, the builder will help pull the permit for you.