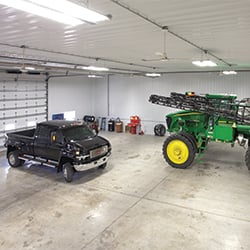 Now that you understand the importance of R-value, we can discuss the different insulating materials for your post frame building.
When considering your heating options, ask yourself the following questions:
Will the structure be heated?
How will you keep it warm?
Will it be permanently or temporarily heated?
When you look up, will you see trusses or a finished ceiling?
Your answers will guide you through the decision-making process.


1) Perimeter Slab Insulation
If you walk outside to your garage, chances are it has a concrete slab floor sitting on top of the ground. The ground has its own R-value. So, if you insulate the perimeter, you can protect that rating and prevent heat from escaping around the building.
Typically, a solid two-inch piece of rigid board insulation is installed vertically alongside the columns, or horizontally under the floor.
Does your pole barn have in-floor heating? Or maybe it sits over a high-water table? If so, you'll want to insulate under the entire floor. Otherwise, the water will steal the heat as it flows away from your structure.


2) Wall Insulation
The exterior walls of your pole barn act as a barrier from the harsh winter weather. Without wall insulation, conduction will occur regardless of the heating-cooling system you've employed. That's a waste of your hard-earned money!
For instance, heat will exit your tool shed even if the furnace is running full steam ahead. Therefore, adding insulation will significantly reduce heat conduction.
There are five types of wall insulation used in post frame buildings: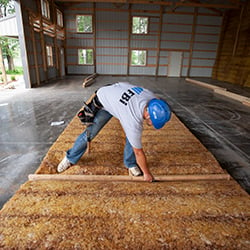 i) Fiberglass Batts
First, fiberglass batts are the most common wall insulation. It's well-known for its relatively low cost and ease of installation.
Long spans of fiberglass insulation can be placed in-between posts, resulting in fewer breaks (air leaks) between the batts.
If you choose fiberglass batts, you'll want to look into purchasing a vapor barrier. It's an impermeable material placed in-between the interior wall and insulation.
Vapor barriers minimize condensation caused by moisture buildup within the envelope. This layer prevents insulation from getting wet, which lessens its performance and contributes to its deterioration.
Installed price ranges from $0.95 to $1.30 per square foot of wall.
ii) Vinyl Back
On the other hand, vinyl back is a fiberglass batt with a white coating on the backside. Usually, it's fitted in-between framing, but that can cause issues with sagging. Vinyl back is a thinner insulation than fiberglass batts, making it a lower R-value.
Not to mention, it can be a challenge to situate properly. The R-value varies by thickness.
Installed price ranges from $1.90 to $4.00 per square foot of wall.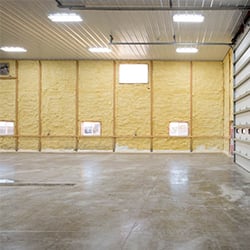 iii) Sprayed Polyurethane Foam (SPF)
In recent years, sprayed polyurethane foam (SPF) has become a popular but more expensive alternative to fiberglass batts. SPF fills and seals all exposed areas and cracks within the structure, giving you greater protection from air drafts and moisture.
Due to the chemicals and equipment involved, a professional spray-foam contractor should be hired for the job.
However, if your wall needs to be replaced, this material can be difficult to remove due to its glue-like characteristics. That's why we recommend having building wrap (e.g., Tyvek®) installed on your steel before adding spray foam.
Additionally, some spray foam products haven't been tested for steel use. In fact, cellulose insulation can cause steel corrosion due to its ingredients (e.g., fire retardant chemicals).
Consequently, some metal suppliers won't provide warranty coverage if SPF is used. Don't forget to check with your pole barn builder before making a final decision.
Installed price ranges from $3.50 to $5.50 per square foot of wall.
iv) Rigid Board Insulation
Placed directly underneath the exterior steel siding, these rigid panels of insulation provide a very high R-value with continuous coverage. As a result, there is less air infiltration.
Most importantly, not all rigid board products are created equal. Please make sure it's approved for use in exposed applications.
Installed price ranges from $2.10 to $3.30 per square foot of wall.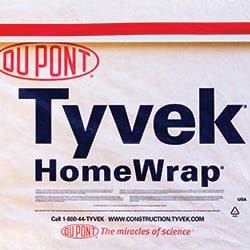 v) Building Wrap
Technically, building wrap isn't a type of insulation. Instead, it's an optional convection barrier that's positioned underneath your structure's steel siding.
Building wrap is an additional moisture and air infiltration blockade. It works together with your pole barn insulation for a comfortable interior.
Before purchasing, you should research building codes, steel strength, and insulation options. These considerations will help determine if building wrap is a wise investment for you.
Again, you can contact your city hall or county courthouse for local building codes.
Installed price ranges from $0.25 to $0.35 per square foot of wall.
Which Wall Insulation Do We Recommend?
Altogether, fiberglass batts and spray foam are the best insulating materials for your post frame building.
Fiberglass batts are a cost-effective solution that works uniquely with pole barn columns.
Spray foam insulation provides superior R-value and airtightness. The higher cost and laborious installation are a couple of drawbacks.
3) Attic Insulation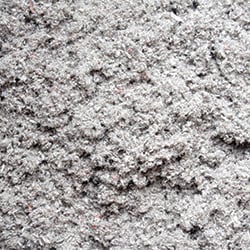 This requires a steel or drywall ceiling to be installed first. Once finished, the most common attic insulation options are fiberglass batts and blown insulation.
When blown insulation is installed correctly, the loose-fill provides an airtight finish between the ceiling joists and bottom chords of the trusses.
A contractor with specialized equipment applies blown insulation. It's easy to insert (no cutting or fitting), can adapt to any R-value, and conform to odd-shaped spaces.
According to the Energy Star®, the recommended level is R-38 (10 to 14 inches) for attics.
Installed price ranges from $0.95 to $1.25 per square foot of ceiling.
Which Attic Insulation Do We Recommend?
Overall, we recommend blown insulation for your attic. Keep in mind that loose-fill material requires a ceiling. If you don't plan on building a ceiling, then you'll need roof insulation.


4) Roof Insulation
Lastly, an insulated roof is an inexpensive substitute for interior liner packages with attic insulation. Typically, it's placed under the roof sheathing, exposing truss members.
This type of insulating material works well with radiant heat as opposed to forced air. With the latter, much of your heat rises into the truss space.
As mentioned above, rigid board insulation is a typical roof application. It prevents the need for other finishing touches (e.g., drywall). The foil layer will reflect radiation, which will keep the building cooler in the summer. It has a white surface, which brightens the interior and lowers lighting resources.
In addition, a radiant barrier (the combination of batts and spray foam insulation) reduces energy by absorbing and slowing heat transfer. Then, it plugs any air leaks (convection).
Radiant barriers can be placed anywhere in your post frame building. But, it works better in attics or under roofs of air-conditioned structures. Please keep in mind that a radiant barrier only functions when at least one side is facing an air space.


Which Roof Insulation Do We Recommend?
Another roofing option we recommend is spray foam insulation albeit its cost.