Get your FREE commercial design/build consultation package.
Valued at $5,000.
FBi Buildings will provide you with the tools and construction expertise to get you started.
Let us help you understand if a building expansion works for you! We can save you time and help you through the beginning stages. During our Initial Discovery Process, a Project Sales Consultant will work with you to understand your needs and help you develop a preliminary site plan that will assist in understanding the foundational permit requirements. Then our trained professionals will help you establish preliminary architectural designs that include floor plans and elevation drawings as well as a fire, life, safety code review… all at no charge!
How is Our Consultative Design-Build Approach Different?
Since we self-perform the construction and design of your new building, we approach projects differently than the typical architect. We know what it takes to build the designs that we help you develop. Which means we can help control costs, while also providing a much tighter focus on meeting your objectives, such as striving to meet budget requirements and permit acquisition. Contrast this with the industry standard architect-design approach, which adds 6% to 10% of total project cost to create.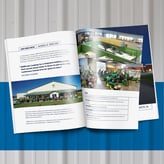 Want to know if starting a business or adding on to your existing building makes sense?
Download the FBi Buildings commercial buildings brochure.


Your Commercial Design & Feasibility Package includes:
• Preliminary site plan
• Initial design, floor plan & elevation drawings
• Fire, life, safety code review
Ready to get started?
Fill out the form to download your Commercial Design/Build Consultation offer now. One of our Project Developers who specializes in your area will contact you to discuss your project and next steps.
Build Your Legacy with FBi Buildings
We build more than buildings. We build long-lasting partnerships. Discover why businesses of all sizes have turned to us for the last 60 years. Integrity, collaboration and our experienced team—it's all part of what separates us from the rest.
*Offer applies to Indiana and Illinois construction.
Interested in learning more about our commercial post frame buildings? Feel free to reach out at 1 (800)-552-2981 or visit FBiBuildings.com for more information!