Building Features | Building Tips | Post Frame Homes | Posts | Residential Buildings
When you hear the word "pole barn," what do you see? Most people picture a red barn with a white roof, cupolas, and sliding doors for moving heavy machinery. It's the epitome of a farm building in the rural Midwest. However, the latest construction trend is a pole barn with living quarters. Yes, you read that correctly. You may wonder, "Why would someone want to live in a barn?" Nowadays, building usage goes beyond the realm of agriculture.
This year, one of your core objectives is to build a new pole barn. You already have the land and money set aside. So, there's half the battle. Your spare time consists of designing your dream post frame building, skimming countless brochures, and scrolling through online galleries for inspiration. This process can be time-consuming.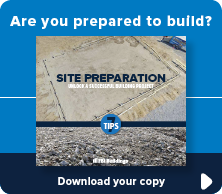 Enjoy a smoother construction experience.
The guidebook that offers essential steps and information which lays the foundation for an on time and on budget project.
Building a pole barn has always been a goal of yours. When you pull into the driveway, you can envision a 40' x 80' tool shed in your spacious backyard. This post frame building will house bikes, four-wheelers, lawnmowers, and other outdoor accessories. But this pole barn isn't just about storage; it's about recreation too. A large porch would be an ideal place to hang out with family and friends.
We can all agree that building a pole barn is a big decision. For some people, it may take weeks, months, or even years to convince your significant other or business partner(s) of this large purchase.
It's safe to say that man caves and she sheds are in style. Unless you've been living underneath a rock... Television networks (e.g., DIY, FYI, and HGTV) are premiering series following the rise of this trend. Insurance companies are poking fun at the movement. Poor Cheryl! With all this hoopla, we don't blame you for wanting a man cave or she shed. In fact, we've had customers consciously save their money for this very reason.
Well, folks, summer is coming to an end. The warm weather is winding down. School is back in session. Department stores are gearing up for Halloween...or Christmas (because it's never too early to get started on your shopping list). Your favorite primetime drama will soon be gracing your television screen. You can't help but wonder, "Where did the time go?" Before you put away the pool floats and bust out the flannels/hoodies, let's focus on one of the positives. This time of the year marks the beginning of the nation's largest outdoor event – the Farm Progress Show.