Building a pole barn has always been a goal of yours. When you pull into the driveway, you can envision a 40' x 80' tool shed in your spacious backyard. This post frame building will house bikes, four-wheelers, lawnmowers, and other outdoor accessories. But this pole barn isn't just about storage; it's about recreation too. A large porch would be an ideal place to hang out with family and friends.
We can all agree that building a pole barn is a big decision. For some people, it may take weeks, months, or even years to convince your significant other or business partner(s) of this large purchase.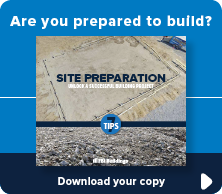 Enjoy a smoother construction experience.
The guidebook that offers essential steps and information which lays the foundation for an on time and on budget project.
It's safe to say that man caves and she sheds are in style. Unless you've been living underneath a rock... Television networks (e.g., DIY, FYI, and HGTV) are premiering series following the rise of this trend. Insurance companies are poking fun at the movement. Poor Cheryl! With all this hoopla, we don't blame you for wanting a man cave or she shed. In fact, we've had customers consciously save their money for this very reason.
Well, folks, summer is coming to an end. The warm weather is winding down. School is back in session. Department stores are gearing up for Halloween...or Christmas (because it's never too early to get started on your shopping list). Your favorite primetime drama will soon be gracing your television screen. You can't help but wonder, "Where did the time go?" Before you put away the pool floats and bust out the flannels/hoodies, let's focus on one of the positives. This time of the year marks the beginning of the nation's largest outdoor event – the Farm Progress Show.
Building Features | Comparisons | Posts
If you're interested in building a pole barn, there's a good chance that you've done a little research into price estimates. We shop around when purchasing a vehicle, house, insurance, schooling, television providers, etc. So, it only makes sense that you do the same for your post frame project.
Are you the type of person that likes to take weekly drives through the countryside? It's okay to admit it...we don't mind taking the scenic route from time to time. If so, you probably have a tendency to pay attention to the neighborhood activity. It's not uncommon for you to notice someone building a new house or post frame building. As you made the journey back home, one job site caught your eye. A wide pole barn structure with 100' clear-span trusses. You've never seen anything like it before.