Posts | Horse Barns | Pole Barn Builders
Who Builds Equine Pole Barns in Illinois?
Subscribe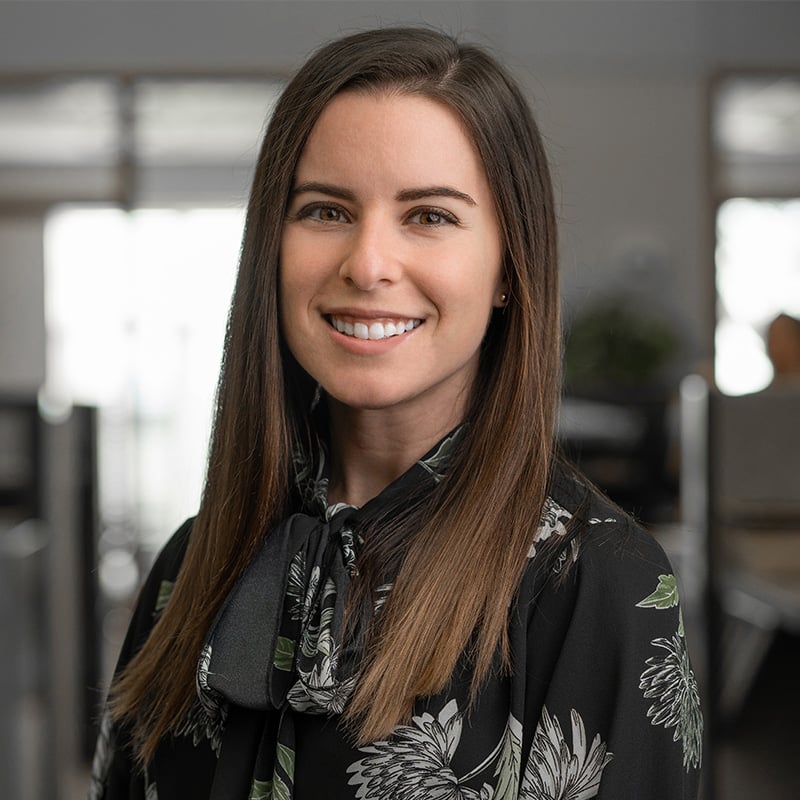 After working in the banking industry for 5 years after college, Courtney realized she needed a change and decided to pursue a new career path. Growing up she has always been creative and enjoyed writing, taking pictures, or painting. Now as the Marketing Content Creator for FBi Buildings, she gets to utilize her creative abilities in her everyday work. In her free time, you can find Courtney at home reading a book, partaking in any and all outdoor activities, or traveling and photographing her adventures. Courtney resides in Northwest Indiana with Lacey, her red tick coonhound.
Modern-day westerns have many of us romanticizing about the American West and what it takes to be a rancher.
Popular series, such as Yellowstone, give a glorified and dramatized glimpse into the lives of a cowboy and the hard work of ranching.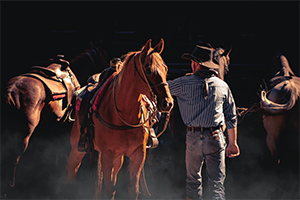 Next to every hard-working ranch hand, though, is a hard-working horse to help get the work done.
While horses might not be the backbone of America like they were before modern-day transportation, horses still play an integral part in today's society.
Whether you're a farmer or rancher, a competitive rider, or a hobbyist, our horses are family and we want the best for them.
That means, we want the best horse barn to house them and the features that come with it to help make our jobs easier, too.
In this blog, we'll talk about the advantages of a post frame horse barn, and which Illinois post frame builder you can call to bring your equine dream to life.
Continue reading to see which post frame company can bring your vision to life.
What Is a Post Frame Horse Barn?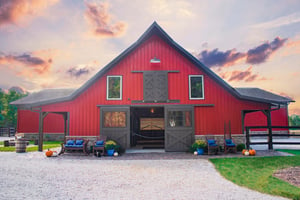 The terms "pole barn" and "post frame" are often used interchangeably and mean the same thing, for the most part.
When pole barns were first built, they got their name from the round poles that were driven into the ground.
In today's industry, laminated columns or Perma columns, also known as posts, are now used in construction, hence the name post frame.
These posts are driven into the ground and secured by a precast concrete pad with uplift anchors. Columns support the roofing system, so no interior stud walls are needed.
Next, let's take a look at some of the advantages of building a post frame equine barn as opposed to a traditional stick-built structure.
What Are the Advantages of Building a Post Frame Horse Barn?
Building a traditional-style wood barn comes with a lot of character and charm, but the advantages of building a post frame horse barn are unmatched.
Below, let's take a look at some of the advantages of building a post frame barn over a traditional stick-built one.
1) Quicker Building Completion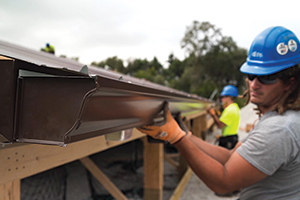 One of the many benefits of post frame construction is that it doesn't require as many materials to erect your building.
Since fewer materials are needed, this means a quicker construction timeline and finished product.
Plus, advancements in the post frame construction industry have allowed building timelines to be cut even further.
One advancement is our QLYFT system, which allows our construction crews to finish the majority of the work on the ground before the building is lifted into position.
Since our crews are planted firmly on the ground, they can better focus on the quality of your building and not worry about losing their balance and sliding off.
QLYFT not only allows for higher-quality workmanship, but it allows for much safer and more efficient construction of your equine pole barn.
2) Incredibly Energy-Efficient
Post frame construction is also incredibly energy-efficient.
Studs in stick-built barns are placed every 16'' to 24'' on center. These gaps allow less space for insulation, which creates room for heat transfer (loss).
Whereas, pole barn columns are spaced 8' or more apart. Long spans of fiberglass batts or spray foam insulation can be placed in-between posts, resulting in fewer breaks (or air leaks).
Not only will you cut down on utility costs, but your horses will be kept cool in summer and warm in winter.
3) Minimal Exterior Maintenance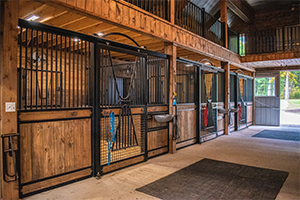 While maintenance is inevitable on any building, your post frame equine barn will require less work so you have more time to spend riding.
Post frame buildings are extremely durable and can effortlessly withstand the test of time.
Metal is a hardy material, and since your siding and roof will be made up of metal panels, you can rest assured they will require minimal upkeep.
TIP! If you have a horse that enjoys kicking and bucking, you can add 3 feet of plywood at the bottom of their stall to prevent the horse from kicking through the metal panels and requiring repairs, and to prevent your horse from injuring itself.
With the use of our Kynar-500 paint system, your post frame horse barn will look new for many years to come.
This top-of-the-line paint easily withstands the sun and won't fade under its harsh rays.
Kynar-500 paint is also resistant to chipping, eliminating the need to repaint panels every time a noticeable chip makes its appearance.
Quality materials produce a quality product, which means you can happily focus on your horses and not worry about constant maintenance on your equine pole barn.
4) Plentiful Design Options
Features that can be included in your post frame horse barn are as follows:
Hayloft
Office space
Seating area/kitchen
Tack room
Viewing area
Wash bay for the horses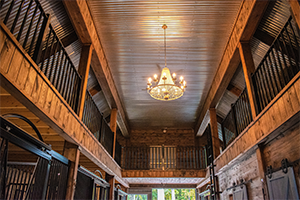 These features allow for a wide variety of design options you can choose from to build your dream equine pole barn.
Depending on the type of rider you are could depend on how you wish to design your horse barn.
For the more serious rider who is passionate about showing and traveling to competitions, this post frame horse barn might have more to offer, such as an indoor riding arena and a viewing area.
For the hobby rider who enjoys leisurely rides with their horses after work or on the weekends, this post frame horse barn might be simpler with just stalls and a hayloft.
Don't forget about the extra touches too, like brick center aisles, old-world style stall doors, and a sparkly chandelier - yes, we've truly seen this done.
5) Superior Structural Longevity
Structural integrity is the most important part of any post frame building.
As long as your post frame horse barn has been properly constructed with structural integrity in mind, you'll be able to enjoy your building for at least 40-60 years to come.
Since quality materials make a quality product, every aspect of your equine pole barn is created to last.
Quality materials such as Kynar-500 paint, Perma-columns, and stainless-steel screws will keep your equine pole barn structurally sound and looking great.
The less time you have to spend calling a post frame repair crew for repairs on your horse barn, the more time you'll have to spend riding your horses.
Which Pole Barn Companies Build Post Frame Equine Barns in Illinois?
We took the liberty of researching local post frame companies that build pole barns across the Land of Lincoln.
Based upon reviews, experience, and knowledge, we've narrowed down our list (in no particular order) to bring you the following post frame horse barn builders in Illinois.
Blunier Builders, Inc.
Family owned and operated, Blunier Builders, Inc. opened in 2002 as a small, five-man construction company located in Eureka, IL. The business was started as an opportunity for future generations to work together, providing quality construction services during the family farm's off-season. Today it has grown to a company of 50+ employees constructing high-quality post-frame buildings throughout Illinois.
FBi Buildings, Inc.
Located in Remington Indiana, FBi Buildings has a reputation as an industry trailblazer who stands behind integrity and excellence before, during, and after the sale. A family-owned company with innovative ideas, they have been in the post frame industry for over 60 years and continue to grow. Their current service area is in Indiana, Illinois, Eastern Iowa, Southern/Western Michigan, Southern Wisconsin, and Ohio.
Morton Buildings
Morton Buildings has been serving its residential, agricultural, and commercial communities since 1965. This employee-owned company has over 100 construction centers throughout the country to assist you with both your building and repair needs. They also have eight manufacturing facilities where many of their building components are produced.
Cleary Buildings
Since 1978, Cleary Building Corporation has sold over 114,000 buildings that include cabins, homes, and horse, farm, and commercial structures. They are located in Verona, WI, and are a national, family-owned company that prides themselves on putting their customers first.
Greiner Buildings
Greiner Buildings was founded in the 1980s in Washington, Iowa. Their family business has now grown into an established pole barn construction company with 60+ employees and 4 offices across Iowa and Illinois. Their strong values and humble Midwest roots have paved the way for the expansion and strengthening of the business. They challenge the status quo and continue to establish new standards of excellence within the post frame construction industry.
Are You Ready to Build Your Post Frame Horse Barn?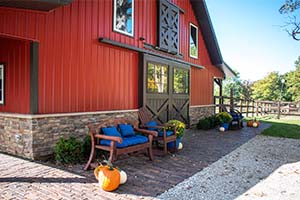 After reading about the top equine post frame builders in Illinois, are you ready to grab hold of the reins and call for a quote?
Whether you're experienced with construction, or it's your first time building, our post frame professionals are just a call away.
They're here to help walk you through the process and answer any questions you might have.
If you want to get a feel for what your post frame horse barn will look like, check out our Design Online Tool.
This is a free feature that allows you to see what your horse barn will look like in 3D, horse and hay bales included.
No matter how you decide to design and build your post frame horse barn, we're certain you'll love the result.
Just remember to always build with confidence.
---
Do you have more questions about post frame horse barns that aren't covered in this article? If you need help designing and planning, please contact FBi Buildings at 800.552.2981 or click here to email us. If you're ready to get a price, click here to request a quote, and a member of our Customer Engagement Team will determine the next steps of your project.