Subscribe
Who Builds Pole Barn Homes in Indiana?
Posts | Post Frame Homes | Residential Buildings | Pole Barn Builders
You've been talking about building your forever pole barn home for quite some time, and now is the moment to make that dream become a reality.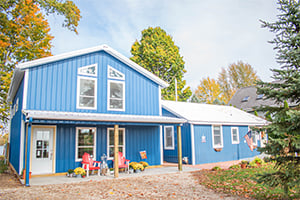 Each day you allot time for research, and then compile even more research on top of that to ensure you've got all bases covered.
Post frame housing is extremely popular right now, so there is ample amounts of information right at your fingertips.
If a construction company did not offer pole barn homes before, a good majority certainly offers them now.
Finding a post frame company that builds post frame houses in your state is a different story, though.
Since you're looking to build a post frame house in Indiana, let's take a look at the state's most popular post frame companies who are the right fit for the job.
What is a Pole Barn Home Defined As?
A pole barn home, also known as a barndominium, shome, or shouse, is constructed of posts that are secured in the ground.
Unlike a traditional stick-built home, laminated columns or perma-columns are driven into the ground and secured by a concrete pad with uplift anchors.
Columns support the roofing system, so no interior stud walls are needed.
This is great if you're looking for something open-concept and flows easily from room to room.
Opting to build a post frame home as opposed to a stick-built one doesn't mean you'll give up the luxuries of a traditional style home.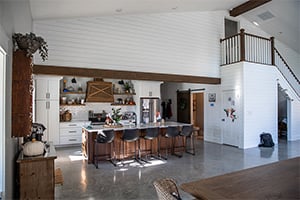 For example, if you want a two-story post frame home with living quarters, your post frame builder can make that happen.
If you wish to include a basement in the plans instead of a regular concrete slab, your post frame builder can make that happen, too.
Most pole barn houses typically have a metal roof, but you can also opt for a shingled-roof if you like the more traditional look.
Metal siding can be spruced up by adding brick or stone wainscoting to add more character to your home.
Overall, your options are quite broad when it comes to designing the exterior and the interior of your post frame home, so you won't feel like you have to give up on what you want.
What Roadblocks Might Happen When Building a Pole Barn Home?
Roadblocks may inevitably happen when building your post frame house.
However, if they can be prevented with the help of some retained knowledge, that will only make the process run much more smoothly.
Below are some roadblocks you might run into when building your dream pole barn home:
1) Your County Doesn't Allow Post Frame Homes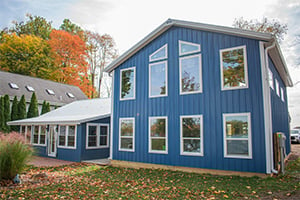 Unfortunately, not all counties allow pole barn homes.
Since post frame homes are a newer concept, even though they are gaining traction rather quickly, most counties aren't familiar with the necessary protocol for building this style home.
Zoning laws might allow for a post frame builder to construct your pole barn house but might make pole barn kits out of the question.
This can pose an issue for the do-it-yourself types who wish to build their home themselves.
Not all properties have been zoned to account for this style of building, and certain restrictions are put into place for post frame homes that can be built outside city limits or within certain zoning ordinances.
For example, if residents want to build a post frame building with living quarters that also doubles as a garage or hobby shop, at least half of the square footage must be living quarters.
These restrictions can put a damper on building designs and cause customers to rethink their decision to build.
2) Permitting Can Be An Issue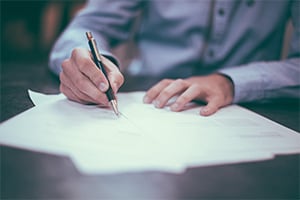 Before you start drawing up your building plans, it's crucial to contact your local permitting office to ensure you're able to obtain a permit.
Most counties allow for post frame homes to be built, but there could be a few that still don't permit them inside or outside city limits.
There is a chance that permits can't be issued, even if the property you're looking to purchase has been zoned for a pole barn house.
It's also crucial to ask your local permitting office what the necessary COVID-19 protocol is. Unfortunately, there could be a chance the current pandemic is causing delays in getting permits or office hours might be shortened because of it.
3) Obtaining a Mortgage Could Be Difficult
Not all mortgage lenders can finance a pole barn home.
One of the first things you should discuss with your post frame builder is if they have a list of preferred lenders they use that will offer financing for your home.
Once you find a mortgage lender that can set up the paperwork with you, you'll be good to go to set up your mortgage loan.
Just be prepared for a potentially long process, as there could be more paperwork involved to get the ball rolling.
4) Resale Value Could Be a Struggle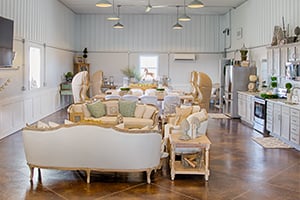 Maybe you're building your pole barn house with the idea in mind that it will be your forever home, or, maybe this is just a stepping stone on the way to your forever home.
If you plan to sell your post frame house in the future, it's essential to keep the resale value in mind.
Appraisers might struggle to get the resale value you're looking for in the end.
Since post frame homes are few and far between, they have to compare your home to stick-built houses, meaning there is hardly any comparison in the surrounding area and the selling price could wind up low.
However, with pole barn houses gaining much popularity, there could be a good chance in the future for the market to explode and for these roadblocks to become obsolete.
Which Post Frame Companies Build Pole Barn Homes in Indiana?
Now that we've taken a look at what a pole barn home is and what you can expect to run into when building one, let's take a look at some post frame companies that build pole barn homes in Indiana.
FBi Buildings, Inc.
Located in Remington Indiana, FBi Buildings has a reputation as an industry trailblazer who stands behind integrity and excellence before, during, and after the sale. A family-owned company with innovative ideas, they have been in the post frame industry for over 60 years and continue to grow. Their current service area is Indiana, Illinois, Eastern Iowa, Southern/Western Michigan, and Southern Wisconsin.
Morton Buildings, Inc.
Morton Buildings has been serving its residential, agricultural, and commercial community since the late 1940s. This employee-owned company has over 100 construction centers throughout the country to assist you with both your building and repair needs. They also have eight manufacturing facilities where many of their building components are produced.
MilMar Post Buildings
MilMar post buildings is a locally owned company based in northeastern Indiana that happily serves the Midwest. They pride themselves on their work and their customer service to ensure everything is done according to plan and satisfaction. They run their business by The Golden Rule and do their best to treat their customers the way they want to be treated by the companies they do business with.
Timeless Barn Company
Timeless Barn Company began 20 years ago with just a single barn. Since then, they pride themselves in adapting, reclaiming, repurposing, and restoring vintage barns into amazing personal and commercial spaces. Building and restoring is their passion, and you can see this clearly through their work. They are located in Frankfort Indiana and proudly restore and rebuild throughout the Midwest.
Wick Buildings, Inc.
Wick Buildings, Inc. is a privately-held company located in Wisconsin that has constructed over 70,000 buildings since being founded in 1954. They are one of the nation's largest post frame building companies and offer their services in suburban, commercial, and industrial pole barns, horse housing facilities, on-farm livestock and storage facilities, and animal confinement systems.
Cleary Building Corporation
Since 1978, Cleary Building Corporation has sold over 114,000 buildings that include cabins, homes, and horse, farm, and commercial structures. They are located in Verona, WI and are a national, family-owned company that prides themselves on putting their customers first.
Are You Ready to Build Your Pole Barn Home?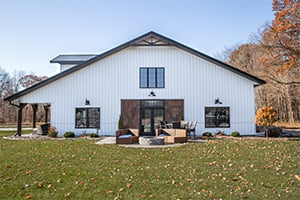 With the list of Indiana post frame companies in mind, are you ready to build your pole barn home?
Even though there might be some roadblocks you could experience, there are more pros than cons when it comes to building your dream post frame house.
If you need some inspiration you can check out our Pinterest page or download your FREE copy of our rural planbook to help get you started.
If you have any questions, our post frame professionals are ready to help. Just give us a call and we'll answer any post frame home questions you have.
When you are ready to build, just remember to always build with confidence.
---
Do you have more questions about pole barn home builders in Indiana that are not covered in this article? If you need help designing and planning, please contact FBi Buildings at 800.552.2981 or click here to email us. If you're ready to get a price, click here to request a quote, and a member of our Customer Engagement Team will help you determine the next steps of your project.