Subscribe
Our Top 5 Farm Shop & Machine Storage Pole Barns in 2019
If you're a full-time farmer (or even a part-time farmer) who would like multiple pole barn buildings to maximize operational efficiency, but you also have a limited budget, a multi-purpose post frame building might be the solution you've been searching for.
Why? Because you get the best of both worlds and you're also saving money by doing so.
These buildings give you the design flexibility so you can combine different types of pole barns, like a cold storage building with an insulated farm shop, without going over budget.
How? Because you're only building one post frame building instead of multiple ones. You're paying for all of the materials and construction at once instead of at different times.
We all know that material prices can fluctuate, after all...it is steel that we are talking about. So if you're considering a farm shop and a cold storage building, but you also want to make sure that your operation flows seamlessly, our recommendation would be to combine them.
And the best part? All of our buildings are custom-designed and built for your specific needs.
What exactly does that mean? We are a custom post frame builder. All of our pole barns are unique to what our customers are wanting.
If you know you need a farm shop with an overhead loft...we can help you. If you know you want your pole barn to be at least 100' wide...we can help you. If you want a breezeway to connect your farm shop and cold storage building...we can help you.
It's not uncommon for customers to want to see examples, such as pole barn pictures or even floor plans, of buildings we have built. Our Farm Plan Book will give you just that. With 20 detailed floor plans (designed by farmers), this plan book will help give you the ideas you need to get your project started.
However, if you're looking for advice on what type of multi-purpose post frame building would work the best, we can help you out with that too.


Our Top 5: Farm Shop and Machine Storage Pole Barns

1. Freeholder Favorite
Farm shop meets garage meets shed. Often farm buildings get used for multiple things. And when you've got all that clear-span flexible space, why not?
Every guy (or gal) deserves a warm place to park his pickup and store his tools now that his wife and kids have taken over the house garage. Thus, the small overhead door.
Next to it, a large overhead door provides entrance to the business side of the farm shop. In the back, a moderate size tool shed provides storage for farm equipment.
2. Heartland Hub
The center of it all. Your operation has expanded, equipment keeps getting larger and your old pole barn just isn't cutting it anymore. We have the perfect solution for you.
Establish a new centerpiece of your farm with a generously sized farm shop attached to a decent-sized cold storage building.
You won't believe how much more efficient you can be when you've got space to maneuver equipment inside and room to pull in and service machinery from two sides of the shop.


3. Heritage Place
Simple but classic design. This is an excellent balance of economy, functionality and style.
This post frame building will still be serving you well and looking good when the next generation moves onto the home place.
This plan showcases a popular layout with 2/3 cold storage and 1/3 heated shop, both accessed from the front.
Having just two large doors keeps costs down and makes this layout work especially well when you need to place your building between existing structures.
4. Longtime Leader
Put your best design forward. This is a serious farm building, but viewed from the house and the road, it presents a more classy, almost residential, look. Your wife (or husband) will approve.
That's largely due to the modestly sized overhead doors with mitered corners, the extra line of trim and cupolas.
But make no mistake, even though it will hold lots of "big boy toys" in the heated shop, the cold storage end holds volumes of big farm machinery...thanks to a 36' wide split-end sliding door.


5. Steward's Shed
More and more farm buildings include offices and this is the perfect plan for you if you want to get away but still stay close. Many farmers just build the offices into a corner of the shop.
Others, take this approach.
The advantage of going this way is you are able to completely get "away" from the noise and dust of the shop and shed.
That's important if you need to concentrate on weighty matters. It also makes the exterior of the building more visually interesting.
There you have it...our recommendation for the top five farm shop and cold storage pole barns. Each floor plan is unique to the farmer who designed it. Did you see something that caught your eye but you want to tweak it? No problem.
See the other 15 plans by downloading our FREE Farm Plan Book.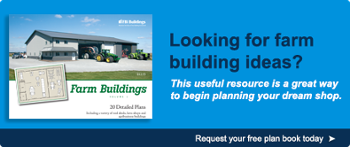 ---
Have more questions about post frame buildings not covered in this article? Please contact FBi Buildings at 1.800.552.2981 or click here to email us. If you are ready to get a price, click here to request a quote and a member of our sales team will call you!