Building Construction | Posts | Building Features | Structural Integrity
100' Pole Barn Trusses: A Viable Option for Your Building

Subscribe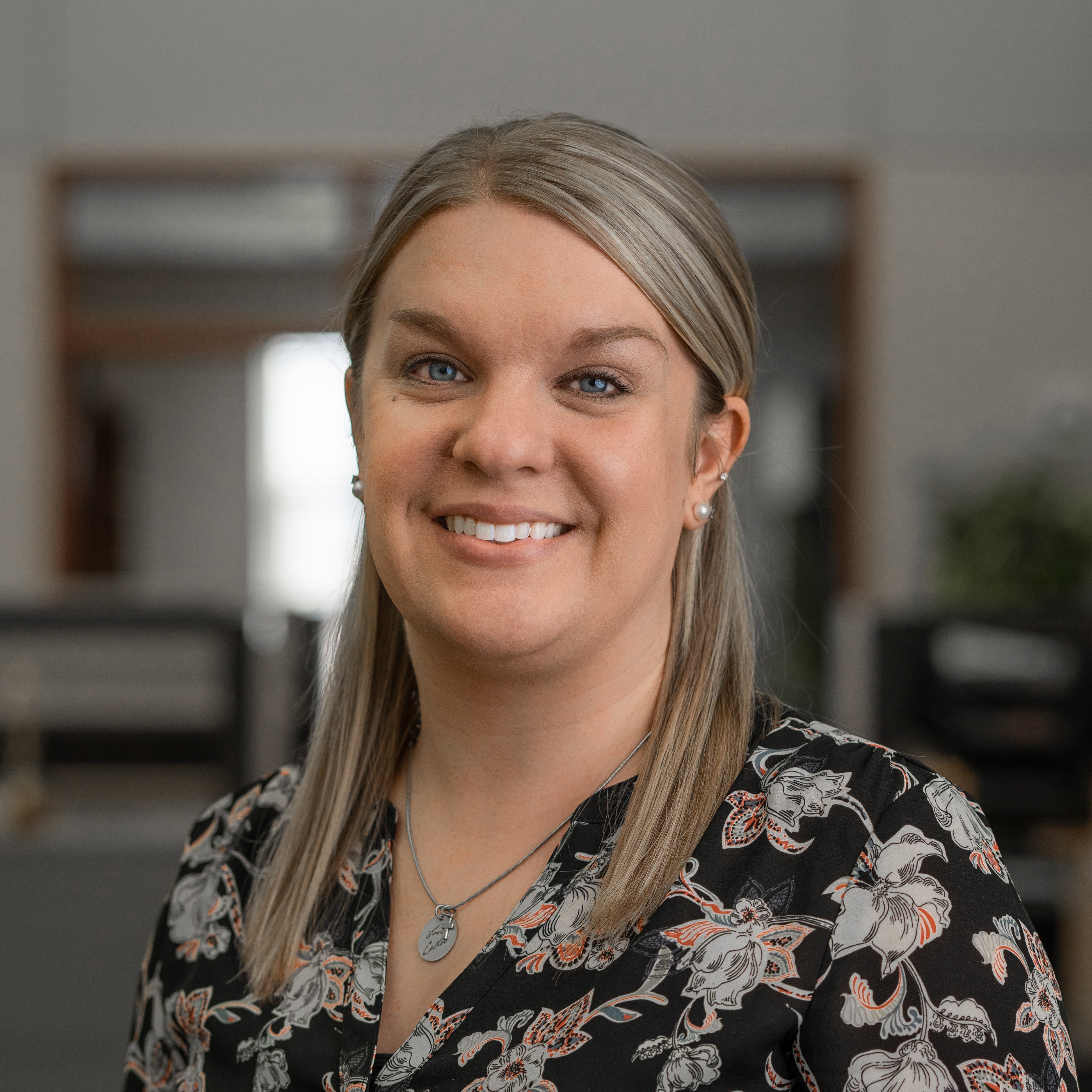 Angie graduated from Indiana State University with a Bachelor of Science in Interior Design. Prior to joining the FBi team, Angie was a kitchen and bath sales consultant in Lafayette, IN. In 2012, she started with FBi as the Inside Sales/Marketing Assistant. Today she holds the role of Sr. Marketing and Inside Sales Manager. Angie grew up in a farming community and has always enjoyed helping her family on the farm. A past 10-year 4-H Member, her passion for livestock pursued her to take a career in the agriculture field. She and her husband live in Northwest Indiana with their two daughters. In her free time, she enjoys outdoor leisure activities and spending time with friends and family.
Are you the type of person who likes to take weekly drives through the countryside? It's okay to admit it. We don't mind taking the scenic route from time to time.
If so, you probably tend to pay attention to the surrounding neighborhood activity. It's not uncommon for your eagle eyes to notice someone building a new house or post frame building.
As you made the journey back home, one construction site caught your eye — a wide pole barn with 100' clear-span trusses. You've never seen anything like it before.
The following questions run rampant in your mind:
In this article, we'll provide the answers to your burning questions by discussing how:
By the time you're done reading, you'll have a greater sense of confidence to make a well-informed buying decision.
How Do Pole Barn Trusses Affect Structural Integrity?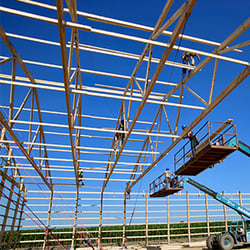 First, structural integrity refers to a pole barn's ability to withstand anticipated loads without breaking.
Any building, regardless of size or location, must be designed to withstand both vertical and lateral loads safely.
A truss is the rigid framework of wooden members designed to support a metal roof. You're probably familiar with its triangular shape.
In addition to supporting the roof and connected building sides, trusses are a critical part of the load path. They're responsible for handling and transferring all stresses from the roof (via purlins and steel) to the columns.
Having well-designed trusses is essential because if one fails, the others will follow suit. This domino effect will result in building collapse. And we definitely wouldn't want that to happen!
The truss profile, span, heel height, overhang, and web configuration depends on the building design and will vary by application.
Are you interested in learning more about specific building components and their effect on structural integrity? Download our FREE "Structural Integrity in Post Frame Construction" e-book.
How Have Pole Barn Trusses Evolved?
Over the years, the span size of trusses has evolved. In the 1980s, post frame builders commonly used 60' (one-ply) trusses. Larger trusses (72' and 80') were made out of two-ply lumber. The more ply (or layered material), the stronger the truss.
At the time, post frame builders were unable to hang or lift trusses without any bending or bowing. The higher up in the air, the more stress placed on the lumber. Consequently, it was easier to produce and swing one-ply trusses.
Naturally, engineers and Project Sales Consultants (PSCs) began to push the limits. Why not incorporate larger truss spans into the building designs?
Eventually, this idea led to the birth and application of 100' clear-span trusses.
Nowadays, 100' trusses are two-ply and made out of high-grade lumber. A higher grade means the truss can carry more stress. How is the lumber graded? Let us explain.
How Are Pole Barn Trusses Graded?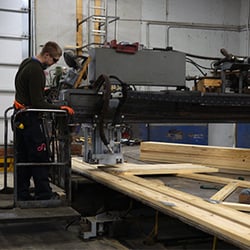 There are two ways to grade lumber: visually and mechanically.
Visual grading is done manually. A trained inspector examines the wooden boards and assigns a grade based on the set criteria. Then, the board is stamped with its grade.
The grade is important in two ways: aesthetics and strength.
Engineers use reference books (e.g., National Design Specification for Wood Construction) to determine the design values for each species.
The grade shows how much the wood fibers can handle in terms of bending, compressive, tensile, and shear stresses. Again, the grade level has a substantial impact on the strength of the board.
At FBi Buildings, we're able to incorporate 100' trusses into our building designs. Since 2008, we've built over 35 pole barns with a clear-span framework.
How? Our in-house truss plant uses Machine Stress-Rated (MSR) lumber.
Each piece of MSR lumber is tested for stiffness and strength using an electromechanical machine. To further refine the assessment, it's visually inspected to determine a grade.
As a result, we know the lumber strength before we start hanging trusses for your post frame project.
How Do Construction Crews Hang Clear-Span Trusses?
Regardless of lumber grade, hanging large trusses poses a safety risk.
Construction crews should proceed with caution when lifting clear-span trusses. We recommend post frame builders with extensive experience taking on this big task.
With that being said, FBi Buildings has developed and implemented a safe but efficient system for hanging 100' trusses.
Determining lift points and using the correct equipment is crucial for a successful installation. When done right, the roofing system of your pole barn will be just as secure as that of a steel building.
How can we be so confident? Because we've learned a thing or two as the post frame industry has evolved in our 60+ years of business.
How Do Experienced Engineers Play a Vital Role in Pole Barn Construction?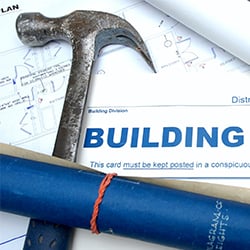 However, we wouldn't have the knowledge of truss design and grading without the help of experienced engineers.
Civil engineering refers to the design, construction, and maintenance of buildings and infrastructure that make up our world. The typical duties of a civil engineer include:
In order to be a civil engineer, one will need a bachelor's degree in civil engineering or one of its specialties.
Leadership positions require a Professional Engineering (PE) license. A PE oversees the work of other engineers, approves blueprints, and signs off on construction projects. State licensure varies by state, but general requirements include:
Some contractors or construction companies hire external engineers. We recommend working with post frame builders who have licensed engineers on staff. Why? Because outside firms don't always have your best interest at heart.
Whereas, in-house engineers work with you on your pole barn project from start to finish. They think creatively and strategically to provide a better end product for you.
The FBi Engineering Department consists of four individuals with degrees in engineering and its specialties (i.e., agricultural, architectural, biological, and civil). They work closely with our salespeople to determine design requirements while meeting customers' needs and wants.
What Are the Advantages of 100' Clear-Span Trusses?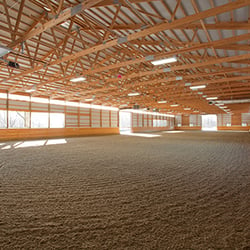 The most significant advantage of using 100' pole barn trusses is the lack of interior load-bearing walls. It gives you the design flexibility to maximize your building space.
We understand that farmers and commercial business owners are busy individuals.
Therefore, site flow is crucial for their operation's efficiency. For many, it's a matter of time and mobility.
Many consumers can benefit from this open floor plan.
Farmers can easily rearrange their large implements in their cold storage building.
Automotive dealerships can exhibit the newest sports car or heavy-duty truck in an airy showroom.
Warehouses have easier access to assembly lines, deliveries, equipment, and trucks.
Horse barns can add indoor riding arenas, which means equine enthusiasts can enjoy their horses, rain or shine.
Are you interested in building a wider pole barn for maximized workspace? If so, clear-span trusses are the best option for you.
Watch the 360 video below to see how clear-span trusses play a role in commercial buildings.
How Does QLYFT Help With Clear-Span Trusses?
In the fall of 2020, FBi Buildings introduced the QLYFT building system, an unprecedented way of erecting post-frame structures on the ground.
We created this construction method to improve crew safety while taking product quality to the next level.
Construction crews can install flashing, gutters, and overhangs at the waist level. This installation reduces the chance of pole barn damage (e.g., leaks) and repairs during/after the building process.
During QLYFT construction, your post-frame building is less vulnerable when assembled near the ground level.
Because it's closer to the ground, the wind isn't as much of a hindrance when hanging trusses and running metal roofing panels.
This building system is designed to lift roofs in windy conditions (up to 30 mph).
Will Your Pole Barn Have 100' Clear-Span Trusses?
Whew! We understand that was a lot of information to absorb. One thing we want you to take away from this reading is that clear-span trusses are ideal for consumers interested in wider pole barns.
The end result is a spacious but versatile structure that will meet your needs and wants.
Pole barn trusses have come a long way since we joined the post-frame industry in 1958. From truss span to lumber grading, it's amazing to look back and see how far we've come. Of course, this growth is mostly due to engineers and their contributions.
Are you ready to build a pole barn? You can design your own building with our 3D design tool. Save, print, or email your floor plan to family and friends.
Are you ready for a quote? Submit your design to us, and a member of our sales team will give you a call to begin the estimating process.
We recommend you check out The Ultimate Guide to Building a Pole Barn. This guide will help you navigate the steps necessary to ensure your post-frame project gets done on time and under budget.
---
Have more questions about pole barn trusses not covered in this article? Please contact FBi Buildings at 1.800.552.2981 or click here to email us. If you are ready to get a price, click here to request a quote and a member of our sales team will call you.