Cost | News | Permitting | Site Preparation
It's been a little over one year since COVID-19 shook our nation. It has been a challenging time for all of us. For some, most days were probably just a blur, and we did what we could just to get through the day. Even though people could continue to work during the pandemic, the reduced labor force is being felt into 2021. If building a pole barn is part of your plans for this year, now is the time to get that project rolling.
Cost | Posts | Repairs & Renovations
Rot. It's bound to happen sooner or later, especially if you have an existing post frame building built in the late 70s or early 80s. Not to be confused with improper upkeep to your pole building, rot is a fungus that flourishes with moisture, oxygen, and darkness. For example, do you or someone you know have an existing farm building that is simply used for cold storage? Perhaps your parents have a hobby barn that they use just to store fun, off-road vehicles.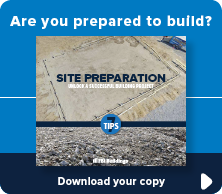 Enjoy a smoother construction experience.
The guidebook that offers essential steps and information which lays the foundation for an on time and on budget project.
Commercial Buildings | Cost | Farm Buildings | Open-Sided Buildings
Are you a hardworking farmer interested in extra storage space for large implements? Are you a commercial business owner looking to protect your products or services from the elements? Maybe you're tired of leaving your equipment outdoors and would like to keep them protected under roof but easy enough to be still accessible when needed.
Building Tips | Cost | Energy Efficiency
As Midwesterners, we know firsthand that Mother Nature can be unpredictable. We should be used to it by now because we never know what type of winter she'll bless us with until it's here. I'm sure that you know people who dread the long winter months. Some of your friends and family might even find peace when it snows.
2020 was a big year for all of us. Due to your support over the last year, FBi was able to: Survive COVID-19 Break into new sales territory by expanding into Michigan and Wisconsin Launch the QLYFT building system None of this could have been possible without the dedication of our hard-working team and our loyal customers. Here's a look back at our top blogs, videos, resources, and post frame projects of 2020.
Building Design | Building Features | Building Tips
When people think of a post frame building or pole barn, they might envision farm shops, machine sheds, or even horse barns. The common misconception about post frame construction is that it's primarily used for agricultural buildings because farmers need the wide, open space to store their equipment.