Cost | Pole Barn Kit | Residential Buildings
If you're an avid reader of the FBi blog, you probably have noticed that we've been going into detail with our pole barn kits' price and building features. We've discussed pricing options for a 24' x 24' x 10' pole barn kit, as well as a 24' x 30' x 10' pole barn kit. This week we will be looking at cost and building materials for a 30' x 40' pole barn kit.
If you're interested in building a pole barn kit (also known as a material package), there's a good chance that you've done a little research into price estimates. We shop around when purchasing a vehicle, house, insurance, schooling, television providers, etc. So, it only makes sense that you do the same for your post frame project.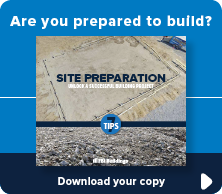 Enjoy a smoother construction experience.
The guidebook that offers essential steps and information which lays the foundation for an on time and on budget project.
Building Tips | Financing | Permitting | Posts | Site Preparation
It's hard to believe that we are over halfway done with 2020. To say that 2020 has been an interesting year would be an understatement. COVID-19 has left several ripples throughout the country, which has caused a "new normal" for businesses, schools, churches, restaurants, etc.
Cost | Pole Barn Kit | Residential Buildings
If you find yourself reading this blog, there's a good probability that you like to tackle DIY projects head-on. Perhaps you're a go-getter who's never had a job you couldn't handle. Or maybe you're not one to turn down a challenge. If the DIY Network or YouTube can show you how to do it, then you will do it. Whether it comes to creating, repairing, or building, you're confident you can tackle it yourself instead of hiring someone else to do the job.
Our builder comparison for this week is featuring Lester Buildings. Similar to FBi, Lester constructs buildings for farm, hobby, horse and stable, livestock, commercial, and residential buildings. They firmly believe that they set themselves apart from their competitors with these three things: A professional, collaborative planning experience from concept to completion Customization Value In this blog, we will be presenting the facts and strengths of each builder. Our goal is to help you have a better understanding of how FBi compares to Lester before you make a final decision.
Comparisons | Posts | Residential Buildings
Do you have an existing storage shed or even two-car garage that is overflowing with bikes, Christmas decorations, fishing poles, an abundance of tools, or even extra boxes and totes that you don't know where to store? It's bound to happen at some point. Perhaps you're looking for more storage space for that recently purchased (and still shiny) ATV? Or maybe you recently purchased an antique car and need the extra space for a three-car garage. If so, it may be time for you to consider building a new garage.