Who Are the Top Pole Barn Builders in Iowa?

Subscribe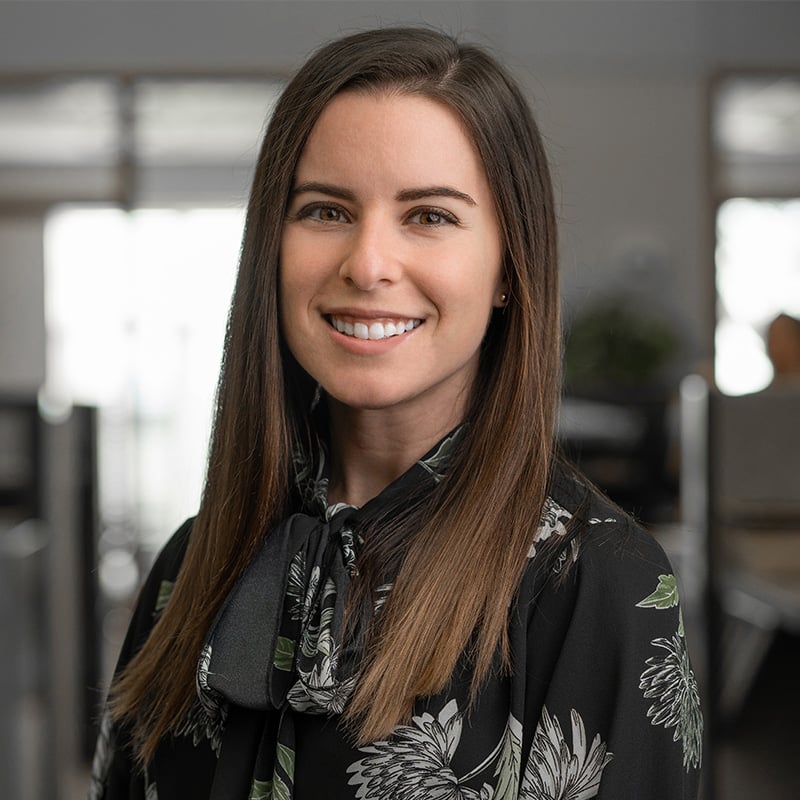 After working in the banking industry for 5 years after college, Courtney realized she needed a change and decided to pursue a new career path. Growing up she has always been creative and enjoyed writing, taking pictures, or painting. Now as the Marketing Content Creator for FBi Buildings, she gets to utilize her creative abilities in her everyday work. In her free time, you can find Courtney at home reading a book, partaking in any and all outdoor activities, or traveling and photographing her adventures. Courtney resides in Northwest Indiana with Lacey, her red tick coonhound.
Taking on the task of hiring someone to build your dream pole barn can seem a bit daunting. With so many post frame builders in the post frame industry, how do you know who is the best at what they do? How do you know they can see your vision as you do and bring that vision to life?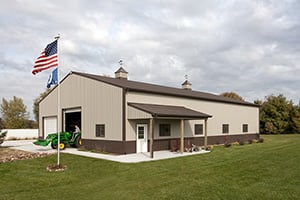 Finding a post frame builder you can trust is also important. You want to ensure the post frame company you hire to build your dream pole barn is going to follow through with their word, and not leave you with something you didn't ask for. The last thing you want is someone who gives you empty promises, then leaves you high and dry, or with an unfinished project.
All pole barn builders say they're the best in the industry, but how do you know who truly is at the top of the list?
We're here to help you find the perfect post frame builder for your new pole barn project. We took the liberty of narrowing down the top pole barn builders to help you choose the builder that's best for your post frame needs.
In the past, we've brought you the top pole barn builders in the Midwest, Indiana, Illinois, and Michigan. Today, we're bringing you a list of the top pole barn builders in Iowa.
Keep reading to learn who these top post frame builders are, and the questions you should have on hand to ask them during your next meeting.
Top Pole Barn Builders in Iowa (Our Recommendations):
Wick Buildings, Inc.
Headquarters: Mazomanie, WI
Insights: Wick Buildings, Inc. is a privately-held company located in Wisconsin that has constructed over 70,000 buildings since being founded in 1954. They are one of the nation's largest post frame building companies and offer their services in suburban, commercial, and industrial pole barns, horse housing facilities, on-farm livestock and storage facilities, and animal confinement systems.
Cleary Building Corporation
Headquarters: Verona, WI
Insights: Since 1978, Cleary Building Corporation has sold over 114,000 buildings that include cabins, homes, and horse, farm, and commercial structures. They are a national, family-owned company that prides themselves on putting their customers first.
FBi Buildings, Inc.
Headquarters: Remington, IN
Insights: FBi Buildings, Inc. is a family-owned company that has been servicing Indiana and Illinois since 1958. Since then, they have built over 20,000 agricultural, equine, commercial, and residential pole barns. They also offer their repair and renovation services with crews specifically for this market.
Morton Buildings
Headquarters: Fairfield, IL
Insights: Morton Buildings has been serving its residential, agricultural, and commercial community since the late 1940s. This employee-owned company has over 100 construction centers throughout the country to assist you with both your building and repair needs. They also have eight manufacturing facilities where many of their building components are produced.
Lester Building Systems, LLC.
Headquarters: Charleston, IL
Insights: Founded in 1947, Lester Building Systems, LLC has expanded its territory from "the Eastern Seaboard to the Rocky Mountains and as far south as a line running from Oklahoma eastward through Tennessee and North Carolina." They offer custom pre-engineered post frame building systems for hobby, commercial, livestock, equine, and farm purposes.
Which Post Frame Company Is the Right Fit to Tackle Your Next Project?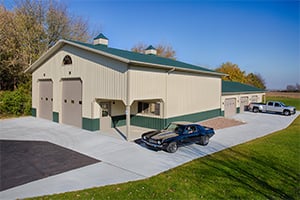 We understand you want to be particular in selecting a post frame company for your next project, and we don't blame you. You're putting your hard-earned money into your dream pole barn, so you want someone you know can take on the task. You want someone you know you can trust to get the job done and get it done right.
Like with anything in life, you'll want to ask as many questions as possible. If you feel this pole barn builder answers your questions confidently and with ease, that's a good first sign that they're competent with what they're doing.
We took the liberty of compiling an extensive list of questions we feel you should ask your post frame builder before you get too far into the building process. By getting answers to these questions, you can feel more confident in the builder you're choosing to build your dream pole barn.
To Find Which Pole Barn Builder is Best for You, Ask Yourself The Following Questions:
What does their building process look like?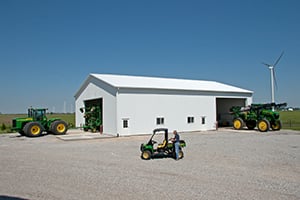 It's important to mention that no two building processes are exactly alike. Each pole barn builder has their own way of managing projects, but you'll want to make sure they know how to manage these projects the right way.
Remember when we mentioned how crucial it was to ask an abundance of questions? When trying to get a feel for the company's building process, this is an excellent place to start with your list of questions you've compiled.
Does the builder seem organized, or do they seem more scatterbrained? Are they working on a couple of projects right now or many more projects than they can handle? Were you given a reasonable time frame to get your pole barn completed? These are all questions you'll want answers to upfront before you even consider taking a step forward with the building design.
If the answers to these questions are not adding up, it may be best to reconsider your options. A lack of organization can lead to a slew of surprises that you and this builder did not plan for.
Does this builder use high-quality materials?
We completely agree that a smaller price tag is definitely more appealing. However, that doesn't always mean it's a good product or service. You get what you pay for, so it's a good idea to keep that in mind when going into investing in a pole barn.
Quality materials equate to a post frame building that will last longer than a building constructed with mediocre materials. If you're spending your hard-earned money, don't you want to make sure it's investing in something that will actually last? Besides, the more money you spend upfront, the less you'll have to spend later on for repairs.
Each post frame company will have its own materials they prefer to use, so be sure to ask them at the beginning about which type of lumber, steel, windows, doors, siding, and paint they build with. Keep in mind that a quality builder will use quality materials.
What does the time-frame look like for my post frame project?
You're excited to get the ball rolling on post frame construction, and we don't blame you, but there are a few things to make a note of when it comes to the timely completion of your post frame project:
How's the weather?
Mother Nature can be pretty stingy here in the Midwest. One day you're mowing your yard in a tank top and shorts, and the next day you're bundled up in your winter jacket while you shovel your driveway. Oh, wait, it's back in the 70s again tomorrow? Better wait to shovel, then, since it's all going to melt anyway.
Add in our copious amounts of rain, high winds, and other unexpected weather occurrences, and you'll have yourself a bunch of delays in the construction of your pole barn.
Is there a small or large sized crew?
A company that sends out a smaller crew could potentially mean your project won't get done as quickly - especially if they're contracted on multiple projects at once. You'll want to hire a pole barn builder who offers a larger crew size to ensure your pole barn is done as quickly as possible.
Wait, my project isn't the only one you're working on?
Chances are you won't be the only one getting the builder's full attention. While we wish we all could have this specialized treatment, your builder probably has an extensive list of projects lined up. While he/she tries to give their attention to each project, this could potentially mean your post frame building won't be finished as quickly.
Does this builder directly employ or outsource their crews?
Contracting a builder who outsources their crews could mean potential delays in your project. These crews are more than likely hopping from project to project and organization can begin to lack. You might see delays in the delivery of materials, too, which only extends the deadline even more.
Hiring a builder who directly employs their own crew ensures these crews are appropriately managed. This builder knows that the best way to ensure top performance and high quality is through accountability. Time is managed much more efficiently, and scheduling crews is easier for them to do since they don't have to worry about them being scheduled for other jobs.
Is there a Project Manager, or a Project Sales Consultant acting as Project Manager?
Project Managers are the ones who keep the project running smoothly and efficiently since they are onsite to oversee at all times. It's not an easy task with the copious amounts of juggling they have to do on a daily basis, but they play a vital role in the construction of your post frame building.
Project Sales Consultants (PSC) have their own busy schedules to tend to, so by acting as a project manager, this could potentially open the door to error. While there is nothing wrong with a PSC acting as a Project Manager, someone wearing both hats can easily get distracted or pulled away from work to be needed somewhere else, and things could get messy.
Do they offer a warranty package? If so, what's included?
Let's start by mentioning that a standard warranty does not exist in the post frame industry. While we wish it did, sometimes life just isn't that straightforward. We recommend discussing the pole barn warranty package with your builder early on. Accidents happen, and mishaps are inevitable, so you'll want to make certain you're covered against anything that could go wrong.
Not positive of what to look for? Feel free to utilize these top five warranty essentials for reference.
Is there a specialized repair crew to take care of building damage after construction?
Having a post frame company that has its own team specialized in repairs and renovations is a good sign that they take building damage seriously. Unfortunately, pole barns are not exempt from damage, whether that comes from everyday wear and tear, or weather-related destruction.
You'll want someone you can trust to take your building's damage seriously, and who will come out as quickly as they can to repair it. If the damage is not taken care of right away, further damage could ensue, allowing your pole barn to be susceptible to further destruction.
How do the reviews from past customers add up?
Have you checked out Angie's List or Yelp to see what customers are saying about this company? Checking reputable sites and reading their reviews is a good place to start when you're deciding if a post frame company is best for you.
If you notice a lot of negative reviews, that might be a good sign that this builder isn't the best in the industry. Take negative reviews with a grain of salt, though, because remember, trolls don't just live under bridges.
Will this construction company be around in the next 20 years?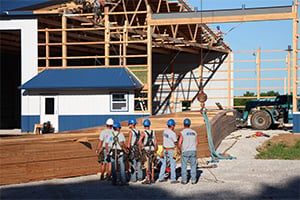 Someone who has been in the post frame industry for 20 years or more must know what they are doing. They have seen and been through it all, and yet they are still in business and thriving. After 20 years, it's safe to guess that they are incredibly competent and knowledgeable about the work they are doing.
Knowing they have been in the pole barn industry this long must mean they are a trustworthy builder, too. They have an extensive portfolio because of raving reviews and recommendations from previous customers. It's incredibly important that you hire someone you can trust, so knowing they have been around for quite some time is a good sign you can put your project in their hands without any doubt.
On the flip side, just because someone hasn't been constructing pole barns for 20 years doesn't mean they aren't a good fit, though. What they might lack in years of experience, they may make up in pure talent. Don't ixnay a company just because they have only been around for a few years - everyone starts somewhere.
Who Will You Contract for Your Next Post Frame Project?
Now that you've read our recommendations, do you have an idea of who you'll contract for your next pole barn? Finding the best fit for you can be a bit challenging, but that doesn't mean it's impossible. Go with your gut when deciding, as your gut is usually never wrong.
And as always, remember to build with confidence.
---
Do you have more questions about the top post frame builders in Iowa that are not covered in this article? If you need help designing and planning, please contact FBi Buildings at 800.552.2981 or click here to email us. If you're ready to get a price, click here to request a quote, and a member of our Customer Engagement Team will help you determine the next steps of your project.