Posts | Company | Post Frame Homes | Residential Buildings | Pole Barn Builders
Who Builds Pole Barn Homes in Ohio?

Subscribe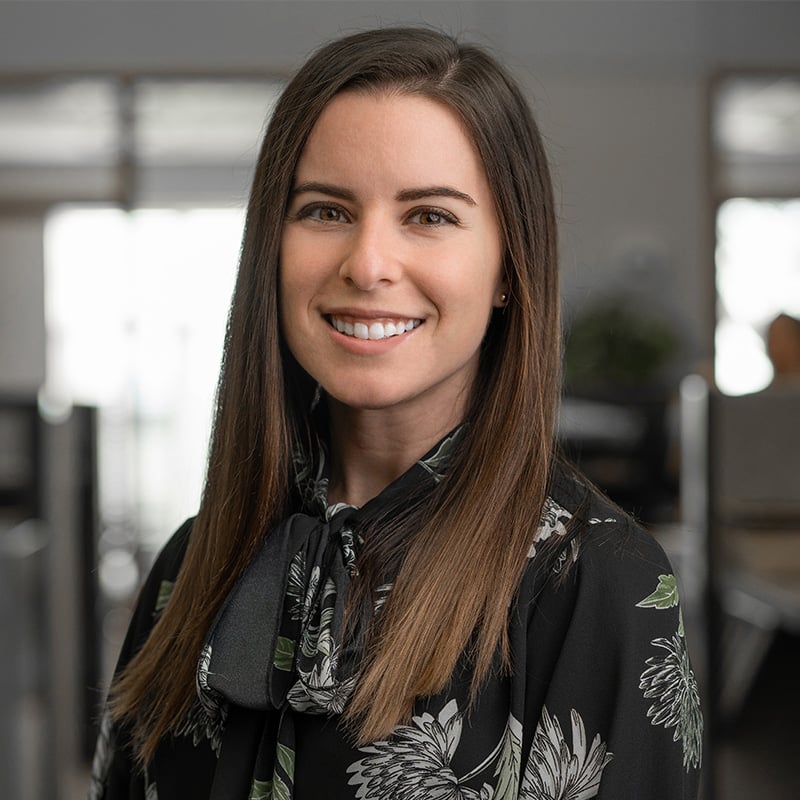 After working in the banking industry for 5 years after college, Courtney realized she needed a change and decided to pursue a new career path. Growing up she has always been creative and enjoyed writing, taking pictures, or painting. Now as the Marketing Content Creator for FBi Buildings, she gets to utilize her creative abilities in her everyday work. In her free time, you can find Courtney at home reading a book, partaking in any and all outdoor activities, or traveling and photographing her adventures. Courtney resides in Northwest Indiana with Lacey, her red tick coonhound.
Ohio has a lot to offer for those who choose to move there and plant some roots.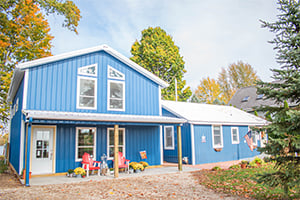 Ohio receives its name from the Iroquois word, "O-Y-O," meaning "the great river," which refers to the Ohio River that spans the entire length of the southern part of the state.
Thanks to Ohio, they formed the first-ever major league baseball team known as the Cincinnati Red Stockings.
In 2000, Ohio established its first and only national park known as Cuyahoga Valley National Park. The park is visited by more than 2.2 million people each year, making it one of the most visited national parks in America.
In short, Ohio is rich in history, fun, and beauty and would make a wonderful place to settle down.
When you think of settling down in Ohio, do you imagine yourself in a custom-built pole barn home?
Do you imagine an open-concept design that is tailored to fit your wants and needs in a home?
The good news is that since post frame housing is so popular nowadays, there is no shortage of post frame builders that can make your dream a reality.
Whether you're looking to build outside city limits or in the country along the Ohio River, there is a post frame builder that can bring your vision to life.
Continue reading to learn which post frame companies build pole barn homes in the Buckeye State.
What is a Pole Barn Home?
Also known as a shome, shouse, or a barndominium, a pole barn home is a post frame building constructed with living quarters.
Unlike a traditional stick-built home, laminated columns or perma-columns are driven into the ground with uplift brackets and then secured by a concrete pad.
Columns support the roofing system, so no interior stud walls are needed.
If you're looking for an open concept that flows easily from room to room, a pole barn house is perfect for you.
Opting to build a post frame home instead of a stick-built one doesn't mean you'll give up the luxuries of a traditional-style home.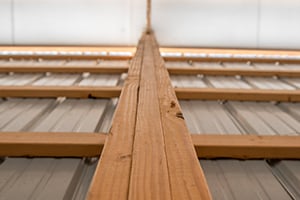 For example, if you like a more traditional look instead of modern, you can opt for a shingled roof instead of a metal one.
If you want to add character to your pole barn home, you can still add a nice stone or brick wainscoting to break up the metal siding.
Do you have a larger family or need more space? Your post frame builder can design a two-story post frame home to give you the extra space you need for family or storage.
If you prefer to dig deeper than build upwards, you can even have a basement included in your pole barn home's design.
In short, post frame homes offer a wide variety of design options to make it truly yours, so you won't feel like you have to give up on the selections you really want.
To see a pole barn home being built in action, watch the time-lapse video below.
Are There Roadblocks I Could Encounter When Building a Post Frame Home?
As with any large-scale project, incurring roadblocks is almost inevitable.
While we wish it could always be smooth sailing, it's important to know what you could potentially be up against so you can go into the process with a plan.
However, just because roadblocks happen doesn't mean you won't ever reach your end goal.
Our goal is to help make the building process as painless for you as possible, so we wanted to give you a heads up on some roadblocks you might encounter when building a pole barn home.
1) Post Frame Homes Aren't Allowed In Your County
Construction would be much simpler if all counties were on the same page and had the same rules.
Unfortunately, life isn't always that easy.
Post frame housing hasn't been around nearly as long as stick-built housing, so some counties aren't familiar with a proper protocol for building.
However, as quickly as pole barn homes are gaining popularity, counties are beginning to adjust their policies to accommodate this style of home.
The tricky part is that some parcels aren't zoned for pole barn style homes, but thankfully if allowed, lots can be rezoned in order to build.
If you're the do-it-yourself type with a pole barn kit, you may run into zoning issues that allow for this.
It's crucial to speak with county officials before finalizing any building designs. They will be able to walk you through the paperwork, as the rules vary by county, to point you in the right direction.
2) Acquiring a Building Permit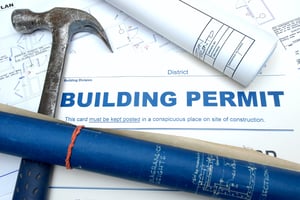 Once the fun part of searching online galleries and designing your own pole barn is concluded, one of the first and most important steps of the process is acquiring a building permit.
As we mentioned previously, not every county is on board with post frame houses or has a protocol set in stone.
There is a possibility that you may need to obtain special permitting in order to build your post frame home.
This could potentially make the process a little longer, so to avoid any delays it's crucial to discuss this upfront with your builder.
FBi Buildings can pull permits for customers to help get your project moving along a little quicker.
We want to utilize your time wisely so you can start enjoying your post frame home as soon as possible.
3) Establishing Financing
Another one of the first and most important steps to consider is securing financing options for your new home.
Like with obtaining building permits, obtaining a mortgage could potentially be a little more difficult than financing a stick-built home.
Mortgage companies might not be familiar with post frame housing since it's a relatively new concept to them, so the process could look a little different.
Talk with your builder upfront to see if they have a list of preferred lenders they can give to you.
If they've been in the industry for quite some time, they'll know the go-to mortgage companies to work with who specialize in this kind of financing.
Be prepared for the potential of more paperwork and a slightly longer process to obtain financing.
Since this trend is new to some banks, they'll want to make sure all bases are covered before finalizing everything.
4) Adequate Resale Value of Your Home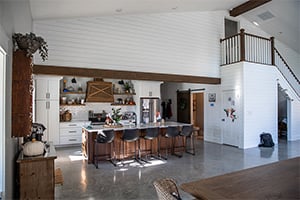 If you're building your pole barn home with the idea of this being your forever home, it's a good idea to keep its future resale value in mind.
As of now, there isn't an abundance of post frame homes that are built, so appraisers might struggle to calculate an appropriate value for what your home is worth.
This means appraisers will have to compare your pole barn house to stick-built homes in the area, so your home might be appraised for lower than you anticipated.
However, as popular as this style of home is, it's quickly gaining popularity more and more each day.
If you decide to sell your home in the future, there may be plenty of options for your house to be compared to so it won't have to be a deal-breaker for you.
For more pros and cons to building a post frame home, check out this blog here for more information.
Which Post Frame Companies Build Pole Barn Homes in Ohio?
In no particular order, here are some post frame companies that can build your dream pole barn home in Ohio.
DC Builders
DC Builders offers nearly two decades' experience in designing and building barns in Ohio and nationwide and can help you craft the perfect barn for your location, budget, and needs. They offer custom design, framing and installation, and timber frame and post and beam services for clients anywhere in the U.S.
FBi Buildings, Inc.
Located in Remington Indiana, FBi Buildings has a reputation as an industry trailblazer who stands behind integrity and excellence before, during, and after the sale. A family-owned company with innovative ideas, they have been in the post frame industry for over 60 years and continue to grow. Their current service area is Indiana, Illinois, Eastern Iowa, Southern/Western Michigan, Southern Wisconsin, and Ohio.
Morton Buildings, Inc.
Morton Buildings has been serving its residential, agricultural, and commercial community since the late 1940s. This employee-owned company has over 100 construction centers throughout the country to assist you with both your building and repair needs. They also have eight manufacturing facilities where many of their building components are produced.
Milmar Buildings
Based in northeastern Indiana, Milmar Buildings serves customers throughout the Midwest. They have years of experience building Amish-style pole building barns in Ohio and the surrounding region. They have stayed true to their roots, even with their impressive growth. Their customers know that they will get the best quality work at affordable prices.
Hansen Pole Buildings
Founded by J.A.Hansen, Hansen Pole Buildings, LLC, was formed as a limited liability corporation in 2002, as an internet-based business providing custom-designed, high-quality pole building kits at affordable prices. The Hansen Buildings vision is to be the industry leader in post frame building kits as solutions to personal living, storage, and agricultural needs while making great service a priority.
Are You Ready to Build Your Pole Barn Home?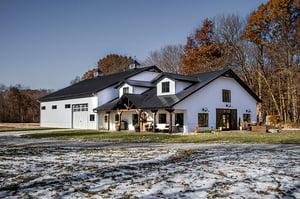 Now that you've read who builds pole barn homes in Ohio, are you ready to bring your vision to life?
There is no right or wrong answer to which post frame company is the best - it's all about who truly understands your vision and the wants and needs on your list.
If you need help bringing your vision to life, you can see what your pole barn home would look like in 3D by using our Design Online tool.
If inspiration and imagination are lacking, feel free to check out our website gallery or our Pinterest page for ideas.
We also offer our Rural Lifestyle Plan Book that you can download today for FREE to help you get an idea of what to build.
No matter which route you choose to take, just remember to always build with confidence.
---
Do you have more questions about pole barn home builders in Ohio that are not covered in this article? If you need help designing and planning, please contact FBi Buildings at 800.552.2981 or click here to email us. If you're ready to get a price, click here to request a quote, and a member of our Customer Engagement Team will help you determine the next steps of your project.