Building Tips | Posts | Repairs & Renovations
When it comes to renovating a pole barn, it's easy to become overwhelmed with what to do and where to start. Thanks to social media platforms like Instagram and Pinterest, it seems as though we are constantly bombarded with the latest ideas in renovating. Enter man caves and she-sheds.
Building Tips | Posts | Structural Integrity
There is a good probability you're reading this blog because you are the ultimate "do it yourself" type of person. You're known as the Chip or Joanna Gaines in your circle of friends, and those friends know just who to call when they need help.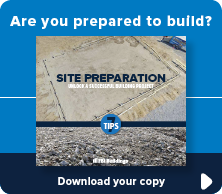 Enjoy a smoother construction experience.
The guidebook that offers essential steps and information which lays the foundation for an on time and on budget project.
Building Tips | Posts | Structural Integrity
It's Sunday, March 8th, 1998. The sun is shining, birds are chirping, and life is good. Winter has been long and dark, but in the air, there is a promise of Spring. The weather is tolerable, so you're outside prepping your lawn and garden for the warm weather that will undoubtedly be here soon. Just when you start to get somewhere, dark clouds begin to roll in and threaten a storm. In no time, rain begins to fall, so you inevitably head inside to stay dry — dang you, crazy Midwest weather.
Building Tips | Pole Barn Builders | Posts
In this day and age, it seems like people are more conscious about the decisions they are making and the products they are purchasing. People perform extensive research to ensure they are making the best possible choice before making up their minds. The last thing anyone wants is to regret their decision later on down the road - especially when that decision involves their hard-earned money.
Comparisons | Posts | Structural Integrity | Videos
Post frame companies want you to purchase their product over their competitors, and the one way they can convince you to do so is to advertise their product as the best on the market, especially when they're comparing the structural integrity and pole barn steel warranties of their main competitors.
Building Features | Building Tips | Post Frame Homes | Posts | Residential Buildings
When you hear the word "pole barn," what do you see? Most people picture a red barn with a white roof, cupolas, and sliding doors for moving heavy machinery. It's the epitome of a farm building in the rural Midwest. However, the latest construction trend is a pole barn with living quarters. Yes, you read that correctly. You may wonder, "Why would someone want to live in a barn?" Nowadays, building usage goes beyond the realm of agriculture.