When you hear the term "pole barn," chances are that you envision a farm shop or cold storage building. However, the typical post frame building isn't so typical in today's day and age. In fact, some of the more popular styles include pole barn homes, hobby shops, and storage sheds.
If you're interested in building a pole barn kit (also known as a material package), there's a good chance that you've done a little research into price estimates. We shop around when purchasing a vehicle, house, insurance, schooling, television providers, etc. So, it only makes sense that you do the same for your post frame project.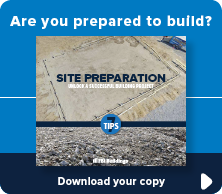 Enjoy a smoother construction experience.
The guidebook that offers essential steps and information which lays the foundation for an on time and on budget project.
Building Design | Building Features | Building Tips | Posts
Buyer's remorse – we've all been there. We bought something we didn't need (e.g., a motorcycle that collects dust in the garage). And, we didn't buy something we should've (e.g., a house with plenty of storage room). In the moment of our buying or non-buying decision-making process, it's hard to predict how our choices will impact our future. We don't want to purchase something that won't serve its purpose, but we don't want to miss out on something useful.
Building Tips | Financing | Permitting | Posts | Site Preparation
It's hard to believe that we are over halfway done with 2020. To say that 2020 has been an interesting year would be an understatement. COVID-19 has left several ripples throughout the country, which has caused a "new normal" for businesses, schools, churches, restaurants, etc.
Cost | Pole Barn Kit | Residential Buildings
If you find yourself reading this blog, there's a good probability that you like to tackle DIY projects head-on. Perhaps you're a go-getter who's never had a job you couldn't handle. Or maybe you're not one to turn down a challenge. If the DIY Network or YouTube can show you how to do it, then you will do it. Whether it comes to creating, repairing, or building, you're confident you can tackle it yourself instead of hiring someone else to do the job.
Building Tips | Comparisons | Pole Barn Builders | Posts
Our next builder comparison features Arnold Lumber. This construction center sells agricultural and residential building kits in the Midwest. They're not to be confused with a Rhode Island LBM dealer of the same name. In this blog, we present the facts and strengths of each pole barn builder. Our goal is to provide you with a better understanding of how FBi Buildings compares to Arnold Lumber before making a buying decision.