Building a pole barn has always been a goal of yours. When you pull into the driveway, you can envision a 40' x 80' tool shed in your spacious backyard. This post frame building will house bikes, four-wheelers, lawnmowers, and other outdoor accessories. But this pole barn isn't just about storage; it's about recreation too. A large porch would be an ideal place to hang out with family and friends.
There are a lot of decisions to make when building a pole barn. From the overall building design to figuring out proper site preparation, and even choosing your building colors. Aside from pole barn costs, one of the even bigger decisions to make is trying to figure out the proper amount of square footage you will need...without running out of space. That could be tricky, right? Trust me when I say that we hear this all the time from our customers, "I wish I would have made my building bigger." And we get it.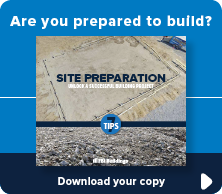 Enjoy a smoother construction experience.
The guidebook that offers essential steps and information which lays the foundation for an on time and on budget project.
We can all agree that building a pole barn is a big decision. For some people, it may take weeks, months, or even years to convince your significant other or business partner(s) of this large purchase.
After several months (or years) of kicking the idea around of building a pole barn, you've finally made the decision that you're going to move forward with this long overdue project. You've spoken to friends who have a post frame building, you've done your research online, and you've probably even read Google reviews on who the best pole barn builders are. Your decisions have been narrowed down to the top three builders (in your opinion), and you want to do your due diligence and make sure you get an apples to apples quote comparison.
It's safe to say that man caves and she sheds are in style. Unless you've been living underneath a rock... Television networks (e.g., DIY, FYI, and HGTV) are premiering series following the rise of this trend. Insurance companies are poking fun at the movement. Poor Cheryl! With all this hoopla, we don't blame you for wanting a man cave or she shed. In fact, we've had customers consciously save their money for this very reason.
When your post frame building project is completed, it's probably a sigh of relief for you. You spent months (or maybe even years) planning the perfect building. Every detail was thoughtfully considered, even down to the type of hardware that was going to be placed on your walk doors. You're probably ready to spend every waking minute in your new post frame structure, and we can't say that we blame you...we would want to do the same thing. But have you thought about the type of maintenance that needs to happen after your post frame building is finished?