Posts | Post Frame Homes | Residential Buildings | Pole Barn Builders
Who Builds Pole Barn Homes in Michigan?

Subscribe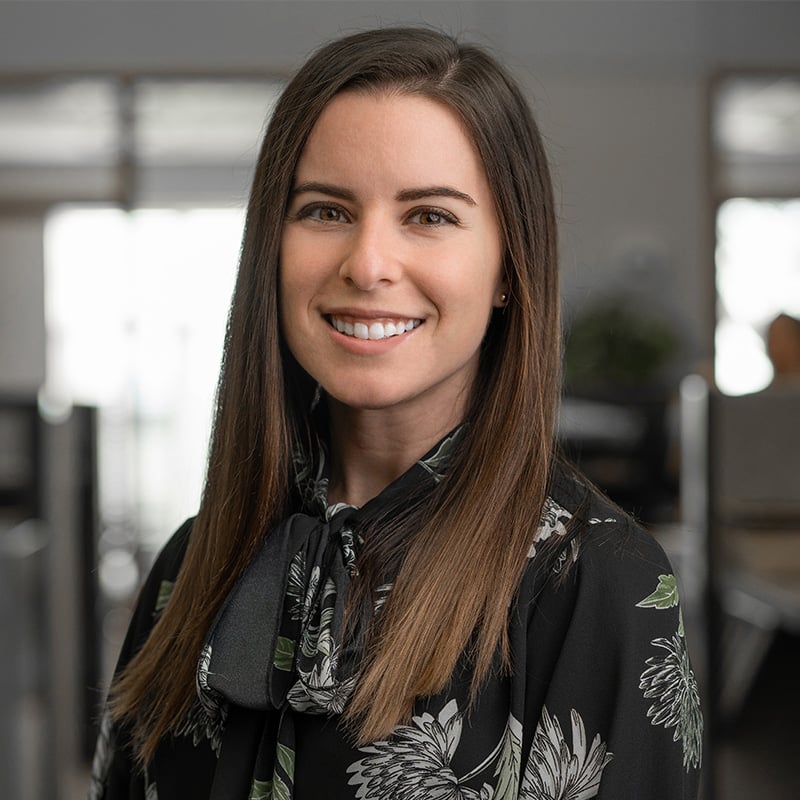 After working in the banking industry for 5 years after college, Courtney realized she needed a change and decided to pursue a new career path. Growing up she has always been creative and enjoyed writing, taking pictures, or painting. Now as the Marketing Content Creator for FBi Buildings, she gets to utilize her creative abilities in her everyday work. In her free time, you can find Courtney at home reading a book, partaking in any and all outdoor activities, or traveling and photographing her adventures. Courtney resides in Northwest Indiana with Lacey, her red tick coonhound.
The state of Michigan has a lot to offer to those who live there and those who come to visit.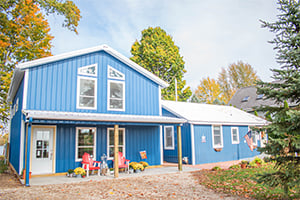 There are over 11,000 crystal clear inland lakes for recreational fun in both the warm and cold months.
Four of the great lakes, Lake Michigan, Lake Superior, Lake Huron, and Lake Erie all border each side of the state making it the only state who can say this.
Forests roll on as far as the eye can see, and dotted in between are plenty of ski resorts and off-road parks for the adventurous kinds.
In short, Michigan is a great place to settle down and plant some roots.
When you think of settling down, do you think of designing and building a house that is custom just for you? Perhaps you think of a pole barn home?
With as popular as post frame homes currently are, there is no shortage of post frame builders to help bring your vision to life.
Below we'll dive deeper into what a pole barn home is and which post frame companies build them in the Great Lakes State.
What is a Pole Barn Home?
Also known as a barndominium, shome, or shouse, a pole barn home is constructed of posts that are secured directly into the ground.
Unlike a traditional stick-built home, laminated columns or perma-columns are driven into the ground and secured by a concrete pad with uplift anchors.
Columns support the roofing system, so no interior stud walls are needed.
If you're looking for something open-concept and flows easily from room to room, a pole barn house is perfect for you.
Opting to build a post frame home instead of a stick-built one doesn't mean you'll give up the luxuries of a traditional-style home.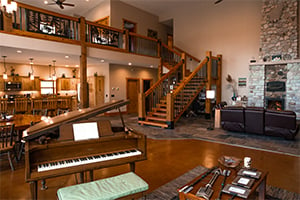 For example, if you want a two-story post frame home with living quarters, your post frame builder can make that happen.
If you wish to include a basement in the plans instead of a regular concrete slab, your post frame builder can make that happen, too.
Most pole barn houses typically have a metal roof, but you can also opt for a shingled-roof if you like the more traditional look.
Metal siding can be spruced up by adding brick or stone wainscoting to add more character to your home.
Overall, your options are quite broad when it comes to designing the exterior and the interior of your post frame home, so you won't feel like you have to give up on what you want.
To see a pole barn home being built in action, check out this quick time-lapse video.
Are There Roadblocks That Could Happen When Building a Pole Barn Home?
Like with any big project you want to tackle, roadblocks may inevitably get in the way.
Just because a roadblock may happen, that doesn't mean it's an end to your goal. It just means you might get a headache or two during the process.
Below is a refined list of potential roadblocks you might incur when building a post frame house.
1) Your County Doesn't Allow Post Frame Homes
Even though pole barn homes are quickly gaining popularity, they are still a relatively new concept.
Since this style of home is not as well-known, some counties aren't entirely sure what the proper protocol is for building one.
Even if zoning laws allow for a pole barn home to be built by a certified post frame builder, they might not allow for pole barn kits.
This could pose an issue for the do-it-yourself type who wish to build their own.
Not all parcels have been zoned with a post frame house in mind, but that doesn't mean they can't be rezoned if the county allows for it.
While it might make the process take a little bit longer, it could eliminate any future complications during the building process.
It's crucial to speak with county officials before finalizing any building designs. They will be able to walk you through the paperwork as the rules vary by each county.
2) Obtaining Building Permits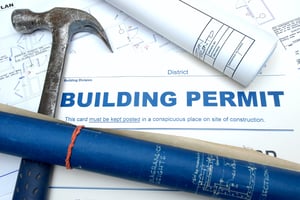 One of the first things you should do when planning to build a pole barn house is to talk with your local permitting office.
Unfortunately, not all counties allow for post frame homes to be built within or outside of city limits. If this is your case, special building permits might be needed.
However, since this trend is so incredibly popular, most counties are revising their protocols and are beginning to allow for post frame builders to build this style of home.
It's also crucial to ask your local permitting office what the necessary COVID-19 protocol is. Unfortunately, there could be a chance the current pandemic is causing delays in getting permits or office hours might be shortened because of it.
3) Obtaining a Mortgage
As with obtaining a permit, securing a mortgage loan could also be difficult since banks aren't used to this trend yet either.
Not all lenders can finance a loan for your post frame house, so it's crucial to talk with your post frame builder upfront. They might have a list of preferred lenders they work with who can offer to finance for you.
Be prepared for the potential of more paperwork and a slightly longer process to obtain financing. Since this trend is new to some banks, they'll want to make sure all bases are covered before finalizing everything.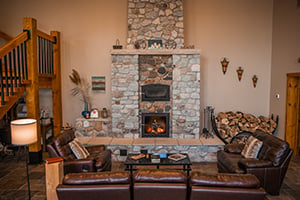 4) Resale Value of Your Home
If your post frame home is just a stepping stone on the way to your forever home, it's essential to keep the resale value in mind.
Appraisers might struggle when it comes to appraising your home for what it's worth.
Since pole barn houses aren't widely scattered across your town, appraisers will have to resort to comparing your home to traditional stick-built houses. This could cause the price of your pole barn house to wind up much lower than you expected.
However, as quickly as post frame houses are being built nowadays, by the time you decide to sell this might not even be an issue and won't be considered a deal-breaker to your dream home.
Which Post Frame Companies Build Pole Barn Homes in Michigan?
Now that you're familiar with what a post frame house is and what the process briefly entails, let's take a look at which post frame companies build pole barn homes in the Great Lakes State.
1) MilMar Post Buildings
MilMar post buildings is a locally owned company based in northeastern Indiana that happily serves the Midwest. They pride themselves on their work and their customer service to ensure everything is done according to plan and satisfaction. They run their business by The Golden Rule and do their best to treat their customers the way they want to be treated by the companies they do business with.
2) Morton Buildings, Inc.
Morton Buildings has been serving its residential, agricultural, and commercial community since the late 1940s. This employee-owned company has over 100 construction centers throughout the country to assist you with both your building and repair needs. They also have eight manufacturing facilities where many of their building components are produced.
3) FBi Buildings, Inc.
Located in Remington Indiana, FBi Buildings has a reputation as an industry trailblazer who stands behind integrity and excellence before, during, and after the sale. A family-owned company with innovative ideas, they have been in the post frame industry for over 60 years and continue to grow. Their current service area is Indiana, Illinois, Eastern Iowa, Southern/Western Michigan, and Southern Wisconsin.
4) Wick Buildings
With the sale of over 75,000 buildings since its founding in 1954, Wick Buildings is one of the nation's largest producers of post-frame buildings. They build a wide variety of pole buildings, including pole barn homes, many of which are award-winning. What sets Wick apart from the competition is their exceptional engineering, reliable, high-quality materials, extensive warranty and service, local, trustworthy builders, and highly-trained, award-winning crews.
5) DC Builders
DC Builders is a nationwide design and construction firm with nearly two decades' experience in crafting custom structures across the country. Since 2002, they have designed and built hundreds of heavy timber, hybrid, and conventionally framed structures in nearly every state, with several dozen bearing their signature heavy timber aesthetic. From contemporary timber frame homes in Oregon to barn-style equestrian estates in North Carolina, they've crafted residential and commercial structures of every style and use and can easily collaborate with you to create the structure of your dreams.
Are You Ready to Build Your Pole Barn Home?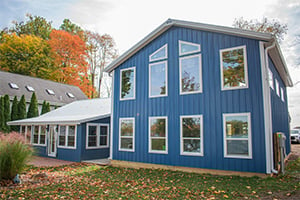 Now that you've discovered pole barn home builders in Michigan, are you ready to build your dream home in the Great Lakes State?
Post frame homes are truly a one-of-a-kind style home and they will surely be the talk of the town.
If you're in need of further inspiration, you can check out our website gallery or our Pinterest page to look at completed projects.
We also have a rural lifestyle plan book you can download for FREE to get an idea of what you're looking to build.
Regardless of how you choose to design your dream post frame house, we're certain you'll fall in love with it every day you live there.
Just remember to always build with confidence.
---
Do you have more questions about pole barn home builders in Michigan that are not covered in this article? If you need help designing and planning, please contact FBi Buildings at 800.552.2981 or click here to email us. If you're ready to get a price, click here to request a quote, and a member of our Customer Engagement Team will help you determine the next steps of your project.