How to Choose Your Pole Barn Walk Door

Subscribe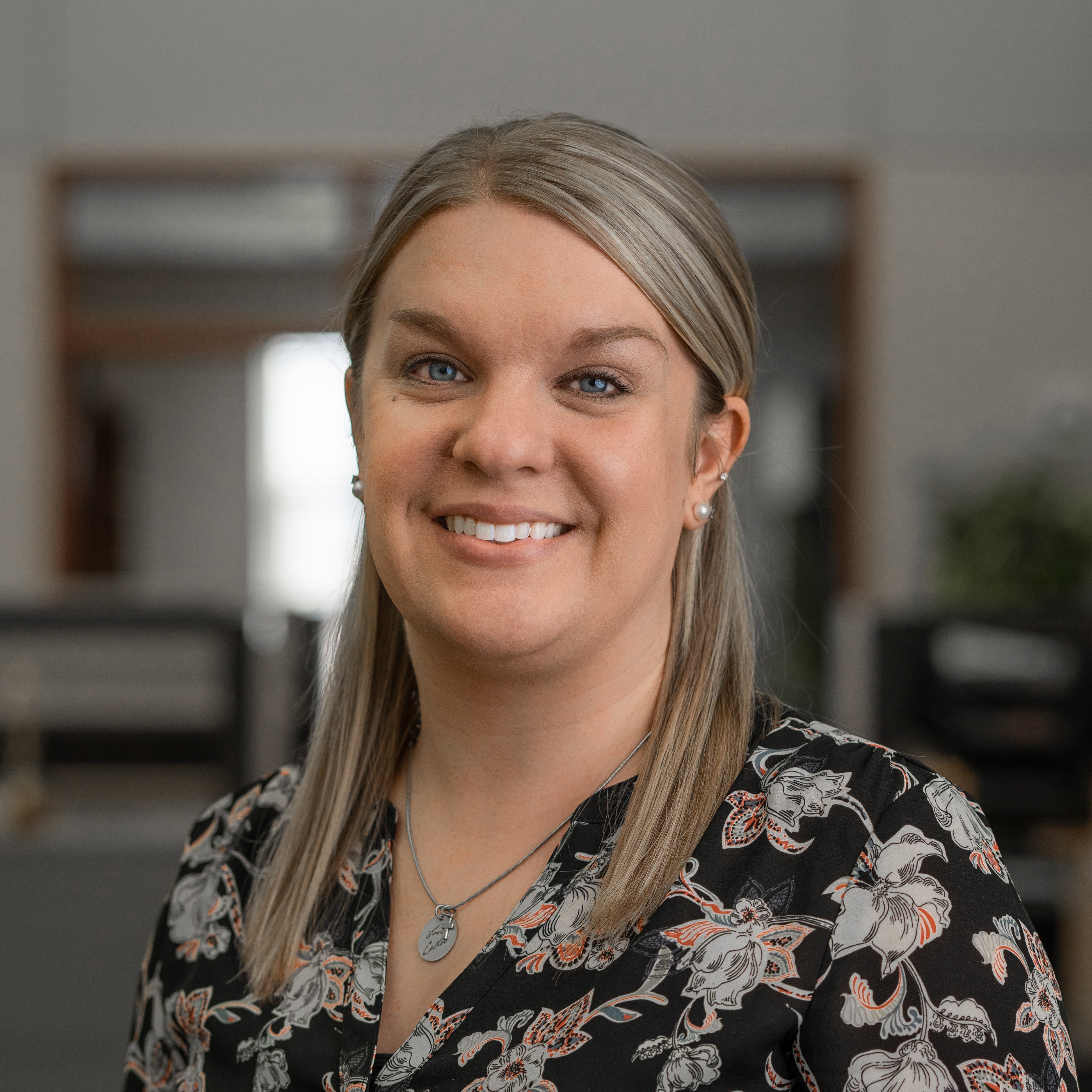 Angie graduated from Indiana State University with a Bachelor of Science in Interior Design. Prior to joining the FBi team, Angie was a kitchen and bath sales consultant in Lafayette, IN. In 2012, she started with FBi as the Inside Sales/Marketing Assistant. Today she holds the role of Sr. Marketing and Inside Sales Manager. Angie grew up in a farming community and has always enjoyed helping her family on the farm. A past 10-year 4-H Member, her passion for livestock pursued her to take a career in the agriculture field. She and her husband live in Northwest Indiana with their two daughters. In her free time, she enjoys outdoor leisure activities and spending time with friends and family.
If we told you that the small details take up the most time when planning the perfect post frame building design, would you believe us? Some of you might. Some of you might not.
Let's think about that statement for a minute. Think about all of the small details that go into planning a building. From color selections, window options added features like cupolas and weathervanes to overhangs and mansards.
Are those things that you thought about before having a building constructed? Or, are those afterthoughts? My guess is it's a good mixture of both.But, what about the door selection? It sounds relatively painless, right? You know you're either going to want a sliding door, overhead door, or walk door. You probably have a good idea with how many doors you might need as well. But, would you know what type of walk door to get?
You're probably thinking that a walk door is simply just that….an entry door, whether it be a primary entry or a side entry. Like many things in life, there are different options for you to choose from when selecting the perfect door for your horse barn or hobby shop.
Will you be prepared to make the decision on what type of door to purchase? If you answered no, then you're in luck. We're going to drill down the different options to look for when buying a walk door.
Walk Door Options: Lite Commercial & Steel
Lite Commercial Walk Doors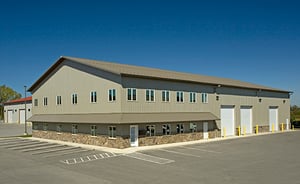 If you're looking for a steel walk door with steel jambs pre-hung and 4-way universal then we recommend the following door types:
9-Lite Crossbuck
Full View
9-Lite
These three doors are a commercial grade door, with features that also could be used for any residential pole building. There's a good chance that you might even have one of these doors installed in your own house. We understand that there are hundreds of door styles to choose from, and you're probably wondering, "How do I even choose a walk door?"
That's a great question to ask yourself if you're uncertain about what type of style/feature you're looking for. Maybe the overall price is the final decision maker for you. Maybe you're looking for a certain door style, and you don't want to settle until you find the perfect panel door. No matter what scenario you find yourself in, we recommend paying close attention to these 4 features.
1. Style and Strength
If door style and strength is the most important factor for you, do you know what type of information you need to be looking for? Do you know what makes some walk doors better than others?
To be honest, I wouldn't know what I would be looking for. I would trust the salesman that was trying to sell me my door and pray that he/she knows what they're talking about. But, we want to make sure that you're equipped with everything you need to know about walk doors.
Pay attention to these features when doing your searching:
Is the rolled edge door panel made of 24-gauge polyester painted galvanized steel? This creates a smooth look that will complement your post frame building.
Are the rolled steel edges wrapped around heavy internal aluminum stiles and rails that bond with the polyurethane foam to create a seamless rigid panel?
What gauge and size are your steel jambs? We recommend finding one that is 16-gauge with 3 ½" wide painted jambs.
What gauge and size are the fixed pin hinges? For durability and security, try to find a door that uses 12-gauge stainless steel with 4 ½" x 4" fixed pin hinges.
2. Protection Against the Elements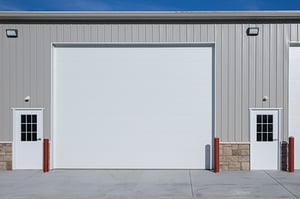 It's pretty uncommon to have a screen door in front of your walk door on a post frame building. The only exception will be if you have multiple entrances, with one of those entrances being the main front door (especially if it leads into an entryway or office). This is common with post frame structures that are used for agribusiness or retail purposes.
Does the door you're looking at include the following?
A high-performance, replaceable bulb and leaf weather seal of extruded Santoprene®. This seal remains flexible in all temperature extremes. Which makes it a perfect fit for the unpredictable midwest weather.
An aluminum parting stop in the header frame? This helps enhance weather protection and keeps unwanted rain and snow out of your building.
Does it have a bulb and wand Alcryn® sweep? This gives higher weather resistance over ordinary PVC sweeps.
What's the insulation value? This is important to protect against external temperatures. The doors that come with our buildings have an R-12 insulation value from a panel of injected polyurethane foam (2.2 pounds per cubic foot).
3. Distinctive Details
If you're looking for a door that is simply going to be used as a side entry door, then this probably isn't as big of a deal to you. However, if you know that your walk door is also going to be your main entrance (or even an entrance to your farm shop or warehouse), then these details will matter.
Is the swing 4-way universal? Having this as an option helps with any last-minute jobsite changes that might be necessary.
What type of door sill will you be getting? Is it a low-profile ADA-approved aluminum sill?
What are the "extras" that come with your door?
4. Options to Fit Your Needs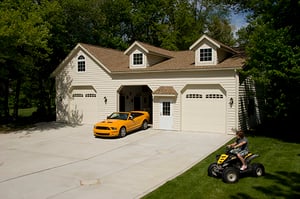 Has this ever happened to you before? You're shopping online, and you fit the perfect outfit, product, or even tool. You go to select your size, style, or even color, and you see those three words that you never want to see when online shopping, "Out of stock."
We want to make sure that that doesn't happen when you're looking for a door, especially if you need it right now.
Are these options available for the door you're looking at?
Do the sizes range from 2'-0" to 4'-0" wide and 6'-8" and 7'-0" high?
Are single-glazed and insulated tempered door lites available?
What about the door grids? Do those come available on insulated 9-Lite and Full View Lites?
Is there a crossbuck and 6-panel pattern on both interior and exterior doors?
Steel Walk Doors
If you care less about aesthetics and more about a high-performing door, then we recommend looking into a thermally broken door. When the demands of nature require higher performance, this is the door style that our customers prefer.
It also comes in four different style types:
Vue Lite
6-Panel
Vent-Lite
Standard
There's a good possibility that you might already have one of these doors installed in your tractor and implement storage building or mini-warehouse building. If you don't, do you know what qualities to look for that make this door a better buy?
We recommend paying close attention to these two qualities before you buy any steel door.
1. Thermal Barrier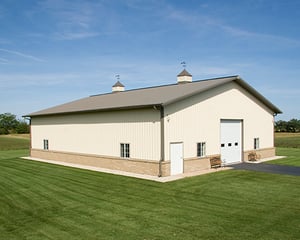 If you have a door with a thermal barrier, this will help reduce the wintertime heat loss and the summertime heat gain. Not only that, it will help with the risk of interior condensation as well.

Does the door you're looking at include a polypropylene thermal break? Are the steel jambs made out of 16-gauge steel?
Are there re-blocks of high density, molded urethane at the lock bore and deadbolt?
Are there pultruded fiberglass stiles and rails? This helps create a thermal break on the roll-formed panel and unwanted weather out of your building.
2. Pultruded Fiberglass
Did you know that pultruded fiberglass ensures that your door will hold up to the weather extremes? This high-performance material is corrosion resistant and electrically insulative.
Do you live in a constantly windy area? Do you get bad snow drifts during the winter no matter what direction the wind is coming out of? If you answered yes to any of those questions, then this is an option you want to make sure your door has.


What Walk Door is Right for You?
So what will it be? Do you think lite commercial is the better fit for you or will the benefits of pultruded fiberglass make steel a better choice? Ultimately, the final decision will come down to your wants and needs...and honestly your personal preference on what type of style you're looking for. It's our job to make sure that you get the help you need along the way.
References & Pictures Provided by:
---
Do you have more questions that are not covered in this article? If you need help designing and planning, please contact FBi Buildings at 800.552.2981 or click here to email us. If you are ready to get a price, click here to request a quote and a member of our customer engagement team will help you determine the next steps of your project.