Building Design | Posts | Structural Integrity
You've been saving for your dream pole barn for a while now, and you're officially ready to start the building process. Maybe you had to work a few extra hours a week or had to cut down on going out to eat, but you reached your budget goal, and you're excited to get the ball rolling.
You've spent countless hours researching, reading, and scouring Pinterest for all of the inspiration, and you now feel confident in how you want your pole barn to look. Maybe you created a Pinterest board solely for your new pole barn, or maybe you've compiled a stack of photos you've torn out from magazines for ideas. No matter how you decided to find your inspiration, you're ready to take the next step. Designing the floor plan for your pole barn.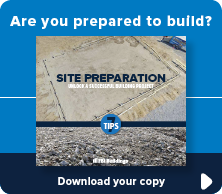 Enjoy a smoother construction experience.
The guidebook that offers essential steps and information which lays the foundation for an on time and on budget project.
Building Design | Posts | Structural Integrity
Lately, it's been incredibly windy here in the Midwest. However, this does not come as a complete surprise to all of us since it's consistently windy year-round. With our ever-changing temperatures from day to day, it's windier than not, and we think any Midwesterner can agree to that statement.
We all know that Midwest weather can be a little unpredictable. Our seasons are temperamental and can change in the blink of an eye, most of the time without warning. It's not unusual to wear a winter jacket then change into shorts - on the same day.
Building Design | Building Features | Posts
Building a pole barn has always been a goal of yours. When you pull into the driveway, you can envision a 40' x 80' tool shed in your spacious backyard. This post frame building will house bikes, four-wheelers, lawnmowers, and other outdoor accessories. But this pole barn isn't just about storage; it's about recreation too. A large porch would be an ideal spot to hang out with family and friends.
Building Design | Building Tips | Posts | Residential Buildings
It's safe to say that man caves and she sheds are in style. Unless you've been living underneath a rock for the last few years.