Building a pole barn has always been a goal of yours. When you pull into the driveway, you can envision a 40' x 80' tool shed in your spacious backyard. This post frame building will house bikes, four-wheelers, lawnmowers, and other outdoor accessories. But this pole barn isn't just about storage; it's about recreation too. A large porch would be an ideal place to hang out with family and friends.
We can all agree that building a pole barn is a big decision. For some people, it may take weeks, months, or even years to convince your significant other or business partner(s) of this large purchase.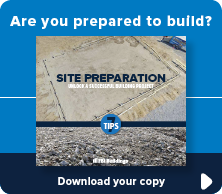 Enjoy a smoother construction experience.
The guidebook that offers essential steps and information which lays the foundation for an on time and on budget project.
Building Features | Comparisons | Posts
If you're interested in building a pole barn, there's a good chance that you've done a little research into price estimates. We shop around when purchasing a vehicle, house, insurance, schooling, television providers, etc. So, it only makes sense that you do the same for your post frame project.
Are you the type of person that likes to take weekly drives through the countryside? It's okay to admit it...we don't mind taking the scenic route from time to time. If so, you probably have a tendency to pay attention to the neighborhood activity. It's not uncommon for you to notice someone building a new house or post frame building. As you made the journey back home, one job site caught your eye. A wide pole barn structure with 100' clear-span trusses. You've never seen anything like it before.
Building a pole barn is a complex construction project. It's relatively easy to get caught up in the nitty gritty details of planning and designing your post frame structure.
Brace yourself; winter is officially among us. Mother nature is unpredictable. We never know what type of winter she'll bless us with until it's here. Next thing you know, we're shoveling our snowy driveway and skating across the parking lot.