Our Top 5 Pole Barn Farm Shops in 2023

Subscribe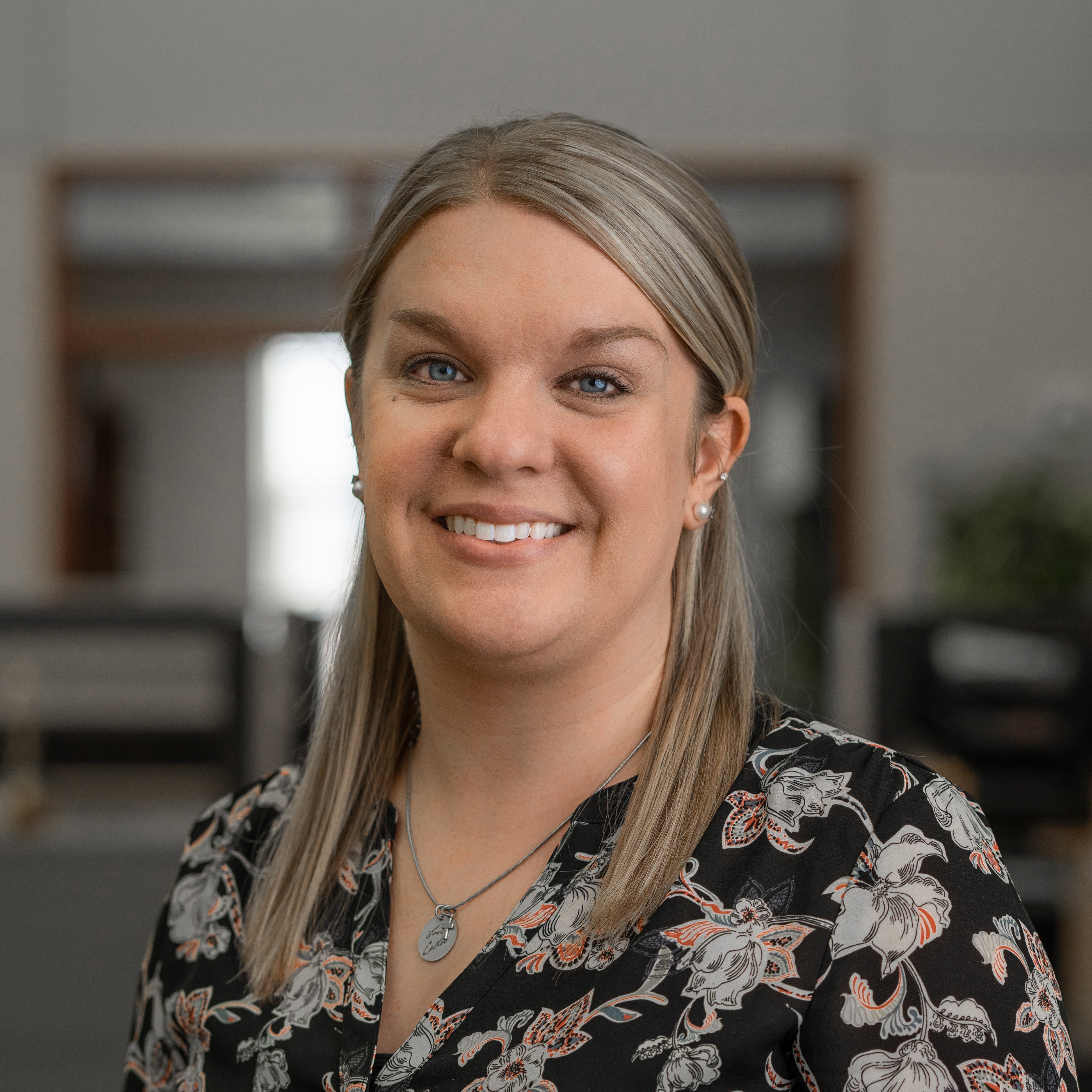 Angie graduated from Indiana State University with a Bachelor of Science in Interior Design. Prior to joining the FBi team, Angie was a kitchen and bath sales consultant in Lafayette, IN. In 2012, she started with FBi as the Inside Sales/Marketing Assistant. Today she holds the role of Sr. Marketing and Inside Sales Manager. Angie grew up in a farming community and has always enjoyed helping her family on the farm. A past 10-year 4-H Member, her passion for livestock pursued her to take a career in the agriculture field. She and her husband live in Northwest Indiana with their two daughters. In her free time, she enjoys outdoor leisure activities and spending time with friends and family.
Whether farming is your hobby or your business, we understand the many unique requirements of building a safe, efficient, and attractive post frame building. It all starts with proper site preparation, good planning, and intelligent design.
The last thing that you want to have happen is to run out of space in your new farm shop because you built a building that was too small for your current and future needs. It's not uncommon for that to happen and it's our job to make sure that it doesn't happen to you. For example, are there floor plans that you have in mind but you want to make sure they're the right fit for your land and building use? We can walk through those steps with you to make sure that the post frame building design will be efficient for your unique needs. After all, every customer is different, and so is every pole building.
The goal in all of this is to construct an agricultural building that will serve you and your future generations for years to come. Whether you're looking at building a new post frame structure or adding on to the one you currently have, we rounded up our top five farm shops that are perfect for those who are a hobby farmer or farming is their sole business.
But remember, these are just our recommendations based off of our customers wants and needs. If you see a floor plan that you like but also want tweaks made, that is doable for us. No two buildings are the same. That's the beauty of post frame because it's all customizable.


The Top 5 Farm Shops (Our Recommendations)
#1: The Farmhand
Like many of the men (and women) whose hard work powers the ag economy, a building is a dependable, "strong-silent-type" that proves itself day after day over the decades as an integral part of a successful operation. There's nothing flashy about this building, but this combo shop and cold storage building will shelter your equipment from the elements and give you a warm, dry place to work for generations to come.
This is the perfect layout for those who don't want multiple buildings or prefer to have everything in one location. We get it...it can be a pain to work on ag equipment and implements while your primary tools are in another building. Cut the amount of time walking to and from each building and have everything under one roof. Your work efficiency will also improve. Sounds like a win to me!
#2: Heartland Hub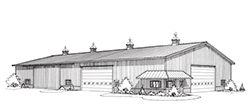 Your operation has expanded, equipment keeps getting larger, and your old toolshed just isn't cutting it anymore. Here's the solution: establish a new centerpiece of your farm with a generously sized shop attached to a good-size storage building.
You won't believe how much more efficient you can be when you've got space to maneuver equipment inside and room to pull in and service machinery from two sides of the shop. This would be a perfect layout for those of you with multiple generations working on the farm. What better way to kick off planting season or prepare for harvest when you can have more than one person servicing your equipment?
Or, are you a farmer who knows that you will be picking up more land in a few years to come? There's nothing wrong with planning for the future (especially when you're saving time and money while doing so). This building design will work for years to come.


#3: Legacy Sights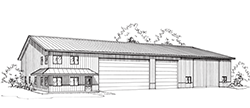 If you need a serious shop plus some additional storage, take a look at this plan. You get 1,600 square feet of unfettered space to work on all your equipment in year-round insulated comfort. That area is so large, there is plenty of room to incorporate a spacious farm office and workbench area with a deck above.
The deck level is full height and includes windows, so it could be used for much more than parts storage. Perhaps a playroom for the kids or grandkids, or do you need an apartment for the hired hand? The sky's the limit with this layout, especially with all of the design flexibility options.
If you're looking for a place to work on paying bills, prepare your taxes, or even payroll for your employees, then this is the floor plan for you. Move your office out of your house and into your shop. I'm sure your wife would appreciate you for that!
#4: Steward's Shed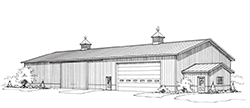 More and more farm buildings include offices. Many farmers just build them into a corner of the shop. Others take this approach. The advantage of going this way is you are able to completely get away from the noise and dust of the shop and shed.
Are you a larger farmer who farms several thousand acres and possibly does farm management for other clients? Then this is a good option for you. Why? Because it's important if you need to concentrate on large business decisions or meetings. It also makes the exterior of the building more visually interesting and less of a "standard" pole barn.
Customers sometimes forget that our buildings don't have to be your typical square-sized building. We can easily do bump-outs (as our customers like to call them) or incorporate other design ideas into your plans. If you need a larger office than what's shown, we can do that as well.
If you're also a farmer or agribusiness owner who needs a decent size conference room to hold company meetings, then this is the plan for you.
#5: Freeholder Favorite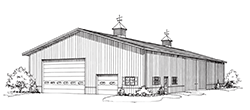 It's not uncommon for farm buildings to get used for multiple purposes, and when you have all of that clear-span, flexible space, why not? Every guy (or gal) deserves a warm place to park their pickup truck and store their tools, especially if your house garage has been taken over with your other small toys and kids' belongings. Sounds familiar, right?
With the small overhead door, you can use this entrance to access your personal tools or even John Deere Gator. The large overhead door provides a separate entrance to access the business side of the shop. In back, a moderate size cold storage area offers enough room for your tractors and other implements.
Are you not a fan of sliding doors? We can easily adjust this floor plan to include all overhead doors if you prefer. Remember, flexibility is key with a post frame building. Don't settle for a builder who won't adjust their designs for your wants and needs.
Ready to Start Planning?
Interested in seeing more plans? Request our Farm Plan Book. This plan book features a variety of plans, from basic cold storage tool sheds to more elaborate shop and storage combinations. It also includes several agribusiness buildings that contain efficient office space – perfect for farmers with large operations or who run substantial side businesses.
---
Do you have more questions that are not covered in this article? If you need help designing and planning, please contact FBi Buildings at 800.552.2981 or click here to email us. If you are ready to get a price, click here to request a quote and a member of our customer engagement team will help you determine the next steps of your project.