Subscribe
Our Top 5 Farm Shops in 2019: More Than Just A Pole Barn
Whether farming is your hobby or your business, we understand the many unique requirements of building a safe, efficient and attractive post frame building. It all starts with good planning and intelligent design. The goal in all of this is to arrive at a building that. Whether you're looking at building a new building or adding on to the one you currently have, we rounded up our top five farm shops that are perfect for those with a farming hobby or business.
#1: The Farmhand



Like many of the men whose hard work powers the ag economy, a building is a dependable, "strong-silent-type" that proves itself day after day over the decades as an integral part of a successful operation. There's nothing flashy about this building, but this combo shop and cold storage building will shelter your equipment from the elements and give you a warm, dry place to work for generations to come.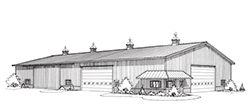 #2: Heartland Hub



Your operation has expanded, equipment keeps getting larger and your old shed just isn't cutting it anymore. Here's the solution: establish a new centerpiece of your farm with a generously sized shop attached to a good-size storage building. You won't believe how much more efficient you can be when you've got space to maneuver equipment inside and room to pull in and service machinery from two sides of the shop.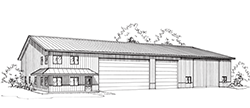 #3: Legacy Sights

If you need a serious shop plus some additional storage, take a look at this plan. You get 80' x 80' of unfettered space to work on all your equipment in year-round insulated comfort. That area is so large, there is plenty of room to incorporate a spacious farm office and work bench area with a deck above. The deck level is full height and includes windows, so it could be used for much more than parts storage. Perhaps a play room for the kids/grandkids? An apartment for the hired hand? The sky's the limit.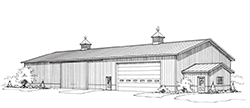 #4: Steward's Shed



More and more farm buildings include offices. Many farmers just build them into a corner of the shop. Others, take this approach. The advantage of going this way is you are able to completely get away from the nose and dust of the shop and shed. That's important if you need to concentrate on weighty matters. It also makes the exterior of the building more visually interesting.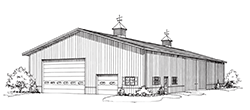 #5: Freeholder Favorite



Often farm buildings get used for multiple things. And when you've got all of that clear-span flexible space, why not? Every guy deserves a warm place to park his pickup and store his tools now that his wife and kids have taken over the house garage. Thus, the small overhead door. Next to it, a large overhead door provides entrance to the business side of the shop. In back, a moderate size tool shed provides storage for farm equipment.
Interested in seeing more plans? Request our Farm Plan Book. This plan book features a variety of plans, from basic cold storage tool sheds to more elaborate shop and storage combinations. It also includes several agribusiness buildings that contain efficient office space – perfect for farmers with large operations or who run substantial side businesses.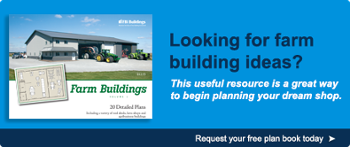 ---
Do you have more questions that are not covered in this article? If you need help designing and planning, please contact FBi Buildings at 800.552.2981 or click here to email us. If you are ready to get a price, click here to request a quote and a member of our customer engagement team will help you determine the next steps of your project.