Posts | Building Tips | Site Preparation
What is Site Preparation? 7 Tips to Get You Started.

Subscribe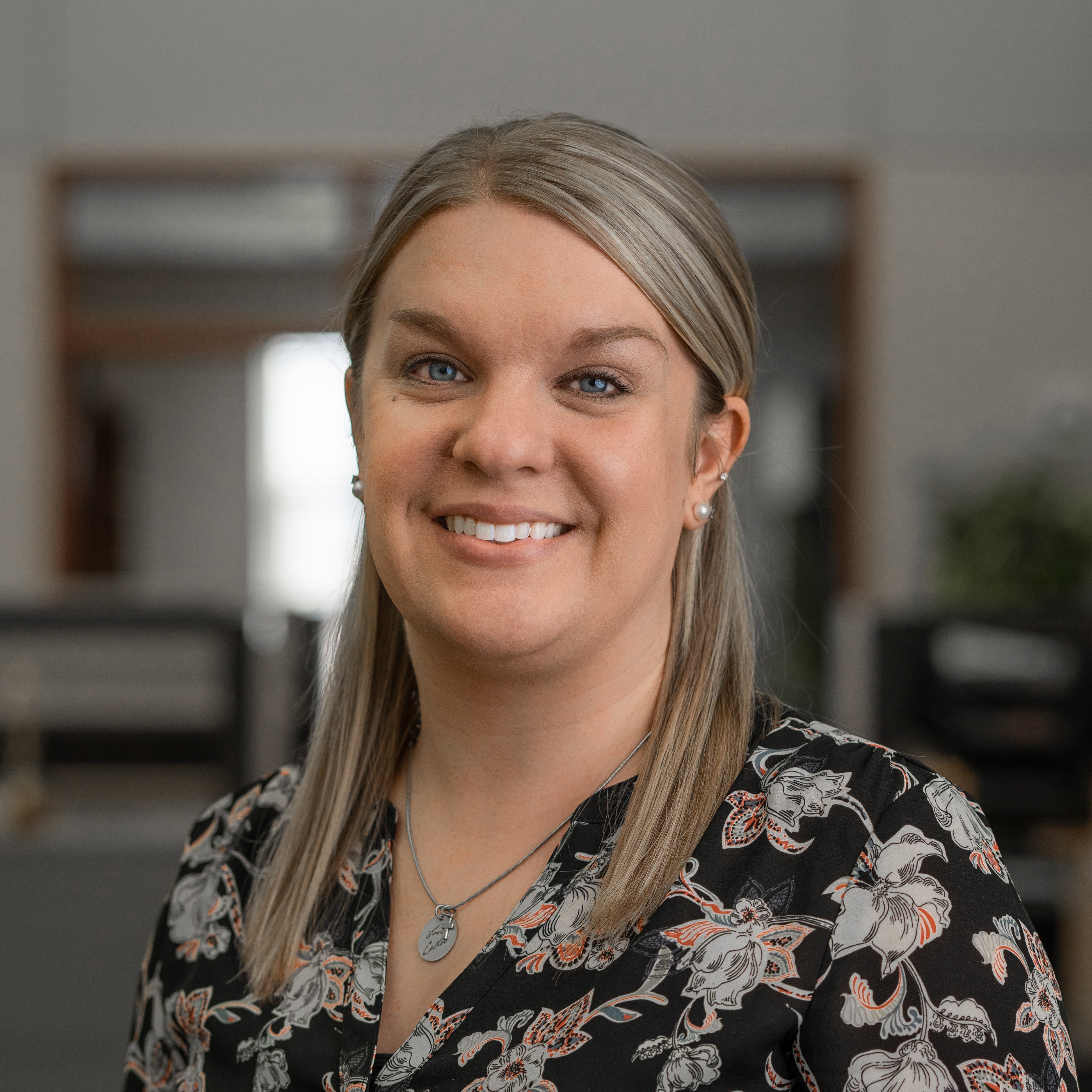 Angie graduated from Indiana State University with a Bachelor of Science in Interior Design. Prior to joining the FBi team, Angie was a kitchen and bath sales consultant in Lafayette, IN. In 2012, she started with FBi as the Inside Sales/Marketing Assistant. Today she holds the role of Sr. Marketing and Inside Sales Manager. Angie grew up in a farming community and has always enjoyed helping her family on the farm. A past 10-year 4-H Member, her passion for livestock pursued her to take a career in the agriculture field. She and her husband live in Northwest Indiana with their two daughters. In her free time, she enjoys outdoor leisure activities and spending time with friends and family.
Do you have a good understanding of what goes into site prep? Or do you think it's a tedious and somewhat difficult process? Maybe for you it comes natural and you'd rather tackle preparing your site instead of choosing pole barn colors.
Don't get me wrong, at times it can seem overwhelming. If we lived in a perfect world, everything would go smoothly and we wouldn't have to worry about any obstacles to tackle. But (I know...I always ruin it with a but), there is a decent amount of coordination that goes into site preparation.
For those of us that are not overly organized, it's not exactly an exciting part of the construction process. Needless to say, this won't make site prep go away and as the old saying goes, "the show must go on."
What if I told you that the success of your post frame project starts with proper site preparation? Would you be more interested in doing things correctly the first time around?
What if I also told you that proper site preparation can save you money? We have the resources available for you to prepare your site correctly so you can save money.
So let's get started...
What is site preparation?
Site prep is the work done on your land prior to construction–finalizing location details, gaining access to the site, drainage, and more. This process allows you to identify site complications up front, and address them before construction begins.
It's designed to set you and your building up to succeed. Although, it is more work for you up front, it has the potential to save you time and money if done correctly.
Problems are much easier (and cheaper) to correct before equipment and schedules are involved.

7 Tips to Ensure Proper Site Preparation
1. Determine Building Location & Elevation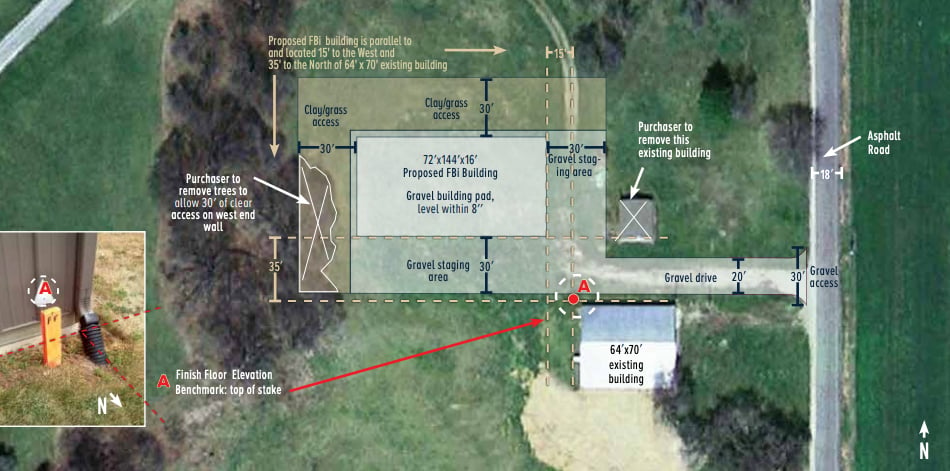 Let's start simple. Part of this step may seem obvious, and part of it might make you scratch your head. It's a "no-brainer" that you get to make the final decision on the exact location of your new building.
When deciding, consider the flow of people and equipment–especially if you have multiple buildings. The road and/or driveway contribute to more that just "curb appeal," but there's no harm in factoring in aesthetics as well.
The less obvious "location" decision you'll be making is the elevation of your building. "Wait, what?"
Yes, you get to decide what you want the elevation to be. How on earth are you supposed to make that decision? Here's what to remember: elevation impacts drainage and managing where the water flows.
Your post frame builder will be glad to help you decide what's best for your unique property and building needs.
2. Site Access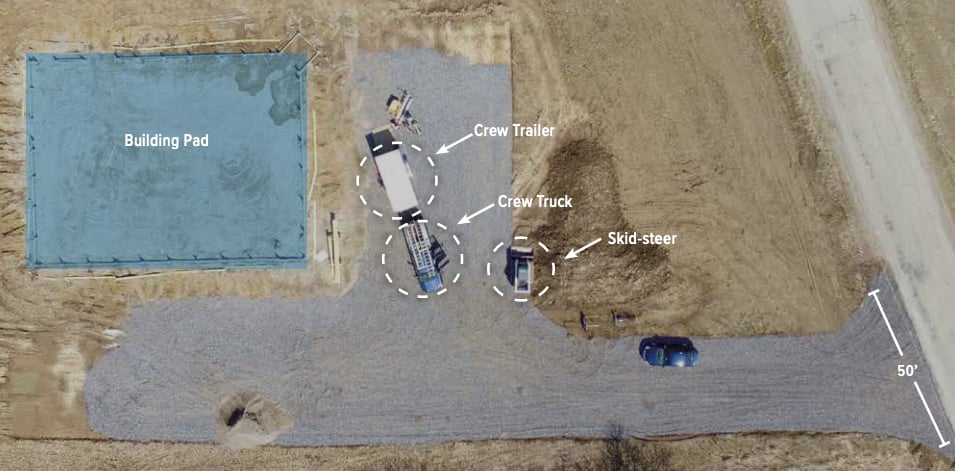 Of course you're already planning out how you'll access your finished building, but what about your builder? Will they have enough room to deliver your materials? Is your site free of debris so their equipment won't get stuck? Will they have enough room for their heavy equipment?
Good site access allows equipment and materials to be delivered easily and efficiently.
Factors to Consider for Site Access:
Road, driveway, and culvert width
Location of mailbox
Location of power lines
Location of existing buildings, bins, etc.
Location of trees
Turning radius of semis
3. Perimeter Access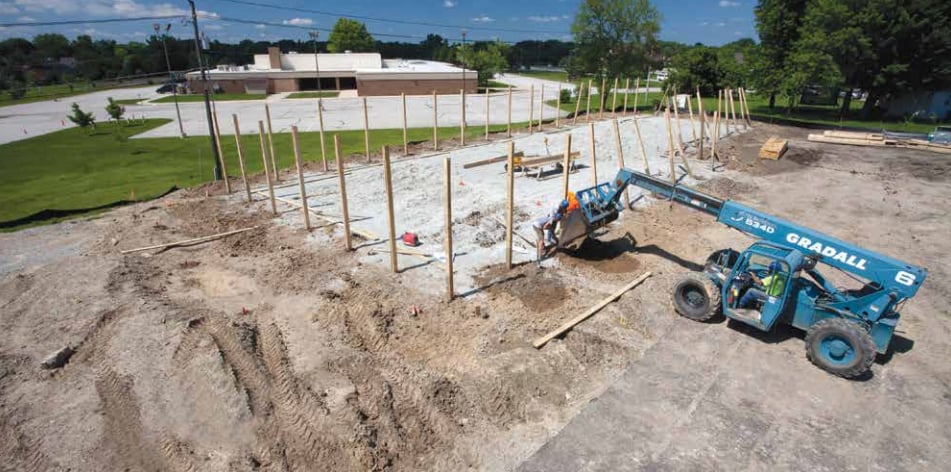 "Wait… you just talked about site access." Yes, that's correct! However, this one is a little different than the last. Site access is all about getting people onto your site easily, perimeter access focuses on people and equipment once they are on site.
The construction crew needs room to move around. Maintaining a clear and dry perimeter will allow materials, equipment, and crews to move swiftly. A stockpile of fill or gravel material near the building pad may restrict equipment flow or retain water.
You also have to take into consideration all four sides of your building pad. If you have a row of trees along one side, will there be enough room for a gradall to fit through?
What about the extra dirt or sand that you no longer need for your building pad? Is that out of the way so it doesn't interfere with any movement the crew or equipment will need?
Ensuring that all obstacles are out of the way will make for a smoother and quicker construction process.
4. Protecting Your Investment (Safety)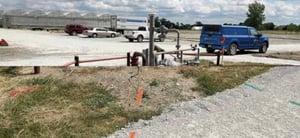 Remember how we previously talked about choosing the right post frame builder? There's a reason why we're bringing this up again.
If you think that protecting your property so it reduces your risks if your builder's responsibility, then you're absolutely right.
Your builder should value safety and take steps to assure you of that. Some job site hazards are already on your site and you may not even realize it.
4 Key Points to Protecting Your Property and Reducing Your Risk
Safety: Make sure your builder has a safety program and a full-time safety manager. This will help determine what hazards are present on the job site that you might not be aware of.


Project Manager: Having a designated Project Manager allows you to not have to oversee the construction of your building, giving you much-needed peace of mind.


Builder's Risk: A Builder's Risk Insurance Policy is a must, protecting you during construction from any theft, storm damage, or vandalism that may occur.


Warranty: A comprehensive warranty plan provided by your builder is crucial for your building project's long term security.
5. Preparing Your Building Pad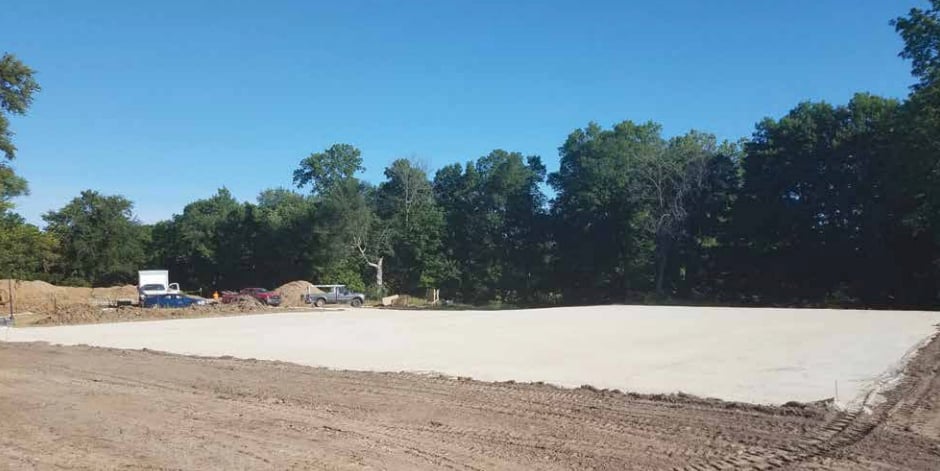 It's only natural instinct for you to want to tackle the building pad in the first step of the process. But consider this your "manual" to constructing your pole barn.
Like all manuals in life, there is a step-by-step process that needs to be done to ensure things are put together correctly. This is no different.
From pad structure, fill type, and drainage...all of these are important aspects of preparing your building bad. Here's a good overview to help you get a general idea of what we're discussing.
4 Key Building Pad Features
When to build your pad: Before building your pad, you need to analyze the benefits of each season and determine the ideal time to build.


Pad structure: Before construction of your pad takes place, you (or your excavator) need to highlight key areas (dependent on your site) to ensure the pad is executed correctly.


Fill type: It's vital to discuss the different fill types and the advantages that each brings before you start.


Drainage: To minimize condensation within your building, it's important to review proper drainage. If done incorrectly, it can cause long-term effects on your building.
If you're interested in more detail about each feature, our Site Preparation eBook explains each one in greater detail.
6. Setting Your Crew Up to Win
There is nothing worse than your post frame project being delayed. When your crew is set up to win, they build more efficiently. A proper building pad allows their work schedule to be more predictable, regardless of the weather.
Have you noticed that everything we touch on deals with proper site preparation? From site access to building pad, everything will affect how the crew moves around your site.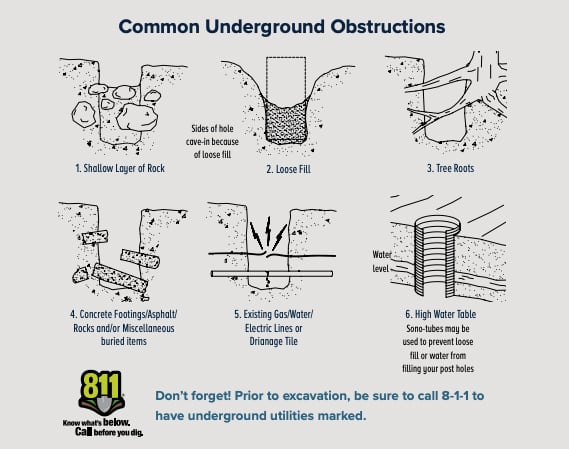 3 Ways to Set Your Crew Up to Win
Avoid Muddy Sites
Working on a muddy site presents lots of challenges for your crew. Their boots will collect mud, becoming heavy and hard to walk, while tracking on your materials or concrete floor. Their gloves will become covered in mud, making it difficult to hold materials and work equipment.

These inconveniences will ultimately affect your building quality. This will also slow their efficiency down as equipment will get stuck.


Site Accessible with Equipment
Not being able to get a gradall or other equipment around your building perimeter will force crews to use ladders. This can also cause more required labor to install roofing and siding since they don't have access to all sides of the building. Which will result in lower efficiency and delay project completion.


Underground Locates
Nothing will derail the start of your project more than hitting an underground object during dig-in. This will cost you time and money depending on what was hit and the steps needed to fix. This can also be a safety concern if a gas or power line is hit.

Making sure your builder takes precautions to perform underground locates is imperative for you and the crews.
7. Finishing Your Project On Time
It's a no-brainer that getting your project finished on time is a group effort by all parties involved. From your involvement to site prep, to your sub-contractors work to concrete or electric...we all need to work together to ensure that your goal is met.
With multiple parties working together to meet your deadline, there are scheduling factors that need to be taken into consideration.
5 Scheduling Factors
Look for a builder that will help you facilitate a project schedule and pull in an excavator early on to understand and meet deadlines.


Locate underground obstructions and hazards. Do they need to be relocated or removed before site preparation to minimize re-work?


Site preparation, in some instances, may be executed during the design and permitting phase. Check with local building officials to verify if a permit is needed to start your earthwork.


It's ideal to prepare a weatherproof site (gravel drives, gravel perimeter accesses, and gravel staging areas in addition to a gravel building pad), prior to the start of construction. This minimizes project delays due to possible muddy site conditions.


Keep in mind, the schedule and duration of excavation will be affected by how your excavator is set up and operates (size and type of equipment, competencies & specialties, crew power, backlog, etc).
Are You Ready to Tackle Site Preparation?
That is a lot of information. Do you feel overwhelmed? You're not in this alone! Work with a builder who will facilitate the ideal site layout and building location.
Your builder will help you design a post frame building that will work for your site, and they'll consider the implication of total project costs.
They will pull the excavator and engineer in early, and lead the permitting process for you. Save yourself time and money by getting your site work done right and done early.
Are you wondering how much proper site preparation will cost? For an accurate price breakdown, check out our Ultimate Guide to Pole Barn Costs.