Building a post-frame building takes a lot of time, commitment, and dedication on the buyer's end. Many parts and pieces go into the decision-making process, but most importantly, who will construct your pole building?
Before you reach out to any post-frame builder, you must familiarize yourself with certain aspects of post-frame construction. We've put together a list of key points to keep in mind when doing your builder research.
Years in Service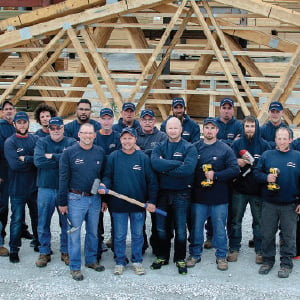 First, a quality post-frame builder will focus on establishing a trustworthy relationship with their customers, whether you decide to build with them or not.
They'll identify solutions to the buyer's challenges through open-ended questions and active listening. Building trust through a consultative approach is crucial from the get-go.
Choose a construction company with at least 20+ years of experience in the post-frame industry. This longevity shows they can handle an ever-changing economy and environment.

Builder's Risk Insurance
A quality pole barn builder will require their customers to purchase builder's risk insurance.
This policy protects you from theft, storm damage, or vandalism that may occur during post-frame construction. Typically, this policy is in effect until the work is complete and the property is ready for use or occupancy.
Be leary of construction companies that do not require builder's risk insurance. If you choose to go with someone who doesn't require this, who will be responsible if damages occur? We certainly hope it won't be you.

Crew Power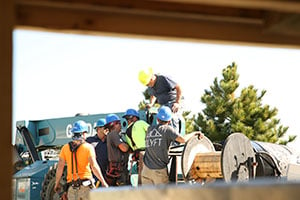 The crew size depends on the type of building, specifications, and scheduling logistics.

At FBi, the crew size ranges depending on building size. For smaller residential buildings, our crews are typically three to four workers. For larger agricultural or commercial buildings, the crews range anywhere from four to ten workers.
Precise timing is what it takes to keep your post-frame project on time and under budget.
If you choose to go with a post-frame builder who uses subcontracted construction crews, beware of issues like job jumping or material delivery delays. This can cause problems with scheduling.
Code Compliance
Your pole barn must comply with written, adopted, or required building codes for post-frame construction. Please keep in mind that building codes are minimum standards. It's up to you to decide the perfect balance between structural strength and cost.
But what if you're not an expert in pole barn structural integrity? A quality post-frame builder will provide a licensed engineer stamp identifying the critical building components on all drawings.
This stamp certifies that the entire structure will meet design requirements from top to bottom. Knowing that the construction company is willing to provide accredited drawings may be enough assurance for you.



Warranty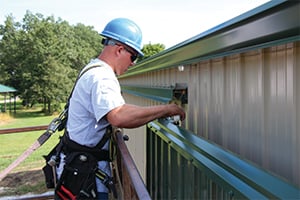 Lastly, a warranty is a manufacturers' written guarantee to purchasers promising to repair or replace defective products/services within a certain period.
It's crucial to note that there's no standard pole barn warranty. With that being said, you don't want to skim through construction warranties.
A quality post-frame builder will offer a non-prorated warranty. This type of warranty promises that any defect in building materials and craftsmanship is covered throughout the entire term.
For example, a 20-year non-prorated warranty means that the items are 100% covered for 20 years. A 40-year prorated warranty means that the items are 50% covered for 20 years.
Moreover, who is your point of contact when potential warranty claims arise?
Do you call the corporate office or the salesperson responsible for selling your pole barn? Do you have to deal with subcontractors or third-party suppliers?
You should select a post-frame builder who will handle these situations on your behalf—bonus points for construction companies who have their own repair crews on deck.
There are numerous features you can opt for in your new pole barn. Below are just a few that you'll want to consider adding:
Below we detail different exterior and interior features for you to choose from.



Exterior Finishes

1) Steel Siding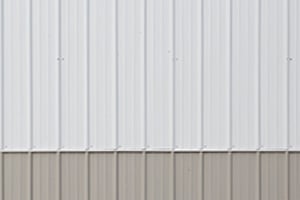 It's lightweight and easy to install (applied directly onto the framing without any backing material). Your pole barn builder will handle this portion of the job – no subcontractors are needed.
The most common exterior option in post-frame construction is steel.
It's lightweight and easy to install (applied directly onto the framing without any backing material). Your pole barn builder will handle this portion of the job – no subcontractors are needed.
Moreover, metal panels are low maintenance and damage-resistant when properly installed. They can last 30 to 50 years with a pole barn warranty.


2) Vinyl Siding
Are you interested in building a detached car garage? Maybe you want to follow the latest trend and live in a pole barn.
Whatever your building needs, you can opt for vinyl siding. The pole barn exterior can match any existing building on your property. Plus, vinyl siding is an economical choice.
The installation process is fairly easy – you can do it yourself or hire a contractor. However, faulty installation can result in long-term issues (e.g., bulging, cracking, or warping). In addition, some construction warranties only last a year and may not cover craftsmanship.
3) Engineered Wood Siding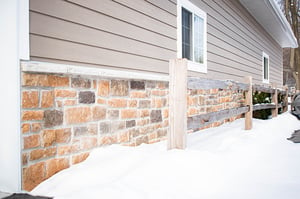 At first, contractors turned to vinyl and fiber cement siding to imitate wood but fell short. As a result, smart siding was developed and introduced to the marketplace.
This product has a "more realistic texture than most fiber cement and vinyl products, making them a great choice when you want the traditional look of lap or shake shingle siding."
Depending on the vendor, smart siding is available in a full range of profiles and colors. You'll also find out that engineered wood is 20% to 50% cheaper than its natural alternative.
Like vinyl siding, you'll need to hire a contractor to install the smart siding. Because of its locking clips, smart siding is fastened and secured right away. It's lightweight and easy to work with if you're the only person working on the building project.


4) Versetta Stone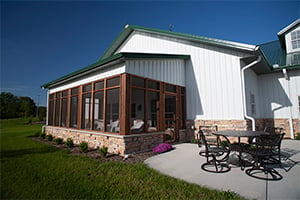 Versetta Stone is a stone veneer siding panel that is mortarless and cement-based. Its panelized design is installed with mechanical fasteners, allowing carpenters and contractors to recreate the beauty and craftsmanship of authentic stone masonry using nails or screws.
This masonry detail is available in three styles: Ledgestone, Tight-Cut, and Carved-Block. All panel products include accessories to finish the job correctly (e.g., wainscot caps, receptacle boxes, or adhesive).
Almost any siding contractor or carpenter can install Versetta Stone panels. There's no need for metal lath or scratch coats. A mason saw will be used to cut pieces to the desired length and a common angle grinder to dress edges where needed. The panels must line up with the tongue and groove system, secured by a nail or screw – no painting, coating, or sealing necessary.


5) Brick
Brick siding is a viable option for your pole barn exterior. It's a popular choice for commercial businesses and residential dwellings – post frame or stick-built.
Brick is relatively low maintenance due to its durability. It won't dent or rot, unlike steel, vinyl, and wood siding.
With that being said, brick is relatively expensive compared to its counterparts. Again, your post-frame builder will prep your pole barn for the material, but you'll need to hire a contractor to hang the panels.


Interior Finishes
1) Plywood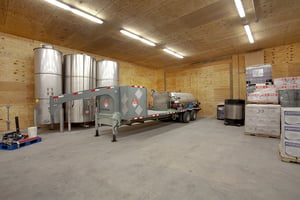 If you want to work with a finishing material that's lightweight and easy to install, we recommend using plywood.
Plywood is a good alternative to be considered if you're looking for a warm, natural look like the wood grain of plywood inherently brings.
If you plan on using part of your building for storage, or even a mechanic area, we recommend using plywood for the walls. It's much stronger than what drywall would be (although drywall is easier to repair if it gets damaged).
But, with the structural strength that plywood offers, it's a good alternative to keep in mind if you know you're going to be hanging tools on the wall.


2) Oriented Strand Board (OSB)
Ironically enough, OSB and plywood are formed from smaller pieces of wood and come in large sheets or panels. However, that is where their similarities end.
OSB is made of many smaller pieces of hardwood and softwood mixed in strands. While plywood is often 6 feet per sheet, OSB may be much larger, up to 12 feet per sheet.
The larger sheets may be a selling factor for some customers, but there is a downfall. OSB is not used for finished surfaces because it cannot handle paint or stain the way plywood can. Therefore, it is generally installed beneath a finished material.


3) Drywall

Drywall is a great option if you're building a new post frame structure or remodeling an existing pole building.
Drywall installation for ceilings and walls is common practice, especially if you want to create a smooth, finished look.
If you know that you will be using drywall for interior walls in your building, we recommend letting your builder know before construction begins. The walls will need to be stud wall framed, and since they are not supporting a roof load, they can be placed wherever you desire.



4) Steel
Steel liner packages can be carried out in two ways; either on your walls or ceiling.
This is easily the most popular finishing option that our customers choose because it helps enhance the appearance of your building, giving the interior a more finished look.
A steel liner package also protects the insulation and the outside walls. If your insulation is unreinforced, it can tear easily, and sharp objects or power tools can damage even the best-reinforced materials.



5) Combination (Steel & Plywood)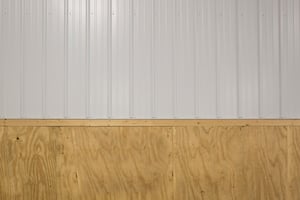 A combination finish is extremely popular with our farm buildings, especially customers looking for a farm shop or even a combination building.
They want to make sure their post-frame building design incorporates everything they're looking for, which is a place to work on farm equipment and wash down implements.
One positive of using a combination finish is cutting some costs to finish your building.
Miscellaneous Features
1) Drainage & Water
If your geographical location sees ample rainfall and wet winters, you understand the importance of proper drainage on a pole barn.
Examples of draining and water features:
Gutters
Downspouts
Snow guards


2) Doors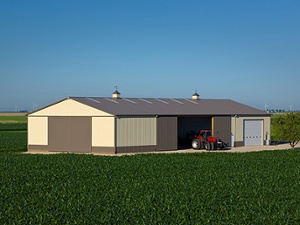 Having convenient access into your post-frame building is something worth thinking about.

Types of doors to use with your building:
Sliding doors
StepSaver Latch System
Overhead doors
Sliding doors
3) Foundation
Foundation is critical to focus on when your new post-frame building is being constructed. You want your pole barn to last, and the proper building components will do just that.

Foundation systems you can use with your post-frame building:
Laminated Posts
Double Baseboards
Bracket-to-Concrete


4) Natural Lighting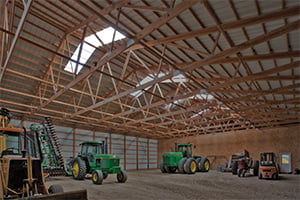 Natural lighting is necessary if you often plan to work in your pole barn. Having ample sunlight makes working easier.
Not to mention, certain window styles provide energy efficiency. Who could say no to saving money on energy bills?

Examples of natural lighting you can use with your post-frame building:
Eave lite

Sky lite

Ridge lite

Vinyl windows

Fixed windows

Half-Round windows


5) Lean-to/Porch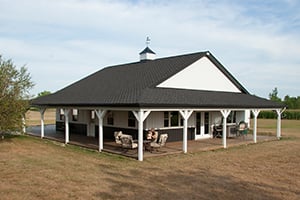 Having a lean-to or porch included in your building design adds character. Also, they offer shade and protection against the outside elements.
Different styles of porches you can include with your building:
Soffit Porch ceiling
Non-Soffit porch ceiling
Continuous porch
Drop-Down porch
Welcome-way porch

6) Insulation Options
There are numerous options for finishing the interior of your pole barn. The purpose of your building will determine the look you wish to achieve.
Chances are you won't need an extravagant finish if your pole barn is used for storage. However, you might want a completed look with insulation for your farm shop or office.
Examples of insulation options available to you:
Thermax
Vinyl back
Sprayed Polyurethane Foam (SPF)
Fiberglass insulation
Building wrap

7) Condensation Control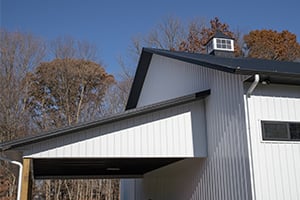 Condensation occurs when warm, moisture-laden air contacts a cooler surface, such as the underside of your roof steel.
If not taken care of right away, it can cause long-term damage. Adding ventilation features that combat moisture levels is a great way to avoid condensation.
Different ways you can prevent condensation with your building:
Overhangs
Ridge vent
Cupolas
OSB & Felt paper
Bubble wrap

MoistureLok
How much does a pole barn cost? This is a great question, but, unfortunately, there is no black and white answer. It's been nearly two years since COVID-19 became a global pandemic, and the reduced labor forces are still being felt.
Unfortunately, because of this, pole barn prices have started to fluctuate (supply and demand issues).
Do All Pole Barn Sizes Cost the Same?
A standard pole building shell can cost anywhere from $20 to $55 per square foot. Now, you're probably asking yourself, "Why is there a big difference in price per square foot?"
The following factors will determine if your pole barn is leaning towards the low/high side of the cost spectrum:
Total square feet
Type of features (e.g., overhangs, windows, walk-in doors, steel liner packages, etc.)
Current nature of the commodities market (the price of steel)
To help you better understand where the price break comes from, here's a cheat sheet to help you get started.
| | |
| --- | --- |
| 1,199 sq. ft. or less | $45 - $60 / sq. ft. |
| 1,200 to 2,500 sq. ft. | $35 - $50 / sq. ft. |
| 2,501 to 4,000 sq. ft. | $30 - $35 / sq. ft. |
| 4,001 to 8,000 sq. ft. | $20 - $30 / sq. ft. |
| 8,001+ sq. ft. | $15 - $25* / sq. ft. |
NOTE: Please keep in mind that these are ranges based on current commodity market prices. Therefore, these are not permanent prices and will fluctuate with the markets.
*Once you get to this square footage range, your cost will highly depend on your building features.


Site Costs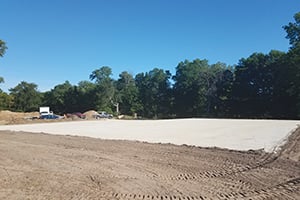 The most underrated expense of the building process is site costs. Site preparation is the work done on your land before pole barn construction.
This process lets you discover and resolve any site complications before it's too late. The following factors drive site costs:
Location and elevation
Type of granular fill
Building pad size
Amount of object removal
Naturally, some projects will require more site prep than others, affecting the cost.
Below are the typical site costs for the following building types.
| | |
| --- | --- |
| Agricultural | $1,000 to $30,000 |
| Residential | $500 to $5,000 |
| Commercial | $1,000 to $50,000 |
| Equine | $500 to $20,000 |
NOTE: Please note that the information above are averages to help plan. In addition, costs may vary by project size.


Design and Permitting Costs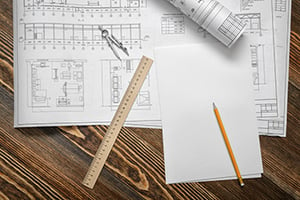 The design costs for your pole barn rely heavily on the type of structure you want to build. Other design considerations include pole barn size, external/internal features, and future preparation (e.g., pole barn additions, adding a loft for extra storage, or even finishing the interior of your pole barn with insulation and steel liner).

You'll need to obtain a permit to move forward with construction. Permitting costs are based on the following factors:
Building Size (square footage)

Building Segment (Agricultural, Residential, Commercial, or Equine)

Jurisdiction (state or county)
The best way to determine how much you will owe in permitting costs is to contact your city hall or county courthouse. Here's an idea as to what you can expect:
Agricultural: $0 to $2,000
Please check to see if your county exempts ag-related buildings from permits. You'll still need one, but it is free of charge.
Residential: $50 to $1,000
Depending on the site location, some residential buildings will require a permit from the town rather than the county.
Commercial: $1,000 to $100,000
Some commercial projects are required to obtain a permit at the state level. Also, commercial permits tend to be more expensive because they ask for:
Mechanical Electrical Plumbing plans (MEPs)
Architectural drawings
Civil site drawings
State's stamp of approval
Equine: $50 to $3,000
The wide range of permitting costs is based on the fact that horse barns can be viewed as agricultural, personal, or commercial-use buildings.
On the bright side, most design fees (minus commercial properties) are included in the total package and are considerably less.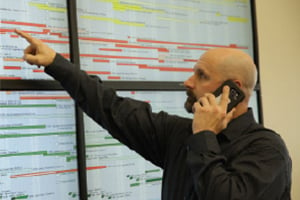 Arguably, one of the most time-sensitive issues with building a pole barn is the building schedule (when can your building get constructed)?
We realize that some completion dates are not flexible, while others might have more wiggle room.
On average, FBi's current lead time is roughly three months. Some factors come into play with your lead time, such as:
Building size

Building complexity

Interior and exterior features

Construction method (will you need

concrete

,

or are you building over an

existing pad

)?
Let's look at the following examples to see when your pole barn would be erected.
If you sign a contract by the end of February, your building shell will be completed in early June at the latest.

Your building shell will be completed in mid-July if you sign a contract in late spring (March or April).
As mentioned above, FBi's current lead time is three months (on average).
However, there are options to expedite this time frame by having a well-prepared building site and permitting complete. We'll discuss these two areas in-depth in the following two sections.
Please keep in mind that if a customer is under a time constraint, our Project Managers will work with them to meet their deadline.
Disclaimer: The lead time of when projects get their building shell up fluctuates. It's not uncommon for projects to get bumped up or down in the schedule if:
Their sites aren't well prepared

They're still waiting on final building permits

They're facing financing hurdles
NOTE: The lead time given for your project is for FBi's portion of the job only. If you plan on finishing out the interior of your building with drywall, electricity, heating, etc., that will add more time to your completed date.