Subscribe
3 Economical Benefits to Building Post Frame in 2020
Posts | Building Tips | Cost
Our daily lives have looked a little different over the past couple of months. Our living rooms have turned to classrooms and offices, we're cooking dinner instead of dining out at restaurants, and people are getting seriously creative in finding ways to have fun at home. Even with social distancing in place, families and friends are connecting and growing closer than ever before.
While we try to navigate through this temporary new normal, it gets hard to remember that the world is still turning. Things seem out of place and the days feel as though they are merging together, but the sun always rises again each day.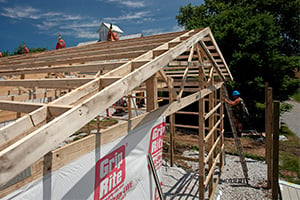 In the last few months, there has been uncertainty about the economy and the stock market. Officials are putting together a plan of action and figuring out the best route to take to sustain the economy.
So, how does this affect pole barn construction in 2020?
The law of supply and demand.
Steel and lumber supply from other industries has dwindled, while the use of these materials has been shut down in some industries. Prices have dropped to account for these factors, so the market price is looking better than ever.
There is still a lot of demand in the post frame construction industry, and the best part is the benefits that come with it. Keep reading to learn about these benefits, and how they impact building pole barns in 2020.
How Does COVID-19 Affect the Post Frame Industry?
Thankfully, construction has been deemed as essential, and permitting offices are still open, so crews are able to continue working on post frame projects. Even though our crews are allowed to continue to work, we are still taking the recommendations of the CDC with the utmost seriousness, and we are diligently adhering to their guidelines and protocols.
All of our crew sizes are under 10, additional sanitary methods have been put into place, and we advocate staying at home if someone is not feeling well. Our number one priority will always be the health and safety of our customers and employees, and we will take every measure possible to support this priority.
Due to the coronavirus, commodity prices in both lumber and steel have seen a significant decrease. Our government has also taken some big moves on interest rates in the past couple of months, and now interest rates are at all-time lows.
These two factors are what lead us to the economic benefits of building a pole barn this year.
What are the 3 Economic Benefits of Building a Pole Barn in 2020?
Now is the time to take advantage of building a pole barn if that is part of your plan for this year. With commodity prices of lumber and steel so low, chances are you'll get a better deal on your post frame building than if you wait until 2021 to begin construction.
Let's take a look at the 3 economic benefits of building a pole barn in 2020.
1. Lower Lumber Prices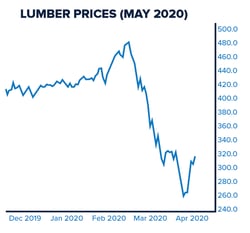 The first benefit of building a pole barn this year is the low price of lumber we're currently seeing. Lumber prices are reflecting the recent decline in residential construction, despite home builders' best efforts to push projects through the pipeline amid the COVID-19 outbreak.
Even through the circumstances we are currently facing, demand in the post frame industry is high since construction is still able to continue in most states. In states such as Indiana, Illinois, Iowa, and Michigan, permitting offices are still open so not only can backlogged projects continue, but new projects can begin, too.
To control plummeting futures, major sawmills are dialing back on the production of building materials. Meanwhile, some wood producers are shut down for the foreseeable future.
These unprecedented closures and reductions explain the recent uptick in lumber commodity pricing, with futures expected to rally continuously in the upcoming weeks.


2. Lower Steel Prices
Another industry facing severe pressure amidst the viral pandemic is metal, specifically steel. This brings us to our second benefit of building a pole barn this year.
United States steel prices have leveled off in response to key buyers suspending their operations. Consequently, steel mills are acting quickly to idle some 10 million tons of their annual capacity in an effort to match supply with the declining demand and put a floor under steel prices. They are also acting quickly to decrease capacity utilization rates.
Please keep in mind that metal prices mimic economic activity. With the unpredictability we currently see in the economy, there is no telling when, exactly, steel mills will start production again, and we will start to see an increase in steel prices again.
As the country (and the world) open back up for business, steel futures are expected to trend upward.


3. Lower Government Interest Rates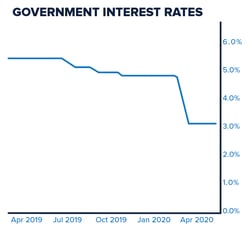 Lastly, our third benefit we're seeing are unbelievably low interest rates on loans.
Unsurprisingly, global financial conditions have been adversely affected by COVID-19. In March, our government took steps to keep money flowing through the mortgage financing system. The actions, including two rate cuts, were part of the central bank's broader efforts to protect our economy from any potential damage.
The Federal Open Market Committee lowered the federal funds rate to 0 to 0.25 percent, the lowest rates we've ever seen, to try and help stimulate the economy. Furthermore, the committee will maintain this rate range until it is confident that the U.S. economy has weathered the aftermath of the coronavirus.
What does this mean for someone looking to build a pole barn? By opting to finance your post frame building, you can get a fixed rate and keep that low rate for the longevity of your loan, or at least for a portion of the loan term, depending on the loan agreement.
Will You Take Advantage of These Benefits to Build Your Pole Barn?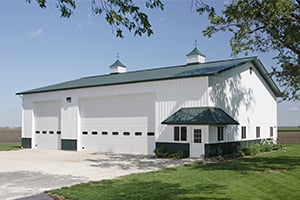 If building a pole barn is a part of your 2020 plans, are you going to take advantage of the low commodity pricing? A post frame building is an extensive investment, so when savings are available it's hard not to jump at the opportunity.
We're here to help you safely through the early pole barn stages during this time. Just give your Project Sales Consultant a call for free consulting and site planning, no contact necessary. They will be able to walk you through the building design and give you a quote without actually having to meet in person.
As one of the top post frame companies in the Midwest that have been in the post frame industry for over 60 years, we want to do our best to inform you of pole barn trends and keep you updated with what is going on in the construction industry. Our goal is to ensure you have the knowledge and confidence to make your post frame project dream a reality.
As always, our number one priority is the health and safety of our customers and employees. We hope and pray that this craziness will end soon so that we can all regain a sense of normalcy again real soon.


---
Do you have more questions about pole barn steel and lumber prices that are not covered in this article? If you need help designing and planning, please contact FBi Buildings at 800.552.2981 or click here to email us. If you're ready to get a price, click here to request a quote, and a member of our Customer Engagement Team will help you determine the next steps of your project.