Building Construction | Farm Buildings | Horse Barns | Riding Arenas | Building Features | Pole Barn Builders
How Big Should a Horse Stall Be? 9 Factors to Consider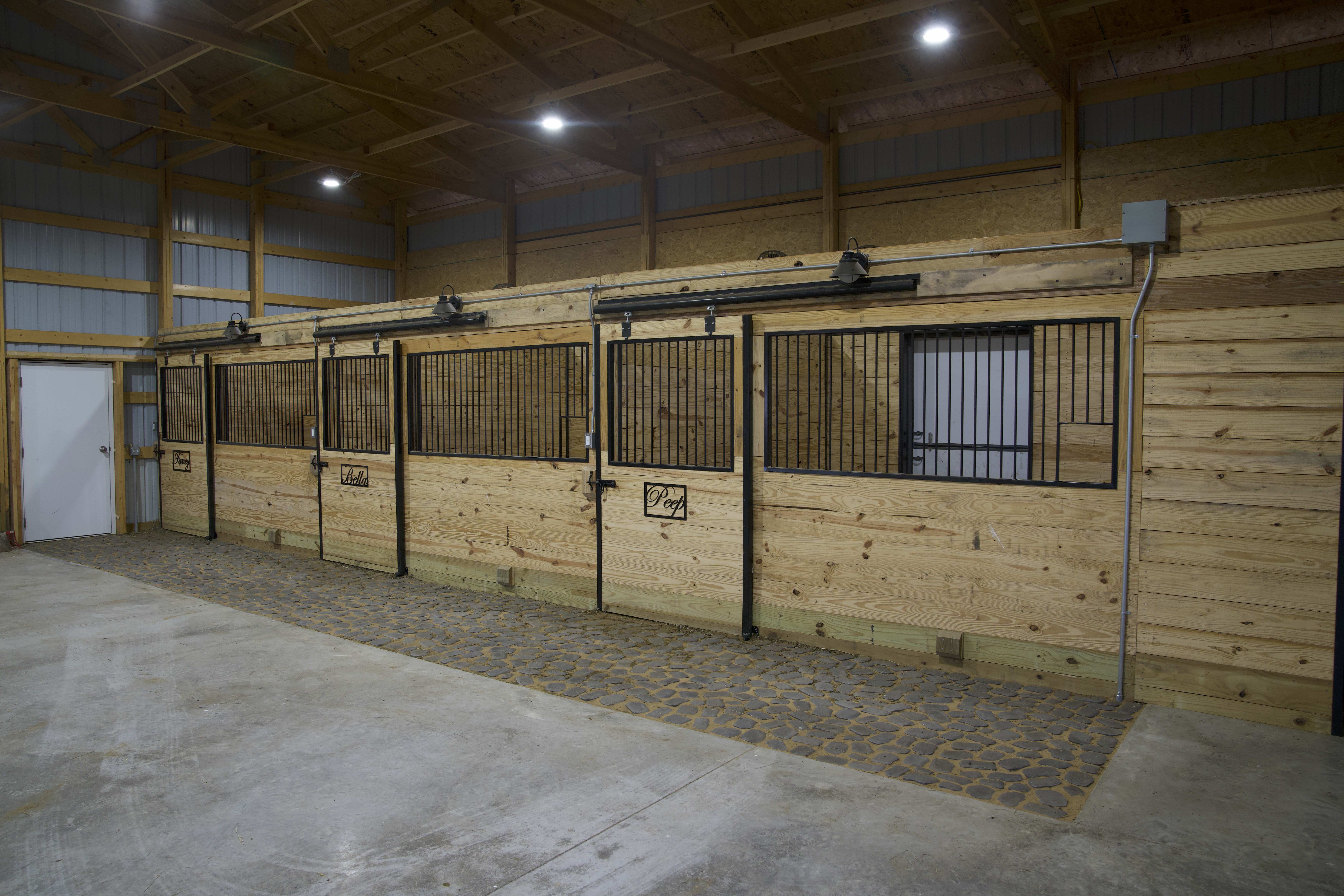 Subscribe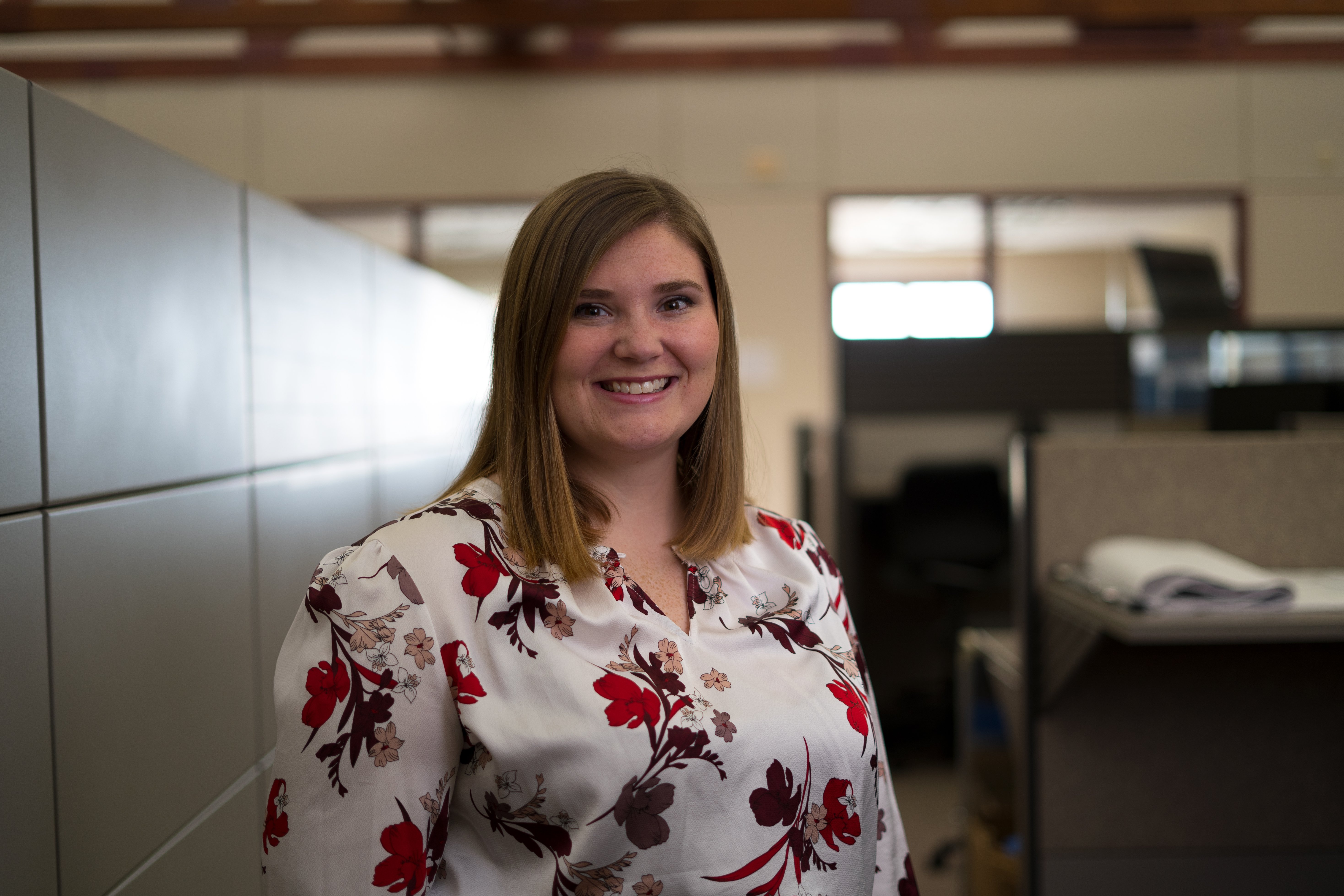 Nettie joined the FBi Marketing team in 2022 as the Marketing Content Creator. Nettie grew up just outside of Des Moines, IA. In 2016, she received her BS in Agriculture Communications from Iowa State University. Upon graduation, she has worked in agriculture sales and marketing. She moved to Indiana in 2020. Outside of work, Nettie enjoys quilting, crocheting, crafting, canning, gardening, fishing, and hunting. She is married and enjoys spending time with her husband and dog.
If you have spent hours talking to equine enthusiasts and researching horse barn stalls, there are so many options it can be overwhelming.
9 Factors to Consider When Designing Your Horse Barn Stalls:
Stall size and the number of stalls

Durable materials

Stall door placement

Wall partitions

Stall design

Additional accessories (for hay, feed, water, tack)

Stall Flooring

Moister and airflow

Choosing a

quality pole barn builder

is critical to ensure your barn is constructed correctly
You know your horse(s) better than anyone. And you've invested a lot of time, energy, and money into them. We work with customers to design a custom horse barn that is safe and meets your needs.That is why we have put together the nine factors you need to consider when designing stalls for your pole building.
You want to make sure you're making the right decision for your horses and the overall design of your horse barn, but maybe you're unsure of everything that needs to be considered?
9 Factors to Consider When Designing Horse Barn Stalls
1)Horse Barn Floor Plan
Today you may have four horses and want a pole barn with four horse stalls, but in a few years, you may decide to add more four-legged friends. When choosing what size horse barn, be sure to factor in the extra room to expand and build a post-frame building that will last for years.
Some of our pleasure horse customers have accomplished this by building a 36' x 36' or 36' x 48' pole barn. By building a barn in 12' increments, you can easily change an extra storage area into another stall if you need to in the future.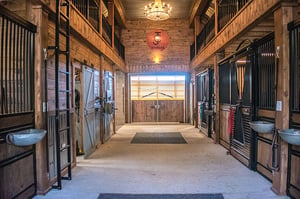 When picking your horse stable, you must also factor in aisle size. Typically we recommend 12' wide. This will allow you to cross-tie your horses. However, if you plan to store tack in the hall, you may want to consider 14'-16' wide aisles.
In addition, with a 36' wide barn, your stalls are a clear span design, which is more economical. Clear span has the trusses span the width of the building and do not require interior columns to support the roof.
Currently, all projects under 100' wide, from sidewall to sidewall, have one truss and have support columns at the ends, have clear span trusses. Therefore, your smaller horse barn plan would be a 12' x 12' stall, a 12' center aisle, and another 12'x12' stall.
More extensive horse facilities, such as those over 100' wide, have interior columns. The interior column type is where the barn columns hold up rafters supporting the roof. They do not structurally affect the stalls, but you will need to keep in mind where they are for your layout.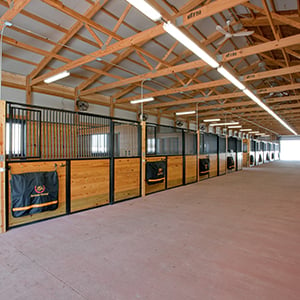 The layout of a larger built horse barn could be a 12'x12' stall, a 12' center aisle, (2) 12'x12' stalls, a 12' aisle, (2) 12'x12', another 12' aisle, and a 12'x12' stall.
2) Horse Stall Size
Customers with horses for pleasure typically have 4-6 stalls, while those who board horses or have a horse complex have 10-60 stalls. All horse barns are custom to your horse's needs and safety.
Typically our customers will go with 12'x12' or 10'x10 horse stalls. Depending on your breed of horses, you may want larger stalls. Some quarter-horse owners have opted for 12'x14' or 12'x16'. Pick a stall design that gives your horses plenty of space to roam comfortably.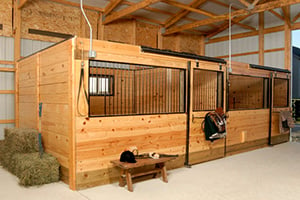 3) Horse Stall Front
Our standard sliding door fronts are designed with a high-quality sliding track, tongue and groove boards, and safely designed grills. In addition, all of the metal in our traditional stalls are black powder coated. A powder coat finish helps protect the metal to last for many years.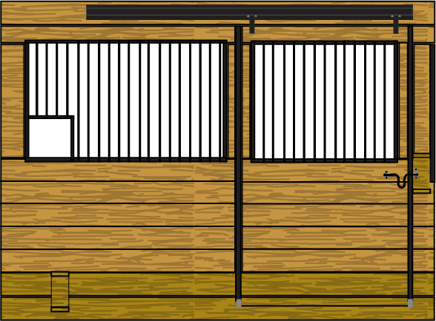 Plus, metal flashing is installed on all exposed ends. The flashing prevents the horse from chewing on the wood and keeps them healthy. Sliding horse stall doors are popular for many horse barns because of their functional design. They make tight aisles and busier walkways easier to navigate, saving valuable space.
Another style is hinged horse stalls. The attractive open designs and elegant sweeping European lines will elevate the look and aesthetic of your facility. However, they are more expensive and not a standard FBi Buildings stall.
4) Durable Stall Materials
Our horse barn stalls are the perfect addition to any equestrian center or barn. High-quality materials and craftsmanship ensure durability, while attractive designs allow maximum efficiency and functionality.
Our standard horse stall is 12' x 12'. The top section of the stall wall and the door has ½" diameter black powder-coated grill tubes. For the bottom half, we use untreated 2'x8' tongue and groove #1 southern yellow pine lumber.
The very bottom two rows are treated 2' x 8' lumber to help protect the wood from urine and help with the longevity of your stall. Our standard stall includes a 12" x 12" feed opening on the front of the grill.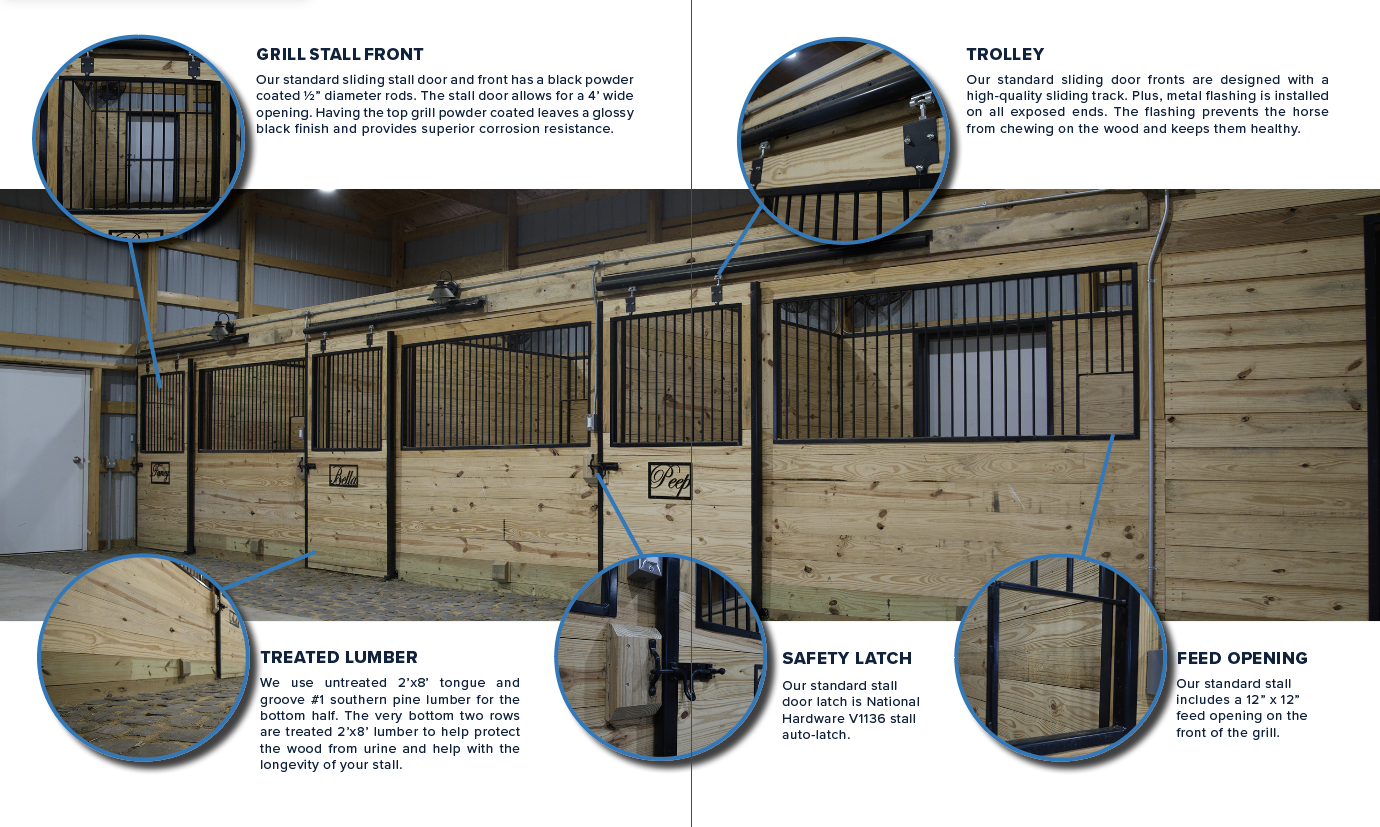 5) Sliding Horse Stall Doors
There are many options when it comes to stall doors. Our standard high-quality horse stall door has a black powder-coated grill top and solid horizontal 2' x 8' tongue and groove #1 southern pine wood. Having the top grill powder coated leaves a glossy black finish and provides superior corrosion resistance.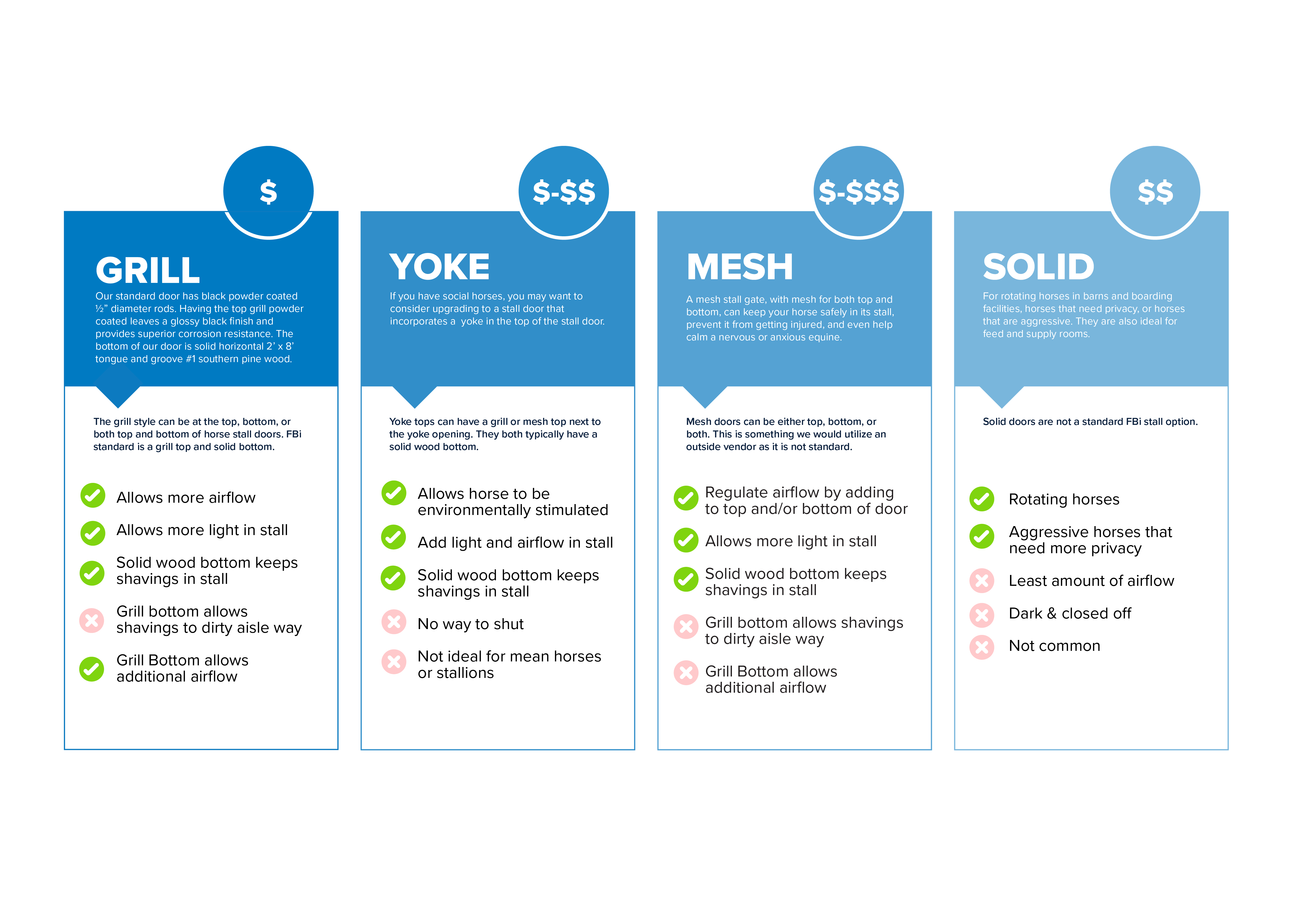 Stall Door Design
Grill
Our standard door has a black powder coated ½" diameter rods. The stall door allows for a 4' wide opening. It is attached to the stall with a galvanized metal track and trolley for easy opening. Some customers have opted for arched grills on their doors and wall fronts.

Yoke
If you have social horses, consider upgrading to a stall door that incorporates a fold-down yoke or stationary open yoke at the top of the stall door. Yoke tops can have a grill or mesh top next to the yoke opening. They both typically have a solid wood bottom. Yokes are a great option to allow your horse to look around more and be environmentally stimulated.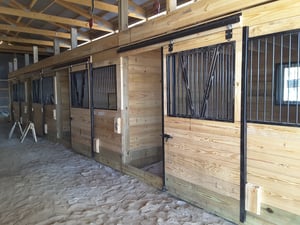 Mesh
Some additional stall door upgrade options are to have either a mesh top or bottom. Mesh allows for more airflow. However, whether you add mesh or grill to the bottom of the stall door, remember that while it increases airflow, it also allows the horse to kick shavings and dirty your aisleway.
A mesh stall gate, with mesh for both top and bottom, can keep your horse safely in its stall, prevent it from getting injured, and even help calm a nervous or anxious equine.

Crossbuck
If you aspire to have that all-American horse barn look, crossbuck added in front of the tongue and groove boards will give that look. While this is a nice look, most of our customers have chosen other styles due to the additional cost.

Solid
Solid doors might be for you if you are in a facility with some temperamental horses. However, this isn't an ideal door since it will limit light and reduce airflow.

Stall Door Latch
Our standard stall door latch is National Hardware V1136 stall auto-latch. We have used other styles, but the V1136 is our recommended option.
Stall Door Placement
Stall doors can be left, right, or center for placement, like a shower drain. Our standard stall door placement is on the right or left-hand side.
While you have the choice of left or right, we recommend having the door on the right, especially in facilities where you aren't as familiar with the horses.
Most people are right-handed, and when you lead a horse into a stall, do a u-turn, unclip the horse, and shut the door, you don't put yourself in a situation where you are pinned between the horse and the stall wall. This may seem like a small detail, but it is an important safety factor.
Stall Door Accessories
There are many accessories when it comes to stall doors. We offer a combination swing-out feeder or a stationary swing-out thermo bucket as an upgrade.
Blanket bars, fly control, other styles of feeders or waterers, and additional equine accessories are generally purchased directly by the customer.
6)Stall Wall Partition
Our standard FBi stall has 2' x 8' tongue and groove #1 Southern yellow pine wood, just like the front of our stalls. But what if you want to maximize the ventilation of your horse stable?
We offer an upgrade option with (3) 2 ¼" gaps in between the boards. These gaps allow for more air to circulate.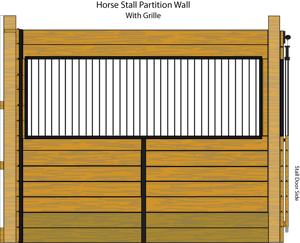 Another stall partition option we offer has a black powder-coated grill, just like the stall front. This is an excellent choice for social horses since they can visit with their neighbors when they feel like it while also increasing the ventilation.
7)Horse Stall Flooring
Regarding the flooring in your horse barn, you must consider your horse's needs and budget. Some customers utilize a bed of limestone or screen with covered shavings.
At the same time, others use rubber mats in their equine stalls. Some even opt for concrete flooring. But, again, it comes down to your budget and specific horses' needs.
8) Ventilation Inside a Pole Barn with Stalls
Horse barns are a great way to keep the horses out of the weather and away from bugs. Like most livestock pole barns, insulation is not required. However, we typically recommend not insulating, especially spray foam insulation.
In the winter, doors, and windows are shut. As a result, when horses breathe, it causes condensation. Insulation, like spray foam, can lead to mold and wood rot. To avoid this, install a vapor barrier and consider adding overhangs, a cupola with a fan, windows, doors, and fans.
Even in the summertime, moisture can be a problem. When the manure produces moisture, how will it exit the structure?
Sufficient airflow is crucial for your animals' health. Every equine facility should have a ventilation system installed.


5 Ways to Ventilate a Horse Barn
Vented Soffit Overhangs
Air moves upward as it warms and rises. Having 1' or 2' overhangs with vented soffits on the side of your building will draw air inside.

Cupola with Fan
Often added for aesthetic purposes; cupolas can help with ventilation. However, if installed to be functional, cupola fans require electricity.
You can top it off with a horse weathervane for a personalized touch!

Windows & Doors
Typically, the wind blows in a west-to-east direction. The placement of this ventilation system depends on your building's location and use.
In addition, we suggest evenly distributed doors and windows for better results.

Continuous Vented Ridge
A ridge vent is installed at the peak of a sloped roof, allowing warm, humid air to escape a building's attic.

Mechanical Ventilation
Used when natural ventilation isn't enough. In this case, you'll want to consider installing the following interior items:
Ceiling fans

Portable fans

Larger, installed fan units

Combination of any listed above




9) Post-Frame Construction
Now that you have had a chance to review what goes into horse barn stalls, it is time to select a quality post-frame builder. FBi Buildings is a pole barn construction builder with in-house building designers to make your project as custom as possible.
We are here to help you design a horse barn that meets your needs. For example, you may think you want a 10' ceiling height but then realize you need 12' so you can ride your horse through your barn and not hit your head on a ceiling fan.
We are here to assist you with designing custom horse stalls from the above information or help accommodate room in your design for an outside vendor's stalls.
There are several factors as to why pole barn prices fluctuate. We only select high-quality building materials and keep your barn's structural integrity in mind.
You can design your horse barn and add stalls on our free design online feature. Plus, we can use your design for a FREE quote anytime!
Horse Stalls Built Custom To Your Needs
Your horse barn should be as comfortable and safe as possible. Your horses will stay healthier and happier, both in the short-term and long-term, if given ample room to move around and fresh air to breathe.
You want to ensure that your horse barn is designed with specific features in mind, like stall size, number of stalls, durable materials, stall door placement, wall partitions, hay/food/water considerations, additional accessories, flooring, and more.
There's so much to keep track of when building a horse barn; it can get overwhelming fast!
And once you start seeing all the pros and cons of each design choice - it can be troubling trying to figure it out yourself. Well, don't worry; we've got you covered! Give us a call or request a free quote today!
---
Have more questions about pole barn trusses not covered in this article? Please contact FBi Buildings at 1.800.552.2981 or click here to email us. If you are ready to get a price, click here to request a quote and a member of our sales team will call you.