Building Construction | Posts | Building Tips
7 Crew Questions to Ask a Quality Pole Barn Builder

Subscribe
Cori grew up on her family's small grain and livestock operation in Northwest Indiana. In 2018, she graduated Summa Cum Laude with a Bachelor's degree in Business Administration & Marketing from Marian University Indianapolis. Having shown beef cattle for 12 years at the county, state, and national levels, Cori chose to pursue a career in agriculture. Today, she serves as the Marketing Content Creator on the FBi team. In her free time, Cori enjoys spending time with family and friends, watching sports, listening to live music, and traveling.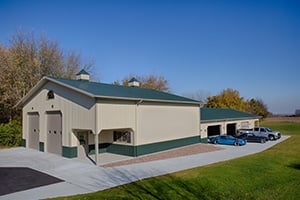 Congratulations, you've decided to build your dream pole barn! You've been consciously saving your money for months, or even years. Now that you have the necessary funds, your free time consists of designing the perfect building online.
You can envision a 60' x 120' x 20' insulated hobby shop with storage room for your classic car collection. It'll include living quarters for that man cave you've always wanted.
You'll finally have a space to display your memorabilia and "Best in Show" trophies. Plus, you wouldn't mind catching the latest Barrett-Jackson auction on a 50-inch TV screen.
Then, you select a Clay and Terratone color combination, so it'll match the other structures on your property. You can barely contain your excitement as the floor plan starts to take shape.
Before you dive deep into the design process, take a step back. Ask yourself: how well do you know your professional builder's labor force?
After all, the caliber of your building crew will determine whether your construction experience is good or bad. Not to mention, whether you're happy with your decision to build a post frame structure...or regret it.
Therefore, you owe it to yourself to do a careful evaluation.
So, how do you find the "right building crew" for your project? The honest answer is to hire the right pole barn builder.
It's simple. You should look for a company that has implemented the proper processes, training, and support to ensure high-quality construction crews.
Do you need help hiring the "right building crew?" For this article, we compiled a list of questions you should ask your professional builder to see how much they emphasize crew excellence.
7 Construction Crew Questions to Ask a Quality Pole Barn Builder
Below, we discuss the seven questions you should consider when selecting a high-quality pole barn builder. Don't be afraid to ask. Trust us, it'll save you money and headaches in the long run.
1) What is the right crew size to optimize construction?
The crew size depends on the type of building, specifications, and scheduling logistics.
For smaller residential buildings, the crew size consists of 3 to 4 workers.
For larger agricultural or commercial buildings, the crew size ranges from 4 to 10 workers.
Please choose a pole barn builder that understands the ideal crew size and has the resources to mobilize crew power accordingly.
Precise timing is what it takes to keep your post frame project on time and under budget.
2) Will the crew respect me and my property during construction?
Your post frame construction firm must understand which areas are "off-limits" to minimize on-site damage.
Furthermore, a "Construction Zone" plan should be drawn to orchestrate the flow of building materials, equipment, and manpower. Having this plan in place will reduce disruptions to your daily routine.
A quality pole barn builder will have you purchase builder's risk insurance, which protects you from theft, storm damage, or vandalism that may occur during construction. The following stakeholders need to be listed (if applicable):
Property owner

General contractors

Subcontractors

Architects

Engineers
Typically, the policy is in effect until the work is complete, and the property is ready for use or occupancy.
Don't forget to read the fine print before signing your contract. Double-check all coverages, conditions, and exclusions. You must understand what is and what isn't insured should a loss occur.
Avoid construction companies that do not require you to have this type of insurance policy. That's a disaster waiting to happen.


3) How will you protect my pole barn during construction?
Be sure to ask your professional builder how they plan to protect your structure during the framing stage. Post frame buildings are vulnerable until the steel siding is installed. Your investment needs to be protected throughout the entire building process.
Inquire about your builder's chaining and bracing procedures. They should be able to produce a formalized and well-documented protocol.
Proper chaining and bracing secure the walls and other building components. This step can eliminate the need to fix, straighten, or rebuild a pole barn that has been compromised by natural forces. Look for the following securements:
Diagonal braces used on the side-walls to create a triangle that transfers structural loads at the top of the column to the ground

Angle bracing installed at key intersecting points (e.g., building corners, door frame-outs, and strategic points along the end-walls and side-walls)

Strong anchor points that are independent of the building to reduce structural failure
Be cautious if a construction company tells you they will brace your building "the same way they always brace buildings." Every post frame project is unique. Executing a specially engineered plan may prevent delays and keep your project on schedule.
4) Do you directly employ and manage your crews? Do you have office support throughout the process?
If you hire subcontracted construction crews, beware of issues like job jumping or material delivery delays. This can cause problems with scheduling.
Pole barn builders who invest in their field employees do so because direct accountability is the best way to ensure quality performance.
Don't forget to research the construction company to see if they have their own project managers.
Why? Because project managers can mobilize additional workers, tools, and equipment if/when needed.
Without the support of engineers, subcontracted employees are sometimes left to figure out the missing details on their own.
5) On average, how many years of experience do your crewmen have?
It's no surprise that the construction industry is well-known for its high turnover rate, especially among the lower job levels. However, the experience is still essential.
Foremen should average 8+ years; crews 4+ years. A high average is a good indicator that the company values good people and makes it worth their while to stay.
Also, the crewmen's experience should be specific to post frame construction, not general construction. Building pole barns, hanging large trusses, and setting columns are much different than conventional stud wall construction.
6) What are your safety policies and procedures?
Trust us, you do not want a serious injury to happen on your job site. Keeping this area neat and clean is critical to the safety of the construction workers. For your legal protection, look for the following practices:
Published safety record that is below industry averages

Well-organized building material staging

Secure tool storage

Daily clean up

Posted safety signs

Proper safety gear (e.g., hardhats and eye protection)

Stable structure (e.g., chaining and bracing)
Not to mention, make sure they use Occupational Safety and Health Administration (OSHA) mandated fall protection equipment.
Beware of construction companies that do not have a safety record.
7) How do you measure the performance of crews?
Please choose a company with performance metrics that evaluate the quality of the crews' final product, not just at the speed in which they complete the building project.
Ideally, construction crews should be rated by their actual customers.
These performance metrics should give you confidence that your pole barn meets (or exceeds) your expectations upon completion.
Which Post Frame Builder Will You Choose?
By asking these hard questions, you're assessing how much a post frame builder values overall excellence. Not just in the engineering and materials, but ultimately in the finished product, built by their very own construction crews.
The employees need to be well-trained, protected, supported, held accountable, and inspired to be/do their best. If your builder provides this type of culture, you'll have a quality structure in the end.
Are you ready to move forward with your post frame project? You can submit your building design to us, and a member of our sales team will give you a call to begin the estimating process.
---
Do you have more questions about pole barn construction crews that are not covered in this article? If you need help designing and planning, please contact FBi Buildings at 800.552.2981 or click here to email us. If you are ready to get a price, click here to request a quote and a member of our customer engagement team will help you determine the next steps of your project.