Posts | Videos | Comparisons | Cost | Product Review
Pole Barn Metal Roof Paint Systems: Which One Will You Choose?

Subscribe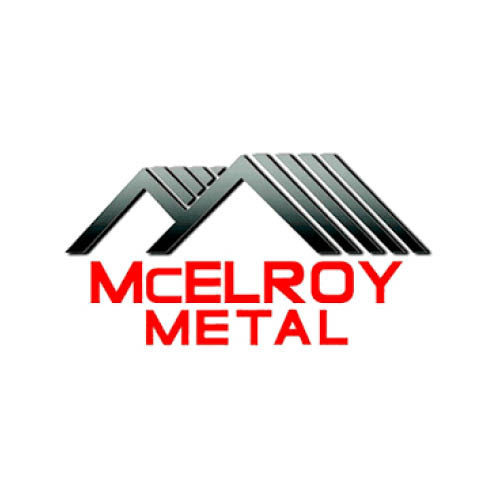 When McElroy Metal was founded in 1963, it was built on three key traits: quality, service, and performance. While they've certainly grown over the last 55 years, those traits are still the cornerstone of their business philosophy today. As a best-in-class metal roofing manufacturer with a complementary selection of metal wall panels and substructural components, they're here to meet any commercial, industrial, or residential need. With locations across the United States, their goal is to make your dream metal roof or wall a reality—no matter your location, project, or style preferences.
Editor's Note: McElroy Metal has been FBi Buildings' preferred metal manufacturer for 50+ years. We paired up with their in-house experts to inform our readers about the different metal paint systems used in post-frame construction. So, we traveled to the Sherwin-Williams "test fence" facility in Fort Myers, Florida, to better understand their products. This location "provides insight behind the creation and performance of exterior coatings that include pigments, resins, and polymers" that go into their metal paint lines. Our goal is to help you choose a pole barn paint system that increases the aesthetics and longevity of your post-frame building.
While the color of a new post-frame building is often the most exciting part of the decision-making process, the paint system is an essential element that bears serious consideration.
The paint system, or coating, is a metal panel's only line of defense against the wrath of Mother Nature, and ultimately, impacts the roofing system's life expectancy.
Consequently, careful consideration of the performance standards and expectations for the paint system requires a priority at least equal (if not higher) than the actual panel color.
The Primary Ingredients of a Pole Barn Metal Roof Paint System
Metal paint systems consist of three primary ingredients: pigments, binder/resins, and solvents.
Pigments are responsible for color. Paint is created when the pigment is dispersed into the binder/resin.


Binder/resins hold the pigment together and protect the coating from ultraviolet (UV) degradation.


Solvents are responsible for dispersing the pigment and ensuring the paint has the desired viscosity to be correctly applied. Then, the solvent evaporates (burns off from heat) during the coil-coating process.
Of these three ingredients, the resin selected has the most significant impact on the paint system's performance. Higher quality resins provide the greatest protection against chalking and fading.
In contrast, resins on the lower end of the quality spectrum can break down and allow loss of pigment resulting in excessive fade and chalk.
Understanding Pole Barn Resin Options & Quality Distinctions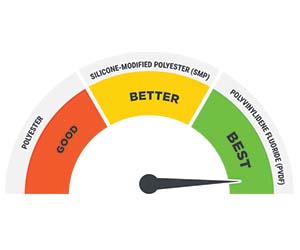 Pole barn paint systems use three standard resins: Polyester, Silicone Modified Polyester (SMP), and Polyvinylidene Fluoride (PVDF), commonly known as Kynar 500®. Each of these standard resins offers different advantages and performance:
Polyester coatings are the most affordable but also lowest on the quality spectrum. These are best used for interior applications without exposure to natural elements.


Silicone Modified Polyester (SMP) have higher performance ratings than straight polyester coatings and bridge the performance gap between polyester and PVDF (Kynar 500®) coatings.


PVDF (Kynar 500®) coatings offer a superior choice for protection against fade and chalk. Not all metal manufacturers provide PVDF paint systems; however, it's a mainstay of their standard product offerings for those focused on delivering the highest quality products to their customers.
The outstanding performance of PVDF (Kynar 500®) systems makes them the preferred choice for post-frame projects, running from agricultural to residential and even commercial. There isn't another paint system that offers the color retention and chalk resistance of PVDF systems.
Cost Comparison of Pole Barn Metal Roof Paint Systems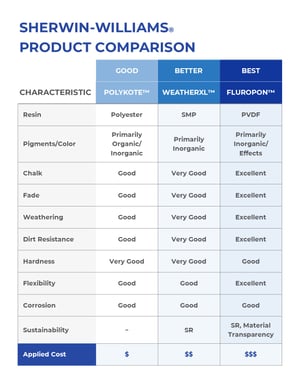 Like most products, higher quality carries a higher cost, and PVDF paint systems are no different.
However, moving from an "average" SMP paint system to a top-of-the-line PVDF system is much less than you think.
When working with a manufacturer (like McElroy Metal) who has taken an inventory position, the upcharge to move to the top-performing PVDF paint systems may represent only a few hundred dollars upcharges for an average 40' x 60' post-frame building.
Obviously, a minimal investment compared to the total pole barn cost and the vastly improved performance. But, conversely, the upcharge for the PVDF paint systems can be substantial when working with a manufacturer who brings in the material on a special order basis instead of an inventory position.
So, if you're interested in the outstanding quality of PVDF paint systems, it should be a consideration during the initial stages of your builder and manufacturer decision-making process.
Understanding PVDF (Kynar 500
®) Tiers
As expected, lighter paint colors typically require less pigment than darker hues. Pigments used in metallic shades are the most expensive of the three pigment tiers.
To minimize the cost difference between PVDF (Kynar 500®) and the lower performing SMP and polyester paint systems, many metal roofing manufacturers offer a tiered pricing structure:
Standard PVDF (Kynar 500®) colors are the first and lowest priced group. They represent the bulk of metal roof and wall panel colors used in the industry. These colors include neutrals, white, beige, earth tones, bronzes, and blacks.


Premium PVDF (Kynar 500®) colors represent an 8-10% upcharge over standard colors because the pigments used to make these statement-making colors are more expensive than standard color pigments. Additionally, more pigment is used in the process of making the paint. Premium colors include oranges, reds, vibrant blues, and greens.


Metallic PVDF (Kynar 500®) colors are the most expensive and typically include a 10-12% upcharge over premium colors. Higher costs are a result of higher pigment costs. Some metallic paints must be applied slowly during the coil coating process, increasing costs. But beyond these additional production costs, metallic products can also be more expensive to install. While not always the case, metallic finishes can be directional, which requires panel installation in the same direction to avoid color or shading differences.

As a result, directional metallic products require finesse from installers. Unfortunately, this finesse often results in slightly longer install times and ultimately higher labor costs than standard or premium colors.

The metallic color family includes coppers, silvers, bronzes, and champagnes.
While selecting the color for a new post-frame building project is undoubtedly fun and a key element to the initial curb appeal, choosing the paint system affects performance and life expectancy. Therefore, it requires serious consideration.

About McElroy Metal
Since 1963, McElroy Metal has served the construction industry with quality products and excellent customer service. The family-owned components manufacturer is headquartered in Bossier City, Louisiana, with 13 manufacturing facilities across the United States.
Quality, service, and performance have been the cornerstone of McElroy Metal's business philosophy and have contributed to the company's success through the years. As a preferred service provider, these values continue to be at the forefront of McElroy Metal's model and a strong focus on the customer.
---
Do you have more questions that aren't covered in this article? If you need help designing and planning, please contact FBi Buildings at 800.552.2981 or click here to email us. If you're ready for a price, click here to request a quote, and a member of our Customer Engagement Team will help you determine the next steps.