Subscribe
Color Combination Tips for Your Pole Barn
Posts | Building Tips | Building Design
Building a pole barn is a big decision. Arguably, a bigger decision is designing your pole barn.
Lately, your spare time has consisted of scrolling through online galleries for inspiration. There are multiple building features and layouts to choose from.
Honestly, it's enough to make your head spin. Not to mention, you and your partner have to agree on the design choices.
After all, a post frame building is a permanent investment. We get it...you want to make sure that you're making the best choices for your personal or professional needs.
Rest assured, some customers would say that the design process is their favorite part of pole barn construction. You're bringing your dream building to life! Your farm shop, commercial business, garage, or horse barn should showcase your taste.
How? Pick a color scheme that best fits you or your business. Don't forget to add a porch, doors, windows, cupolas, etc. for curb appeal.
In this article, we provide some helpful tips for selecting the perfect color combination for your pole barn.
Select a Superior Paint System
First, choosing colors is an essential part of the building process.
Be sure to take your time researching the paint system and color selections provided by your post frame builder. A permanent decision shouldn't be rushed.
We recommend using Kynar 500 for your post frame project. This paint system is key to the enduring beauty of your building.
How so? Its unique formula contains one of the strongest bonds known to humankind. A combination of Kynar fluoropolymer resin and ceramic pigments produces excellent resistance to weathering and fading.
The end result is a durable structure that withstands abrasion, ultraviolet radiation, extreme weather, chemicals, and solvents.
Choose Your Pole Barn Colors (Wisely)
Before selecting a paint color, you need to consider your surrounding environment.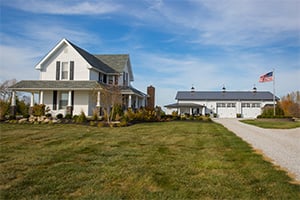 Do you have an existing structure (e.g., house) on your property that you'd like to match? If so, you'll want to review your professional builder's color swatches to see if there is a close match.
Keep in mind that "close" does not mean "exact." Unless you're using the same paint from the same construction company. Often, it's easier to use a complementary color rather than an exact match.
Are you the type of person that needs everything to be "exact?" Then, you'll want to ask your post frame builder about custom coloring options.
Depending on who you build with, they may be able to get the color you want. However, this upgrade will (most likely) cost extra.
If you're not worried about coordinating with an existing structure, then your paint options are wide open.
We recommend looking at other pole barns, especially those similar to your project, for inspiration. Pinterest boards will become your best friend (if it isn't one already).
Also, you should check with your builder to see what design resources they have available (e.g., brochures, samples, and online tools).
Color Selection Guidelines
Next, customers make their selection based on one of the following color schemes:
| | |
| --- | --- |
| Blended | Trim (including doors, windows, corner trim, track cover, rake, fascia, gutters, and downspouts) is the same as the wall color. |
| Accented | All trim is the same color as the roof. |
| Custom | A mix of blended and accented. A third color may be used as an accent. |
Please note that the designer wall (commonly referred to as pole barn wainscoting) isn't considered trim. Typically, it's the same color as the roof, whether blended or accented. More on this feature in a moment.
Your Project Sales Consultant will be able to provide coloring options for overhead and walk-in doors.
Other Questions You Should Consider
Below, we have provided the answers to our frequently asked questions (FAQ) about pole barn colors.
1) What color decisions do I need to make?
Once you choose a color palette, it'll be applied to the following four areas:
So, you'll want to make sure your color selection complements these building components.
2) How many colors should I choose?
The vast majority of people select two colors. Some customers only choose one color (e.g., Regal White). A small percentage use three, with the third color used as an accent.
Ultimately, the number of colors used in your building design is up to you. There is no right or wrong answer.
3) If I choose two colors, should I put the darker shade on the roof or walls?
Most people prefer light walls with a dark roof and trim. Again, color fading isn't an issue with the Kynar 500 paint system.
4) Do you have any advice about using a third color?
We recommend proceeding with caution. Although three-color combos look sharp, they're challenging to perfect.
If color selection isn't your forte, it's best to stick with two hues. However, a third color should be close to one of the two main accents.
5) What colors look best together?
That's a great question! It's important to note that color preference is subjective. One key to selecting an eye-catching combination is ensuring sufficient contrast between the two shades.
Here are some two-color combinations that customers have enjoyed over the years:
| | |
| --- | --- |
| If your walls are... | Consider one of these colors for the roof and trim... |
| White | Almost everything looks good with white, but the darker colors are generally preferred. |
| Almond | Autumn Red, Black, Brandywine, Copper Penny, Forest Green, Patrician Bronze, Slate Gray, and Terratone |
| Light Stone | Autumn Red, Black, Brandywine, Charcoal, Copper Penny, Evergreen, Regal Blue, Sepia Brown, and Terratone |
| Ash Gray | Black, Brandywine, Charcoal, Copper Penny, Forest Green, Patrician Bronze, Regal Blue, and Slate Gray |
| Surrey Beige | Brandywine, Evergreen, Forest Green, Patrician Bronze, Sepia Brown, and Terratone |
| Clay | Autumn Red, Black, Brandywine, Evergreen, Forest Green, Patrician Bronze, Sepia Brown, and Terratone |

Keep in mind that these are starting points and do not list all possible pleasing combinations. As mentioned above, there is no right or wrong answer.
6) Are some colors more expensive than others?
Please check with your post frame builder to see if all standard colors are the same price. It shouldn't affect your building price.
7) What is the purpose of a designer wall (or wainscoting)?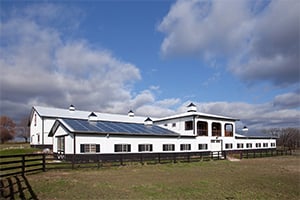 Before we go too far, there's something we should settle once and for all. How do you pronounce "wainscoting?"
Let's be honest; we second-guess ourselves when saying this word aloud. You probably have the same thoughts. Is it pronounced "Wayne's coating" or "Wayne's cotting?"
According to Merriam-Webster, the former is the preferred pronunciation, but the latter is acceptable. Whew!
Also, wainscot and wainscoting are interchangeable terms, just like pole barn and post frame building — a different variation of words, same meaning.
Wainscot is a wooden panel used to boost interior appeal. Many homeowners and interior designers use wainscoting as a way to enhance plain-Jane walls.
Similarly, wainscot is used as a decorative steel panel in post frame construction.
Wainscoting height varies. A three or four-foot strip of steel is added along the exterior base of your building. You can have one-sided, two-sided, three-sided, or four-sided wainscot.
Overall, a designer wall enhances the building's appearance by providing a visual break. It helps tie the building together.
Pole barn owners can upgrade their steel wainscot to something more unique, such as versetta stone. Other exterior façade options include:
Brick

Stucco

And various siding products (e.g., aluminum, cedar, and vinyl)
Be sure to check with your professional builder to see if this is a viable option for you.
Moreover, a designer wall serves as a layer of protection.
For example, have you ever mowed a little too close to your pole barn? Then weeks later, your significant other finds a nice, quarter size hole in your steel siding. Oops!
Note to self, rocks and pebbles can get kicked up by your mower, leaving small dents that add up over time. Unless you use brick or stone as wainscot. They make great deflectors.
If your post frame structure doesn't have wainscoting, then the large sheets will be damaged. Whereas, the wainscot provides easier, less expensive maintenance.
When a panel is damaged, it's usually in the lower portion. Replacing a 3-foot panel is cheaper than a full 16-foot panel.
Please note that some exterior upgrades (e.g., brick, stone, and various siding materials) aren't as easy to replace.
Voilà! Your pole barn looks good as new. It'll stay in good shape for longer. Plus, you didn't have to break the bank to repair the wainscot panels.
Again, a post frame building is a permanent investment. We recommend spending the extra money to install wainscoting. Trust us, it'll save you headaches and money in the long run.
Which Pole Barn Colors Will You Choose?
Are you curious to see how certain colors will look on your dream pole barn? Design your own building with our online 3D design tool. Save, print, or email your final plan to family and friends.
Are you ready for a quote? Submit your design to us, and a member of our sales team will give you a call to begin the estimating process.
---
Have more questions about pole barn colors not covered in this article? Please contact FBi Buildings at 1.800.552.2981 or click here to email us. If you are ready to get a price, click here to request a quote and a member of our sales team will call you.