Posts | Building Tips | Cost
Will a Pole Barn Increase My Property Value?

Subscribe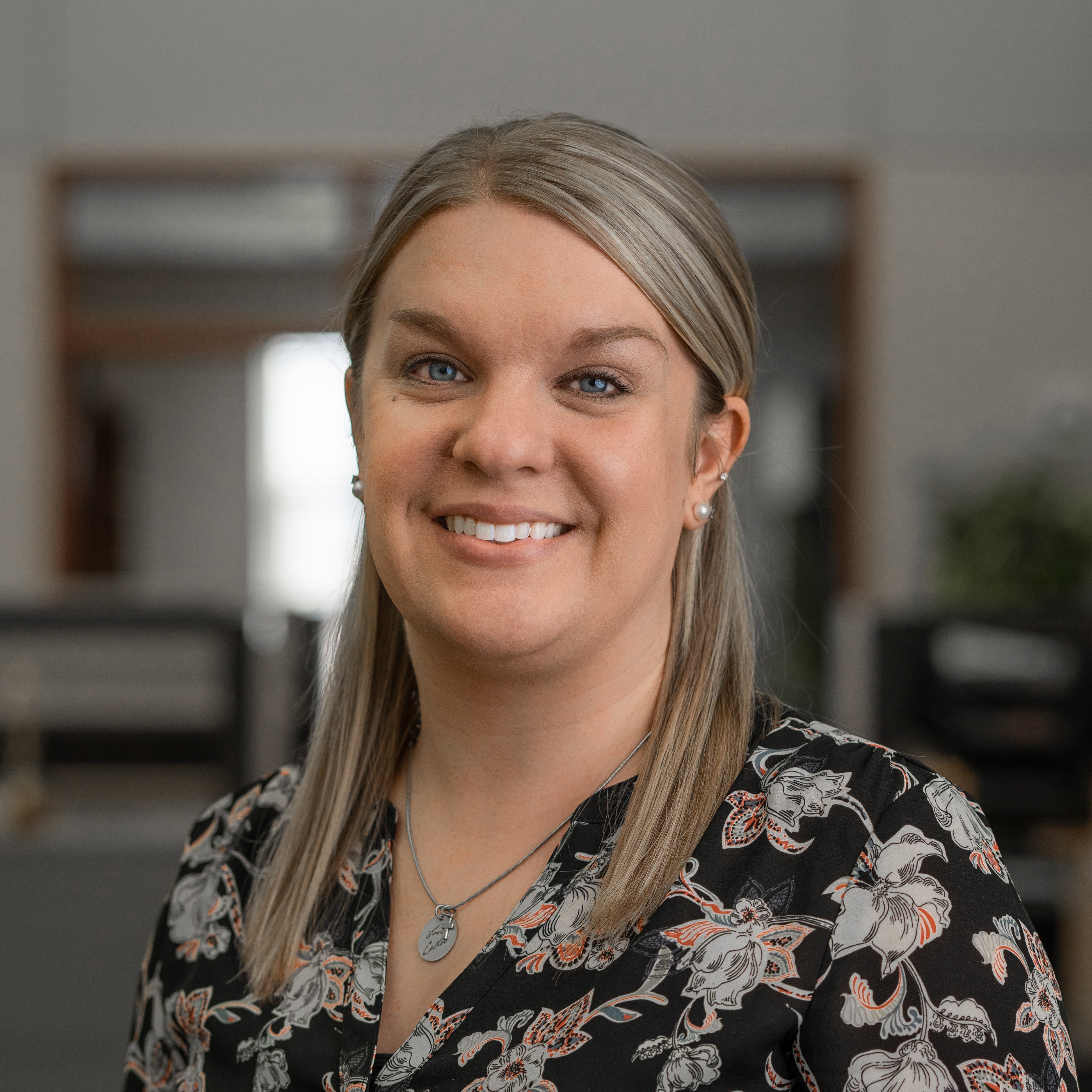 Angie graduated from Indiana State University with a Bachelor of Science in Interior Design. Prior to joining the FBi team, Angie was a kitchen and bath sales consultant in Lafayette, IN. In 2012, she started with FBi as the Inside Sales/Marketing Assistant. Today she holds the role of Sr. Marketing and Inside Sales Manager. Angie grew up in a farming community and has always enjoyed helping her family on the farm. A past 10-year 4-H Member, her passion for livestock pursued her to take a career in the agriculture field. She and her husband live in Northwest Indiana with their two daughters. In her free time, she enjoys outdoor leisure activities and spending time with friends and family.
It's safe to say that man caves and she-sheds are in style...unless you've been living under a rock. Television networks, specifically HGTV and FYI, are premiering series following the rise of this trend. Insurance companies are poking fun at the movement. Poor Cheryl!
With all this hoopla, we don't blame you for wanting a man cave or she-shed. In fact, we've had customers consciously save their money for this very reason.
Picture this: a custom 56' x 80' x 14' hobby shop equipped with a deluxe kitchen for her social gatherings or storage room for his fishing equipment and boat. Let's be real...who hasn't thought about having a special place to relax and escape from a busy life?
Will a Pole Barn Increase My Property Value?
A large, attractive garage or storage building adds curb appeal and resale value to your property. In fact, the lack of garage space is a deal breaker for some home buyers.
Luckily, a pole barn is a flexible and durable construction method. You can combine living quarters with storage room to appease future buyers.
Even if a post frame building doesn't skyrocket the appraised value of your home, you can still take steps to make sure that it adds marketability to your property.
Have you given much thought as to how your future pole barn will affect the property value? It's a major consideration when planning and designing your next post frame project.
In this article, we'll answer the following questions in great detail:
How much does a pole barn building cost?
How will a pole barn affect my property value?
How can I maximize my pole barn value?
Our goal is to provide information that'll help decide if a post frame building is the right choice for you.
How Much Does a Pole Barn Cost?
On the daily, we receive phone calls and web chat messages from customers asking, "How much does a pole barn cost?" Unfortunately, no black and white number works for everyone. Below, we detail five common costs that'll help you determine a realistic project total.
1) Site Costs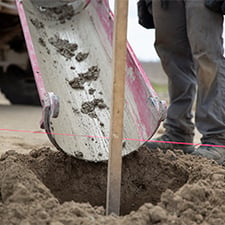 By far the most underrated cost, site preparation is the work done to your land before construction. The following factors drive site costs:
Location and elevation
Type of granular fill used
Size of the building pad
Amount of object removal
Naturally, some projects will require more site prep than others, which will undoubtedly affect the cost.
However, you can reduce costs by owning and operating your own excavation equipment. If you're capable of handling this workload, then you'll want to read our simple guidebook.
2) Design and Permitting Costs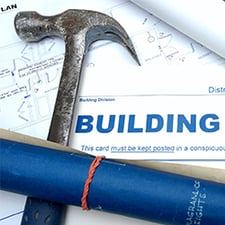 The design costs for your post frame building will rely on the type of structure you want to construct. The following factors will influence the price:
Once you've finalized your design, you'll need to obtain a building permit to move forward with construction. Permitting costs are based on the following components:
Please contact your city hall or county courthouse to find out how much you'll owe.
3) Finishing Costs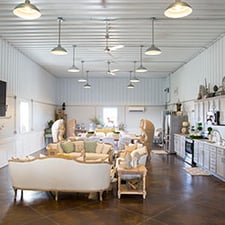 As mentioned above, adding external and internal features will impact your total pole barn cost.
Depending on your post frame builder's scope of work, they may subcontract the following exterior and interior work:
Cabinets
Drywall
Electrical
Framing
Masonry
Plumbing
At FBi Buildings, we recommend being your general contractor when finishing your man cave or she-shed. Hear us out...
This unique construction method doesn't contain studs. Therefore, you'll need to install interior stud framing on the perimeter walls and ceiling. Then, you can add essentials, such as electric and plumbing.
Finally, you can insert artwork, cabinetry, fixtures, shelving, and more. Eventually, these features will add up. Don't forget to consider labor costs if you have someone else perform the work.
Do you like to take on DIY projects? Most importantly, do you have the necessary background and knowledge? If so, we recommend downloading our General Contracting Guidebook to ensure a successful building project.
4) Furnishing, Landscaping & Signage Costs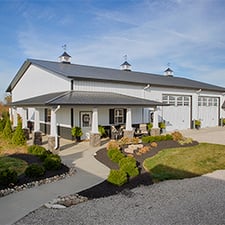 When planning your post frame budget, you'll want to account for finishing costs. These potential charges include furnishings, landscaping, and signage.
Moreover, they tend to be out-of-sight, out-of-mind in the early stages of the building process. So, don't let these post-construction extras ruin your estimate.
Spruce up the perimeter of your pole barn with an attractive landscaping design.
Stay off the fresh cut grass with a concrete sidewalk.
Pave the driveway leading up to your new residential building.
Overall, these outdoor features will add value to your construction project.
5) Financing Costs
In a perfect world, you'd have enough cash on hand to fund your dream pole barn. Sounds great, right? Unfortunately, this isn't always the case, and you'll have to take out a loan.
Financing costs include principal and interest on any loans you may need to take out. Don't forget to ask your post frame construction company the following questions:
A quality builder will have these resources on hand to help you navigate the world of pole barn financing.
As you can see, multiple factors will influence the total project cost. Ultimately, the price comes down to how you design your post frame building.
How Will a Pole Barn Affect My Property Value?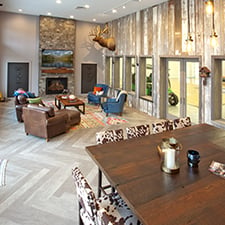 Often, people assume that a pole barn will decrease their property value. This ideology isn't necessarily true.
Although you don't plan on moving anytime soon, it's important to consider the resale value of your building and property.
Per Realtor Magazine, a large, attractive garage or storage building adds curb appeal and resale value to your property.
In fact, the lack of garage space is a deal breaker for some home buyers.
Luckily, post frame construction is a durable and flexible method. You can combine living quarters with storage room to appease future buyers.
Did you recently finish a building project? If so, you should reach out to a real estate agent for an updated estimate on your growing property.
How Can I Maximize My Pole Barn Value?
Let's say a post frame building doesn't skyrocket the appraised value of your home. It doesn't mean that you can't take steps to make sure it adds marketability to your property.
1) Building Permits
First, you'll need to check with your homeowner's association for rules and regulations regarding construction within their jurisdiction. Also, it's crucial to verify building codes with your post frame builder.
Next, you'll need a building permit before moving forward with pole barn construction (assuming you have permission from the HOA). In some areas, structures are exempt from permits, especially agricultural buildings. You'll still need one, but it's free of charge.
On the other hand, some residential buildings require a permit from the town rather than the county. Again, the best way to find out how much you'll owe in permitting fees is to contact your local planning and development office.
2) Match Color Combination to Existing Structures
Top appraisers recommend matching your post frame style to existing structures on your property.
For instance, if you're home has Surrey Beige siding, you can use the following pole barn color combinations:
Brandywine
Evergreen
Forest Green
Patrician Bronze
Sepia Brown
Terratone
As long as you keep your aesthetics consistent, you're in good shape.
3) Maintain Your Pole Barn's Condition
Who would purchase a piece of property with buildings in poor shape? No one.
If a pole barn is damaged, it'll become a hassle for future buyers. They'll have to fix it up themselves or have it completely removed from the property. As a result, your property value will lower because the buyers might incorporate the maintenance fees into the purchase price.
To avoid this situation, we recommend taking proper care of your man cave or she-shed.
4) Use a Desirable Builder and Materials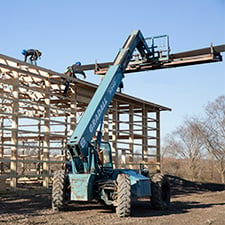 Although the initial cost may seem intimidating, it doesn't mean that you should purchase a building kit at the nearest hardware store.
If you're going to spend your hard-earned money on a new pole barn, then you'll want to make sure you're investing in a quality builder — one whose building materials and features will withstand the test of time.
As the old saying goes, "you get what you pay for." At first, a cheap building sounds great!
Realistically speaking, it's a lower-quality product that will require more follow-up maintenance. In the long run, cheap construction will cost you more.
Besides, a post frame structure is an investment. The more time and money you invest in a project, the more value it will add.
How Will You Increase Your Property Value?
Depending on your situation, a pole barn may or may not increase your property value. However, you can always escalate the marketability of your property (if and when that time comes). An attractive and well-maintained structure that matches your home will add serious curb appeal.
Are you ready for the next step? Design your own building with our 3D design tool. When you're finished, you can save, print, or email your plan to family and friends.
If you're ready for a quote, you can submit your design to us, and a member of our sales team will give you a call to begin the estimating process.
---
Have more questions about pole barn value not covered in this article? If you need help designing and planning, please contact FBi Buildings at 1.800.552.2981 or click here to email us. If you are ready to get a price, click here to request a quote and a member of our sales team will call you.