Posts | Post Video | Comparisons | Building Design | Product Review
Kynar 500® vs SMPs: Which Paint System Should You Choose?

Subscribe
Cori grew up on her family's small grain and livestock operation in Northwest Indiana. In 2018, she graduated Summa Cum Laude with a Bachelor's degree in Business Administration & Marketing from Marian University Indianapolis. Having shown beef cattle for 12 years at the county, state, and national levels, Cori chose to pursue a career in agriculture. Today, she serves as the Marketing Content Creator on the FBi team. In her free time, Cori enjoys spending time with family and friends, watching sports, listening to live music, and traveling.
When selecting a post frame builder, consumers are first concerned with service area and cost.
We hear it all the time from our customers via email, phone, and social media. "Do you build in this county and state?" or "How much does a __' x __' pole barn cost?"
A thorough individual takes it a step further by researching the building materials and asking the following questions:
All of these questions are valid and will be addressed at some point in the building process.
But what about paint systems?
No, we're not talking about selecting a color combination. Although, we'd be lying if we said it wasn't a key part of designing your post frame building.
Most customers don't understand the difference between paint systems, which play a significant role in helping your pole barn look "fresh" year-after-year.
This article details the essential components and performance differences between the standard paint systems in post frame construction.
Understanding Pole Barn Paint Systems: What You Need to Know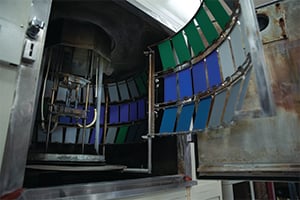 First, you must understand the basics of pole barn paint systems.
Per the Construction Magazine Network, paint consists of three components: resin, pigment, and solvent.
Resins bind to protect pigments and adhere to steel substrates.
Pigments are the pure colors used to make paint. They absorb UV radiation that damages the resins and primer. There are two classes of pigments: organic (carbon-based) and inorganic (non-carbon-based).
Once the paint is applied to a surface, the solvents evaporate, allowing the resins and pigments to form a coat.
Paint systems are identified by their resin type. Three primary resins are used for coating metal panels: polyester, silicone-modified polyester (SMP), and polyvinylidene fluoride (PVDF).
Editor's Note: Polyester is the cheapest but lowest-performing paint system on the market. This blog will compare SMPs and PVDF since they're the standard option in modern post frame construction.
Three companies dominate the coil coating industry: Akzo Nobel, PPG, and Sherwin-Williams. You probably recognize these big names while shopping for paint at the nearest home improvement store.
Kynar 500
®

vs SMPs: 5 Key Differences You Should Know

We can now start comparing SMPs and PVDF in terms of chemical structure, fading and chalking, abrasion resistance, warranty, and cost.
1) Chemical Structure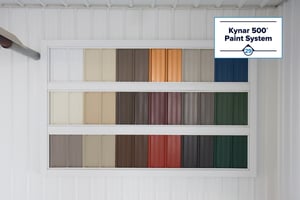 Polyester provides a hard, scratch-resistant finish, but no added silicone means that it's prone to chalking and fading.
Silicone-modified polyester is a combination of polyester and silicone (hence the pretty straight-forward name).
Metal manufacturers used to tout a higher silicone dose, but the extra polymers became less critical as polyesters improved. Today, SMPs contain 30% or less silicone, which enhances chalk performance and gloss retention.
Please note that the quality of silicone-modified polyester systems varies. Some paint formulas use ceramic pigments versus organic or inorganic.
Therefore, not all SMPs are created equal. Buyer beware, especially when considering a pole barn addition or replacing damaged steel.
Polyvinylidene fluoride, popularly referred to as Kynar 500®, is the premium resin for pole barn paint.
Its unique formula contains one of the strongest bonds known to humankind. A mixture of fluoropolymer resin and ceramic pigments produces excellent resistance to weathering and fading.
To be classified as Kynar 500, the PVDF component must make up 70% of the total resin content.
2) Fading & Chalking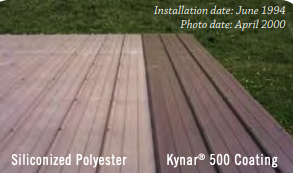 Fading occurs when the environment attacks the pigment portion of the paint system. When metal is continually exposed to sunlight, it will lose more and more of its original color.
Chalking occurs when UV radiation damages the resin, allowing the pigment particles to resurface as a powdery substance. Other degradation contributors include acid rain and air pollution.
The area of your post frame building that receives less elemental exposure will fade or chalk at a slower rate.
Editor's Note: These damaging effects are noticeable on darker colors. Lighter hues still fade and chalk, but the panel appearance is duller.
Unfortunately, these conditions are unavoidable, but the right pole barn paint system will keep your steel looking fresh.
As mentioned above, Kynar 500 resin-based paint systems outperform SMPs in the fading and chalking category.
When PVDF resins are combined with ceramic pigmentation, the paint's resistance to weathering is unmatched.
The coil coating doesn't attract dirt and other airborne particles. If pole barn maintenance is necessary, your metal panels will clean up easily with a little soap and water.
Furthermore, Kynar 500 is virtually unaffected by incidental contact with most chemicals and air pollution. This trait is convenient for farmers or commercial businesses that handle fungicides, herbicides, insecticides, pesticides, and other compounds.
3) Abrasion Resistance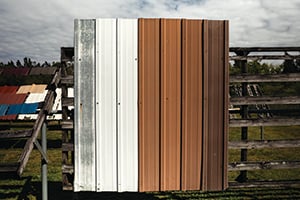 Despite being one of the most commonly manufactured metals in the world, steel has one major flaw...it rusts.
Therefore, you must know how well the painted panels will hold up when exposed to abrasive factors.
Like polyesters, SMPs are harder than PVDF resins and can endure rough handling. However, they're more likely to fracture during roll forming.
Although metal looks impermeable to the naked eye, moisture can access these microscopic gaps, causing pole barn rust.
These tiny fractures don't ring an alarm for some manufacturers. Other companies will use warm forming technology to reduce the risk of this phenomena.
Kynar 500 paint systems are softer than SMPs, meaning that it's less likely to crack during panel manufacturing. Although, they can scratch easier when being transported or installed by construction crews.
Editor's Note: Steel substrate is another factor to consider when selecting a paint system.
There are two types of substrates in the metal roofing and siding industry: galvanized and galvalume.
First, galvanized steel is coated with a thin layer (60, 90, or 100 ounces) of zinc. This chemical element protects the metal panel from harsh components that cause corrosion.
Eventually, the zinc layer will fade. Now, you're probably thinking, "Wait a minute, isn't that a bad thing?"
Remember, zinc sacrificing itself in the event of a scratch is what stops the spread of rust.
Second, galvalume steel is glazed with zinc and aluminum by a continuous hot-dip process.
The alloy mixture consists of 45% zinc and 55% aluminum. It combines the protective properties of both chemical elements for a stronger coat.
Both substrates prevent rust, but galvalume outranks galvanized steel in terms of long-term protection.
4) Warranty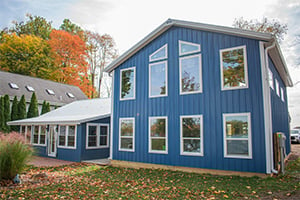 A warranty is the written guarantee by manufacturers to purchasers promising to repair or replace defective products/services within a certain period.
Typically, paint warranties will cover chalk, color change, and gloss loss.
Editor's Note: The paint (and post frame) industry doesn't offer a standard warranty. With that being said, you don't want to skim through your options. Avoid warranties with vague wording.
Warranties for SMPs can last 10 to 20 years and 20 to 40 years for PVDF.
Before investing in a new pole barn, you must understand what is and what isn't covered should a defect occur. Double-check all coverages, conditions, percentages, and exclusions.
5) Cost
Perhaps the biggest advantage silicone-modified polyester has over polyvinylidene fluoride is its price.
Again, the quality of SMPs varies, and the price is no different. Some SMP paint systems are made with ceramic pigments and resins that improve fading and reduce chalking. These upgrades are going to cost more than the lower end SMPs.
The price difference between PVDF and SMPs have narrowed since the former's market introduction in the 1960s. Still, customers can expect a 15% to 35% difference in cost when selecting the Kynar 500 paint system.
The top-performing coil coating is going to cost more than its lower-performing counterpart. For some customers, it's worth the extra money. Do you agree?
Which Pole Barn Paint System Should You Choose?
Building a post frame building is a major financial investment – one that you want to be both functional and attractive.
Nothing says quality like the Kynar 500 paint system. Your metal panels will have that "just painted" freshness for years to come.
Most post frame builders use a PVDF paint system. Some competitors offer metal panels coated with SMPs or Kynar 500. If given a choice, you should specify to your builder that you'll only accept steel finished with the latter.
The end result is a durable structure that withstands abrasion, ultraviolet radiation, extreme weather, chemicals, and solvents.
Do you want to see how certain colors will look on your dream pole barn? You can design your post frame building with our online 3D tool. Save, print, or email your floor plan to family and friends.
Are you ready to request a quote? Submit your building design to us, and a member of our sales team will give you a call to begin the estimating process.
Additional Resources:
If you're looking for more information about metal roofing and siding, we recommend subscribing to the McElroy Metal blog. You can also view their helpful Kynar 500 brochure here.
---
Have more questions about pole barn paint systems not covered in this article? Please contact FBi Buildings at 1.800.552.2981 or click here to email us. If you're ready to get a price, click here to request a quote, and a member of our sales team will call you.