Posts | Horse Barns | Riding Arenas
Our Top 5 Riding Arenas in 2023: More Than A Horse Barn

Subscribe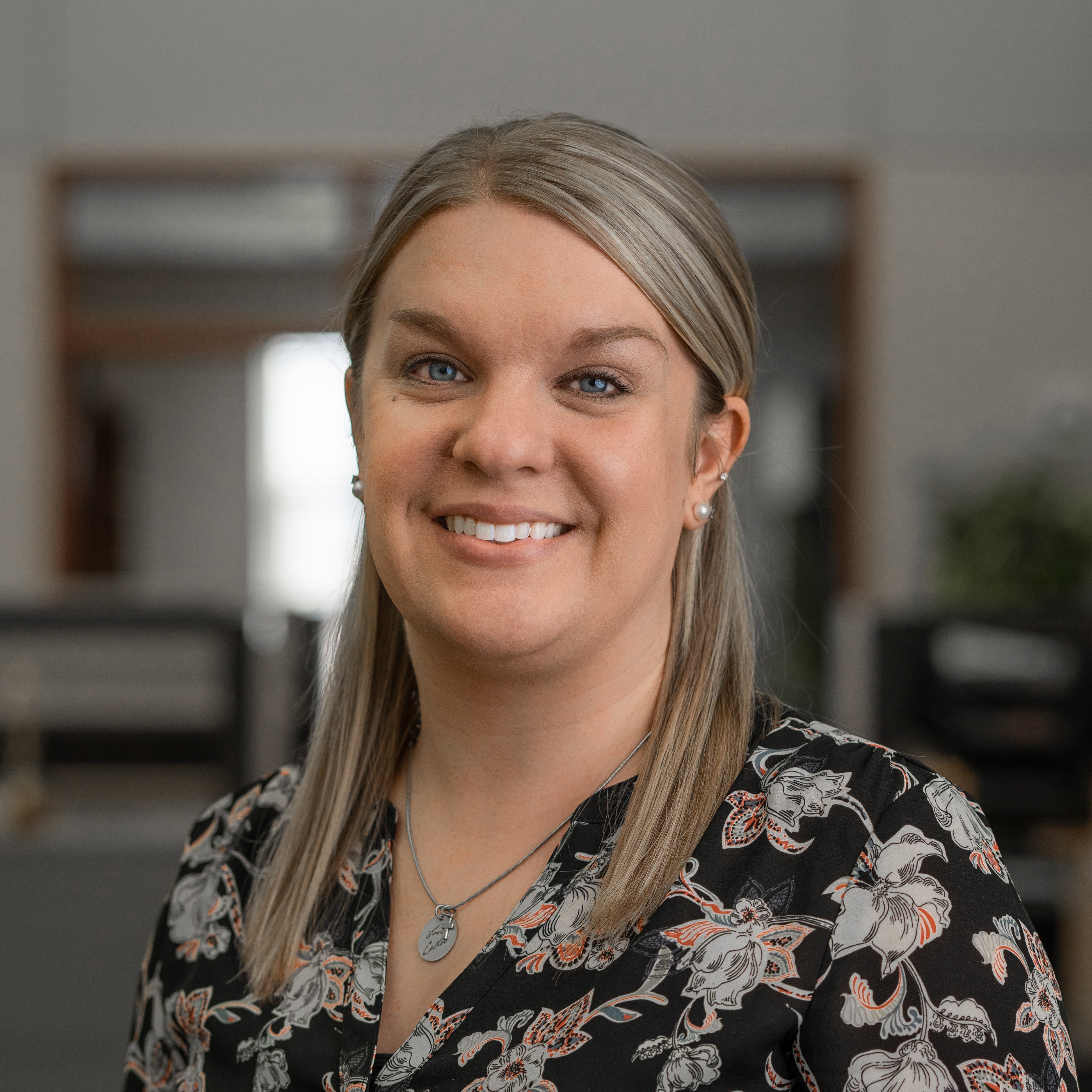 Angie graduated from Indiana State University with a Bachelor of Science in Interior Design. Prior to joining the FBi team, Angie was a kitchen and bath sales consultant in Lafayette, IN. In 2012, she started with FBi as the Inside Sales/Marketing Assistant. Today she holds the role of Sr. Marketing and Inside Sales Manager. Angie grew up in a farming community and has always enjoyed helping her family on the farm. A past 10-year 4-H Member, her passion for livestock pursued her to take a career in the agriculture field. She and her husband live in Northwest Indiana with their two daughters. In her free time, she enjoys outdoor leisure activities and spending time with friends and family.
Do you raise horses for pleasure or are they part of your business? No matter what category you fall under, all post frame builders understand the many requirements of building a safe, efficient, and attractive equine facility.
It's without question that your primary goal in building a horse barn is to arrive at a facility that provides an optimal balance between your priorities and your horses' needs. When you're ready to start planning your equine facility it's important to think about all of your current and/or potential uses.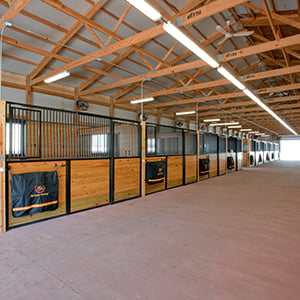 Remember one of the most common lines we hear from our customers? "I wish I would have built it bigger….." It's our goal to make sure that that doesn't happen to you, so we're here to provide you with helpful tips along the way.
Depending on what type of needs you have, it's important to take into consideration the following:
Do you know what size of horse barn you will need? Keep in mind, it's also a good idea to think about future expansions.
How many stalls were you planning on having? Is there going to be a dedicated stall for sick horses?
What about tack storage? Are your hay and supplies going to be stored in the same barn? If the answer is yes, where's the best place for that storage so it doesn't interrupt your daily workflow?
How large of a riding arena do you need? Will several riders be riding at once or will you be holding one-on-one training sessions for horseback riding or game skills?
Do you need an observation room off of your riding arena? If you have a lot of training sessions throughout the week, this isn't a bad idea for parents to see how well their child is improving.
Do you need living quarters attached to the barn? If you have a larger facility that requires round-the-clock care this is probably something you should consider doing.
What about a dedicated space to wash down your horses? Will one stall be plenty or would it make sense for you to have several?
How you will handle hauling manure from the stalls? Are you still using a pitchfork and wheelbarrow, or do you use a mini-excavator to clean out your stalls?
As you can imagine, a proper horse pole barn all starts with good planning and intelligent design. Whether you're looking at building a new facility or adding on to the one you currently have, the building process is still the same.
The same process also applies when building an indoor riding arena, regardless if its a new pole barn or one that will be connected with an existing facility with a center aisle.
To make the planning process a bit easier for you, we've rounded up our top five indoor riding arenas that are perfect for those who have horses for a hobby or for business.
Our Top 5 Riding Arenas (Our Recommendations)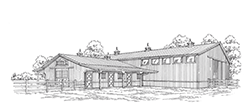 #1: Bright Meadows
When the comfort and health of your horses (and workers) are top priorities, this plan delivers. Sunlight streams in from every angle in this delightful building with the abundance of windows located in the 80' x 120' riding arena. The natural lighting will also help you save on energy costs.
We all know that Mother Nature can be unpredictable so this design also incorporates shelter by including two deep porches. This plan also includes four 14' x 16' oversized stalls which allow reduced labor and put horses at ease.
A laundry room, restroom, and feed room provide an extra measure of convenience by having all of your supplies located under one roof.
This is the perfect plan for those who are just starting out with horses.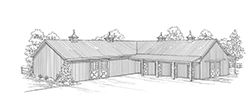 #2: Lady L

With this horse barn, you get a clean exterior that is not only simple but also attractive - which is a good way to save on costs if budget is a concern of yours.
This floor plan incorporates eight 12' x 12' stalls, including two large, 14' x 14' foaling stalls. One benefit to some is the open area outside of the stalls for tack room and extra storage. A 36' x 60' horse arena and two oversized porches help complete this design.
This configuration provides ample circulation and storage space.
#3: Bluegrass Beauty

This regal equine facility features a striking vaulted entry, set off with cedar timbers and large windows. Inside are eight 12' x 12' stalls, plus a dedicated wash area, a feed room and a small space for riding.
Another notable element of this design is the large 24' x 32' tack room. This space could easily be divided to include other functions such as:
Office space
Laundry room
Restrooms
Main entrance
The options are somewhat endless with the Bluegrass Beauty.
#4: U-Grande

The horse barn that all horse owners envy over!
This large facility is all business with 27 12' x 12' stalls, a large riding arena that's 152' wide, and additional space for grooming, feed, washing, and tack storage.
The "U" shape breaks up the long hall, allows for varied sun exposure and creates a courtyard environment outside.
This is the perfect horse barn for those who have a large boarding business.
#5: Kentucky Favorite



The classic "T" shape serves this plan well. A generously sized 66' x 176' arena is attached to an eight-stall barn with many extras.
Enjoy watching riders from the 12' x 24' observation lounge, or wash your work clothes in the laundry room before heading home for the day.
In addition to the tack room, wash stall and feed room, this plan also includes a dedicated 24' x 24' room for tractor storage - which is perfect for those who use a mini excavator to clean their stalls.
Are You Ready to Start Designing Your Riding Arena?
To get started with your post frame building design, we recommend downloading our Horse Barn Plans eBook.
This detailed eBook includes 20 different horse barn plans including (but not limited to):
Stables and stall barns
Riding arenas
Multi-purpose horse barns
Horse barns for boarding
Or even horse barns for training and physical therapy
With post frame construction, the sky's the limit so let yourself dream. As a horse owner, you deserve to have the horse arena that you've been waiting for.
If you've already downloaded our eBook, we recommend checking out our online 3D designer. This will help you visualize what your pole building will look like, as well as showcase the different features and colors that you may choose.
---
Do you have more questions that are not covered in this article? If you need help designing and planning, please contact FBi Buildings at 800.552.2981 or click here to email us. If you are ready to get a price, click here to request a quote and a member of our customer engagement team will help you determine the next steps of your project.