Cost | Post Frame Homes | Residential Buildings
Have you been thinking about building a pole barn home, but the increase in material costs has you wary of pulling the trigger? Maybe you have already spent countless hours reading design magazines, scouring Pinterest for the latest trends, and viewing online galleries of finished building projects - you know what you want your home to look like, and you're ready to do it now. Surprisingly enough, building a pole barn with living quarters isn't a new concept. However, it's steadily gaining popularity in the housing market.
Building Construction | Post Video | Posts
In the fall of 2020, FBi Buildings introduced the QLYFT building system, an unprecedented way of erecting post-frame structures on the ground. Yes, you read that right. We're building pole barns on the ground and raising them to the desired height. We created this construction method to improve crew safety while taking product quality to the next level.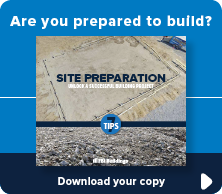 Enjoy a smoother construction experience.
The guidebook that offers essential steps and information which lays the foundation for an on time and on budget project.
Company | Pole Barn Builders | Posts
You've been dreaming of building a pole barn for quite some time, and now you're ready to finalize the building design and begin all necessary site preparations.
Building Construction | Building Tips | Post Video | Project Prep | Videos
"Do you have room in your construction schedule to build my pole barn?" This question is frequently asked by customers who want to put up a post-frame building by the end of the year.
Building Tips | Posts | Repairs & Renovations
Now that springtime is here, homeowners are getting started on their outdoor projects. The weather is now finally nice enough to spend time outdoors and truly focus on your plans for your home and your yard.
I'm sure you've noticed that high-quality lumber prices are on the rise. The high prices have been a ripple effect throughout the post frame industry, and we want to make sure you're aware of the reality of the situation. If you've heard that there has been a price increase on buildings, it's not a lie. Do you find yourself wondering if you should wait until prices go down or take the chance and invest in a pole barn this year? If you decide to stay, there is a risk that prices will continue to go up.