Building Tips | Posts | Structural Integrity
It's Sunday, March 8th, 1998. The sun is shining, birds are chirping, and life is good. Winter has been long and dark, but in the air, there is a promise of Spring. The weather is tolerable, so you're outside prepping your lawn and garden for the warm weather that will undoubtedly be here soon. Just when you start to get somewhere, dark clouds begin to roll in and threaten a storm. In no time, rain begins to fall, so you inevitably head inside to stay dry — dang you, crazy Midwest weather.
Building Tips | Pole Barn Builders | Posts
In this day and age, it seems like people are more conscious about the decisions they are making and the products they are purchasing. People perform extensive research to ensure they are making the best possible choice before making up their minds. The last thing anyone wants is to regret their decision later on down the road - especially when that decision involves their hard-earned money.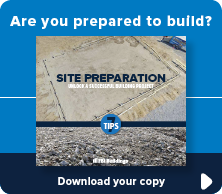 Enjoy a smoother construction experience.
The guidebook that offers essential steps and information which lays the foundation for an on time and on budget project.
Comparisons | Posts | Structural Integrity | Videos
Post frame companies want you to purchase their product over their competitors, and the one way they can convince you to do so is to advertise their product as the best on the market, especially when they're comparing the structural integrity and pole barn steel warranties of their main competitors.
Building Features | Building Tips | Post Frame Homes | Posts | Residential Buildings
When you hear the word "pole barn," what do you see? Most people picture a red barn with a white roof, cupolas, and sliding doors for moving heavy machinery. It's the epitome of a farm building in the rural Midwest. However, the latest construction trend is a pole barn with living quarters. Yes, you read that correctly. You may wonder, "Why would someone want to live in a barn?" Nowadays, building usage goes beyond the realm of agriculture.
This year, one of your core objectives is to build a new pole barn. You already have the land and money set aside. So, there's half the battle. Your spare time consists of designing your dream post frame building, skimming countless brochures, and scrolling through online galleries for inspiration. This process can be time-consuming.
Our builder comparison for this week is featuring Lester Buildings. Similar to FBi, Lester constructs buildings for farm, hobby, horse and stable, livestock, commercial, and residential buildings. They firmly believe that they set themselves apart from their competitors with these three things: A professional, collaborative planning experience from concept to completion Customization Value In this blog, we will be presenting the facts and strengths of each builder. Our goal is to help you have a better understanding of how FBi compares to Lester before you make a final decision.