Building a pole barn is a complex construction project. It's relatively easy to get caught up in the nitty gritty details of planning and designing your post frame structure.
It's not uncommon for damaging wind gusts to bully their way through the Midwest. If we didn't have at least a dozen wind storms throughout the year, we wouldn't know how to act. Yes, it really is that common. The pole barn construction business would be much easier for us and our competitors if Mother Nature wasn't so unpredictable. Eventually, you learn to go with the flow and get the job done...no matter the weather conditions.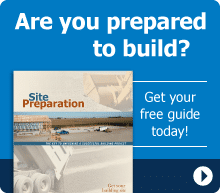 Enjoy a smoother construction experience.
The guidebook that offers essential steps and information which lays the foundation for an on time and on budget project.
Are you interested in expanding your commercial business with a post frame building? If so, you've come to the right place. When people think of a post frame building, they often picture a farm shop or cold storage building for agricultural equipment. Or, a quaint red barn featuring a white roof, sliding doors, cupolas topped by a weathervane, and grassy fencerows. It makes for a picturesque landscape in the rural Midwest. However, pole barn design and usage goes beyond the realm of agriculture.
Pole barn - a term that we have been familiar with since 1958. A term that we commonly use interchangeably with post frame building. A term that will always be used by our customers. Why? Because that's how we started our business. That's how our competitors started their businesses, and we all know how change goes...sometimes you just stick to what you've always done and/or referred something to.
Building a pole barn is a big decision. Designing a pole barn is an even bigger decision. There are multiple building features, options, and layouts to choose from. Not to mention, it's a permanent investment. We get it...you want to make sure you're making the best choices for your needs.
When people think of a post frame building or pole barn, they envision farm shops, machine sheds, or even suburban garages. The common misconception about post frame is that it's primarily used for tractor storage. However, what you might not realize is that post frame structures are also an ideal construction method for commercial buildings.