Building Features | Structural Integrity | Comparisons | Cost | Trusses
What Are the Most Common Types of Pole Barn Trusses?

Subscribe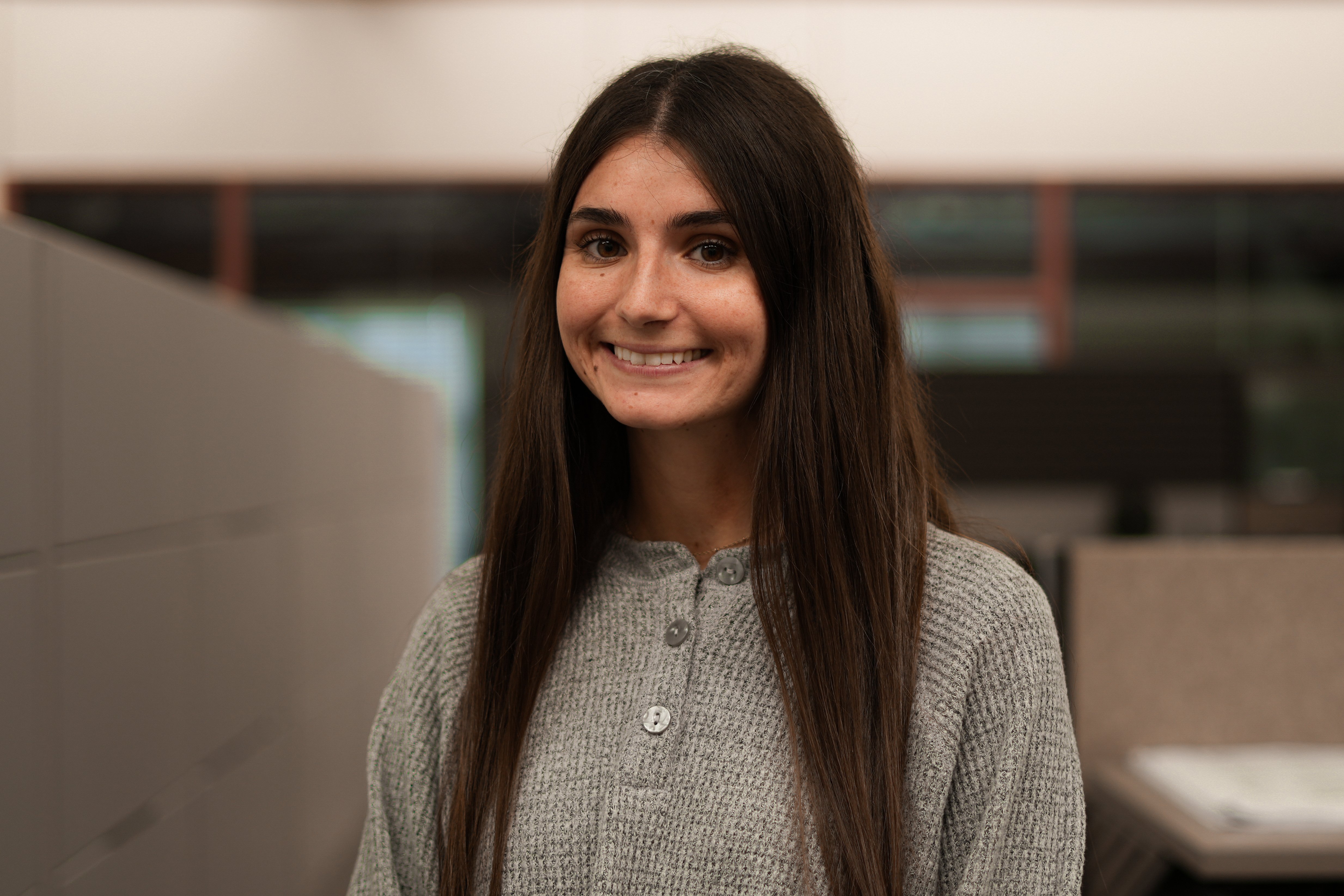 Addy graduated from Indiana University in Indianapolis with her BFA in Graphic Design. Addy has always enjoyed being creative and now serves as a Marketing Content Creator at FBi Buildings. In her free time, she enjoys drawing, painting, photography, and spending time outside with her family and friends.
Trusses are an essential component of your post-frame building. You might feel more comfortable with your building process after knowing a few facts about them.
We know that not all trusses are made the same, and that's due to their versatility.
A pole barn roof truss comprises multiple components, including a top chord, bottom chord, internal web members, and steel connector plates.
In this article, we'll discuss the most common types of trusses used to build pole barns.
The Most Common Pole Barn Trusses
1) Truss Types

When it comes to trusses, there are quite a few ways they can be assembled and built. The webbing within each frame can be designed differently. To support more square footage, some trusses have to be built larger. The three trusses we'll discuss below make up 99% of the trusses used in the post-frame industry.
Common Truss

Let's start by discussing a common truss, also called a regular truss. This truss is perfectly symmetrical; it has a peak at the center and the same pitch and heel on both sides.
The pitch refers to the angle at which the truss slopes or inclines. Pitch is an important design component because it determines the stability of the roof structure.
The heel is at the end of the truss or near the bottom. This element also helps to provide stability, supporting the whole truss system.
Different trusses are to be used on one job, depending on architectural requirements. A regular truss is generally used for buildings with standard roof designs.

If we consider pricing, a common truss tends to be the least expensive option.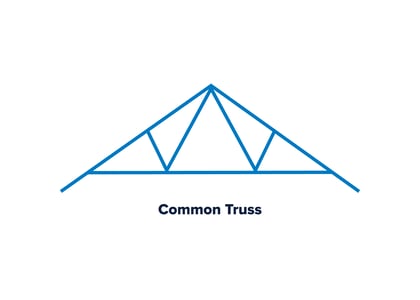 Scissor Truss

While a regular truss has a horizontal top and bottom chord, a scissor truss has a sloping top and bottom chord.
Due to their unique design, scissor trusses are very structurally sound. Their weight is distributed evenly throughout the structure because the sloping top and bottom chords meet at the center.
Scissors trusses are typically engineered to meet specific load requirements, enhancing their structural integrity even more.
A scissor truss is often used for buildings with vaulted ceilings, allowing for an open interior appearance. Even with a visually appealing aesthetic, the roof system's structural integrity isn't compromised.
Scissor trusses tend to be slightly more expensive due to their larger chords.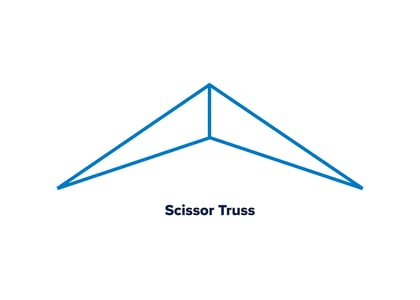 Mono Truss



Mono trusses can be found in buildings with a one-sided roof, like lean-tos. Due to their purpose, mono trusses slope in only one direction. Think of this style as "half" a common truss.
In certain scenarios, mono trusses can vary in pitch height. "Vaulted mono" trusses are used for multi-level roof lines or vaulted ceilings.
Overall, their simple design allows for an easy installation, making them a cost-effective solution. Mono trusses are a great option if you want to add on or build a lean-to.

When looking at pricing, a mono truss is comparable to a common truss. Though, if the mono truss has a low pitch, it could be twice as expensive.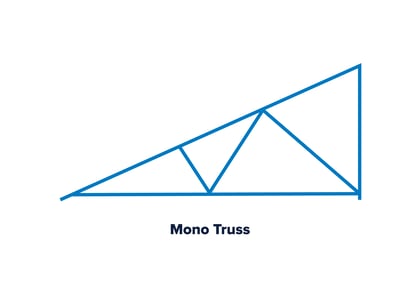 Other
There are other truss styles, but they're less common in the post-frame industry. Other types of trusses include:
2) Logistics

If you're curious about the truss production process, take a look behind the scenes. The design, production, and transportation of trusses to a job site are all part of the approach.


Design
Trusses are designed by expert engineers who have years of education and experience. The engineer aims to make a structurally sound truss system with proper roof support.
Engineers are also responsible for calculating load capacities and selecting appropriate materials. They play a crucial role in the post-frame industry by providing technical guidance and a high level of skill in truss design.
Production
Once an engineer's blueprint has been finalized, trusses can be put into production. With the help of an assembler, an assembly line is put into place, allowing for the following steps to be completed:
Set boards into place
Place gusset plates on top and bottom of trusses
Use a hammer to set gusset plates
Use a roof tracker; putting over 10,000 lbs of pressure on gusset plates
Allow for the metal arm to pick up trusses; sliding trusses onto a roller
The finishing roller uses 13,000 lbs of force on the truss
Trusses transported to the stacker and sorted


Transportation
Upon transportation, trusses are stored in the yard until ready. The transportation process requires thoughtful consideration, and factors like truss size and weight, route planning, and proper securing of materials are important.
In-house dispatchers and drivers are responsible for efficiently delivering materials to a job site.
Once all materials are procured, trusses are delivered directly to the job site. Framing carpenters can then begin your post-frame building project.
3) Pricing
Regarding pricing, the four main factors that will affect truss pricing are span, spacing, truss loading, and roof pitch. The truss styles (common, scissor, mono) have less impact.
General Specs
Generally speaking, the components of a common truss allow it to be the most cost-effective shape or option. When using the common truss as a baseline for price comparison, we can see how other trusses might compare:
| | | |
| --- | --- | --- |
| Truss Type | Cost vs Common Truss | Reasoning |
| Scissor Truss | 20% - 40% more expensive | Larger chord sizes; additional webs |
| Low Pitch Mono Truss | 50% more expensive | Larger plate sizes; often deeper heel |
| Steep Pitch Mono Truss | Similar | Can utilize similar chords |
| Parallel Chord Truss | 2x more expensive | Additional webs due to the box shape |
| Attic Truss | 2x - 3x more expensive | Typically 2-ply or more |
| Gambrel Truss | 60% - 110% more expensive | Additional chords needed for double pitch |
Material Costs
It's possible to see the cost of materials rise and fall. Rising material costs may lead to budget overruns, whereas falling costs can provide cost-saving opportunities. Market factors are simply something to consider. Helpful saving tips might include:
Monitoring market trends
Keeping an eye on factors like supply and demand
Accounting for cost fluctuations
Timing your purchase with sales and promotions.
Which Type of Residential Post Frame Structure Will You Choose?
Ultimately, there's a different type of residential pole barn for each person's style. Consider designing your pole barn online to see what best suits you!
Ready to take the next step in the building process? Please call us at (800) 552-2981 or reach us online to determine your pole barn estimate.
Do you need to know if your idea is worth pursuing? You can request a rough ballpark quote without 100% committing to a post-frame project.
---
Do you have more questions about pole barn trusses that are not covered in this article? If you need help designing and planning, please contact FBi Buildings at 800.552.2981 or click here to email us. If you're ready to get a price, click here to request a quote, and a member of our Customer Engagement Team will help you determine the next steps of your project.