Subscribe
Pole Barn Additions: 5 Considerations for Expanding Your Building
Your pole barn or post frame building is key to your operation. Your day-to-day activities happen in this building. Your future generations will be working in this building. Or maybe, if you're in the commercial industry, your monthly income is dependent on this building.
But, what happens when the building gets crowded? What happens when you realize that you're running out of space? What happens when it finally hits you that this building just isn't big enough?
Is a pole barn addition right for you?
If you're running out of space and finally realize that your building just isn't big enough then you might want to consider a pole barn addition or connection. Many times, adding square footage to your existing building is a viable options. The convenience of having your whole operation under one roof is compelling. Identifying the amount of additional square footage required is often the first step towards planning for deciding if an expansion is possible and the best option for you.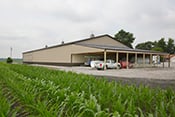 Don't worry...you're not alone. How do we know? Because we hear it all the time from our customers who didn't build their post frame building big enough the first time.
Is a pole barn addition, connection, or lean-to a viable option to give you more space? If it's something you've never considered, maybe you should.
Where do you even start when considering this option? How do you even know it's the right thing for you to do?
Many times, adding square footage to your existing building proves to be a viable option.
It's always something to consider as an option when needing more space. There are many considerations to incorporate into your planning to prove the feasibility and cost-effectiveness of a building connection.
This list begins to address some of those considerations in an attempt to serve as your "Connection Specialist Source for Planning."
5 Important Considerations for Pole Barn and Post Frame Building Additions
1. Why Add On?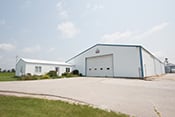 The convenience of having your whole operation under one roof is compelling; walking even a short distance to another building can be a chore when it's pouring down rain or if there's a few feet of snow on the ground.
Others seek to maximize the flow of their operation through a connection since a stand-alone building could interrupt the flow of people or vehicles around their property.
Property constraints may also factor into your consideration of a lean-to or addition. With limited land to work with, you may be able to solve your needs with only a small amount of additional space through a connection or addition.
Identifying the amount of additional square footage required is often the first step towards planning for deciding if an expansion is possible and the best option for you.
2. How Does Your Building Site Affect Where You Add-On?
The layout of your site has the largest impact on your options for where to add on to your existing building. Understanding permit requirements can be key to determining where you can place your addition; the addition must meet setback requirements from other structures and local regulations can vary widely.
Water drainage is key. Examining where existing roof water runoff currently goes and planning where the proposed building's water runoff will go is important to ensure that rainwater does not pool in or around your building.
Similarly, another water-related site concern is whether existing conditions will cause condensation in your connection. If you're building over a low point in the clay below the topsoil, water can pool under the floor of your building.
Finally, plan your site with the future in mind. Position yourself so that if you need additional space in the future, you have a place to expand yet still maintain and maximize your business site's flow efficiency.
3. How Will Your Addition Affect Your Building?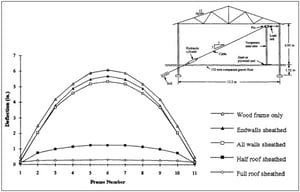 Understanding the ways an addition or connection can affect the structural integrity of your existing building is important, whether you decide to build with post frame, steel frame, stick frame, or a completely different option.
Lean-tos and new openings take special engineering consideration, as they have the potential to overload existing building components. Along with the new weight of the connection itself, the existing components need to support the extra load that the new roof will get in the winter from snow.
Your building addition will also affect the diaphragm of your existing building. Engaging a professional engineer helps to ensure that the finished building will maintain the structural integrity you need.
4. How Will Your Finished Building Look?
Whether this is a commercial building or farm shop, you want your building to represent your business by looking professional and well kept.
Color matching paint on buildings can be a challenge, even if you use the same builder from your existing post frame building. After long periods, the sun will start to slowly fade paint. Since this fading occurs so gradually, it's generally unnoticed, but put a new piece of steel next to your existing building and you'll likely see a slight paint color difference.
Other factors to consider to keep your building looking top-notch are:
The intersecting points, whether on the roof line or wall line

The pitch of the existing roof

The rib pattern of the sheet steel and trim configuration

The existing components such as sliding doors, gutters, girt spacing, etc

The fastener types and screw row patterns

5. What Do Our Customers Have to Say About Their Recent Additions?
"When we added on, we needed more space for some machinery storage. We decided to stick with what we had and add-on; we had outgrown our original building. We didn't know if it could be done, but after talking to our FBi Project Sales Consultant, our concerns were taken care of. Now we think, 'Gosh, wish we would've built it bigger!' We've always been pleased with FBi Buildings; with the plans, crews, construction, and follow-up!" - Mike Hagerman

"We added a connection because we were short on storage space. We decided on a connection because we wanted more space in the same building. Adding onto the end made the most sense because that's where we had the additional land. We were worried about getting a permit, the first time we did it was a nightmare. Overall it was a good experience and we wouldn't make any changes to the building." - Michael Peterson
Take the first step toward getting the space your operation needs and download the full list today. Our goal: to get you the space you need for your operation to succeed.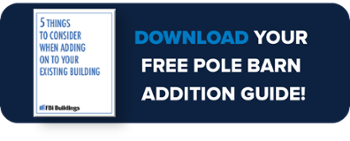 ---
Do you have more questions that are not covered in this article? If you need help designing and planning, please contact FBi Buildings at 800.552.2981 or click here to email us. If you are ready to get a price, click here to request a quote and a member of our customer engagement team will help you determine the next steps of your project.