Posts | Videos | Building Tips | Structural Integrity | Repairs & Renovations | Building Design | Open-Sided Buildings
Pole Barn Additions: 4 Considerations for Future Expansion

Subscribe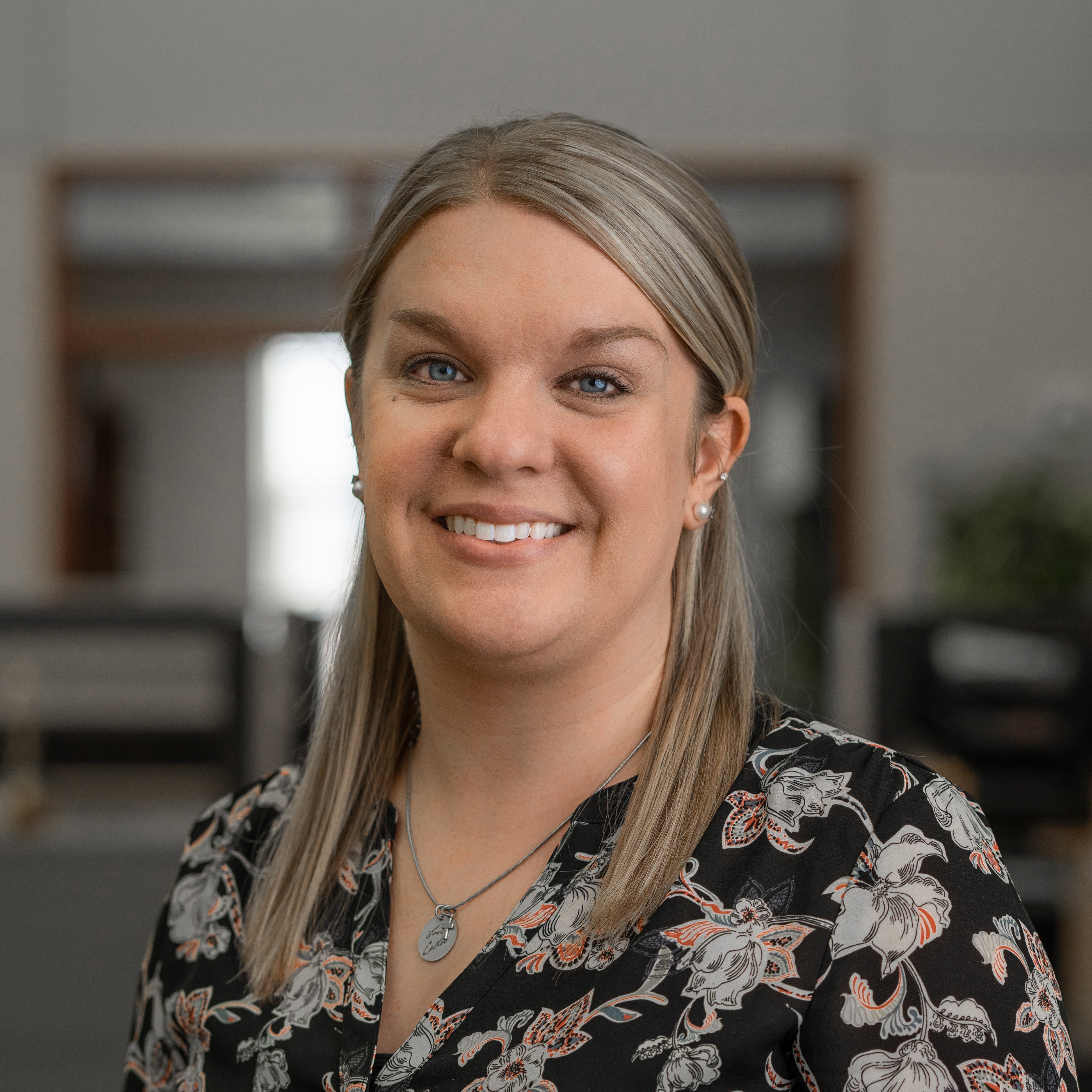 Angie graduated from Indiana State University with a Bachelor of Science in Interior Design. Prior to joining the FBi team, Angie was a kitchen and bath sales consultant in Lafayette, IN. In 2012, she started with FBi as the Inside Sales/Marketing Assistant. Today she holds the role of Sr. Marketing and Inside Sales Manager. Angie grew up in a farming community and has always enjoyed helping her family on the farm. A past 10-year 4-H Member, her passion for livestock pursued her to take a career in the agriculture field. She and her husband live in Northwest Indiana with their two daughters. In her free time, she enjoys outdoor leisure activities and spending time with friends and family.
Your pole barn is crucial to your operation. Day-to-day activities take place in this post-frame building. It's where you spend a significant amount of time; for some people, it's a huge part of your livelihood.
If you're a farmer, you service and store heavy machinery in your farm shop. Maybe you're a business owner, and your monthly income depends on this commercial post-frame building.
As a hobbyist, you restore antique tractors or classic cars for customers in your hobby shop. Or you're an equestrian with goals of building an indoor riding arena attached to your horse barn.
Occupations aside, you hope that future generations will be able to work out of your pole barn. Someday, your children, grandchildren, or great-grandchildren will be old enough to follow in your footsteps and expand the trail that you've blazed.
But what happens if you run out of room inside the post-frame building?
Well, you wouldn't be the first pole barn owner who wishes they would've built bigger. Building size is a common pole barn design regret. The great news is that you can add square footage to your existing post-frame building.
While pole barn additions are cost-effective, they might not be the correct "fix" for you and your operation. This article discusses the top four factors to consider before expanding your post-frame building.
Is a Pole Barn Addition Right for You?
Do you need more storage space? Then, consider a pole barn addition or connection.
Adding square footage to your existing post-frame building is often a practical choice. Having your entire operation under one pole barn roof is incredibly convenient.
Before you contact a post-frame builder, you must identify how much additional square footage is needed. This number will help you decide if a pole barn addition is possible and a cost-effective decision for you.
Don't have time to read this article in its entirety? Please watch this short YouTube video to find out if a pole barn addition is right for you.
4 Factors to Consider Before Expanding Your Post-Frame Building
1) Why Should You Add To Your Existing Pole Barn?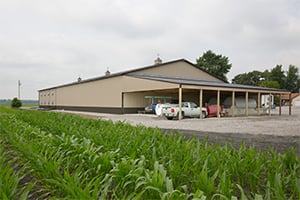 The major advantage of a building addition is having your entire operation under one pole barn roof.
Sure, you could walk or drive from one post-frame building to another. But what if it's pouring down rain or a few inches of snow on the ground? The constant back and forth will grow old, and you'll wish your operation was together.
Some customers seek to maximize their site flow through a building connection. Multiple pole barns on a single property can interrupt the movement of people and vehicles.
Moreover, property constraints may play a role in your decision-making process. A pole barn addition or connection can solve your storage problem with limited land. A little space is better than none.
Before you contact a post-frame builder, you must identify how much additional square footage is needed. This number will help determine if a pole barn addition is possible and a cost-effective decision for you.
If you need help with your post-frame building layout, we recommend two options:
Sketch your current pole barn layout on a graph pad. Determine where you want your building addition or connection and how many square feet are needed.


Use our FREE Design Online Tool to create your pole barn in 3D. You can visualize your post-frame building and whether the addition or connection will work with your current layout.
2) How Does Your Building Location Affect the Pole Barn Addition?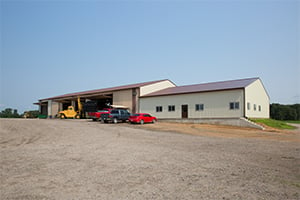 As mentioned above, your site location significantly impacts where you can and cannot add to your existing post-frame building.
We recommend taking the time to understand the importance of pole barn permits. They'll also determine where you can or cannot put your building addition. Please contact your local building and zoning department for more information.
Furthermore, site drainage is crucial. Where does your current water runoff go? Where will future water runoff go? Answer these questions quickly, so excess water doesn't pool in or around your pole barn.
Another water-related problem to avoid is whether existing conditions will cause pole barn condensation with your building addition or connection.
3) How Will a Pole Barn Addition Affect Your Current Post-Frame Building?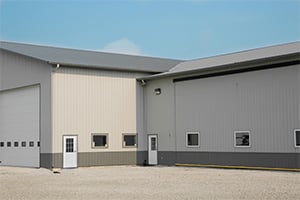 Next, you must understand how a building addition or connection can affect your pole barn's structural integrity.
Lean-tos and new door openings require special engineering consideration. The current building components will need to withstand new design loads. For instance, these building components will support more weight than originally intended:
Not to mention, a pole barn addition will affect the building diaphragm. Working with in-house engineers will ensure your post-frame building maintains its structural integrity. Sometimes, they suggest reinforcing your pole barn to support the new design loads.
4) How Will Your Finished Pole Barn Addition Look?
Lastly, the exterior of your post-frame building should represent you and your operation.
We highly recommend selecting pole barn colors that complement your surroundings. However, matching a specific paint color can be challenging.
After long periods, the sun will age the metal panels. Since fading is gradual, it generally goes unnoticed. A superior pole barn paint system, like Kynar 500®, will reduce the effects of fading and chalking.
Other factors to consider for keeping your post-frame building in top-notch shape:
The intersecting points of the roof system and sidewalls
The existing roof pitch
The rib pattern on the metal panel and trim configuration
The current building features (e.g., gutters and

sliding doors

)
The type of fastener and screw row patterns
If you're considering a pole barn addition, you want it to look just as nice as your other post-frame buildings. Not only will your property look uniform, but it could increase the resale value.
What Do FBi Buildings' Customers Have to Say About Their Pole Barn Addition?
Nowadays, consumers quickly run to the internet or social media for product reviews and recommendations. Here's what our customers have to say about their pole barn addition:
"When we added to our post-frame building, we needed more space for machine storage. We decided to stick with what we had and add on; we had outgrown our original pole barn. We didn't know if it could be done, but our concerns were addressed after talking to our Project Sales Consultant. Now we think, 'Gosh, we wish we would've built bigger!' We've always been pleased with FBi Buildings." – Mike Hagerman

"We added on because we needed office space and more parts storage. Zoning was an issue with our county, but we worked it out. The building addition is what we needed, and we're happy with it!" – Wes Terry

"We chose a building connection because we wanted more space in the same post-frame building. Adding onto the end made the most sense because that's where we had more land. Overall, it was a good experience, and we wouldn't change our pole barn." – Michael Peterson

"We built a lean-to on the back of our existing post-frame building. We wanted to put a roof over our diesel fuel dike. The overall experience went well. We had no problems and wouldn't change a thing!" – Randy Burch
Is a Pole Barn Addition Right for Your Post-Frame Building?
Running out of room inside your post-frame building isn't the end of the world. Pole barn additions, connections, and lean-tos are feasible options for extra storage space.
Take a further step in the right direction and download our FREE Building Connections & Additions Guide. As one of the top post-frame builders in the Midwest, we want you to have the space needed for your operation to succeed.
For more information, you can also download our Ultimate Guide to Pole Barn Repairs & Renovations.
---
Do you have more questions about pole barn additions that are not covered in this article? If you need help designing and planning, please contact FBi Buildings at 800.552.2981 or click here to email us. If you're ready to get a price, click here to request a quote, and a member of our Customer Engagement Team will help you determine the next steps of your project.