Posts | Building Features | Building Design
5 Pole Barn Roof Styles: Which One Will You Choose?

Subscribe
Cori grew up on her family's small grain and livestock operation in Northwest Indiana. In 2018, she graduated Summa Cum Laude with a Bachelor's degree in Business Administration & Marketing from Marian University Indianapolis. Having shown beef cattle for 12 years at the county, state, and national levels, Cori chose to pursue a career in agriculture. Today, she serves as the Marketing Content Creator on the FBi team. In her free time, Cori enjoys spending time with family and friends, watching sports, listening to live music, and traveling.
A new year brings new projects to improve your property, and building a pole barn is at the top of that to-do list.
As you design your post frame building, you'll have the option to customize the roofing material, color combination, roof style, and pitch.
Some choices are easy to make; meanwhile, others require a more in-depth thought process.
For example, paint colors have no significant effect on the building design aside from aesthetics. You opt for Matte Black and Regal White, a timeless selection. Badda bing, badda boom.
Whereas the roof style and pitch will affect the structural integrity of your pole barn. Engineers must calculate snow and wind loads. More building materials may be ordered. In return, the estimate may fluctuate, affecting your budget or financing.
We realize these nitty-gritty details don't always come first to customers' minds unless they're familiar with post frame construction.
That's why we've decided to detail the most common pole barn roof styles, including their advantages and disadvantages.
5 Pole Barn Roof Styles for Your Post Frame Building
1) Gable Roof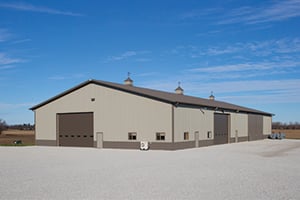 First, a gable roof consists of two sections sloping downward from the ridge cap to the walls. This roof shape can be achieved using multiple framing options (i.e., rafters or trusses).
Gable roofs are relatively inexpensive and easier to design/build, which explains their popularity in pole barn construction.
They also allow sufficient clearance for an attic, should you need extra storage space within your post frame building.
Pole barns with a gable roof may have vents installed on the end-walls to aid with air circulation.
Since hot air always rises, this roof space is subject to humidity and condensation. Moisture build-up can cause mildew or mold growth, damaging your belongings and putting your health at risk. Stagnant air in the winter months can have the same effect on your post frame building.
Therefore, adequate ventilation is necessary to promote airflow and regulate temperature, especially in a climate-controlled pole barn.
Unfortunately, gable roofs are susceptible to more wind damage than other styles (e.g., hip). Not to mention, shallower roof pitches must carry higher snow loads to prevent failure or collapse.
2) Gambrel Roof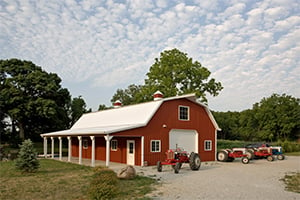 Next, a gambrel roof is a two-sided roof (usually symmetrical) with two slopes on each side of the ridge cap. The upper slope is positioned at a shallower angle, while the lower slope is much steeper.
Gambrel roofs were very common in the countryside during colonial times. Fast forward to today, a red pole barn with a white gambrel roof, cupolas, and sliding doors is the epitome of a farm building in the rural Midwest.
This roof style provides high-end aesthetics while maximizing headroom space, allowing for a functional attic or second story. As a result, post frame builders use taller truss profiles to create the gambrel shape.
However, piggyback trusses may have to be used if the width of the post frame building exceeds the allowable height restriction.
Again, engineers must account for pole barn snow loads. The upper slope is shallower and wider, meaning it'll bear the brunt of ice accumulation and heavy snowfall.
Although stylish, gambrel roofs are more expensive than gable roofs. Customers can expect a 30% difference in cost.
3) Monoslope Roof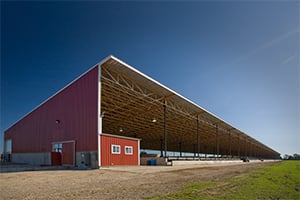 With monoslopes, the entire roof structure is sloping in a single direction. This roof shape is prevalent in post frame buildings used for livestock purposes (e.g., beef feedlots and dairy farms).
Typically, the interior columns are placed 8' apart. But, there is a way to space these columns even farther apart without compromising the structural integrity of your pole barn.
Girder trusses are designed to handle extra forces in addition to the standard roof loads. Using these specific trusses can limit the number of interior columns needed. The normal trusses can sit on top of the girder or attach to the side via hangers.
Monoslopes are rather large in terms of length, width, and height. Using girder trusses (i.e., fewer interior columns) allows you to house more cattle and operate machinery (e.g., feed or bedding trucks) under one roof.
Furthermore, monoslopes are well-known for their increased airflow and natural ventilation. They're also used to create lean-tos or extend the roofline of an existing structure.
Similar to the styles listed above, snow loads must be considered when designing a post frame building with a monoslope roof.
4) Hip Roof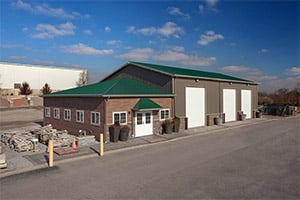 A hip or hipped roof is a design where all four sides slope downward to the walls, eliminating gable ends. The term "hip" refers to the angle formed where the two adjacent roof sides meet.
This roof shape is popular with post frame buildings in commercial settings. The curb appeal is unmatched. When you go for a drive, take a closer look at the retail businesses or professional services you pass by. You'll most likely see a hipped roof or two.
Moreover, hip roofs are self-supporting and require less diagonal bracing. The inward slope of all four sides stabilizes it.
They also perform well in areas prone to high winds and heavy snowfall. The slanted roofline allows snow to slide off.
But hip roofs are complex and cost more to design/build. Extra building materials are needed to form this shape. Therefore, customers can expect a 25% difference in cost.
Plus, post frame builders must have confidence in their construction crews to assemble such an intricate roofing system. Don't be afraid to ask questions to see how much your preferred builder emphasizes crew excellence.
5) Monitor Roof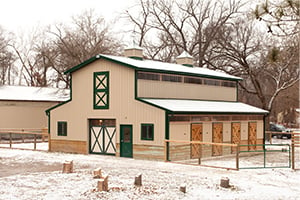 Lastly, a monitor roof consists of a raised structure that runs along the ridge of a double-pitched roof. The top of the raised portion runs parallel to the main roof. Then, lean-tos or porches are attached below.
This roof style is quite common with horse barns but has proven design versatility in residential buildings.
Like gambrel roofs, monitor-style pole barns maximize upper headroom. This extra space can be converted into an attic, entertainment room, hobby workshop, home office, or living quarters.
If you need a place to store your camper, we recommend leaving the center open for large motorhomes, fifth-wheels, and toy haulers. You can still park your boat, four-wheelers, outdoor accessories, and vehicles off to the side.
Eave lights in the upper roof provide natural lighting, which lowers your electric bill.
Depending on the building size, interior columns may be added to help support the roof structure.
Not to sound like a broken record, but engineers must calculate drift loads at the step-down to avoid structural failure.
Which Pole Barn Roof Style Will You Choose?
By now, you should have a greater understanding of the different roof styles and their effect on your post frame building.
Do you still need design inspiration? We strongly encourage you to check out our pole barn gallery. This online collection is FREE to use – no strings attached.
If a post frame building catches your eye, but you'd like to make a few tweaks, please let us know. Our pole barns are built around your needs.
As always, you can design your post frame building with our 3D tool. Save, print, or email your floor plan to family and friends.
Are you ready for a pole barn quote? Submit your building design to us, and a member of our sales team will give you a call to begin the estimating process.
---
Do you have more questions about pole barn roof styles that are not covered in this article? If you need help designing and planning, please contact FBi Buildings at 800.552.2981 or click here to email us. If you're ready for a price, click here to request a quote, and a member of our Customer Engagement Team will help you determine the next steps of your project.