Posts | Structural Integrity | Building Design
Pole Barn Roof Purlin Connection: Screws vs. Nails

Subscribe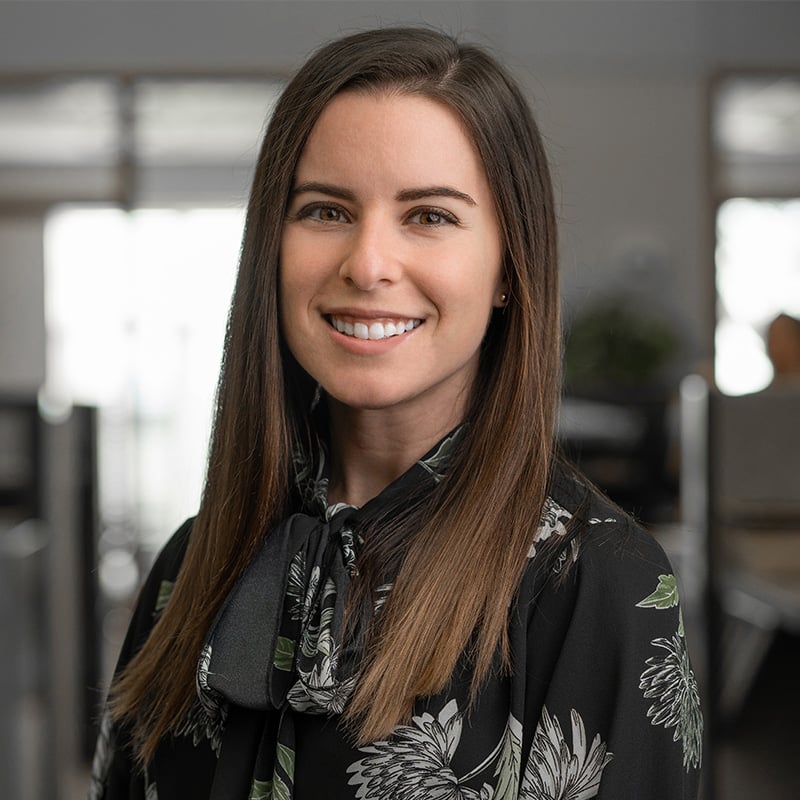 After working in the banking industry for 5 years after college, Courtney realized she needed a change and decided to pursue a new career path. Growing up she has always been creative and enjoyed writing, taking pictures, or painting. Now as the Marketing Content Creator for FBi Buildings, she gets to utilize her creative abilities in her everyday work. In her free time, you can find Courtney at home reading a book, partaking in any and all outdoor activities, or traveling and photographing her adventures. Courtney resides in Northwest Indiana with Lacey, her red tick coonhound.
You've been saving for your dream pole barn for a while now, and you're officially ready to start the building process. Maybe you had to work a few extra hours a week or had to cut down on going out to eat, but you reached your budget goal, and you're excited to get the ball rolling.
We understand that a post frame building is no small venture. Pole barns are a large investment, but they are an investment that will last for many, many years to come. At least, you hope your pole barn will last long enough for you to get the most out of its value.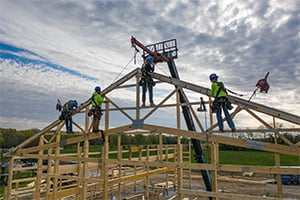 You could always build a pole barn using semi-quality materials gifting you a mediocre building as an end result, but is that a smart investment in the long run? We agree that a smaller price tag looks tempting upfront, but trust us when we say that price tag will evolve over time when your pole barn's color starts to fade or your roof starts to leak.
By using only the best materials the post frame industry has to offer, you're securing your pole barn's structural integrity and increasing its longevity. Talk about money well spent.
In this blog, we're bringing you the importance of pole barn purlin fasteners in regards to your post frame building's structural integrity. Keep reading to learn more about the difference between screws and nails when securing pole barn roof purlins to your trusses.
Why is Structural Integrity Important in Post Frame Construction?
What is Structural Integrity?
The definition of structural integrity is a post frame building's ability to withstand structural loads without breaking. Every post frame building that is constructed is designed with structural integrity in mind, regardless of the building's style, size, or location. The design is created for the pole barn to resist vertical and lateral loads safely.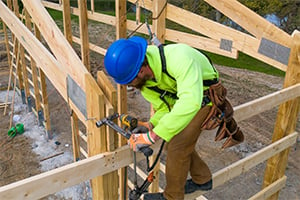 There are many components that play a critical role in your pole barn's structural integrity, but some of the most critical are:
Purlins
Truss-to-Column Connections
Fastening Systems
Foundation
By ensuring these five components are made of quality materials and properly installed, you can rest easy knowing the integrity of your pole barn is intact.

Structural integrity also plays into your pole barn's load path and continuous load path. This means that all structural loads must be able to pass from the areas in which the load is applied. A continuous load path transfers all vertical and lateral loads from one building component to another until they reach the ground.

Vertical loads act in the up and down direction. Examples of vertical loads are as follows:
Second stories
Lofts
Decks
The weight of the building itself
Lateral loads act in a direction that is parallel to the ground. Examples of lateral loads are as follows:
If there is a weak link in any of the above components, your pole barn's structural integrity can become severely compromised. This can result in your building becoming damaged, or worse, falling apart.
What Role Does Pole Barn Purlins Play in Your Pole Barn's Structural Integrity?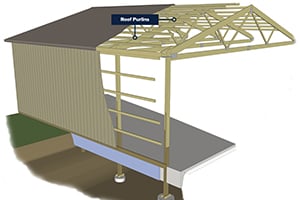 What are pole barn purlins? Purlins are horizontal beams that span between each of the trusses to provide framing for sheathing material attachment. Their responsibility is to resist gravity and resist uplifting wind loads. Not only do purlins do all of this, but they also laterally brace the rafters, or what's known as the top of the trusses.
Purlins must be properly spaced to carry the structural load adequately, and spacing and orientation of the purlins are dependent on how far apart the trusses are spaced. On a typical post frame building, the purlins will be spaced no more than 24" on center.
Not only are purlins vital in your post frame building's structural integrity, but how they are secured is vital as well. Let's take a look at the differences between using screws and nails to secure your pole barn's purlins to the trusses.
3 Tips for Securing Pole Barn Roof Purlins
When you imagine a structure being built, you probably think of the components being secured together by nails. This practice is standard in the post frame industry and has been for decades.
But, have you ever wondered what would happen if the components were fastened together by screws instead? With the advancements being made in the pole barn industry, screws are becoming a more popular option.
In post frame construction, screws are actually a more viable option than nails. Nails get the job done, but screws get it done better.
At FBi Buildings, we have been testing the advantages of fastening purlins with screws. We found advantages to using screws over nails, and we've detailed this out in the paragraphs below.
What Does FBi Buildings Use for Roof Purlin Fasteners?
Here at FBi Buildings, we use 6" FastenMaster HeadLOK screws in their standard connection detail for our post frame projects. This fastener is what we use to replace the use of your standard 60d nails that other pole barn builders use.
Testing has proven increased uplift resistance for the purlin-to-truss connection by using screws instead of a standard nail, ensuring the pole barn you build with us is structurally sound.
1. Ring Shank Nail vs. Thread Screw (Pull Out)
Imagine a rather intense summer storm that comes rolling through. This storm brings with it a lot of rain, some hail, and strong winds and wind gusts. Strong winds are notorious for causing damage, such as ripping off roofs of homes and pole barns. Since we live in the Midwest where this is a common occurrence, what can we do to try to alleviate damage caused by such extreme weather phenomenons?
By using screws to secure the purlins to the trusses instead of a traditional nail, the chance of rolled purlins and roof failure is greatly reduced. This is because screws have a thread, also known as a grip, that makes it much harder for the fastener to be pulled out of the board by an uplifting force, such as wind.
This added structural security could potentially reduce any damage from happening to your post frame building, easing your mind when you see these types of storms roll through in the day or night.
2. Size of Head (Pull Through)
Since screws have a larger head than nails do, it is less likely that the fastener will be pulled all the way through the board. Not only that, but a screw's holding power is a lot heavier than a nail, coming in at 700 pounds. A nail's holding power is only 250 pounds, meaning it isn't as strong as the screw is, and this could potentially cause some damage to your post frame building later on down the road.
Wood fibers tend to turn back to their original form after a screw or a nail has been driven inside the board. A nail will only push the wood fibers downward, while a screw will actually pull the wood fibers upward. When the fibers return to their original position, they will cause the nail to be pushed out and the screw to be pulled even tighter.
This construction method of using screws versus nails proves to be a much more secure option when it comes to a fastening system. This reason is why you will see quality post frame builders using screws more often nowadays.
3. Shear Capacity
Shear strength is defined as the strength of a material or component against the type of yield or structural failure when the material or component fails in shear.
Shear is referred to as a lateral load or force that is applied during strong winds or earthquakes. Generally speaking, it's used to describe the stress on a wall system that occurs due to an applied load.
When your pole barn encounters events such as strong winds or earthquakes, you'll want a reliable component, such as a screw, to be able to withstand the shear load your building is going to endure. Screws only increase your pole barn's structural integrity, lessening the chance that your building could fail.
By thinking about these kinds of things up front, you can save yourself a lot of money in the future by not having to handle pole barn repairs if your post frame building cannot withstand the elements that are thrown its way.
Will You Opt for Screws Over Nails When Building Your Pole Barn?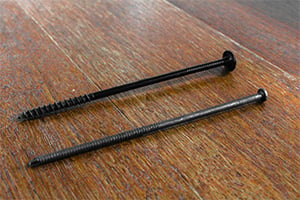 Screws are a viable option in pole barn construction to ensure your building's structural integrity is not jeopardized. Since they can't be pulled out of or through the board nearly as easily as nails, and have a much stronger shear strength, you can rest easy knowing your post frame building has a higher chance of staying intact during extreme weather events or miscellaneous accidents.
FBi Buildings prefers to use screws over nails, so when you're ready to build your dream pole barn, just give us a call. Our post frame experts are ready to assist you by providing insight and answering any questions you may have about using screws versus nails to securely construct your post frame building.
Now that you've learned the importance of structural integrity and the vital roles screws play, will you opt to use screws to secure your post frame building? No matter which route you decide to take, always remember to build with confidence.
---
Do you have more questions about securing pole barn purlins with screws that are not covered in this article? If you need help designing and planning, please contact FBi Buildings at 800.552.2981 or click here to email us. If you're ready to get a price, click here to request a quote, and a member of our Customer Engagement Team will help you determine the next steps of your project