Subscribe
Pole Barn Construction Process: 4 Steps You Need to Know
Often times, we have customers who call into our office who want a pole barn or post frame building...and they want it now. Which in some cases we can handle the job, and other times it might take a little bit longer to build. Why? Because there are several steps that need to take place before construction can actually begin.
You're probably wondering what those steps are, and how long the process will actually take, but a lot of it also depends on your builder of choice. Not all post frame builders handle construction the same way. They might do things that are similar, or they also might take completely different approaches. How do we know which one is right and which one is wrong?
Honestly, we really don't. However, what we do know are the four phases that should be taking place before, during, and after your project. We want to make sure that you're aware of those phases as well...no matter who you build with.
The 4 Phases of Pole Barn Construction
You need to make sure that you are aware of your post frame builder's construction process. What steps are they going to take to ensure that your experience is smooth from start to finish? Are you going to have to worry about the nitty-gritty details, or do they have a main point of contact who will keep you up-to-date with what's going on? Make sure you look for the following information:
1. Processing Phase
The processing phase is the overview of the first steps to your construction project for your purchase agreement and down payment once you have selected a builder.

The following steps should be taking place during this phase:

Once you sign the purchase agreement, your Project Sales Consultant should go over the Construction Guide (what you should expect during construction) with you and will introduce you to your Project Manager (who you'll be hearing from within the next couple of weeks).
Your down payment is due to your builder of choice.
You'll hear from your Project Manager and he should be going over the following details:

Financing (if necessary)
Approximate start time
Change orders (if applicable)
Pending/missing details
Reviewing the final contract

If you requested financing for your project, you should be getting approval during this phase.
The balance of your down payment should also be due.
2. Design & Permit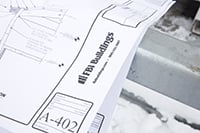 This phase is the overview of the first actions your builder will be taking after the processing phase to start your pre-mobilization.

Make sure these steps are taking place during this phase:
To avoid delays, check with your permit office to confirm when site prep can be started.
Your builder will be sending you construction drawings that you'll need to review. During this time, you'll need to notify your Project Manager of your:

Permit number
Financing status
Site progress, including building corners staked and a finished floor elevation marked.

You should also be hearing from your builder and they'll be going over the following:

Have your permits been obtained?
Site prep update
They should be discussing and reviewing your construction drawings
Update and validate approximate schedule slot
Discuss scheduling material with a long lead time

If you have any changes made to your construction drawings, a new set should be sent to you. You'll then approve any changes that have been made.
During this phase, your local permit needs to be obtained as well.

3. Pre-Mobilization
This phase details the steps your Project Manager will be taking to set up the date the crew and materials will arrive and start construction.
You'll need to make sure that the following actions take place by your builder:
Your Project Manager should be reaching out to you to verify if your site preparation is complete. If yes, then they should schedule a time to come out and inspect your site.
If the site inspection is approved, then your crew should get scheduled. If not approved, your builder should let you know what needs to be done to have a correct building site.
Your material should also be ordered during this phase. After all, you don't want your job to start without having the proper material available.
You should be hearing from your Project Manager again. They will be finalizing your start date and time, and also reminding you of a delivery payment (if necessary).
4. Construction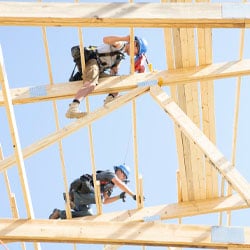 This phase details the main milestones that will happen during construction that you need to be aware of along with the finishing steps after completion. This is also where the final discussions will be taking place between you and your Project Manager.
Your builder should be doing the following actions:
Introduction to your Crew Foreman. This is also where you:

Make a payment for delivery
Confirm building location and finished floor elevation
Review construction drawings and prints

Your construction begins on your project.
Once construction is finished, a final walkthrough should be completed by your Crew Foreman. This is also when the final payment is due.
Your Project Manager should be making contact with you again to discuss:

Scheduling a time to pick up left-over materials and equipment
Confirm satisfaction and/or discuss any problems that took place during construction
Explain any repair/renovation services that are available (if applicable)

It's also not uncommon for most builders to have your Project Sales Consultant reach out again. They'll want to confirm that you were happy with your project and also address any issues that came up during construction.
If your builder of choice has any improvement surveys, you would also be getting one sent to you.
During the pole barn or post frame building construction process, it's also crucial to know that there are things that can cost you time and money (which you don't want to happen).

If you want your project completed on time, then you need to make sure you stay on top of:
Missing/pending details (for example, building colors)
Permit process
Change orders that require re-work, which potentially causes scheduling delays
Improper and/or incomplete site preparation
Safety hazards (power lines, dig-in obstructions, etc)
If you know up front that you're going to be facing any of the above challenges, then it's important to let your builder of choice know. The more communication you can have with your Project Manager, the better off your project will be. Being open and honest with your builder will also help avoid any job-site issues, which could ultimately get your project done on time and under budget.



---
Have more questions about the pole barn building process that are not covered in this article? Please contact FBi Buildings at 1.800.552.2981 or click here to email us. If you're ready to get a price, click here to request a quote and a member of our sales team will call you.