Posts | Building Tips | Repairs & Renovations
7 Tips to Help You Hire the Right Pole Barn Repair Team
Subscribe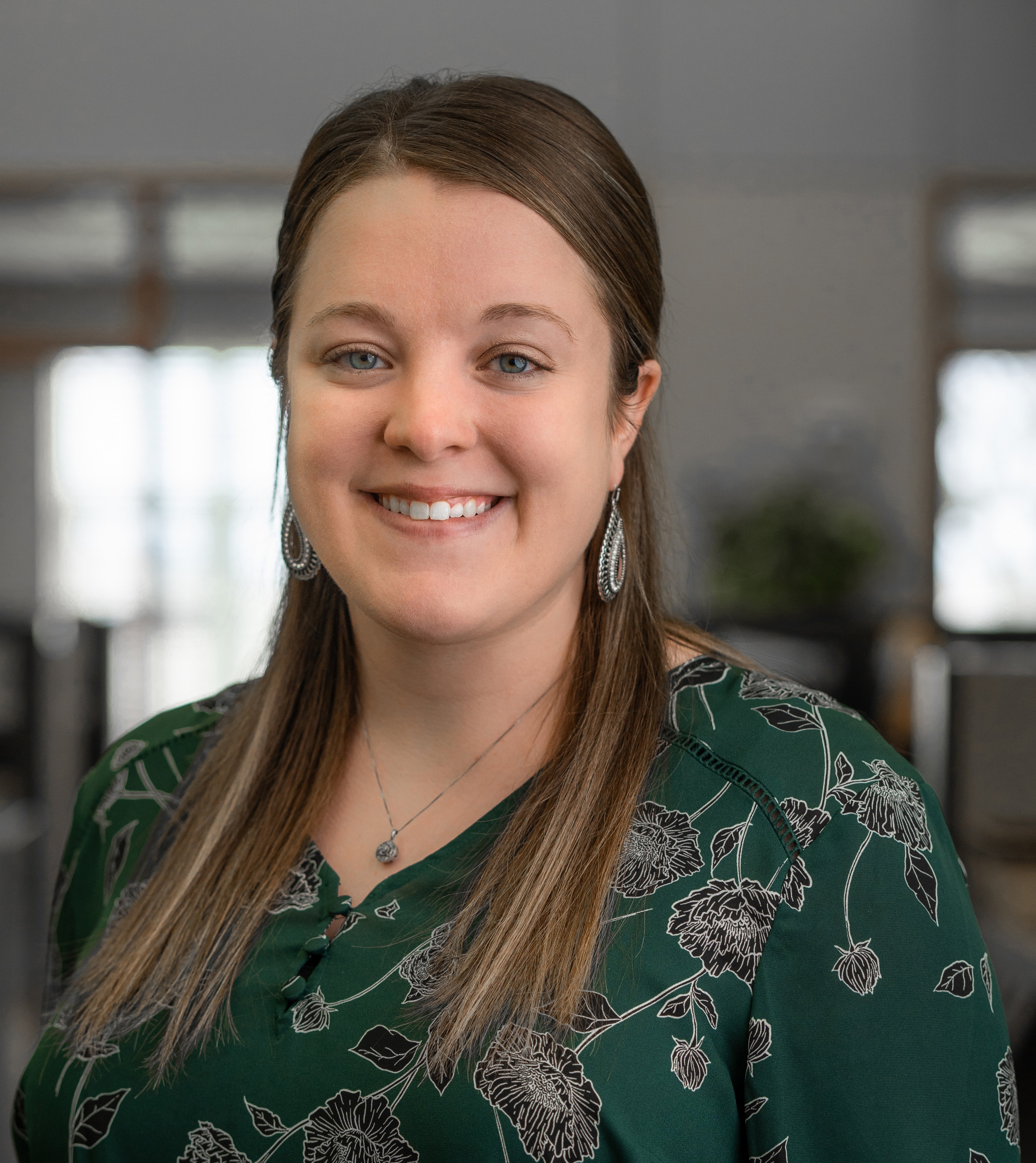 Cori grew up on her family's small grain and livestock operation in Northwest Indiana. In 2018, she graduated Summa Cum Laude with a Bachelor's degree in Business Administration/Marketing from Marian University Indianapolis. Having shown beef cattle for 12 years at the county, state, and national level, Cori chose to pursue a career in the agriculture field. Today, she serves as the Marketing Content Creator on the FBi team. In her free time, Cori enjoys spending time with family and friends, watching sports, listening to music, and traveling.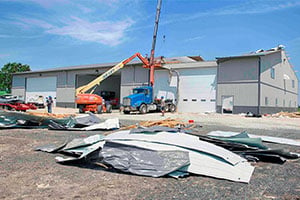 As a post-frame builder, we know firsthand that the weather is unpredictable and uncontrollable.
One day, our construction crews are erecting pole barns in the brutal chill. The next day, it's sunny with temperatures in the mid-50s.
Eventually, you become accustomed to the abnormal weather patterns and don't give it a second thought.
Picture this; you lock up your well-maintained farm shop after calling it quits to a long workday. As you relax in your La-Z-Boy recliner, the television meteorologist predicts strong winds overnight.
It isn't an uncommon forecast during the spring months in the Midwest. You continue to flip through the satellite channels before going to bed.
Later that night, the wind howls and keeps you from falling into a peaceful slumber. You can't help but toss and turn. Next thing you know, the alarm clock is ringing obnoxiously.
After eating a hearty breakfast, you make your way outside for another day of honest work. Instantly, you notice the significant pole barn damage.
No, your tired eyes aren't playing tricks on you. Some of the metal roofing panels are scattered across the cornfield, exposing your 80' x 120' farm shop to the elements.
We can only imagine your initial surprise and frustration with the overnight destruction.
If this scenario were to happen in real life, would you know what to do? We understand the shock needs to wear off first.
Then, you'd probably pick up the phone and call your insurance agent. At some point, they'll suggest contacting post-frame builders for repair work.
But how do you know which one to choose? To alleviate some stress during a difficult time, we've put together a list of seven tips to help you hire the right pole barn repair team.
7 Tips to Help You Hire the Right Pole Barn Repair Team
1) Select a Pole Barn Builder Who is Responsive
First and foremost, you'll want to choose a professional builder that is available 24/7/365.
Sometimes, it feels like disaster strikes at the most inconvenient times (e.g., after-hours, holidays, and weekends).
In severe cases, your post-frame building may not be able to wait until regular business hours resume.
The structural integrity could've been compromised, causing further harm to your pole barn and stored belongings.
A responsive builder will have someone on-call who can be dispatched when these emergencies arise.
2) Select a Pole Barn Builder Who is Insurance-Friendly
Pole barn insurance can be time-intensive, from filing a claim to settling a payout.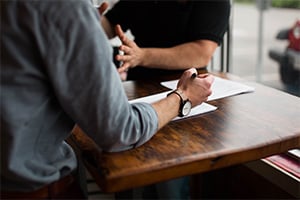 To avoid a long-drawn-out claims process, we recommend selecting a post-frame builder who has extensive experience working with insurance companies.
They'll collaborate with claim adjusters directly, bringing much-needed post-frame knowledge and repair experience to the table.
Moreover, your preferred builder will inform the claims adjuster of the situation and costs associated with restoring the pole barn to its original condition.
As a result, you won't be blindsided by a low-ball repair estimate had the claims adjuster assessed the damage on their own.
Overall, this advantage gives you the control you deserve, and quite frankly, the protection you paid for.
3) Select a Pole Barn Builder Who Specializes in Storm Damage
In this scenario, high winds damaged the metal roof on your farm shop.
It only makes sense that you'd want to hire a construction crew that specializes in storm damage.
After all, stabilizing and restoring damaged buildings can be complex. Often, it requires brainpower and a deep set of problem-solving skills.
Therefore, you'll want to hire an experienced service team with successful repair and renovation projects under their belt.
The more experienced in repairs and renovations this team is, the better off you'll be.
4) Selecting a Pole Barn Builder with Specialized Manpower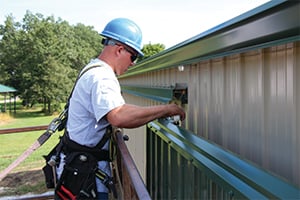 Speaking of construction crews, it's important to mention that not all post-frame builders have workers dedicated solely to repairs.
Most likely, your damaged pole barn will take a backseat to new construction projects that need to stay on schedule.
Your urgency may be met with, "We'll get to your post frame building in a couple of weeks." It can be very irritating, to say the least.
Avoid frustration and choose a pole barn builder with a Repair & Renovation crew. This specialized team of workers is crucial to the timely completion of your repair project.
Their experience and quick mobilization of resources will restore your post-frame building to its former glory in no time.
5) Select a Pole Barn Builder with Experienced Engineers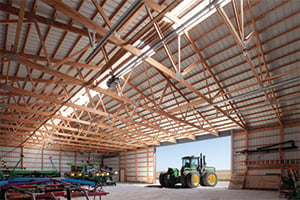 As mentioned above, repairing post-frame buildings can be complicated.
Each building component plays a critical role in the structure's load path, which is the transfer of vertical and lateral loads.
Because they're all tied together, the following building components will need to be re-evaluated when damage occurs:
Any good Repair & Renovation crew will consult with in-house engineers to ensure your pole barn is structurally sound.
This service isn't offered by small contractors or professional builders who hire external engineering firms.
6) Select a Pole Barn Builder with Purchasing Power
Depending on commodity prices, some building materials (e.g., lumber and steel) can be expensive.
Save money and choose a post-frame builder who purchases these building materials in bulk. This method allows for competitive pricing.
Also, you'll want to ask if they have access to specialized parts for your pole barn repair. Are these parts in stock, or do you have to wait? The answer may affect your project schedule.
7) Select a Pole Barn Builder with a Proven Track Record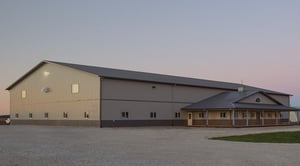 Last but not least, we recommend choosing a post-frame builder with a proven track record of excellence.
Any product that is exposed to the elements or being used every single day is at risk of being harmed. Whether we like it or not, pole barn damage is inevitable.
A quality builder will stand behind their work. But what are telltale signs of excellence in an industry where everyone claims to be the "best?"
Look for a professional builder who has been in the construction industry for 20 to 30 years. This longevity shows they can handle the ups and downs of an ever-changing environment and economy.
To make this phase easier, we compiled a list of the top post-frame builders in the Midwest.
In addition, we recommend conducting your own research. Nowadays, consumers rely on the internet or social media for product reviews and recommendations.
So, perform a quick web search (e.g., Google, Bing, or Yelp) to see what previous customers are saying about your preferred builder.
Did any users have their pole barn repaired? If so, was their feedback positive or negative? Most importantly, would they recommend this construction company to others?
Keep those comments in mind when selecting a post-frame builder.
Which Pole Barn Builder Will You Choose for Your Building Repairs?
Any type of pole barn damage can be upsetting. You spent thousands of dollars on your dream pole barn, only to have good ole Mother Nature ruin its visual appeal.
While you don't have domain over the weather, you can control how you react to this unfortunate situation. Don't waste your valuable time and energy dwelling on the negative.
Instead, you should focus on following these helpful tips and hiring a post-frame builder to restore your building to its original condition.
---
Do you have more questions about pole barn repairs that are not covered in this article? If you need help designing and planning, please contact FBi Buildings at 800.552.2981 or click here to email us. If you are ready to get a price, click here to request a quote and a member of our customer engagement team will help you determine the next steps of your project.