Building Tips | Financing | Permitting | Posts | Site Preparation
It's hard to believe that we are over halfway done with 2020. To say that 2020 has been an interesting year would be an understatement. COVID-19 has left several ripples throughout the country, which has caused a "new normal" for businesses, schools, churches, restaurants, etc.
Building Features | Posts | Site Preparation
This year, one of your core objectives is to build a new pole barn. You already have the land and finances set aside. There's half the battle that prospective customers face in post frame construction.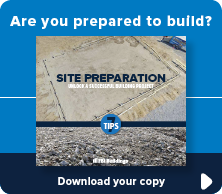 Enjoy a smoother construction experience.
The guidebook that offers essential steps and information which lays the foundation for an on time and on budget project.
Building Tips | Posts | Site Preparation
Building a new pole barn can be complicated and time-consuming, especially if you're not making a conscious effort to make headway. Your job doesn't stop at the building design. In fact, it's only getting started...
Building Tips | Posts | Site Preparation
Do you have a good understanding of what goes into site prep? Or do you think it's a tedious and somewhat difficult process? Maybe for you it comes natural and you'd rather tackle preparing your site instead of choosing pole barn colors. Don't get me wrong, at times it can seem overwhelming. If we lived in a perfect world, everything would go smoothly and we wouldn't have to worry about any obstacles to tackle. But (I know...I always ruin it with a but), there is a decent amount of coordination that goes into site preparation. For those of us that are not overly organized, it's not exactly an exciting part of the construction process. Needless to say, this won't make site prep go away and as the old saying goes, "the show must go on."
Building Tips | Posts | Project Prep | Site Preparation
At the beginning of the year, you and your significant other decided to build a new pole barn. Ever since your family expanded, the kids have claimed the house garage. You're tired of navigating the maze of bicycles, coupe cars, strollers, wagons, and other miscellaneous toys. Who knew kids could collect so much stuff? We feel your pain. Storage is a necessity. That's why we wholeheartedly support your decision to build a tool shed.
Building Tips | Posts | Site Preparation
There are a lot of variables that go into place when you decide to build a pole barn. Some of them you may already know, some might come as a surprise to you. Deciding on what building materials to use might be easier than trying to figure out the appropriate set time for your concrete mix. Regardless of what category you may fall under, it's our job to make sure that you're prepared for all the phases of post frame construction.