Posts | Building Tips | Site Preparation | Building Design
4 Things to Consider for Pole Barn Placement

Subscribe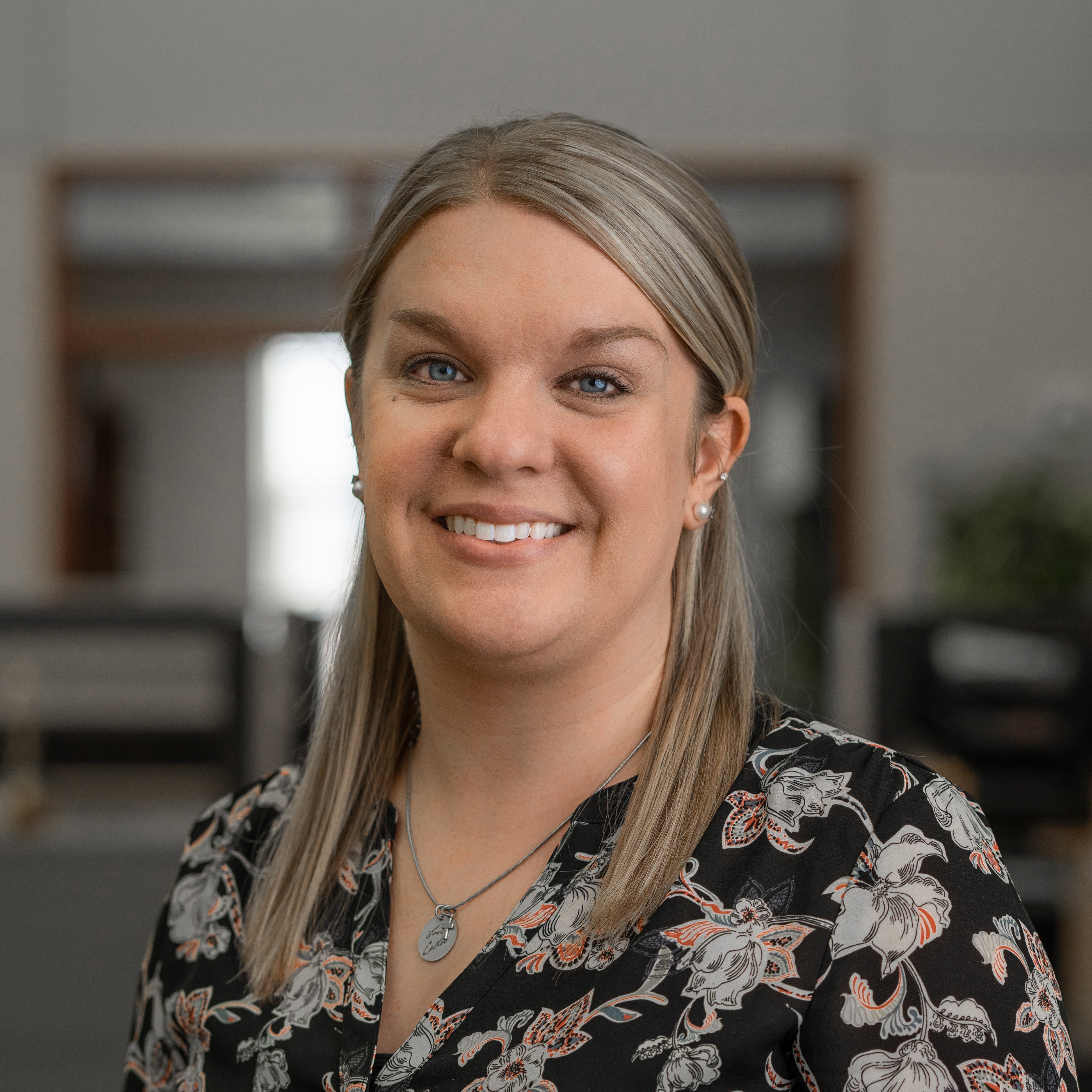 Angie graduated from Indiana State University with a Bachelor of Science in Interior Design. Prior to joining the FBi team, Angie was a kitchen and bath sales consultant in Lafayette, IN. In 2012, she started with FBi as the Inside Sales/Marketing Assistant. Today she holds the role of Sr. Marketing and Inside Sales Manager. Angie grew up in a farming community and has always enjoyed helping her family on the farm. A past 10-year 4-H Member, her passion for livestock pursued her to take a career in the agriculture field. She and her husband live in Northwest Indiana with their two daughters. In her free time, she enjoys outdoor leisure activities and spending time with friends and family.
If you invest your money in a new pole barn, you'll have to ensure it's engineered to handle various stresses and door placements. For instance, your pole barn will inevitably encounter inclement weather (e.g., rain, snow, and wind). Do you know if your pole barn builder uses your location's designated snow and wind load ratings?
Have you thought about the overhead door and sliding door placements? Where these are placed will not only help with the flow of your operation, but they'll also help determine the placement of your columns.
How your post-frame building reacts to these situations will determine its lifetime. More importantly, understanding the importance of pole barn structural integrity will help you:
Make a well-informed buying decision
Gain greater confidence and peace of mind
Save money in the long run (think cost-effective)
Now, you're probably wondering, "Where do I even begin?" First, we don't expect you to be an expert in post-frame construction, let alone the structural integrity or site preparation of a pole building…leave that part to the experts.
This article discusses the importance of pole barn placement and how it could affect your pole building if done inadequately.
Why is Pole Barn Column Spacing Important?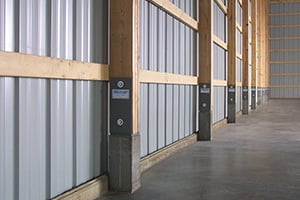 The standard distance between pole barn columns is eight feet. However, depending on who you choose for your post-frame builder, column spacing may vary between six feet to ten depending on who you choose for your post-frame builder. Very rarely do we see columns that are spaced 12 feet apart.
The greater distance between your columns could cause structural integrity issues with your building. Any building must be designed to safely resist vertical and lateral loads regardless of size or location.
First, vertical loads act in the up-and-down direction. Examples of vertical loads include:
Lofts
Decks
Second stories
Snow
Weight of the building itself
Second, lateral loads act in a direction parallel to the ground. Examples of lateral loads include:
Strong winds
Seismic activity (earthquakes)
However, these forces can work in any direction. Therefore, the pole barn must be designed to withstand parallel and perpendicular loads to any wall.
All loads, both vertical and lateral, must pass from the areas in which the load is applied. This transfer of forces through the structure is called the load path. A continuous load path carries all vertical and lateral loads from one building component until they reach the ground.
There will be no structural damage if the load path flows without interruptions. However, one break in the path can cause damage.
The space between your posts will largely depend on your builder and the size of your pole barn. The size of your pole barn will also help determine the distance between your trusses.
Setting posts eight feet apart will give you a stronger foundation than ten or 12-foot spacing. For more information on foundations, please watch the video below.





4 Things to Consider for Pole Barn Placement
Do you have your heart set on building a new hobby shop, multi-purpose building, or even a pole barn home? It's not unusual to feel overwhelmed when deciding to build a new pole building. This is because there are a lot of decisions that go into the overall design, aesthetics, and building placement.
To help you feel more confident in your overall decision, we put together a list of four things to consider for pole barn placement.


1) Zoning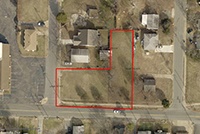 Zoning dictates building position and use, including parking requirements and signage, setbacks, frontage, drainage, landscaping, ordinances, etc.
Depending on where your building is going to be positioned, pole building plans must be submitted for inspection by local zoning boards.
The zoning boards will govern how far away your pole barn needs to be away from:
Property lines
Existing roadways
Distances from other buildings
Structure height
Maximum square footage of hardscape
Before you get too far in your planning process, learn what zoning regulations apply to your property

before you start designing your post-frame building layout.



2) Building Access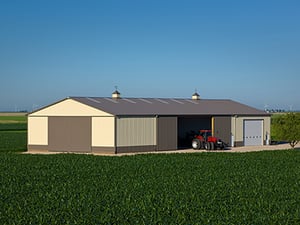 Building access isn't just about how you will access the building once it's complete. It also means how your post-frame builder will access the building site.
For example, how much room is there for them to maneuver around the site? They will be unloading equipment and building materials and using equipment around the perimeter of your building. If the site is too tight for them to move around, there is a possibility that you could get charged more for added labor.
Possible site obstructions to keep in mind:
Low-hanging power lines
The new pole barn is near an existing building

Existing trees

that you don't want to cut down
A narrow driveway that is too tight for semi entrance
It's also vital that you keep in mind how you will access your utilities. Determining where your pole barn will be located is also key to overall construction costs

.

Keep these utilities in mind when planning:

Water
Sewer
Electricity
Natural gas
The further away your building sits from utility access, the more you'll have to pay to hook them up.
Don't forget about municipal utilities. You'll also need to think about where you're going to place/budget for (if applicable):
Drilling a well
A septic system
Propane storage
3) Regional Climate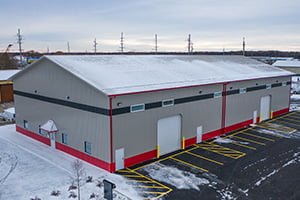 Do you live in an area that receives a lot of snow during the winter? Maybe you're further south, snow isn't a problem, and you're looking to maximize the natural sunlight. Understanding the type of weather you receive will help you situate your pole barn on your property.
For example, if you're looking to save money and not run electricity for lighting, you'll want to leverage the sunlight as much as possible. Having your building and windows face the southeast will help you do that.
If you're more concerned about the snow you receive in the winter, we recommend placing one of your entrances on the side that gets the afternoon sun.
Perhaps rain is a problem, and you want to avoid flooding around your building. In this scenario, placing your pole building on a slightly higher elevation is recommended. Not only will this help with flooding, but it will also allow for better draining (for your construction site and finished site).
Last but not least, wind. If you're a Midwesterner, you know just how unpredictable the wind gusts can be.
If you're installing sliding doors or will have open lean-tos, it's best to stay out of prevailing winds. However, if you want to take advantage of the summer breezes to help cool your building, you'll want windows facing the prevailing seasonal winds.
Helpful tip: Breezes that blow perpendicular to the peak of your pole barn are best for venting a roof.
4) Building Property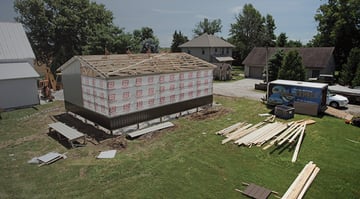 Do you have the perfect spot in mind for your building? Maybe the spot you picked needs some site prep done before you can even think about starting your building pad.
A property with steep slopes can hinder excavators or construction crews as they try to maneuver their equipment to excavate dirt to create a flat building pad.
Slopes can also dictate how water runs from your building, or in worst-case scenarios, into your building. If you're building on top of a slope, drainage shouldn't be as much of an issue as building into the side or bottom of an incline.
If you're worried about water issues, work with your excavator to determine what type of soil is on your property to decide whether or not it needs changes to help drainage.

Are You Ready to Build Your Pole Barn?
As one of the top post frame builders in the Midwest, it's our job to get you thinking about your building design, placement, and site issues. Then, it's up to you to decide the right balance between strength, cost, and aesthetics.
However, we strongly urge you to prioritize building longevity and strength over low initial costs. Remember the saying, "You get what you pay for?" There's a reason why we are not the cheapest post frame builder out there.
To read more about the other components that affect the building lifecycle, download our FREE Structural Integrity in Post Frame Construction guidebook. In the end, you'll get the dream pole barn you've worked hard for and enjoy for years.
Are you ready to start the initial process? First, you can design your building with our online 3D design tool. Then, save, print, or email your final plan to family and friends.
Do you want a quote? Then, submit your design to us, and a member of our sales team will give you a call to begin the estimating process.
If you're ready to move forward with your post-frame project, we recommend you check out The Ultimate Guide to Building a Pole Barn. This guide will help you navigate the steps necessary to ensure your project gets done on time and under budget.
---
Have more questions about open-sided buildings not covered in this article? Please contact FBi Buildings at 1.800.552.2981 or click here to email us. If you're ready to get a price, click here to request a quote, and a member of our sales team will call you.