Building Construction | Posts | Building Features | Structural Integrity
29-Gauge Steel vs. 26-Gauge Steel: What's the Difference?

Subscribe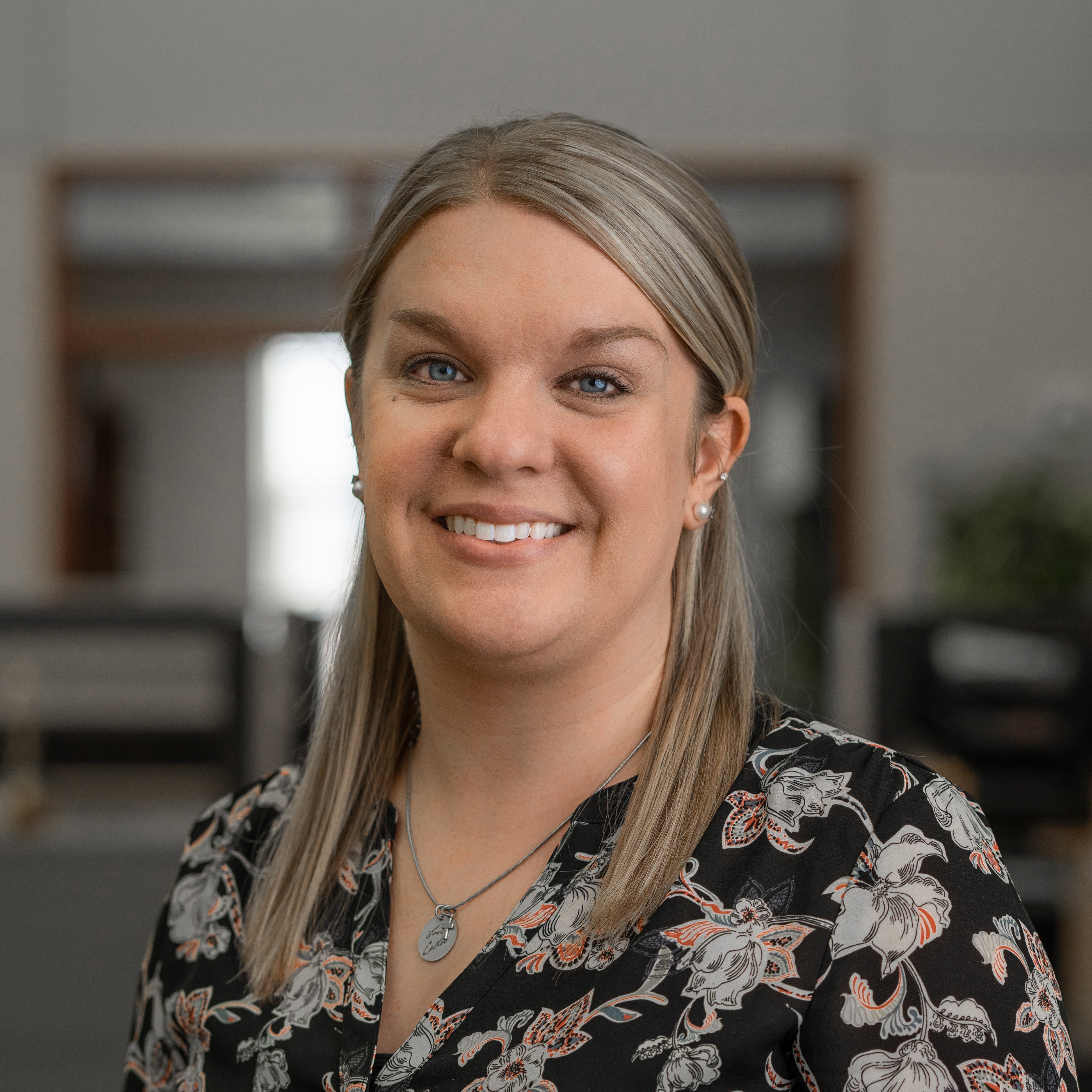 Angie graduated from Indiana State University with a Bachelor of Science in Interior Design. Prior to joining the FBi team, Angie was a kitchen and bath sales consultant in Lafayette, IN. In 2012, she started with FBi as the Inside Sales/Marketing Assistant. Today she holds the role of Sr. Marketing and Inside Sales Manager. Angie grew up in a farming community and has always enjoyed helping her family on the farm. A past 10-year 4-H Member, her passion for livestock pursued her to take a career in the agriculture field. She and her husband live in Northwest Indiana with their two daughters. In her free time, she enjoys outdoor leisure activities and spending time with friends and family.
The most common exterior siding in post-frame construction is pre-painted, corrugated steel panels. These panels help form the walls and roof of the typical post-frame building and ultimately make up a large portion of the exterior.
Customers also have the option to include an interior steel liner package that can be installed on either the walls or ceiling of their pole barn. This is easily the most popular finishing option that our customers choose. The steel liner package helps enhance the appearance of your pole barn, giving the interior a more finished look.
If you've received multiple pole barn quotes, you might have noticed the difference in steel gauges being used. It's true that not all post-frame builders use the same steel gauge, but do you know and understand why there is a difference?
Before we dive deep into explaining the difference between 29-gauge steel vs. 26-gauge, sometimes it's helpful to start at the beginning; what is steel, and how is it measured?


What is Steel in Post-Frame Construction?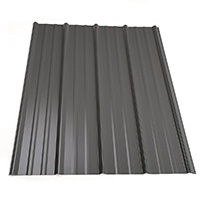 Steel (pre-painted, corrugated steel) is the most common exterior sheathing for roofs on post-frame buildings, although some are sheathed with OSB/plywood and shingles.
As with roofing, the most common wall panel material for post-frame buildings is steel. The steel panels are attached directly to the girts.
Steel panels also have several advantages (besides being long-lasting). Other advantages include:
Steel offers high strength
Steel meets or exceeds all seismic code design standards
Steel is more resistant to fires, floods, hurricanes, earthquakes, and other disasters (when used with properly applied,

high-quality fasteners

)


How is Steel Measured?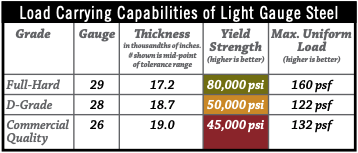 There are two main measurements used to indicate the strength of steel. Those measurements are thickness and yield strength.
Often times thickness is specified as a gauge, and yield strength is the amount of force required to cause permanent deformation.
Hardness or resistance to denting is a function of yield strength. Therefore, yield strength contributes more to the strength of the steel sheet than its thickness.
Fun fact: The American Iron and Steel Institute (AISI) publishes the accepted measurement standards for steel thickness. 29 gauge steel (which is the standard in the post-frame industry) has an average thickness of .0172 of an inch (with a minimum of .0142), and 26 gauge is .0217 (minimum .0187).


How is Steel Gauge an Indicator of Strength?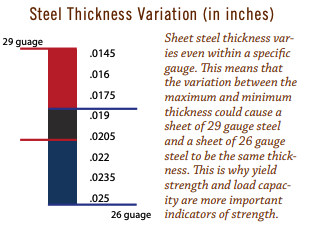 A gauge is a standard unit of measurement referring to the thickness of the steel. It's not uncommon for some pole barn builders to use the gauge of steel as the definitive measurement for its strength....but that's not entirely true.
While steel gauge is an important factor, it's not the only factor to consider when it comes to determining how strong steel is.
Even within specific gauges of steel, there is a fluctuation between the minimum and maximum thickness to the point where a sheet of 29 gauge steel and a sheet of 26 gauge steel might have the same thickness.
The gauge of steel alone is not the best indicator of the strength of steel on your building.
It's also best practice to determine the yield strength of the steel, which can be argued as the most important indicator of steel strength.
Why is Yield Strength Important When Measuring Steel?
The more important steel measure is yield strength, which refers to the force required to cause permanent deformation to your steel.
Simply put, yield strength is the hardness of the steel. The higher the yield strength, the heavier wind and snow loads your pole building can handle, ultimately giving you a stronger building.
High yield strength also makes your steel more resistant to denting from hail, rocks, etc.


What's the Difference Between 29-Gauge Steel and 26-Gauge Steel?
Did you know that the gauge of a metal refers to its thickness? The higher the gauge, the thinner the metal.
To help better understand the difference between the two steel gauges, we will be discussing:
Durability

Appearance

Cost
1) Durability
Panels in both size gauges provide the durability benefits of metal. They are fire-resistant, low maintenance, and protect against corrosion. However, the thickness of a panel does make a difference in its durability.
Remember, when it comes to the gauge: the higher the number, the thinner the steel.
This is why 29-gauge is thinner than 26-gauge. Since the product is thinner, it's not as strong as 26-gauge.
If a pole barn is located in a climate with snowfall regularly, 29-gauge is not recommended. The weight of the snow could be too much for the roof to handle, resulting in leaks or even causing the roof to cave in. This is why we always recommend choosing a builder who has in-house engineers.
26-gauge will usually outperform any 29-gauge material. A heavier gauge will make sense in hail-prone areas due to impact resistance. If you live in an area that experiences hail often, then an even thicker gauge is a better option for your climate.


2) Appearance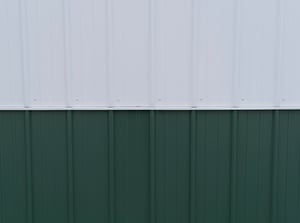 While there isn't a noticeable difference in appearance between the panel gauges, the differing compositions of the panels could lead to some aesthetic changes.
When it comes to installation, simple errors can ultimately compromise the steel's appearance.
High-yield steel is nearly twice as hard as other steel and can improve the structural integrity of your building.
1) More Ribs = Stronger Steel
Generally, the more ribs (bins in the metal), the closer together, and the higher they are, the stronger the steel panel.

2) Closer Rib Spacing = More Fasteners
Since builders attach the steel either at the ribs or the flat area next to the ribs, the closer the rib spacing, the great the number of allowable fasteners.

3) More Fasteners = Higher Structural Integrity
The more fasteners used, the stronger the connection between the steel in the building frame.

4) High-Quality Paint

Siliconized polyester coatings are commonly used but do not provide durability, color retention, or resistance to fading and chalking of Kynar® 500 brand coatings.
Fun Fact: FBi was the first in our industry to use a Kynar 500 coating on our steel panels.


3) Cost
Generally speaking, as a steel panel gets thicker, it could also get more expensive.
The cost of repairs down the line could be far greater than the initial savings from purchasing products with a higher gauge.
While we understand that every dollar matters, you have to consider if the relatively small savings are worth the risk of using less durable panels.


Get the Proper Steel Strength You Deserve
Many builders emphasize low initial cost over building longevity and strength. But, as with most things in life, when it comes to post-frame buildings, we get what we pay for.
When considering a new pole barn or re-siding your existing building, it's important to ensure you are getting the best steel to ensure structural integrity.
Make sure not to be influenced by the steel gauge alone. Instead, ask your post-frame builder about their yield strength and the gauge of their steel.
We recommend doing this because we want to be sure you're getting the highest quality.
If you'd like to learn more about what to look for in quality steel siding, download our Structural Integrity eBook.
If you're ready to move forward with your post-frame project, call us at (800) 552-2981, and a member of our sales team will help you get started.
---
Have more questions about pole barn trusses not covered in this article? Please contact FBi Buildings at 1.800.552.2981 or click here to email us. If you are ready to get a price, click here to request a quote, and a sales team member will call you.