Subscribe
What Size Should My Farm Shop Be? 3 Tips to Get Started.
Posts | Building Tips | Farm Buildings
As we know by now, there are many things to take into consideration during the planning stage of your new post frame building project. If you think about it, this statement is also true for any big event, vacation, or large purchase that you might make during your lifetime.
For example, what steps do you take when you plan your family vacations? How do you find a compromise when half of your family wants to go somewhere warm and tropical and the other half would rather do something adventurous without leaving the continental United States? How do you even make a decision? Do you find a compromise that would work for all parties involved? If I had to guess, you probably spent hours researching different places to get some rest and relaxation that would also fulfill the needs of everyone in your family.
Planning is involved in every type of purchase that we make. Whether it's a brand new pole barn, an Alaskan cruise, or even buying a new vehicle. They all require extensive amounts of planning.
The same scenario is true when you decide to move forward with your brand new agricultural building. We know that a proper post frame building project all starts with site preparation. We also know that this could make or break your project if not done correctly.
Sometimes you might struggle with building layout and design. Or, maybe you need help with future planning because you want to make sure that you don't run out of space when the next generation takes over.
All of these are great thoughts to consider when you're planning for a customized farm shop, especially if it's going to be one that will last you your lifetime.
But, where do you begin when it's time to figure out your farm shop size? It's simple. And it all starts with these three tips.
3 Tips to Follow When Determining the Size of Your Farm Shop
We currently live in a society where things are constantly changing and being upgraded.
For example, look at what Apple is doing. They come out with a new iPhone design every year. Since 2007, they have released 18 iPhones. 18!
Agricultural technologies are emerging as well. Row crop farming has changed significantly in the last 30 years and it will constantly keep developing.
But the question really boils down to this…will you be able to keep up with these changes?
How will emerging technologies and farm implement upgrades affect your post frame building design?
Better yet...how will you stay in front of these changes?
1) Determine the Proper Width & Height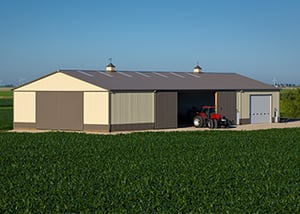 When determining the width and height of your farm shop, be sure to measure the actual equipment. Another helpful tip is to get the equipment specs from the implement dealer. This is especially helpful for any new piece of equipment you might be considering purchasing in the near future.
It's also a smart choice to make your building taller for combines and wider for planters. Typically, farm shops range anywhere from 60 to 80 feet wide by 120 to 160 feet long.
The average door height is 18 feet to allow for more interior clearance, but some farmers might go up to 20' if they want to utilize the upper level for more storage.
Another factor to consider is the overhead and sliding door placement. The most convenient place to put them is on the sidewalls.
There's nothing wrong with dreaming. Sometimes, that makes part of the planning process that much more enjoyable. If you're a dreamer and would love to have the bells and whistles, we recommend pricing those on a separate line item so you can see how much your "extras" are going to cost.
Do you want to know the plus side with pricing extras? If you need to cut down because of the budget, that's one area that you could trim.
Helpful hint: Plan your measurements for what's to come...not what you currently have.
2) Factor in Room for Repairs (Tool Storage)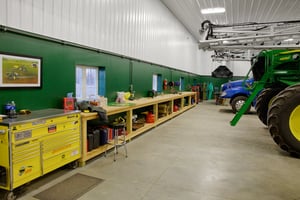 Implement repairs are bound to happen, whether we want them to or not. It's one part of farming that can't be controlled. However, that doesn't mean that your routine maintenance should have to be sacrificed.
When you're determining the interior flow of your pole building, make sure you're considering what you will need to access for repairs.
Ask yourself the following questions to help determine how much room you will need for repairs:
Where will your tools be stored?
Will you have a dedicated bay for implement maintenance and repairs?
If you choose to have a dedicated bay, will the interior building material be different in that bay?
How big of a bay do you think you would need?
How would you access the bay?
The interior layout of the building plays a significant role in the overall pole barn size and design. We all have a daily flow that is specific to what we do. What does that interior flow look like to you?
No two pole barns are alike, and the same can be said for your pole barn organizational system. But here's the beauty of it...it doesn't have to be perfect. You need to find (and incorporate) what works best for you. That's the simplicity of post frame construction.
No matter what size of building you're dealing with, it needs to be a functional space for you.
3) What Future Building Design Needs Will You Need?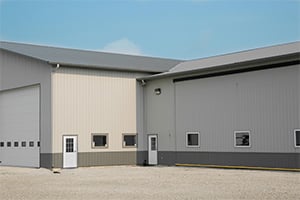 We've said this one and we will constantly keep saying it...one of the biggest regrets our customers have is not making for their post frame building big enough the first time around. Sure, any pole building is capable of being added onto, but it is also fairly expensive.
When you're trying to decide your future building needs, you will need to know what your future plans are. Are you wanting to expand your farming operation? Will you be making a purchase for a semi and trailer? Do you have your eyes on a new corn head?
If you're going to purchase an addition, you'll want it to look just as nice as your other buildings. Not only will your property look uniform, but it could increase the resale value.
Running out of room in your pole barn isn't the end of the world. Building additions, connections, and lean-tos are feasible options for extra space.
Take a step in the right direction and download our free Building Connections & Additions Guide. Our goal as one of the top post frame builders in the Midwest is to get you the space your operation needs to succeed.


Are you Ready to Start Designing Your Pole Barn Farm Shop?
Now that you have a general idea of how you should determine the size of your farm shop, the next step you should take is designing your agricultural building online. Luckily for you, our online design tool will help you visualize what your farm shop will look like in 3D.
Or, if you're interested in seeing what other farmers have done, you can also download our Farm Building Plans eBook. This is a great resource compiled of 20 popular floor plans that are favorites with our customers.
---
Do you have more questions that are not covered in this article? If you need help designing and planning, please contact FBi Buildings at 800.552.2981 or click here to email us. If you are ready to get a price, click here to request a quote and a member of our customer engagement team will help you determine the next steps of your project.