Posts | Building Tips | Pole Barn Builders
Who Are The Top Pole Barn Builders in Illinois?

Subscribe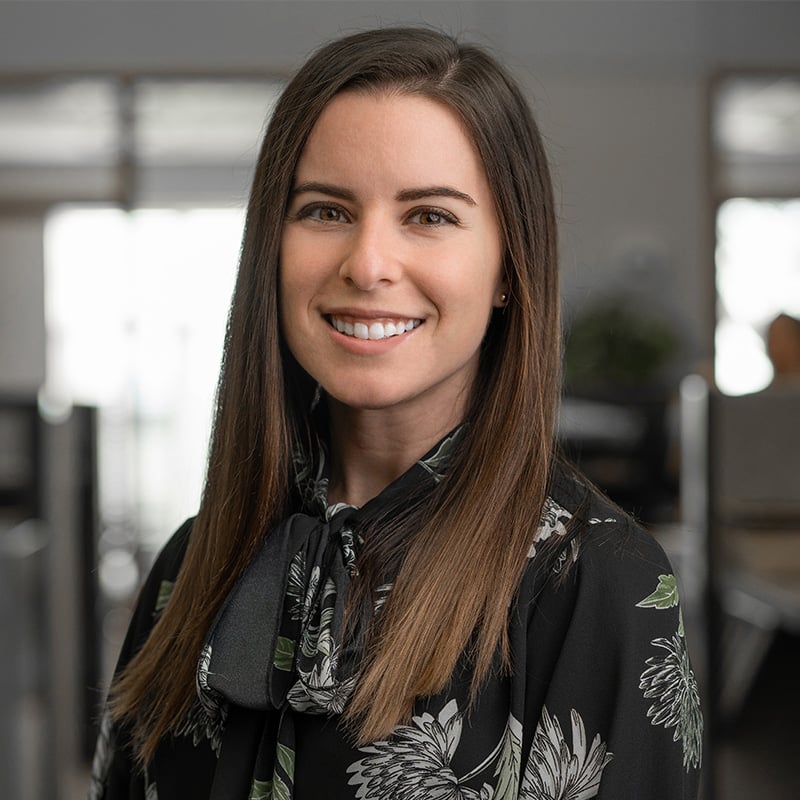 After working in the banking industry for 5 years after college, Courtney realized she needed a change and decided to pursue a new career path. Growing up she has always been creative and enjoyed writing, taking pictures, or painting. Now as the Marketing Content Creator for FBi Buildings, she gets to utilize her creative abilities in her everyday work. In her free time, you can find Courtney at home reading a book, partaking in any and all outdoor activities, or traveling and photographing her adventures. Courtney resides in Northwest Indiana with Lacey, her red tick coonhound.
In this day and age, it seems like people are more conscious about the decisions they are making and the products they are purchasing. People perform extensive research to ensure they are making the best possible choice before making up their minds. The last thing anyone wants is to regret their decision later on down the road - especially when that decision involves their hard-earned money.
"Do I purchase the Chevrolet Silverado 1500, or the Ford F-150?"
"Is the Amazon Echo or a Google Home better for me?"
"Should I buy Starbucks or Dunkin Donuts today for my morning coffee?"
That last one is always a tough decision to make.

We always want what is best for us, so when we don't know what the best is and we need help, we turn to the world wide web for information. (A most sincere thank you to Tim Berners-Lee for introducing the web to us in 1989. We're not sure what we'd do without it.)
The web can not only provide you with the search results you need, but you can find customer reviews to help with your decision making, too. If you're anything like me, you won't buy something, eat at a restaurant, or plan a trip without reading and re-reading the reviews before finalizing a decision.
Deciding which post frame company to use to build your pole barn is no different. You want the most distinguished pole barn building company in your market but, you don't want to spend an arm and a leg for it, either. The web can help you narrow down your search to the perfect companies for you, or you can just take our word for it and keep reading for the top pole barn builders in Illinois.
How Do You Decide Which Post Frame Company is Right for You?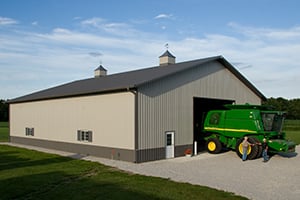 All post frame builders in Illinois are going to say they're the best. They're going to tell you they only use high-quality materials and promise only the highest grade work. Some might even say their pole barn designs are long term and will last for many years to come. But which companies genuinely mean every word they say?
These promises can make your decision even more daunting then leave you feeling like you're never going to figure out what to do. The important thing is to know where to start when you begin your search and know what topics to research.
We've compiled a list of the top pole barn builders in Illinois that we feel live up to a high standard of excellence. Choosing a pole barn builder for your needs is a tough decision, but that doesn't mean it needs to be an impossible one. Keep reading to learn which pole barn builders made our list.
Top Pole Barn Builders in Illinois (Our Recommendations):


Morton Buildings
Headquarters: Fairfield, IL
Insights: Morton Buildings has been serving its residential, agricultural, and commercial community since the late 1940's. This employee-owned company has over 100 construction centers throughout the country to assist you with both your building and repair needs. They also have eight manufacturing facilities where many of their building components are produced.
Wick Buildings, Inc.
Headquarters: Mazomanie, WI
Insights: Wick Buildings, Inc. is a privately-held company located in Wisconsin that has constructed over 70,000 buildings since being founded in 1954. They are one of the nation's largest post frame building companies and offer their services in suburban, commercial, and industrial pole barns, horse housing facilities, on-farm livestock and storage facilities, and animal confinement systems.
Lester Building Systems, LLC
Headquarters: Charleston, IL
Insights: Founded in 1947, Lester Building Systems, LLC has expanded its territory from "the Eastern Seaboard to the Rocky Mountains and as far south as a line running from Oklahoma eastward through Tennessee and North Carolina." They offer custom pre-engineered post frame building systems for hobby, commercial, livestock, equine, and farm purposes.
Cleary Building Corporation
Headquarters: Verona, WI
Insights: Since 1978, Cleary Building Corporation has sold over 114,000 buildings that include cabins, homes, and horse, farm, and commercial structures. They are a national, family-owned company that prides themselves on putting their customers first.
Graber Buildings, Inc.
Headquarters: Sullivan, IL
Insights: Graber Buildings, Inc. has carefully been constructing post frame structures since 1995. Their market is in east-central Illinois and also in western Indiana. They have building crews of 4-6 men, and their very own lumber yard is located next to their facility so that they can ensure quality materials and timely construction of your residential, commercial, church, farm, and equestrian structures.
FBi Buildings, Inc.
Headquarters: Remington, IN
Insights: FBi Buildings, Inc. is a family-owned company that has been servicing Indiana and Illinois since 1958. Since then, they have built over 20,000 agricultural, equine, commercial, and residential pole barns. They also offer their repair and renovation services with crews specifically for this market.
To Narrow Down Your Options, Ask Yourself These Questions:
What is the company's building process?
We recommend reaching out to the pole barn builders you have selected to find out what their building process entails. No two companies have the same process, so getting an idea of what they look like can help you narrow down your search to exactly what you're wanting.
Does it sound like all parties are on the same page? Are they working on a couple of projects at once or numerous projects? Does the time frame seem reasonable?
If none of this is adding up, you might want to rethink your selection. The last thing you want is any surprises. Just trust me on that one.
How long will it take to complete my post frame project?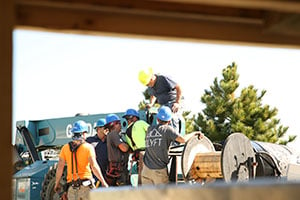 One of the most important things you need to take note of is the builder's crew size. Having a more substantial sized crew means there is a good chance your post frame building will be constructed in a reasonable time-frame. Of course, this reasonable time-frame is dependent on the weather. We live in the Midwest. Anything can happen.
If you find that a builder does not have a large crew size, this potentially could be a red flag. There is a reason for a smaller crew, and that reason might not be a good one. It's best to be cautious when considering this option because this could lead to problems during construction down the road.
The average crew size for suburban buildings should be around 3-4 men to ensure efficiency. The average crew size for agricultural or commercial buildings should be around 4-10 men to ensure efficiency and to get the project completed on time.
Are the construction crews directly employed or subcontracted by a third party?
Builders have the option to hire a team of their own or to subcontract their crew. If they opt to subcontract their crew, keep in mind that this could pose some issues such as their crew jumping from job to job or causing delays with the delivery of materials.
If a builder chooses to hire a team of their own, they do so because they know the best way to guarantee quality performance is with accountability. They can establish better schedules to warrant proper time management.
Does the Sales Consultant serve as the Project Manager?
While there is nothing wrong with a sales consultant who serves as the project manager, it is ideal to find someone who is strictly the project manager. This way, you know they will be managing their crew wisely and overseeing the construction process from start to finish without any distractions.
What does the company's warranty package include?
When considering the warranty package, it is pivotal to mention that a standard warranty does not exist in the post frame industry.
When conversing the warranty package with your salesperson, feel free to utilize these top five warranty essentials as a reference.
How do they handle building damage after construction?
Everything deteriorates over time, especially something that is continuously out enduring the elements. Pole barns are no different. Over time they are bound to experience some sort of damage, whether that be the usual wear and tear or anything weather-related. (Refer back to "We live in the Midwest." Hello strong winds, tornadoes, hail, 5 inches of rain, sweltering heat, high humidity, and snow - all before noon.)
You'll want someone you can trust to send out a crew for repairs right away, especially if it's for something simple. Knowing this will save you from getting a headache and your builder from getting an earful.


What do past customers have to say about the company?
When performing an online search on a builder, check to see what past customers are saying about them. Customers posting mostly positive feedback is a good sign that the majority of their customers have had an exceptional experience with them. If you see mostly negative feedback, that's a big red flag.
Was the builder hard to communicate with, if at all? Was the builder not very knowledgeable about what they were doing? Was the whole construction process a mess with delays, constant errors, and sloppy work?
If the company can't be bothered to respond to these negative reviews to try and resolve the issue, this isn't a good sign, either. Find someone who will take the time to react as this shows they genuinely care about their customer's needs and want to make things right.
Will the construction company be around in 20 years?
When deciding upon a builder, try to find someone who has been in the industry for no less than 20-30 years. Someone in the industry for this length of time knows what they are doing and can withstand anything the industry throws at them. This builder is passionate about what they do.
Plus, you want a company that stays true to its promise. Imagine discovering that your warranty is good for x-amount of years to find out later on that your builder is no longer in business. That would be the definition of a nightmare.
Which Pole Barn Builder Will You Choose?
Now that you have our recommendations and a list of questions to ask yourself before you make this big decision, which post frame company will you choose? No choice is the wrong choice. It all comes down to who will fit your needs and your budget exactly how you want them to. Just remember to always build with confidence.
---
Do you have more questions about pole barn builders that are not covered in this article? If you need help designing and planning, please contact FBi Buildings at 800.552.2981 or click here to email us. If you're ready to get a price, click here to request a quote and a member of our Customer Engagement Team will help you determine the next steps of your project.