Posts | Structural Integrity | Warranty | Repairs & Renovations
What Should Your Pole Barn Warranty Cover?

Subscribe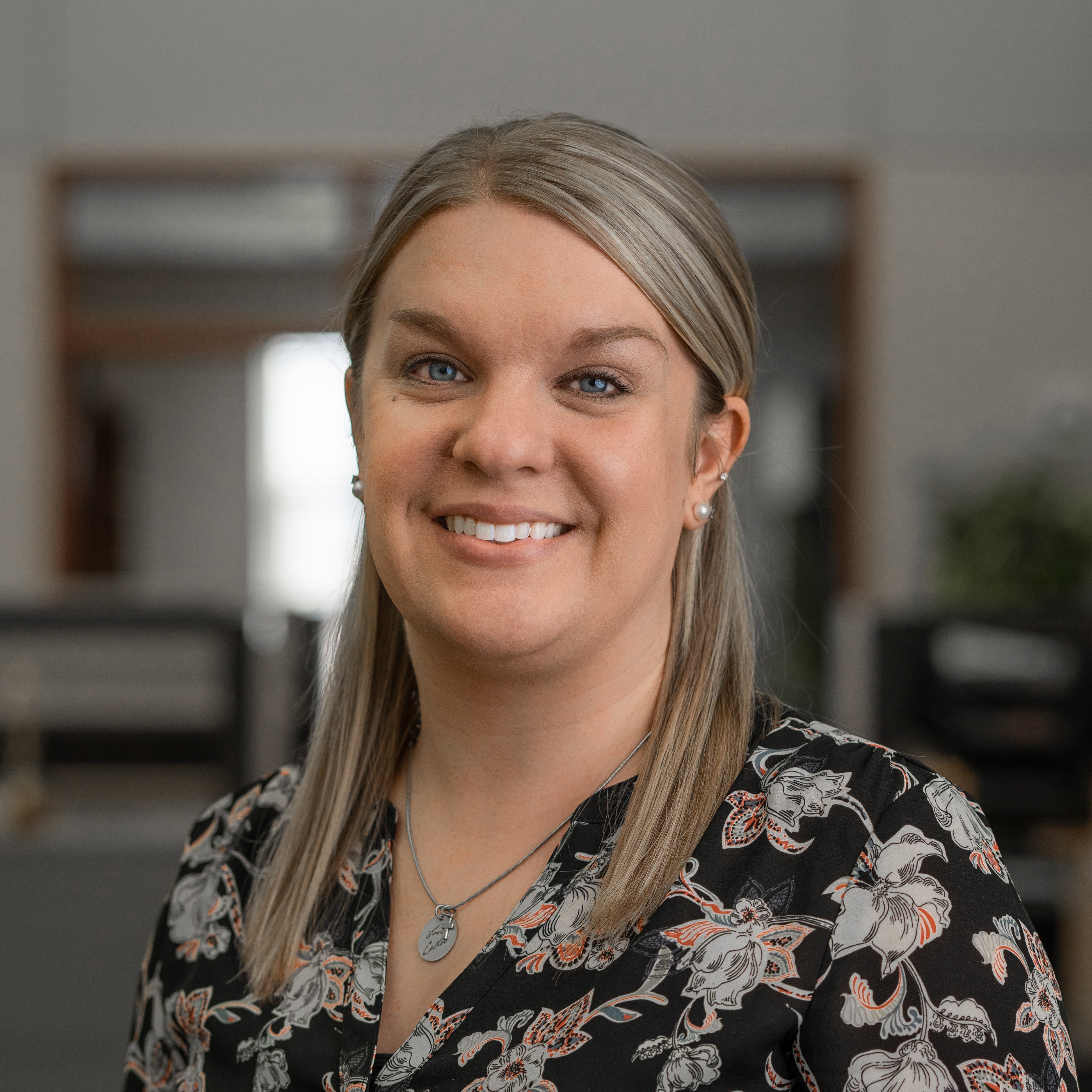 Angie graduated from Indiana State University with a Bachelor of Science in Interior Design. Prior to joining the FBi team, Angie was a kitchen and bath sales consultant in Lafayette, IN. In 2012, she started with FBi as the Inside Sales/Marketing Assistant. Today she holds the role of Sr. Marketing and Inside Sales Manager. Angie grew up in a farming community and has always enjoyed helping her family on the farm. A past 10-year 4-H Member, her passion for livestock pursued her to take a career in the agriculture field. She and her husband live in Northwest Indiana with their two daughters. In her free time, she enjoys outdoor leisure activities and spending time with friends and family.
Generally, big purchases come with a warranty.
You buy a new vehicle. You upgrade the appliances in your kitchen. You watch the big game on that shiny 65" TV in your man cave.
All three purchases include warranty coverage. Pole barns are no exception.
While post-frame builders don't intend for something to go wrong with their pole barns, unforeseen circumstances can arise:
Pesky metal roofing leaks
Excessive metal paint chalking, fading, or red rust
We understand that post-frame buildings are a permanent investment. That's why we created a list of five pole barn warranty questions you should ask your post-frame builder.
What is a Pole Barn Warranty?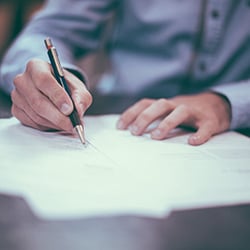 A warranty is a promise to stand behind a product or service.
This written document states guarantees and limitations on what the post-frame builder will repair or replace if a building component is defective.
Editor's Note: There is no standard pole barn warranty in the post-frame construction industry. That said, you don't want to skim through this document.
Before you buy a new post-frame building, you must understand what is and is not covered by your pole barn warranty should a defect occur. Double-check the fine print for coverages, conditions, and exclusions.
Moreover, your Project Sales Consultant can answer any questions. So, which specific questions should you ask them?
Top 5 Pole Barn Warranty Questions to Ask Your Post-Frame Builder
1) What is the Length of Your Pole Barn Warranty?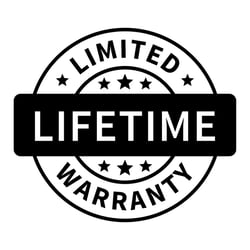 First, you need to know how long the warranty period will last. Nearly all pole barn warranties are limited.
As the name implies, a limited warranty is restricted to specific building components, certain types of defects, or other conditions stated by the post-frame builder.
Often, specific building components have different service contracts. For example, FBi Buildings offers lifetime warranty coverage on laminated posts but a 40-year service contract on their metal paint system.
2) Who Stands Behind Your Pole Barn Warranty?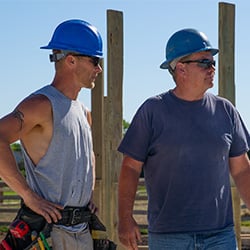 Warranties are essential with big purchases. However, if there's no company left to stand behind their claims, you're left with empty promises and pole barn repairs.
We recommend selecting a post-frame builder who has been in the construction industry for 20 to 30+ years.
This longevity proves they can handle the ever-changing marketplace and economic swings. Plus, their post-frame construction knowledge will bring much-needed peace of mind to your investment.
When a pole barn warranty claim arises, who is your main point of contact? Does your post-frame builder have construction crews dedicated to pole barn repairs? Gathering the correct contact information will save you time when disaster strikes.
Editor's Note: At FBi Buildings, we have (7+ and growing) Repair & Renovation construction crews.
3) How Can You Void Your Pole Barn Warranty?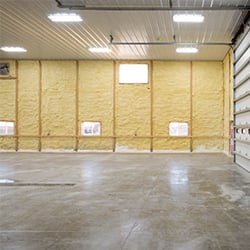 We're sure you've heard this song before: the manufacturer will void the warranty if you do this or that.
Again, pole barn warranties are no different.
The answer to this question goes back to fully understanding your warranty coverage, conditions, and exclusions. You must know what you can and cannot do with your post-frame building. Even pole barn additions will be affected later down the road.
Painting over metal panels is a prime example of voiding your pole barn warranty. The new paint system wasn't applied in a controlled factory setting. Most post-frame builders will void your warranty because it goes against the metal manufacturer's instructions.
Other examples of voiding your pole barn warranty include metal panels exposed to corrosive atmospheric conditions like chemicals, cellulose insulation, and animal confinement.
Therefore, we cannot stress the importance of asking your post-frame builder about exclusions before making any changes to your pole barn design. It's better to be safe than sorry.
4) Who Does Your Pole Barn Warranty Cover?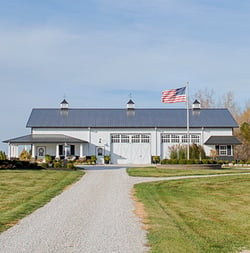 Next, you should ask your post-frame builder if their warranty is transferable or non-transferable. Does it cover the entire post-frame building or the purchaser(s)? Better yet, why should it matter to you?
It may be years from now, but what if you're interested in passing the farmstead down to the next generation? Then, you should include that person's name when building your new farm shop.
Commercial business owners and homeowners should note this agreement when selling their post-frame buildings. Future tenants may not be entitled to your warranty coverage, especially if it's non-transferable.
Granted, these ownership changes probably won't happen anytime soon. But as a buyer (and potential seller), you must understand who is protected by your pole barn warranty.
5) Which Building Components Are Covered By the Pole Barn Warranty?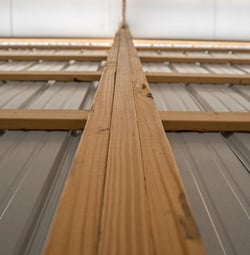 Lastly, multiple building components work together to strengthen the pole barn's structural integrity and lengthen its lifecycle. We recommend making sure that the following building features are covered under warranty by your post-frame builder:
If you see any building components that you think should be covered under your pole barn warranty, then you should ask your post-frame builder why they're left out.


Which Pole Barn Warranty Will You Choose?
Now that you understand pole barn warranties better, it's essential to keep these questions in mind when comparing post-frame builders.
We understand that building a pole barn is a long-term investment. Therefore, we want to ensure you get your dream post-frame building.
Are you ready to move forward with your construction project? You can design your post-frame building with our 3D Tool. Save, print, or email your floor plan to family and friends.
If you're ready to request a quote, you can submit your building design, and a member of our sales team will give you a call to begin the estimating process.
Additional Resources:
Pole Barn Warranty: One That Can't Be Beat
5 Most Common Pole Barn Repairs in the Spring
7 Most Common Pole Barn Repairs
7 Tips to Hire a Post-Frame Builder for Your Pole Barn Repairs
---
Do you have more questions about pole barn warranties that are not covered in this article? If you need help designing and planning, please contact FBi Buildings at 800.552.2981 or click here to email us. If you are ready to get a price, click here to request a quote, and a member of our customer engagement team will help you determine the next steps of your project.