Subscribe
What Ceiling Materials Can I Use For My Pole Barn?
Designing your pole barn is the most enjoyable part of the post frame construction process.
You have numerous ideas floating around in your head of what you want your pole barn to look like, and putting it down on paper or designing your pole barn online helps to see your plan come to fruition.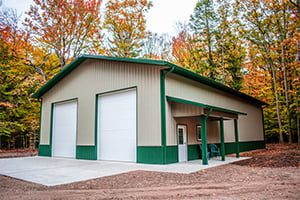 During the design process you might have asked yourself the following questions:
When you think about finishing the interior of your pole barn, most people think straight to how the walls will look.
Steel liner, drywall, and plywood are a few of the most popular options customers tend to lean towards.
But, can any of these materials be used to finish your pole barn's ceiling?
We've compiled a list of materials below to help you decide which ceiling finish will work best in your post frame building.
Continue reading to learn more about each material to see which route you'll want to take.
Do I Have to Finish My Pole Barn Ceiling?
When you design your post frame building you'll have the chance to select the options you want and need to make your pole barn everything you want it to be.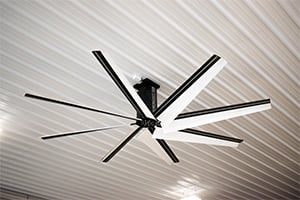 Everything from color combinations, wainscoting, windows and doors, lighting fixtures and fans, and interior finishing options are available to select from.
However, which style pole barn you choose to build will depend on which selections you'll need. Some styles require certain finishes while others can be minimally designed.
The same goes for choosing to finish your ceiling or not.
Regardless of which style you choose, you'll have the ability to finish your ceiling with a selection of materials we will discuss further on in this blog.
You also can leave your ceiling unfinished if you do not feel it's necessary to complete it or you're wanting to save some extra money.
If you're opting for a more finished look for your post frame building, let's take a look at ceiling materials you can use to finish your pole barn's ceiling.
Ceiling Materials For Your Pole Barn
Which ceiling material you choose for your post frame building will depend on its intended use.
For example, if you're building a pole barn to use for cold storage space, it's a good idea to not select drywall for finishing touches.
However, if you're looking to build a commercial building set up with office or retail space, drywall would be a great idea.
Below are the 5 types of ceiling materials you can select to finish your pole barn's ceiling.
1) Steel Liner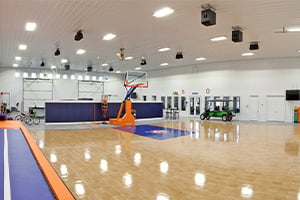 Steel liner is one of the most popular finishing materials customers choose to put in their post frame building.
Not only can a steel liner be used to finish the interior, but it can also be used for the ceiling.
While this ceiling option is more on the expensive side, it's extremely durable and built to last.
It's also easy to repair should one of the ceiling panels become damaged. You'll only need to replace the damaged panel instead of the entire ceiling.
Steel liner offers a sleek, modern look so it can be used in many styles of post frame buildings such as:
2) Plywood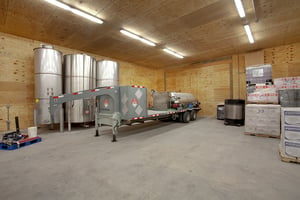 Plywood is a great option to opt for if you want a finished look but don't want anything fancy.
This selection is also durable and built to last, but with a much smaller price tag than steel liner.
However, at this time lumber prices have been on the rise, so it's important to talk to your post frame builder beforehand to see if finishing your ceiling now is a good idea or not.
If you're able to wait to finish your ceiling, you can hold off until lumber prices come down, and finishing your pole barn ceiling makes more sense.
Plywood is also great because it does not swell if it retains water.
If moisture ever enters your pole barn for any reason, such as condensation build-up due to poor drainage or ventilation, you won't need to worry about plywood retaining that moisture.
If you do notice condensation buildup, it's a good idea to talk to your pole barn builder on how to fix the issue before it gets any worse.
Plywood offers a minimal, finished look and can be installed in these style post frame buildings:
3) Ceiling Tiles
When it comes to a professional type of post frame building, it's not very common to see a steel liner or plywood to finish the ceiling.
Not that these materials can't be used, but more times than not customers resort to ceiling tiles.
Ceiling tiles give a sleek, minimal look to any professional building such as an office, classroom, or lobby.
This material is relatively inexpensive and it's easy to install which makes it extremely appealing to customers.
This could be the reason why ceiling tiles are so popular not only in post frame buildings but also in traditional stick-built buildings as well.
Ceiling tiles are also easy to replace should one or a couple become damaged, because you'll only need to replace the damaged tile(s) and not the entire ceiling.
Ceiling tiles are most commonly found in these styles of pole barns:
4) Drywall
When most people think of drywall they think of the inside of their home, but drywall is also a popular option for post frame buildings.
Drywall gives your pole barn a clean, finished look for a relatively low cost.
With drywall, it's easy to hang light fixtures and ceiling fans and it can be painted if you're looking to add a little character to your pole barn.
Drywall is also fire resistant due to being made up of gypsum, so in case of an accident in your post frame building, the fire won't spread as easily.
Unlike plywood or OSB, it's not as durable so it can become damaged much easier.
However, since the drywall is being installed on the ceiling, there is a lesser chance of damage happening unless some crazy accident happens.
In that case, we won't ask questions.
Drywall can be installed on the ceiling in these style pole barns:
5) Unfinished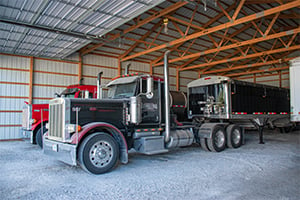 Some style post frame buildings just don't require a finished ceiling.
For the most basic of necessities, an unfinished ceiling is the best route depending on your pole barn's intended use.
Not only is this a great way to cut costs, but it's one less decision to have to worry about making.
An unfinished ceiling would look best in these style pole barns:
Will You Finish Your Pole Barn Ceiling?
Now that we've covered which ceiling options you can select for your pole barn, are you ready to finish your pole barn ceiling?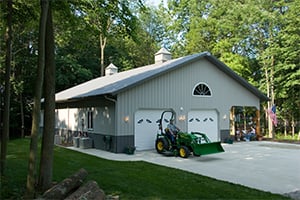 Narrowing down options can seem a bit daunting, so if you find yourself in a position where you're unsure of which to choose, give us a call to speak with one of our post frame professionals who can help you decide on a finish.
You can also utilize our design online tool to see your post frame vision come to life in 3D.
To see other customers' visions we've brought to life over the years, you can check out our gallery or give us a follow on Pinterest for updates on new post frame buildings.
No matter how you choose to finish, or not finish, your pole barn ceiling, we're certain your new post frame building will be everything you imagined it would be.
Just remember to always build with confidence.
---
Do you have more questions about pole barn ceiling materials that are not covered in this article? If you need help designing and planning, please contact FBi Buildings at 800.552.2981 or click here to email us. If you're ready to get a price, click here to request a quote, and a member of our Customer Engagement Team will help you determine the next steps of your project.