Posts | Residential Buildings | Comparisons
Pole Barn Garage vs Stick Built: What Should You Choose?

Subscribe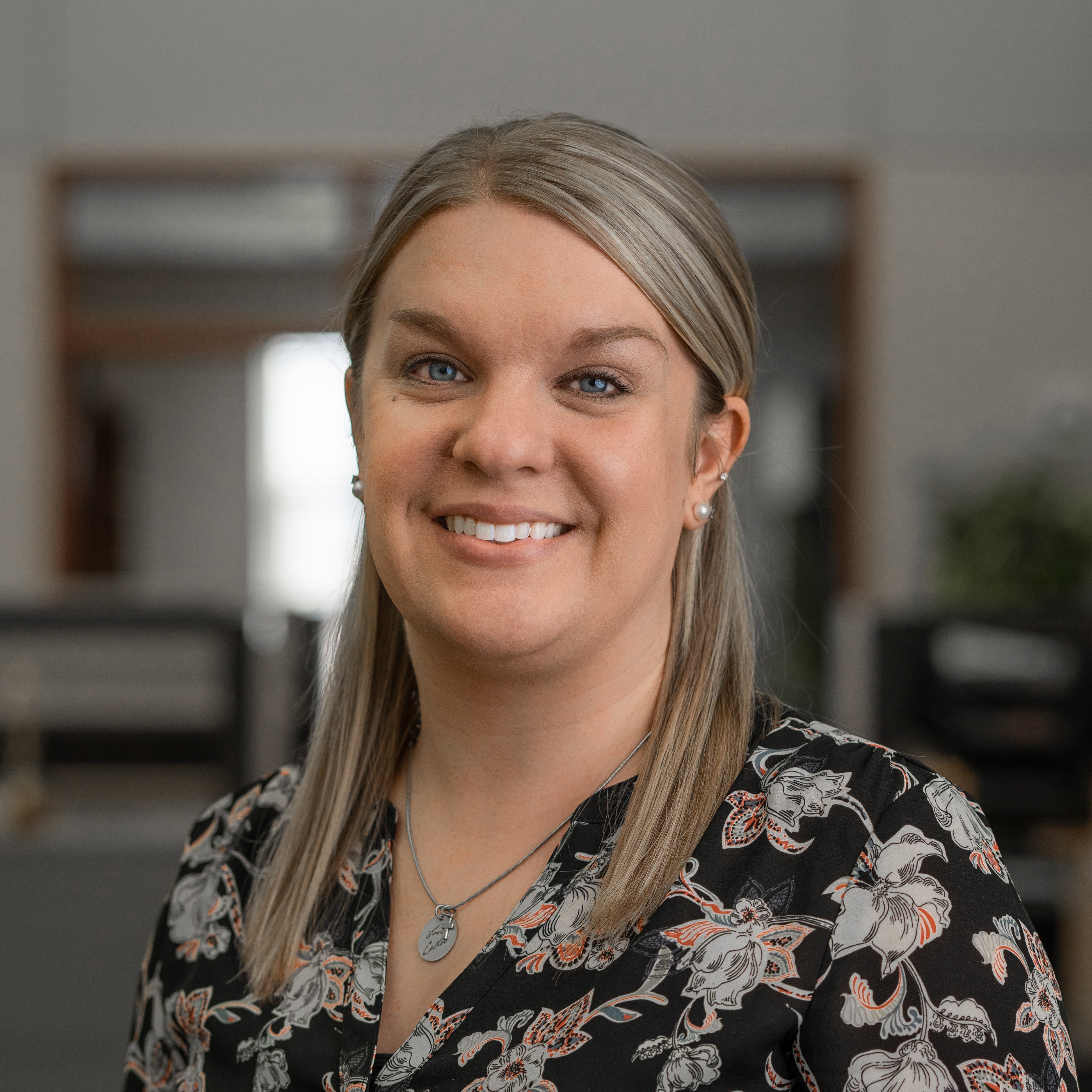 Angie graduated from Indiana State University with a Bachelor of Science in Interior Design. Prior to joining the FBi team, Angie was a kitchen and bath sales consultant in Lafayette, IN. In 2012, she started with FBi as the Inside Sales/Marketing Assistant. Today she holds the role of Sr. Marketing and Inside Sales Manager. Angie grew up in a farming community and has always enjoyed helping her family on the farm. A past 10-year 4-H Member, her passion for livestock pursued her to take a career in the agriculture field. She and her husband live in Northwest Indiana with their two daughters. In her free time, she enjoys outdoor leisure activities and spending time with friends and family.
Do you have an existing storage shed or even two-car garage that is overflowing with bikes, Christmas decorations, fishing poles, an abundance of tools, or even extra boxes and totes that you don't know where to store? It's bound to happen at some point.
Perhaps you're looking for more storage space for that recently purchased (and still shiny) ATV? Or maybe you recently purchased an antique car and need the extra space for a three-car garage. If so, it may be time for you to consider building a new garage.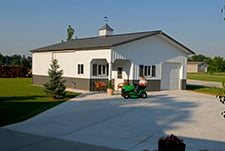 However, there's one major question to get out of the way. Do you build a pole barn garage or do you build a stick-built garage? Maybe you've been in both types of construction and you're not entirely sure what the major differences are.
Similar to other buildings, the way you design and plan for your structure is going to depend on your needs and long-term goals.
Do you find yourself answering yes to any of these questions?
Do you need extra space for classic car storage?
Do you need more storage for decorations or overflow of tools?
Will you be using your garage as a hobby shop or hobby barn?
Do you need a little bit of storage space or an ample amount?
Do you have any existing buildings that you're trying to match?
As you design and plan your new garage, it's always a good idea to look at other plans for inspiration. Sure, you can easily go to Pinterest to see other garage ideas, or you might even go to your local lumber yard to see if they have any garage kits to buy.
As a trusted post frame builder, we want to make the planning and design process as easy as possible for you. So if you're torn between post frame construction or stick-built, here are a couple of key factors you need to know prior to making a decision.


Pole Barn Garage vs Stick Built: What's the Difference?
CONSTRUCTION
Pole Barn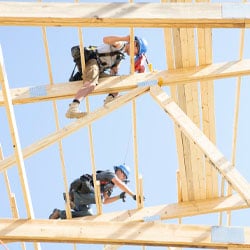 Building a pole barn garage gives you a variety of options to think about, and one of the options you should be considering is finding a builder who specializes in turn-key construction...unless you're a DIYer who is ready to take on the challenge.
What do we mean by turn-key construction? Turn-key construction includes everything.
Everything? You know - the exterior, the interior, the plumbing, the electric. Unfortunately, if you decide to go with us, we only specialize in building the shell, which is just a part of your overall project. The other parts can be handled by a general contractor, which we can help you find or you can choose your own.
However, some customers prefer to handle the process themselves. And those with the knowledge and experience find this to be an enjoyable and rewarding activity. Yet, for those with little to no experience, they are quickly surprised by how much time it takes to manage the basic requirements of putting up a new building.
Scheduling and paying for excavation, septic, electricity, water, a driveway, culverts, and more requires a lot of time and patience. Plus, if you're pursuing competitive bids from different vendors for each aspect of the job, you could be overwhelmed quickly. And if you're already working a full-time job, you could feel like a candle burning at both ends.
Stick Built
Fortunately, for you, stick-built garages are another option for you to choose. Depending on who you decide to have build your garage (either an architect who specializes in new construction or an independent builder), they will handle the entire project for you - from start to finish.
For some, it's a breath of fresh air because you know nothing about construction or general contracting and you don't want to mess with it. For others, it might freak you out a little bit because you want to have control over everything.
If you choose a trusted builder, they will set up checkpoints with you during your project to make sure everything is on task.
CHECKLISTS
Pole Barn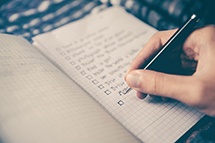 You've put in the hard work researching your new pole barn garage. You're up for the challenge and you're crossing steps off your list. But, then out of nowhere, a hidden surprise derails your best-laid plans. And it turns out that if you had discovered it earlier, you would have saved so much wasted time.
That thing could be that your county doesn't issue permits for residential buildings unless it has a certain setback. Whatever the reason, the best first step is always to contact your county, city, village permitting department, and reach out to your bank to discover if they finance pole barn garages. A yay or nay on either issue can save you time and money upfront.
Once you have answers to your financing, permitting, and constructibility questions, refer to the following checklist of steps for a general overview of the process from start to finish.
The total time from beginning to end can vary widely, depending on the complexity of your building design, permit issues, weather, the post frame builder's schedule, etc.
Preliminary Design
Estimate Costs
Initial Staking of Building on Site
Finished Elevations & Floor Plans
Contract Agreement
Final Staking of Building on Site
Utilities Hookup
Building (shell) Erection
Interior Build Out
Cleanup
Driveway
Stick Built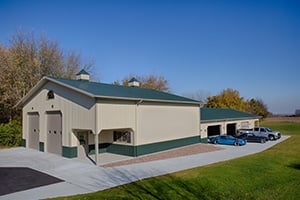 You've decided to build. You've been pre-approved for a loan. You've found someone to work with. Your soil samples tested positive. You're good to go.
Phew! What a relief. The only hard part for you is the waiting game. Waiting game? Yes - you're at the mercy of your contractor or builder. You can't get settled into your new garage until they are done.
That's why we always stress the importance of finding a trusted builder.
You want to make sure you're working with someone who has deadlines. Someone who has check-in points. Someone who will be taking care of the project from start to finish. No surprises. No setbacks.
That's why it's always recommended to get multiple quotes before you decide on who will be handling your construction project.
What Option Will You Choose?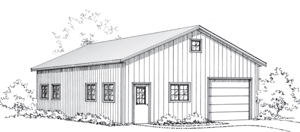 Our Rural Lifestyle Plans eBook was created to be a helpful resource to you as you begin the planning process of your new pole barn garage or even stick-built garage. If you find a floor plan that you prefer, it can easily be accommodated for a stick-built plan.
Our goal is to make it easy for you to:
Plan
Buy
Build
Own the right building for your needs and desires
Did you know that one of the best ways to start the planning process is to look at what others have done? These building plans represent a wide range of applications, from simple hobby shops and garages to large, elaborate post frame structures.
Our customers have told us they enjoy seeing this variety because much can be gleaned from buildings of various sizes and styles.
We also offer another excellent planning tool, our online FBiPlanner™. This web tool lets you design your dream building and then fill it with scaled items, such as boats, RVs, ATVs, trucks, tractors, trailers, workshop items, and much more.
No matter where you are in the planning process, feel free to give us a call at (800) 552-2981. Our team stands ready to assist with the design/engineering, permits, pricing – whatever it takes to help you maximize the value of your building investment while moving your project from a dream to your reality.
Even if we aren't the best fit for your future plans, we can always recommend a contractor for you to reach out too.
---
Do you have more questions that are not covered in this article? If you need help designing and planning, please contact FBi Buildings at 800.552.2981 or click here to email us. If you are ready to get a price, click here to request a quote and a member of our customer engagement team will help you determine the next steps of your project.