Why is Pole Barn Column Spacing Important?

Subscribe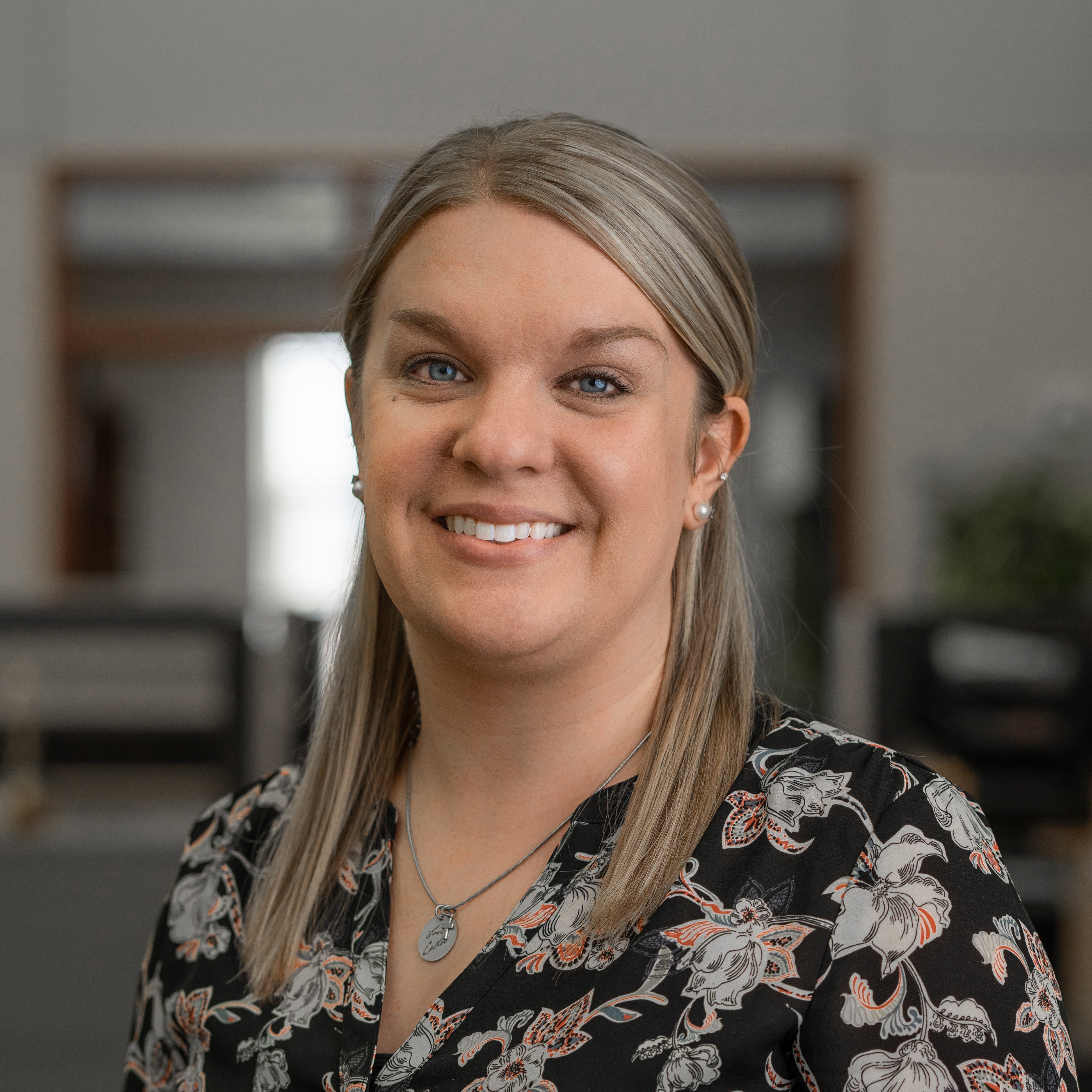 Angie graduated from Indiana State University with a Bachelor of Science in Interior Design. Prior to joining the FBi team, Angie was a kitchen and bath sales consultant in Lafayette, IN. In 2012, she started with FBi as the Inside Sales/Marketing Assistant. Today she holds the role of Sr. Marketing and Inside Sales Manager. Angie grew up in a farming community and has always enjoyed helping her family on the farm. A past 10-year 4-H Member, her passion for livestock pursued her to take a career in the agriculture field. She and her husband live in Northwest Indiana with their two daughters. In her free time, she enjoys outdoor leisure activities and spending time with friends and family.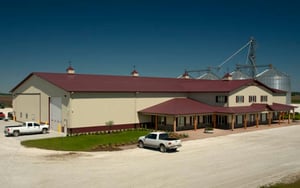 If you're going to invest your money in a new pole barn, then you'll have to make sure it's engineered to handle various stresses. For instance, your pole barn will inevitably encounter inclement weather (e.g., rain, snow, and wind). Do you know if your post-frame builder uses the designated snow and wind load ratings for your location?
How your post-frame building reacts to these situations will determine its lifetime. More importantly, understanding the importance of pole barn structural integrity will help you:
Make a well-informed buying decision
Gain greater confidence and peace of mind
Save money in the long run
Now, you're probably wondering, "Where do I even begin?" First, we don't expect you to be an expert in post-frame construction, let alone the structural integrity of a pole building…leave that part to the experts.
This article discusses the importance of pole barn column spacing and how it could affect your structure if done inadequately.
What Are Pole Barn Columns?
Columns also referred to as posts, are integral parts of a post-frame building. They support the entire roof system and transfer all vertical loads to the footings. In addition, columns are the backbone of your walls and assist in resisting horizontal loads.
When selecting columns for your pole building, do you know which types are offered?
Let's take a step back. Did you even know that you had a choice? That's where your preferred post-frame builder can help you out.
Most pole barn construction companies have a standard column option that they offer, as well as a durable upgrade. If this hasn't been brought to your attention, please ask your builder what your options are.
Laminated Columns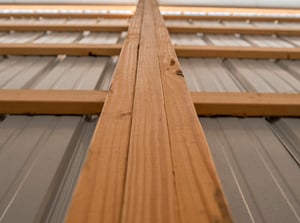 The term "laminated column" refers to two or more layers of dimensional lumber that has been mechanically laminated with nails. Typically, these posts are made from 2 x 6, 2 x 8, or 2 x 10 lumber. They're strong, stress-rated, and pressure-treated.
Laminated columns are highly resistant to bending, twisting, or warping. Why? Because there's very little chance of a knot being in the same place on all three pieces.
Not to mention, laminated columns have greater longevity than solid posts. Each layer of lumber is completely permeated with wood preservative and kiln-dried. This treatment prevents rot and termite damage.
For maximum protection, we recommend looking for columns that are saturated with more than 0.80 lb./cu. ft. of Chromated Copper Arsenate (CCA) wood preservative. That's 33 percent more than industry standards, which you'll find at hardware stores and lumberyards.
Next, your professional builder should set the columns at least 4' below grade. This ensures:
Adequate resistance to lateral and uplift forces
No upheaval due to frozen ground in the winter months
The exception is if the column is anchored to a continuous concrete foundation.



Perma-Column® System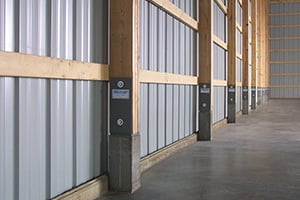 Alternatively, Perma-Columns are precast concrete columns that represent the evolution of post-frame construction. They're sized to fit any laminated columns or solid posts.
This sustainable solution is guaranteed to withstand insect damage, decay, and rotting. No wood goes into the ground.
Using 10,000 psi precast concrete, perma-columns are 3x stronger than standard concrete. Then, the columns are reinforced with 60,000 psi rebar welded to a ¼'' steel bracket.
Furthermore, they include microfibers to add shock resistance and durability and microsilica to enhance compressive strength and erosion resistance. A corrosion inhibitor protects the rebar reinforcement and brackets from rusting. A final admixture is added to give freeze and thaw protection.
Overall, this special mix guarantees a lifetime of durability. In addition, you'll be avoiding thousands of dollars in repair costs (rotten wood) by upgrading to Perma-Columns.

Why is Pole Barn Column Spacing Important?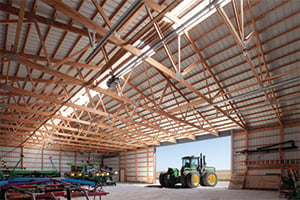 The standard distance between pole barn columns is 8 feet. However, depending on who you choose for your post-frame builder, column spacing may vary between 6 feet through 10 feet. Very rarely do we see columns that are spaced 12 feet apart.
The greater distance between your columns could cause structural integrity issues with your building. Regardless of size or location, any building must be designed to resist both vertical and lateral loads safely.
First, vertical loads act in the up-and-down direction. Examples of vertical loads include:
Lofts
Decks
Second stories
Snow
Weight of the building itself
Second, lateral loads act in a direction parallel to the ground, such as strong winds and seismic activity (e.g., earthquakes). However, these forces can work in any direction. Therefore, the pole barn must be designed to withstand parallel and perpendicular loads to any wall.
All loads, both vertical and lateral, must pass from the areas in which the load is applied. This transfer of forces through the structure is called the load path. A continuous load path carries all vertical and lateral loads from one building component until they reach the ground.
There will be no structural damage if the load path flows without interruptions. However, one break in the path can cause damage.
The space between your posts will largely depend on your builder and the size of your pole barn. The size of your pole barn will also help determine the distance between your trusses.
Setting posts 8 feet apart will give you a stronger foundation than ten or 12-foot spacing. For more information on foundations, please watch the video below.
Why is it Helpful to Have an Engineer Design Your Building?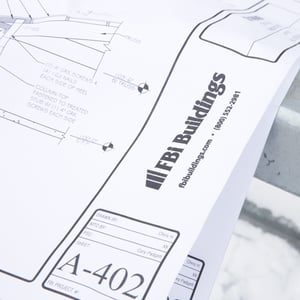 However, we wouldn't have the knowledge of truss design and grading without the help of experienced engineers.
Civil engineering refers to the design, construction, and maintenance of buildings and infrastructure that make up our world. The typical duties of a civil engineer include:
Analyzing reports, maps, and other data to help plan projects
Considering

costs

, regulations, environmental hazards, and other risk factors when planning a project
Verifying and submitting

permit applications

to local, state, and federal agencies
Providing estimates (e.g.,

materials

, equipment, and labor) to determine project costs
Testing materials used in building projects
Using software to plan and design structures that line up with industry and government standards
To be a civil engineer, one will need a bachelor's degree in civil engineering or one of its specialties.
Leadership positions require a Professional Engineering (PE) license. A PE oversees the work of other engineers, approves blueprints, and signs off on construction projects. State licensure varies by state, but general requirements include:
A degree from an accredited engineering program
A passing score on the

Professional Engineering exam

Relevant work experience under a licensed engineer
Some contractors or construction companies hire external engineers. We recommend working with post-frame builders who have licensed engineers on staff. Why? Because outside firms don't always have your best interest at heart.
Whereas in-house engineers work with you on your pole barn project from start to finish. They think creatively and strategically to provide a better end product for you.
The FBi Engineering Department consists of four individuals with degrees in engineering and its specialties (i.e., agricultural, architectural, biological, and civil). They work closely with our salespeople to determine design requirements while meeting customers' needs and wants.


Are You Ready to Build Your Pole Barn?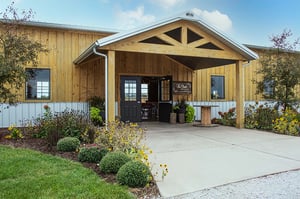 Short answer - keep them dry! Do whatever you can to prevent moisture from penetrating the wood.
Whether that's utilizing treated wood laminated columns, upgrading to Perma-Columns, or bracketing the columns to concrete. FBi Buildings can provide you with the best solution for your pole barn.
If you have an existing building that is in need of column repair, we can also help you get them repaired. We have dedicated crews that work exclusively on building repairs. And best of all, it doesn't matter who built the original building.

---
Have more questions about open-sided buildings not covered in this article? Please contact FBi Buildings at 1.800.552.2981 or click here to email us. If you're ready to get a price, click here to request a quote, and a member of our sales team will call you.