The Importance of Permitting for Pole Barn Construction

Subscribe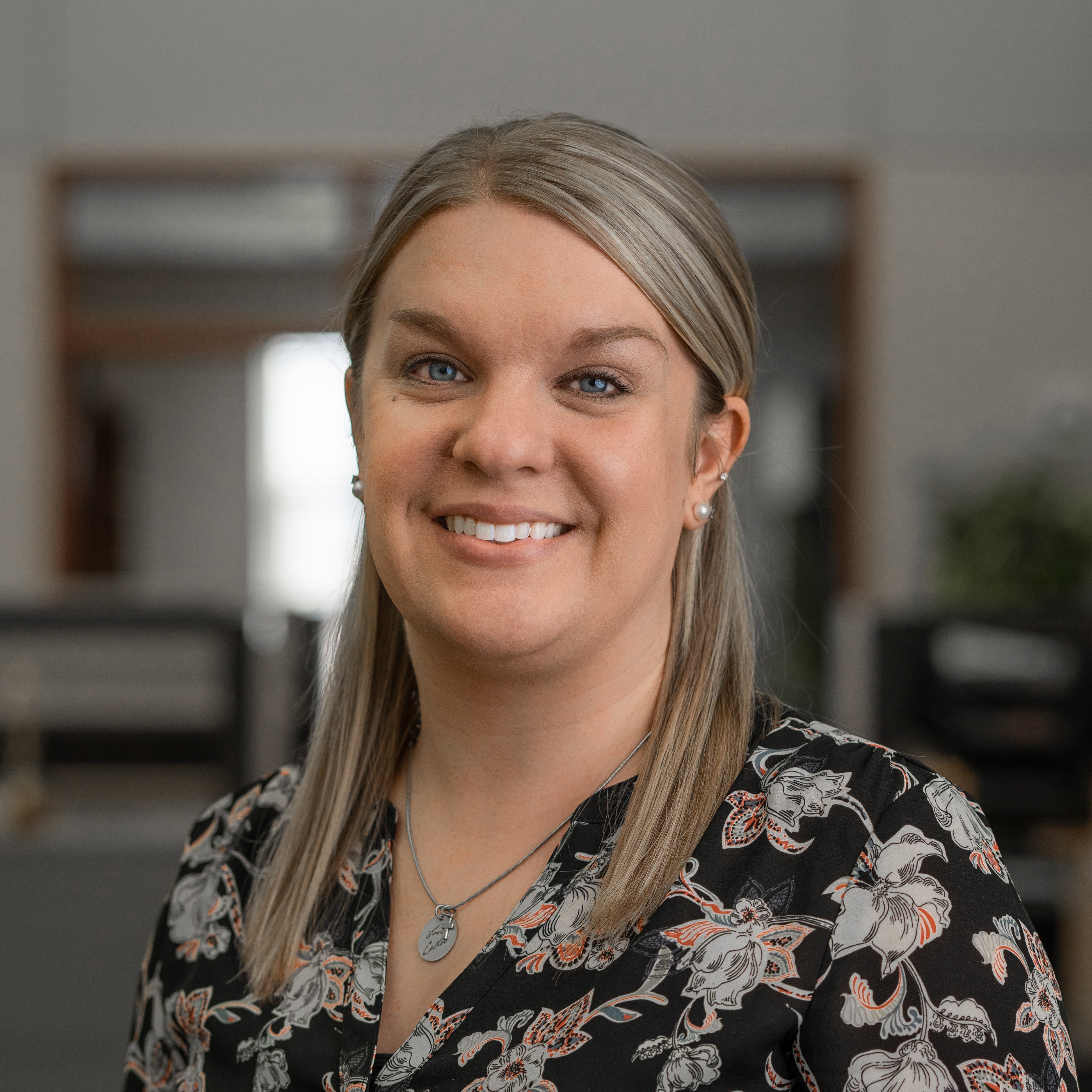 Angie graduated from Indiana State University with a Bachelor of Science in Interior Design. Prior to joining the FBi team, Angie was a kitchen and bath sales consultant in Lafayette, IN. In 2012, she started with FBi as the Inside Sales/Marketing Assistant. Today she holds the role of Sr. Marketing and Inside Sales Manager. Angie grew up in a farming community and has always enjoyed helping her family on the farm. A past 10-year 4-H Member, her passion for livestock pursued her to take a career in the agriculture field. She and her husband live in Northwest Indiana with their two daughters. In her free time, she enjoys outdoor leisure activities and spending time with friends and family.
If you close your eyes (but not right now because you need to keep reading) and think about pole barn permits or zoning, what words come to mind? Perhaps confusing, complicated, or frustrating, to name a few?
Well, here's some good news – it doesn't have to be. Doing further research will help, such as reading this article. You're off to a great start!
This blog (and our Ultimate Guide to Pole Barn Costs) is loaded with several permitting tips to get your post frame project off the ground.
After you finish reading this article, we recommend checking with your local building official or Authority Having Jurisdiction (AHJ) to learn the rules for your area.
Looking at neighboring pole barns, as convenient it may be, isn't enough. Why? Building regulations are based on location and change over time.
HELPFUL TIP: Working with a post-frame builder who has extensive experience pulling permits in your area can minimize delays and headaches.
Below is a quick infographic to highlight the basics of building permits. Continue reading for the details and important information you need to know!



Why is Pole Barn Permitting Important?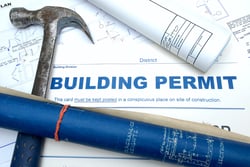 Before you can think about building a pole barn, you need to determine what type of permit you'll need to obtain.
Unfortunately, there isn't a "one size fits all" permit for post frame construction. It all boils down to the intended use and location.
For instance, a building permit in town may have a different set of rules than in the country.
Many municipalities restrict where you can and cannot build. The one common connection between all pole barn permits is the setback, easement, height, and lot coverage restrictions.
What do these terms mean?
A setback is a minimum distance between a building and the property line


An easement is a legal right for another owner (e.g., utility company) to cross or have limited access to another's property


Height and lot coverage restrictions limit how high you can build and what percentage of your lot can be covered by structures
Recognize the 3 Main Types of Code Regulations
Both zoning and building code compliances are required before a pole barn permit is issued.
1) Zoning Regulations
Zoning dictates permissible building position and use, including parking requirements, signage, setbacks, frontage, drainage, landscaping, ordinances, etc.
Before spending a significant amount of time on your building design, you should check with the local zoning board to ensure your planned structure is allowed.
Once you know which zoning regulations to follow, our Site Preparation eBook will help you prepare your future building site.
2) Covenants
Covenants, which are usually enforced by a Homeowners Association (HOA), are additional rules on top of zoning regulations. They contain more specific guidelines about what can and can't be done in your subdivision.
You may be familiar with the covenant and how it applies to your house, but reread it to see how it affects potential outbuildings. If anything is unclear, you can get clarification from your HOA.
3) Building Codes
Post frame structures must be code compliant, especially commercial buildings. These requirements ensure that buildings are structurally sound, safe, and constructed to meet the minimum standards of quality.
For local construction codes, please contact your local building official or authority having jurisdiction (AHJ).
Also, we recommend working with a post frame builder and their in-house engineers. They work closely with salespeople and outside parties to meet design requirements and customers' needs/wants.
Other Factors You Should Know About Pole Barn Permitting
1) You May Need Other Permits
Besides a building permit, you may need separate licenses to:
Put in a driveway
Hook up to utilities
Drill a well
Install a septic system
Build during certain times of the year
2) Paperwork and Payment is Required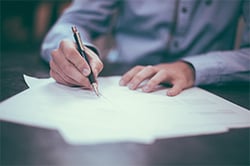 When you are ready to obtain a permit, you must complete an application and submit it to the appropriate city hall or county office.
At a minimum, you'll need to give them a blueprint, site plan, plat survey, and legal description of the property.
Additional information may be required. Upon approval of your application, a fee for the permit will be assessed. You'll probably need to pay with cash or a check; many government offices don't accept credit cards.
Pole barn permitting costs are based on the following factors:
Please note that the information below are average numbers to help with your planning. Costs may vary by post frame project.
Agricultural Buildings
Depending on your building design and size, permits for farm buildings range from $0 to $2,000.
Some counties exempt agricultural permits. However, you'll still need to get one (free of charge) before construction can start.
Contact your local Planning & Development office to see if your pole barn is exempt.
Residential Buildings
Pole barn permits for residential buildings can cost anywhere from $50 to $1,000.
If you live in an urban area, you may have to obtain a permit from the town rather than the county. Again, the best way to find out is to contact your city hall or county courthouse.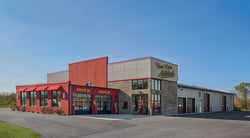 Commercial Buildings
It's important to mention that commercial permits vary from state to state.
Some states require commercial projects to obtain one through the state they're building in. Meanwhile, others request one from the local level.
Permits for commercial buildings range from $1,000 to $100,000. A large portion of these costs is due to Mechanical Electrical Plumbing plans (MEPs), architectural drawings, civil site drawings, and the state's stamp of approval.
If your post frame builder has licensed engineers on staff, your permitting costs will be significantly lower. On the other hand, if you have to use a third-party engineering firm, your permitting costs will be higher.
Equine Buildings
Depending on the scope of your post frame project, permits for horse barns can cost anywhere from $50 to $3,000.
This wide range is based on the fact that equine facilities can be viewed as agricultural, personal, or commercial-use buildings.
Altogether, the cost of your pole barn permit depends on the building size, segment, and jurisdiction.
We recommend working with an experienced post frame builder who can guide you in the right direction. In some cases, their Project Sales Consultants will pull the permit for you.
3) Agricultural Exemptions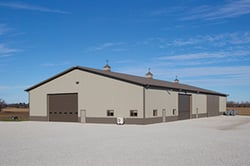 As mentioned above, if your building use is ag-related (and you meet the qualifications), then you may be able to avoid some permitting hassles.
Did you know that farm buildings do not have to conform to the following:
Building codes
Permits are often free and can be obtained in a matter of minutes (not weeks)
Some restrictions are waived
Don't get too excited as certain requirements may still apply (e.g., setbacks), but in most cases, the overall process for agricultural buildings is fairly easy.
4) What Should You Do If You Hit a Snag?
Let's say you own a five-acre, irregularly shaped lot with 100 feet of frontage — less than the county requires for a building permit. Are you out of luck? Not necessarily.
You can apply for a variance. This process gives your neighbors an opportunity to voice any concerns they have about allowing exceptions to the rules. Then, a public hearing and board meeting will occur, and a final decision will be made.
Of course, it's a definite plus if you are well-liked by your neighbors and the county board members.
5) When Can You Begin Construction on Your New Pole Barn?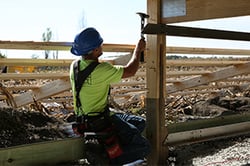 When an actual construction permit is issued, work on your post frame building can begin. The permit must be visible on the job site and available for the building inspector.
While your building is going up, he/she may visit and look over the construction methods and materials, verifying that everything is up to code.
Be aware that most local governments require inspections at various phases during post frame construction, such as:
Footing/Foundation
Framing
Rough electrical/plumbing
Are You Ready to Begin the Pole Barn Permitting Process?
We understand that the idea of obtaining a building permit can be overwhelming. You're not sure where to begin, where to go, or what type of permit you may need.
But remember, working with a post frame builder who has extensive experience in your area can also help you minimize delays and headaches. You don't have to experience the construction process alone. Your Project Sales Consultant is here to help you every step of the way.
If you still have questions on what you need to do, it's always recommended to reach out to your local building official or Authority Having Jurisdiction (AHJ).
---
Do you have more questions about pole barn permits that are not covered in this article? If you need help designing and planning, please contact FBi Buildings at 800.552.2981 or click here to email us. If you are ready to get a price, click here to request a quote and a member of our customer engagement team will help you determine the next steps of your project.