Subscribe
Understand Permitting for Pole Barn Construction
If you close your eyes (but not right now cause you should keep reading) and think about obtaining permits or dealing with zoning issues what words come to mind? Perhaps confusing, complicated, or frustrating? Well here's some good news–it doesn't have to be.
Doing research will help – like reading this article – so you're off to a great start! This blog (and our Ultimate Guide to Pole Barn Costs) is loaded with tips to get you off to a great start. After reading, check with your local or county land-use department to learn the rules for your area. Looking at neighboring buildings, convenient as it may be, isn't enough since rules change with time and location.
TIP: Working with a builder who has extensive experience in your area can be a real help in minimizing delays and headaches.
Positioning is Important
Many municipalities restrict where you can build. A setback is the minimum distance between a building and the property line. An easement is the legal right for another property owner (such as a utility company) to cross or have limited use of another's property. Height and lot coverage restrictions limit how high you can build and what percentage of your lot can be covered by structures.
Recognize the 3 Main Types of Regulations
Both zoning and building code compliance are required before a building permit is issued.
Zoning Regulations
Zoning will dictate permissible building position and use, including parking requirements, signage, setbacks (required distance from property lines), frontage, drainage, landscaping, ordinances, etc. Before committing time to the detailed design for your building, check with your local zoning board to make sure your planned structure is allowed in your location.


Covenants
Covenants, usually enforced by a Homeowners Association, are another layer of rules added on top of the zoning regulations, containing more specific guidelines about what can and can't be done in your subdivision. You may already be familiar with the covenant as it applies to your house, but read it again to see how it applies to outbuildings. If anything is unclear, you can get clarification from your Homeowners Association.


Building Codes
Building codes present minimum requirements for construction, helping assure that buildings are structurally sound, safe and constructed to minimum standards of quality. Check with your municipality to find out the details of building codes in your area.
You May Also Need Other Permits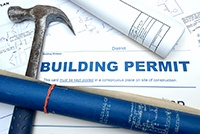 Besides a building permit, you may also need separate permits to put in a driveway, hook up to utilities, drill a well, install a septic system, build during certain times of the year and so on.
Paperwork and a Payment Are Required
When you are ready to obtain a permit, you must complete a permit application and submit that to the appropriate city or county office. At minimum, you'll need to give them a floor plan, site plan, plat of survey and legal description of the property. Additional information may also be required. Upon approval of your application, a fee for the permit will be assessed. You will probably need to pay with cash or a check; many governmental offices don't accept credit cards.
About Agricultural Exemptions
If your building use is ag-related and your site qualifies (acreage, frontage, etc.), you may be able to avoid some hassles. Ag buildings do not have to conform to building codes, the permits are often free and can be obtained in minutes instead of weeks, and some restrictions are waived. Certain requirements may still apply, such as setbacks, but in most cases, the overall process for ag buildings is fairly easy.
What to Do if You Hit a Snag
Let's say you own a five-acre, irregularly shaped lot that only has 100 feet of frontage — less than the county requires for a building permit. Are you out of luck? Not necessarily. You can apply for a variance. This process involves giving your neighbors opportunity to voice any concerns they have about allowing an exception to the rules, then attending a public hearing and board meeting where the final decision is made. Of course, it's a definite plus if you are well liked by your neighbors – and the county board members!
Your Golden Ticket to Begin Building
When an actual construction permit is issued to you, work can begin. The permit must be visible on the job site and available to the building inspector. While your building is being constructed, he may visit your site and look over the construction methods and materials, verifying that your building meets code. Be aware that most local governments require inspections at various phases during construction; such as at the time of footing/foundation, framing, rough electrical, rough plumbing, HVAC, etc.


---
Do you have more questions that are not covered in this article? If you need help designing and planning, please contact FBi Buildings at 800.552.2981 or click here to email us. If you are ready to get a price, click here to request a quote and a member of our customer engagement team will help you determine the next steps of your project.