Subscribe
Energy-Efficient Landscaping for Your Pole Barn
Spring has sprung! The remaining evidence of last winter's snowfall is melting away. Seeds are starting to take root. The surrounding scenery is coming to life with new sprouts and blossoms. Warmer temperatures are here to stay. Post frame projects are in full swing. It's our favorite time of the year.
As you enjoy the new season, you'll want to start planning the landscape design around your pole barn. Not only will it add curb appeal to your building, but also reduce its heating and cooling costs. According to the U.S. Department of Energy, landscaping for energy efficiency provides, on average, enough savings to return an initial investment in less than eight years. That's impressive!
Are you ready to start planting and saving your hard-earned money? Below, we provided landscaping tips based on your climate and potential areas of energy efficiency.
What is Your Regional Climate?
For an effective, energy-conserving landscaping design, you'll need to consider the climate of the area in which you live. The U.S. can be divided into four regional climates:
Temperate
Hot-arid
Hot-humid
Cool
Each climatic region has its strategy to help you improve energy efficiency.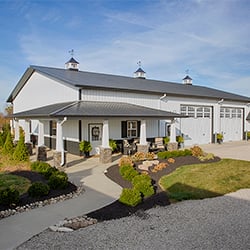 Temperate areas take advantage of the sun's warming effect in the winter, and deflect cold wind with windbreaks on the north and northwest sides of your post frame building. During the summer, buildings need shade protection from the sun.
Hot-arid and hot-humid regions rely on the shade to cool the pole barn's walls, windows, and roof. Summer winds work to cool the structure naturally. Similar to temperate, hot-humid climates use the sun to warm your post frame building in the winter.
Cool regions require dense windbreaks to protect structures from winter winds. If the summer heat is an issue, provide your pole barn with shade on the south and west sides.
On top of that, you'll need to factor microclimate into your landscaping strategy. A microclimate is an immediate climate surrounding your building. Your pole barn may receive more sun, shade, wind, rain, snow, etc. than the average conditions for your area. Understanding your climatic region and microclimate will help determine which plants may or may not flourish in your landscape.
What is the Purpose of Your Landscaping?
Next, you'll need to decide the purpose of your landscaping. Is it to provide shade for your post frame structure? Or to shelter it from the wind? Settling on a plan of action will determine which plants to use in your landscaping strategy.
Landscaping for Shade
Shading is the most cost-effective way to reduce your pole barn's energy costs. Effective landscape designs for shading should incorporate deciduous trees.
Popular deciduous trees include:
Ash
Elm
Maple
Oak
To the south of your post frame building, we recommend planting deciduous trees with high spreading crowns (leaves and branches). Why? Because they block the high summer sun and allow the low winter sun, reducing cooling and heating costs, respectively.
To the west, we recommend planting trees with lower crowns (evergreens) to provide continuous shade from the lower afternoon sun angles.
If you live in a cold climate, do not plant trees on the southern side of your pole barn. The branches will block some winter sun. Solar energy is critical in minimizing your heating bill.
Avoid planting trees closer to your structure. When the plant matures, you don't want their root systems to damage the concrete foundation. Furthermore, their branches can cause damage to your roof. Trust us, you don't want to spend your extra cash from energy savings on preventable building repairs.
Landscaping for Windbreaks
If you live in the Midwest like us, then you're all too familiar with Mother Nature's roaring wind. During the winter, the brutal gusts of chill probably affect the temperature of your post frame building. To lessen the energy bill, incorporate windbreaks into your landscaping design. A windbreak decreases heating costs by lowering the wind chill surrounding your pole barn.
The following trees provide excellent wind protection:
Camphor
Cypress
Evergreen
Oak
Pine
We recommend keeping the distance between your windbreak and building at two to five times the trees' mature height. Again, you don't want the trees to block heat from the winter sun.
Bushes, shrubs, and vines work to block the wind at ground level. To prepare for winter, plant them on the windward side to keep snow from blowing up next to your structure.
For an extra layer of protection, consider adding a fence/wall or more windbreak rows.
Tips for Water Conservation
Of course, your landscaping will require care and maintenance. The last step is to conserve your water source.
Below are a few tips to help you cut back on your water use:
Always group plants that require the same amount of water
Aerate your soil to improve water flow (reduce runoff)
Use mulch to keep plant roots cool (control weed growth)
Also, we recommend watering your plants in the morning when evaporation levels are low.
If you live in a hot-arid or hot-humid region, check out the additional benefits of xeriscaping, which means "dry landscape."
Overall, these practices will flourish your landscaping without hurting the water supply.
Which Landscaping Method Will You Use?
Whether your goal is to save money or to impact the environment positively, having an energy-efficient building is a smart move. For more helpful tips, check out our Post Frame Energy Efficiency Guide. You will become more knowledgeable and confident about the building process, discover energy-saving methods, and be more likely to end up with a facility that provides your desired balance between initial investment and long-term efficiency.

---
Have more questions about energy efficiency not covered in this article? Please contact FBi Buildings at 1.800.552.2981 or click here to email us. If you're ready to get a price, click here to request a quote and a member of our sales team will call you.